This Easy Black Bean and Veggie Enchilada Casserole is weeknight dinner lifesaver. You mix up the filling, layer, and bake! It's full of veggies and plant-based protein. You can easily be make it dairy-free using a shredded cheese alternative, and the sauce is mild but flavorful. It's a meal that's sure to please the whole family. This no-chop, super quick casserole is a sneak peek recipe from my new ebook, Simply Satisfying Meals. If you want more info about the 30 recipes in the dinner ebook, be sure to scroll down to the links below.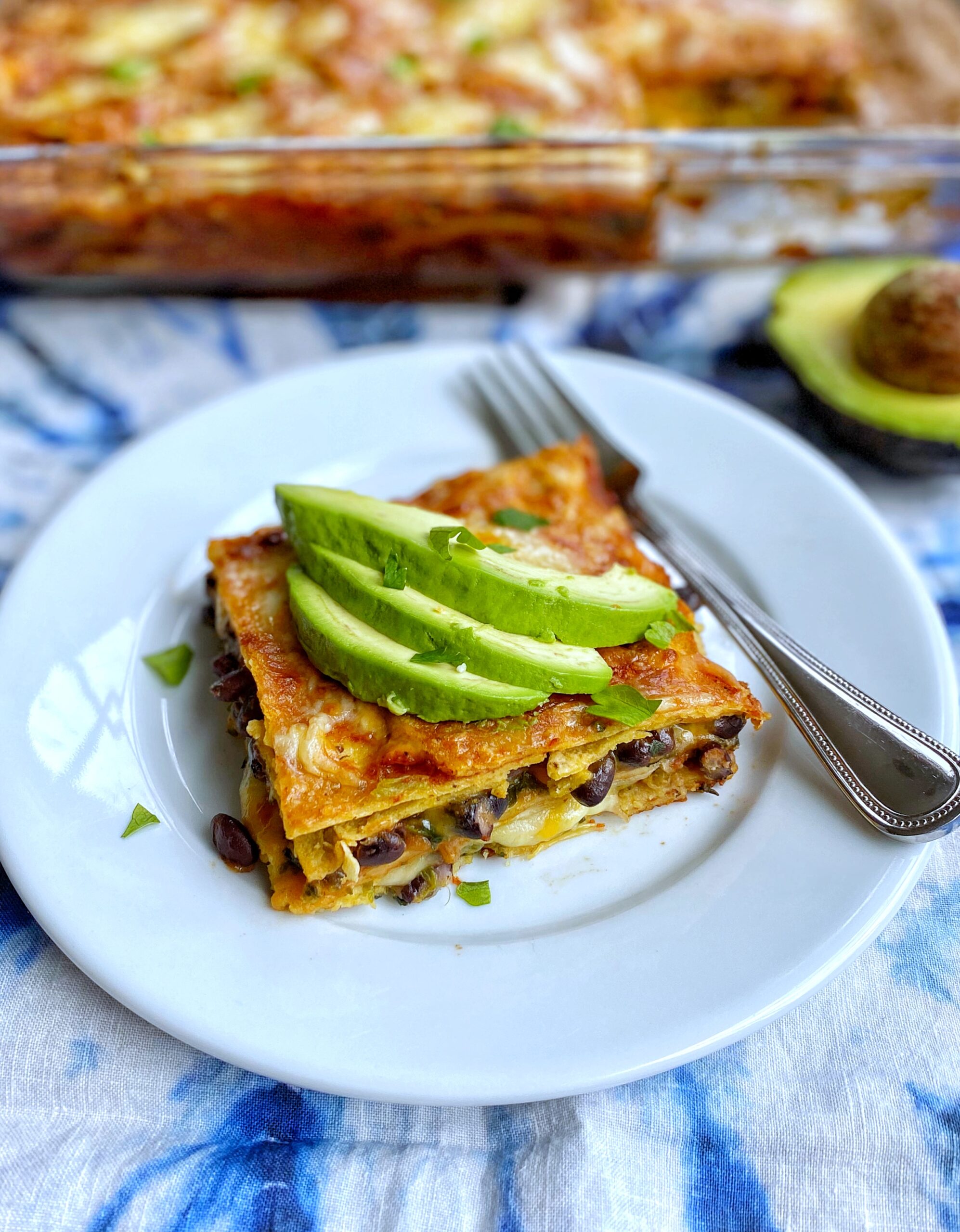 Kacie of Mama Knows Nutrition, a mom of two and pediatric dietitian, and I created this book to help you get healthy dinners on the table when you just can't handle doing one more thing in your day.
You need this book if you…
… are ready to stop eating out to avoid cooking
… hate having a full sink of dishes after cooking
… become overwhelmed with recipes with too many steps or ingredients
… have the desire to make healthy meals your whole family will actually enjoy
*Slow Cooker/Crockpot or Instant Pot 
*Sheet Pan
*One Pan/Pot Meals
Means…ONLY one thing to clean!!!
Click HERE to see the full recipe list, allergy/dietary info, and all details!
We want you to feel less stressed about dinner! Please email me or message me on Instagram with any questions about this book or the recipes.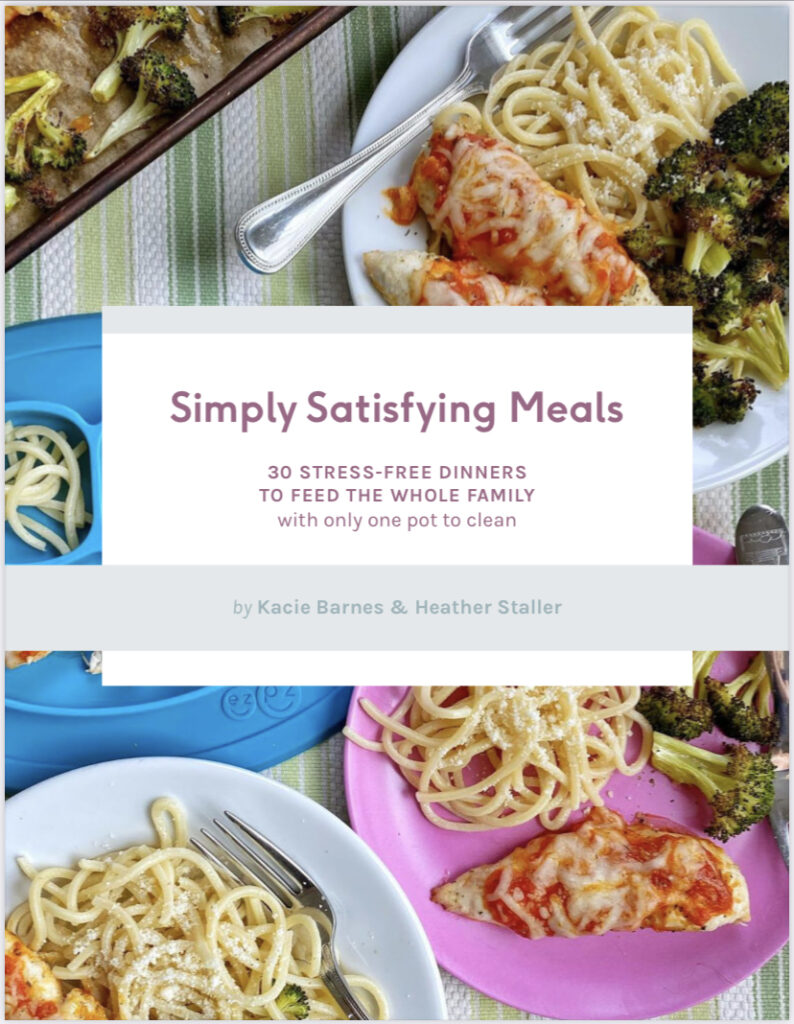 Subs and Tips for making Easy Black Bean and Veggie Enchilada Casserole:
Canned Sweet potato or pumpkin: these cooked and mashed veggies are a great way to get veggies into a dish without much effort. However, if you don't have the canned squash, you can use a frozen squash. Heat the squash then mash it before adding it to the beans.
Beans: you can use any kind of cooked beans you'd like in this recipe.
Enchilada sauce: the enchilada sauce I buy is a little spicy for my kids so that's why I add a can of crushed tomatoes to make it more mild. However, if you can also use 2 cans of enchilada sauce instead of adding the plain tomato.
Other veggies: I like using frozen spinach in here because it's easy and I always have some in my freezer. But you can use finely chopped fresh spinach instead.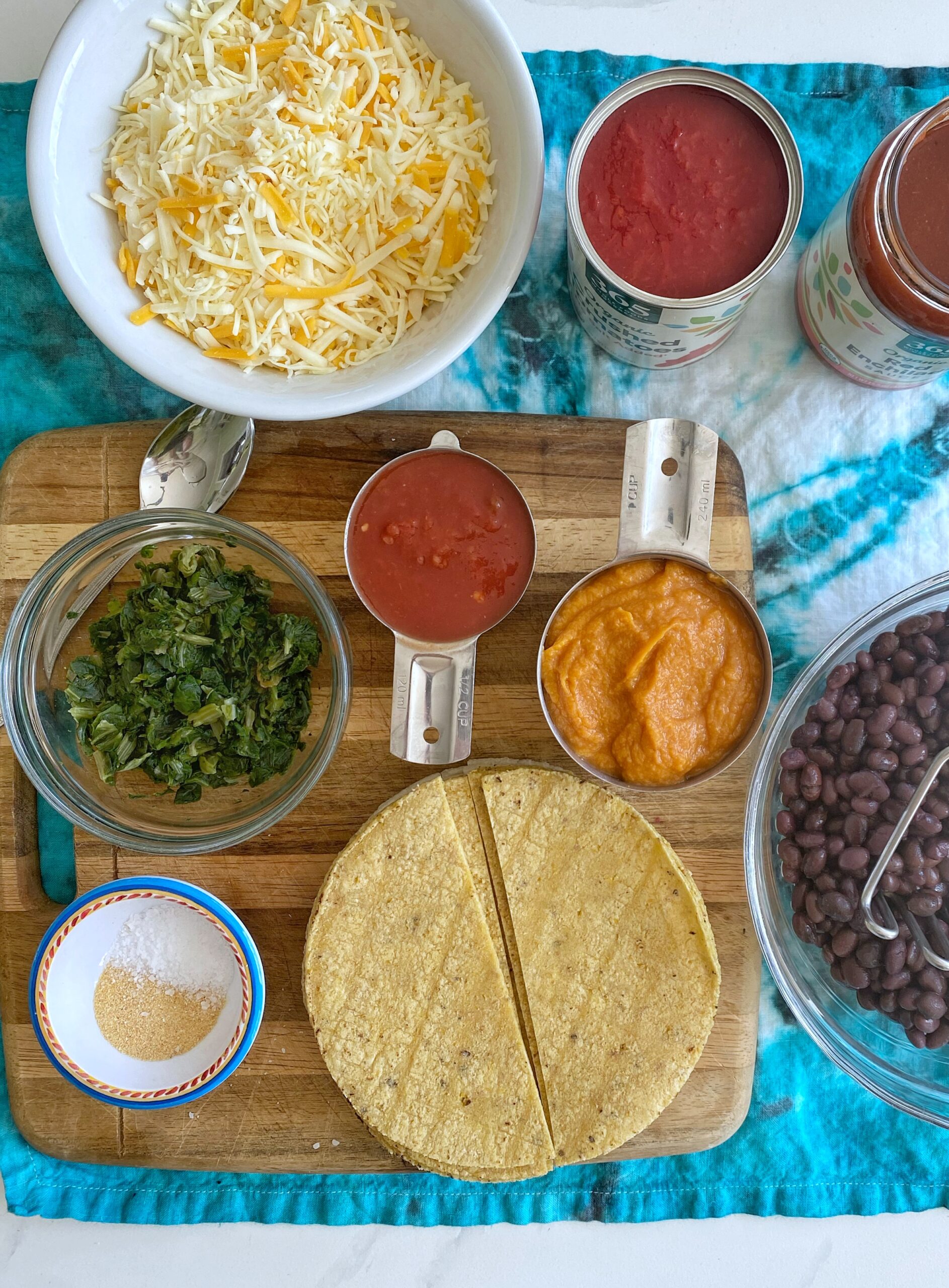 Easy Black Bean and Veggie Enchilada Casserole
Stir, assemble, and bake! This veggie protein packed vegetarian cassrole is a dinner the whole family will love.
Ingredients
1

16-oz jar or can

red enchilada sauce

1

14-oz can

crushed tomatoes (or a 2nd can of enchilada sauce)

1

tsp

salt, divided

1 1⁄2

tsp

garlic powder, divided

2

15-oz cans

black beans, drained and rinsed

3 cups

1

cup

canned sweet potato or pumpkin puree

2

cups

frozen chopped spinah, defrosted and squeezed dry

1/2

cup

jarred mild salsa

16

corn tortillas, cut in half

3

cups

shredded cheddar, Monterey Jack, or Mexican blend cheese

Optional toppings: Greek yogurt, sliced avocado, and fresh cilantro
Instructions
Preheat oven to 375 degrees. Grease a 9-by-13-inch baking dish with oil or non-stick spray.

In a large liquid measuring cup or bowl, mix enchilada sauce, crushed tomato, 1/2 tsp salt, and 1/2 tsp garlic powder.

Add beans to a second bowl and roughly mash about half of the beans with a fork or potato masher. Stir in canned sweet potato puree, spinach, salsa, 1/2 tsp salt, and 1 tsp garlic powder.

To assemble casserole, spread 1 1/2 cups of the sauce mixture in the bottom of the baking dish. Top with a layer of 8 tortilla halves, so that the entire dish is covered. Spread 1/2 of the bean mixture over the tortillas, then sprinkle with 1/3 of the cheese. Repeat one more time with another layer of tortillas, 1 cup sauce, the remaining beans, and a third of the cheese. Top with a final layer of tortillas, then the rest of the sauce and remaining cheese.

Cover with greased or non-stick foil (so the cheese doesn't stick) and bake for 20 minutes. Remove foil, then bake for an additional 10 minutes so cheese is well melted. Allow to cool for 10 to 20 minutes before serving. Top with sliced avocado, a dollop of Greek yogurt, and some fresh cilantro, if desired.
Have a "picky" eater at home or a child that might not like this dish? Here's a tip from Kacie on how to serve this meal in a modified way:
Picky eater tip: set aside a few tortillas and warm them in the microwave. Give your little toppings to choose from: cheese, avocado, Greek yogurt,
or beans. Can also serve a side of frozen corn if they like it. Or, try a quick quesadilla with a few well-mashed beans added in, or a sprinkle of garlic powder to start introducing new tastes.
Save to Pinterest: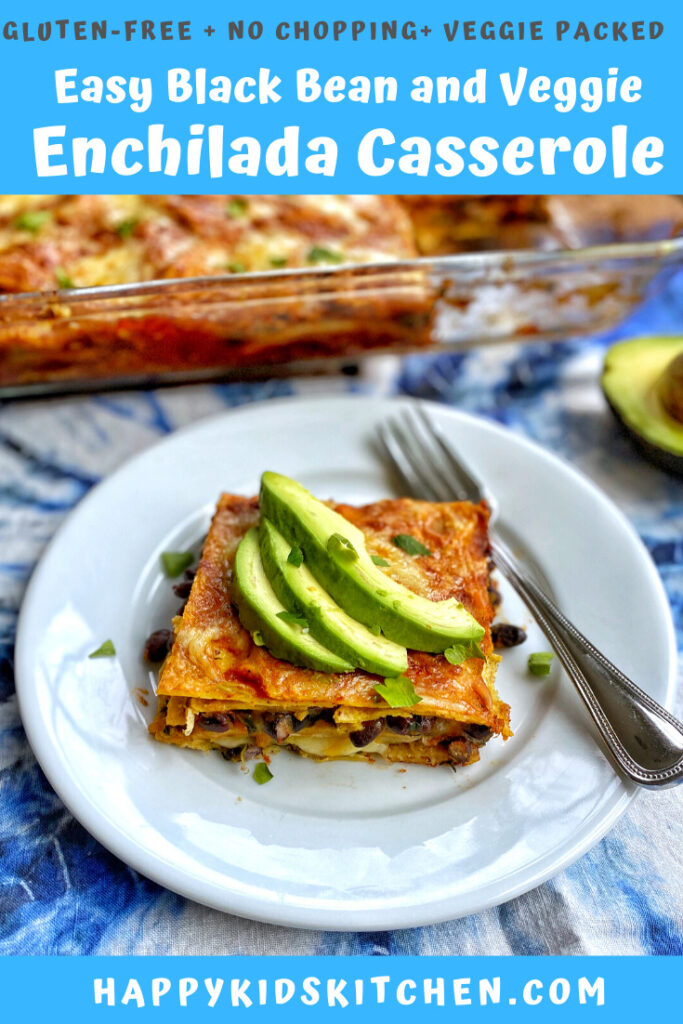 This recipe is a sneak peek of the Simply Satisfying Meals E-Cookbook: 30 Stress-Free Dinners to Feed the Whole Family. If you need more easy and healthy dinner ideas like this, be sure to click HERE to see the full recipe list, allergy/dietary info, and all details!
We want you to feel less stressed about dinner! Please email me or message me on Instagram with any questions about this book or the recipes.
Vegetarian Lasagna Roll Ups with White Beans and Spinach