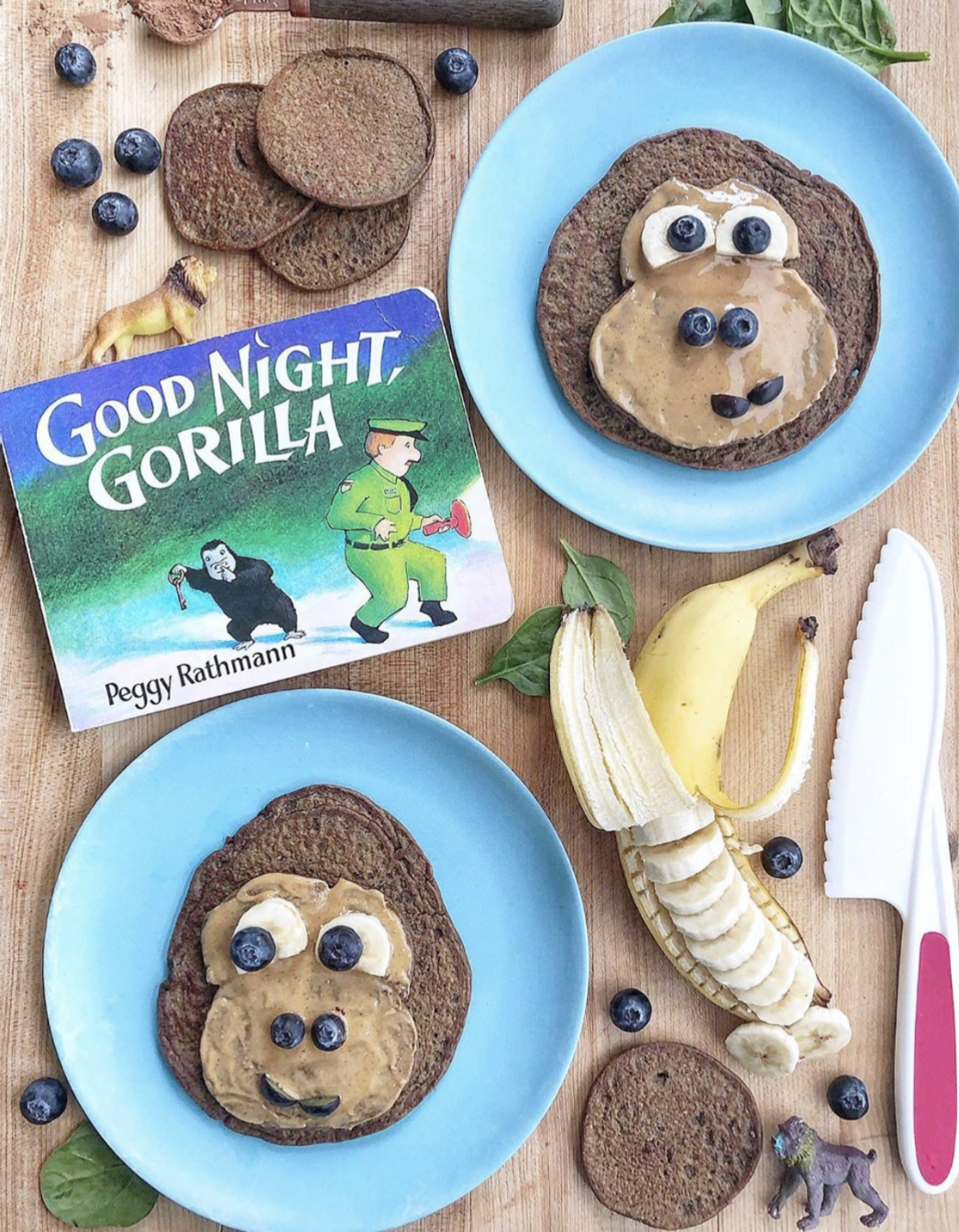 Monkey-around with this yummy pancake recipe!
Chocolate-Banana-Oat Pancakes (with a handful of spinach blended it!) for a fun story and snack combo to get your child excited about trying something new or just a great way to spend some time in the kitchen together and have some fun. These chocolatey pancakes could be served as a healthy snack or a nutritious breakfast!
Our copy of this classic children's book is very well loved. I think there was a period of a couple of months where Henry insisted we read it several times a day. You've been there, right?
This pancake batter is super easy to make with any aged child. Just add everything to a blender and blend away! A little cocoa powder adds some extra fun and a little spinach adds a little veggie power, and with the natural sweetness of banana, it's a winning combo!
For some extra fun, spread a couple of pancakes with peanut butter (or any spread you like), slice up some bananas together, and top the pancakes with banana and blueberries to make a monkey/gorilla face. See picture for some ideas.
Would your little monkey dig these pancakes??
"Good Morning Gorilla" Pancakes
(Chocolate-Banana-Oat Pancakes)
Makes 8 to 10 medium-sized pancakes
1 ripe banana
1 egg
1 1/4 cups rolled oats (gluten-free if desired)
Handful of baby spinach
1/2 teaspoon vanilla
1/2 cup milk (any kind)
1 teaspoon maple syrup or 1 pitted date (optional)
1 Tablespoon unsweetened cocoa or cacao powder
1/2 teaspoon baking powder
Pinch of salt
Add all ingredients to a blender and blend until smooth
Cook pancakes in oil or butter as desired.