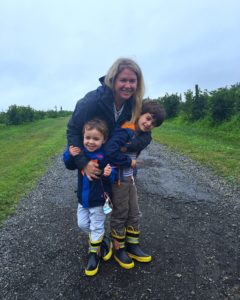 Are you frustrated with getting your child to try new foods, eat vegetables, or enjoy mealtime as a family?
Hi, I'm Heather!
As the mom of two opinionated little boys, I get that attempting to raise happy, healthy eaters is no joke!
My kids have whined about sitting down for a meal and sneered at their veggies. Carefully packed lunches have come home uneaten. And they've definitely rejected dinner then asked for a snack 3 minutes later.
It's enough to drive you crazy, right?
What's my solution to overcoming these challenges?
Invite kids to join you in the kitchen and make food FUN! 
When your kids to participate in the kitchen, you create pressure-free, fun opportunities for them to explore and learn about food. 
It's completely normal and age-appropriate for younger children to be fearful of new foods. Initially, your child might not want to eat the food you cook together but, over time, she will start to become more familiar with the ingredients and the positive experience in the kitchen will lead to more tasting and trying. Cooking and being involved in meal preparation gives children ownership and more control over the food they eat. In turn, this participation will lead to less food battles and happier meal times.
I've dedicated my life to teaching kids' cooking classes and educating parents about the benefits of cooking with their little ones. My positive experiences cooking as a child led me to go to culinary school and pursue a career in the culinary arts, and later drew me to become a cooking instructor dedicated to passing on my love of food and cooking to children.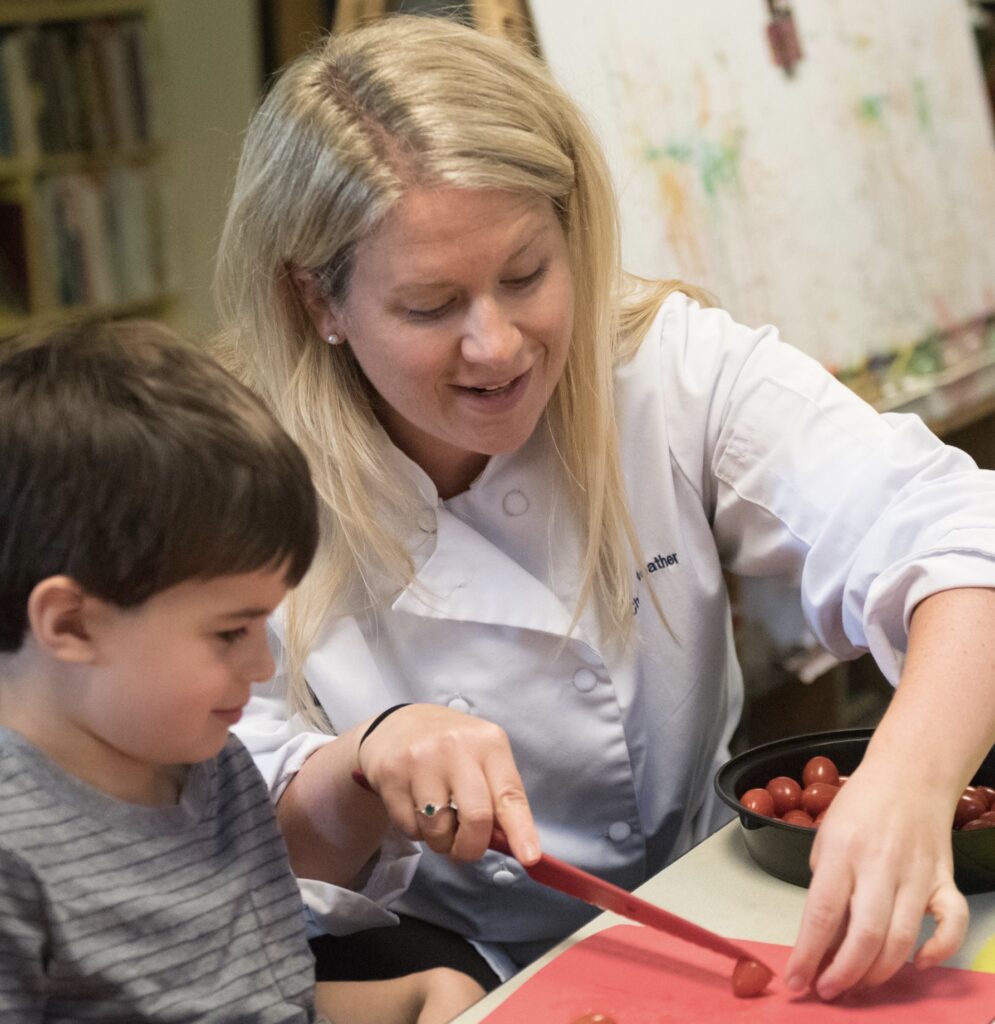 It wasn't until I became a mother, though, that I discovered the challenges that come with being responsible for a child's eating habits and what can happen when you invite your kids into the kitchen with you.
As a trained culinary professional passionate about healthy cooking, feeding my own children was not as easy as I expected. My first son, Jack, was born a very unenthusiastic eater and I made it my mission to use my skills and passion to help him learn to enjoy food more. I started letting him play with ingredients while I cooked, which gave him the opportunity to learn about food without the pressure to eat it. When my second son, Henry, came into the picture 2 years later the chaos and time restraint with having two little ones was very overwhelming. I wanted to find ways to cook nutritious meals, entertain a toddler and baby, and help my boys learn to embrace healthy foods without going crazy. Eventually, I started sharing the recipes my family loved and I realized more parents out there would benefit from the ideas I had to make food more fun for my toddlers.
I love creating recipes that use vegetables and other intimidating foods in new and creative ways. Having Jack cook some of these recipes with me helped him see that he might not like spinach in a salad, but he might like spinach blended into a smoothie or made into a pesto for pasta. As a 6-year-old, Jack still refuses to eat more than a bite of breakfast most days (kids will be kids), but, for the most part, he looks forward to trying new foods at restaurants and enjoys a wide variety of fruits and veggies.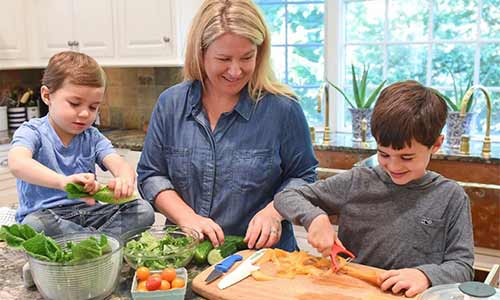 In my classes and within my Instagram community online, I've had the pleasure of seeing my recipes and approach to cooking work for other kids too! I recently got stopped by a mom in the grocery store who told me her 2-year-old made Beet Chocolate Chips Cookies in one of my cooking classes and is now asking her to buy beets so they can make them at home! I've made Rainbow Fried Rice in classes and watched moms gasp and clap as their little ones spoon pea, carrot, and pepper-filled rice into their mouths.
Being able to share those recipes and my fun approach to cooking on this site and on social media has allowed me to take these wins further and help more kids and parents connect in the kitchen. I'm so grateful I was given the opportunity to reach even more parents with my cookbook Little Helpers Toddler Cookbook, where I share 40 healthy recipes to make with toddlers. They are recipes made with REAL food that the whole family will enjoy.
Does cooking with your child sound like a lot of work? I promise it doesn't have to be. I can help you start slow, learn to worry about the mess a little less, and enjoy the process a lot more.
Grab my free ebook, Easy Snacktivities to get started with simple, healthy recipes kids can make.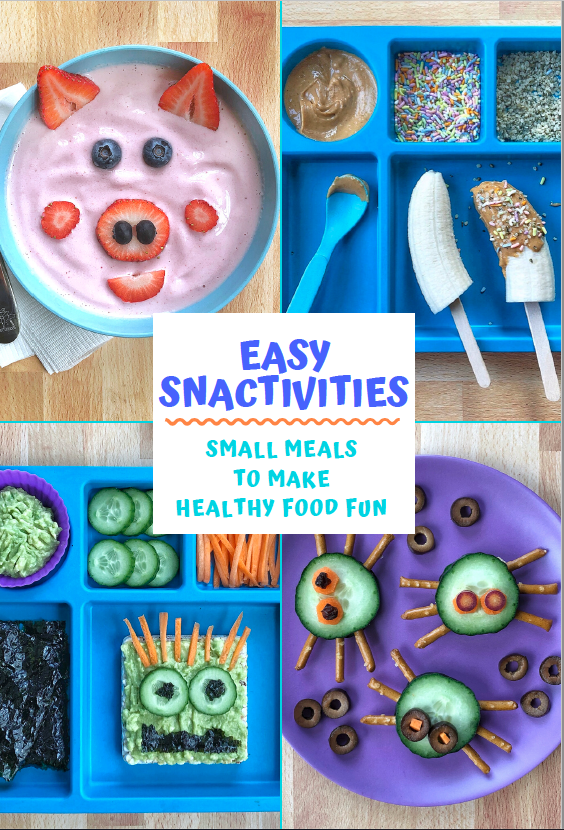 As parents, we all want our kids to have balanced diets and eat their veggies, but I've learned that healthy habits go beyond what kids eat day to day. Looking at the big picture, we want our children to not just take a bite of the broccoli on their Paw Patrol plate but willfully choose to eat the broccoli served in the college cafeteria and even make a pan of delicious roasted broccoli for friends and family someday down the road. You know the saying: "Give a manafish, and you feed himfor a day. Teach a man to fish, and you feed himfor a lifetime."
I love what I do more than words can express, and believe all children, no matter how young, can participate in the kitchen and learn to cook and enjoy food.
So, I invite you to stay a while. Try my recipes, get some lunch box inspo, and learn more ways to have fun with food. I'm here to help you and your little one(s) get into the kitchen to make memories and healthy meals TOGETHER! 
I would love to connect with you and know…how can I help YOU on your journey to raising a healthy eater? Please find me on Instagram or Facebook! Join our community of moms, dads, and care-givers so we can support each other and help our children learn to love and cook healthy food.
Happy Cooking! 🙂
Resources: I invite you to take a look at my Shop page, where you'll find my ebooks, kids cookbooks, and links to my favorite cooking tools for kids and adults.