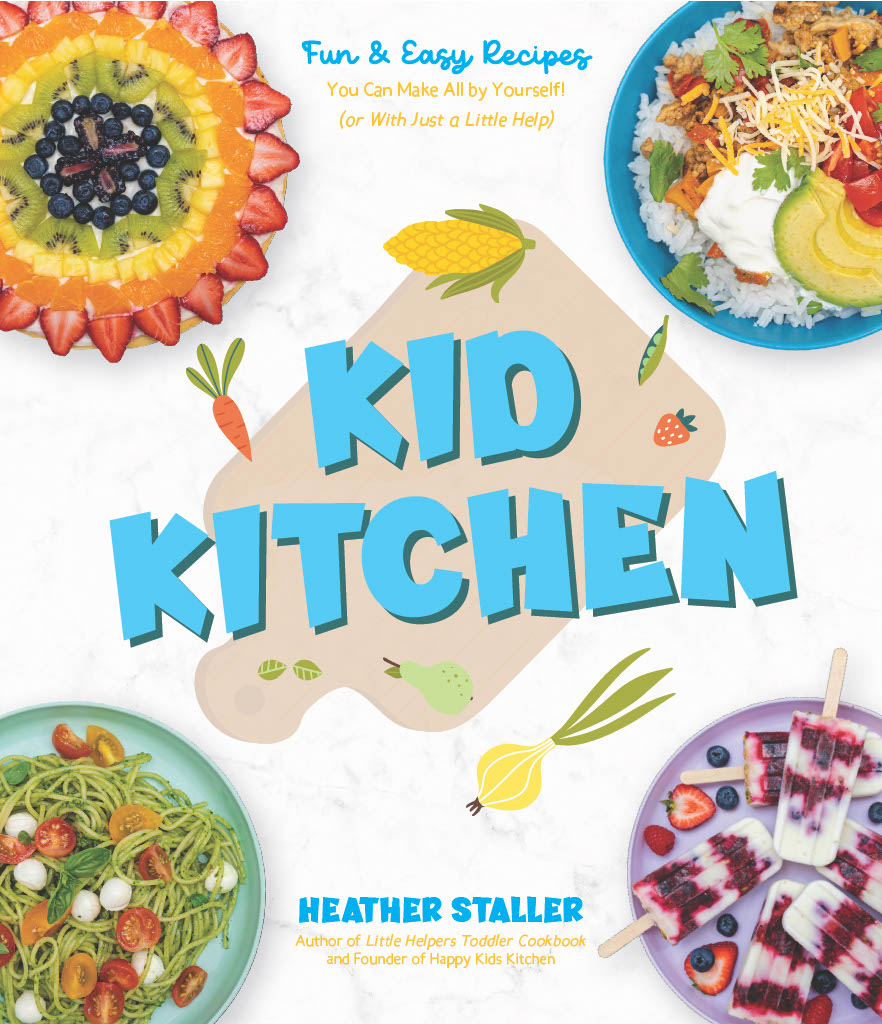 Kid Kitchen has officially launched!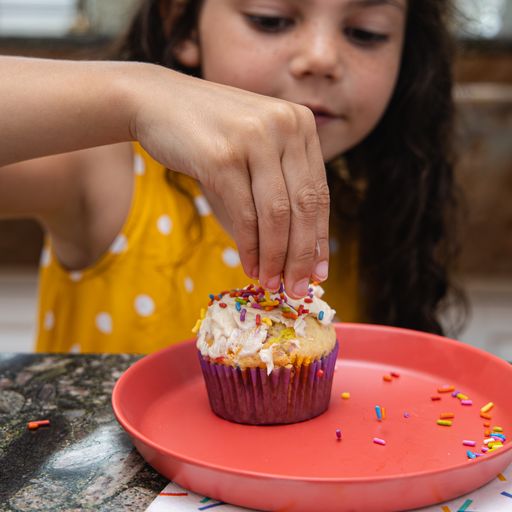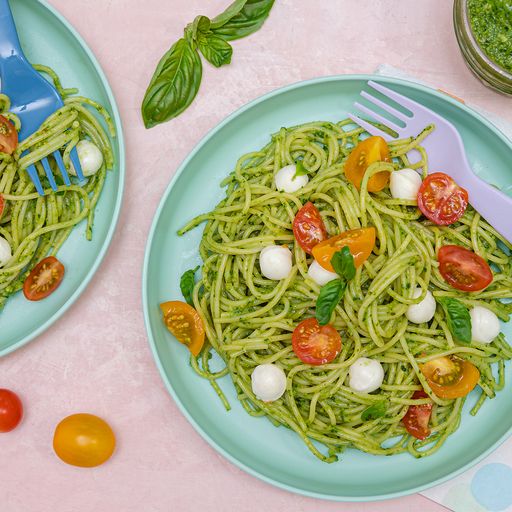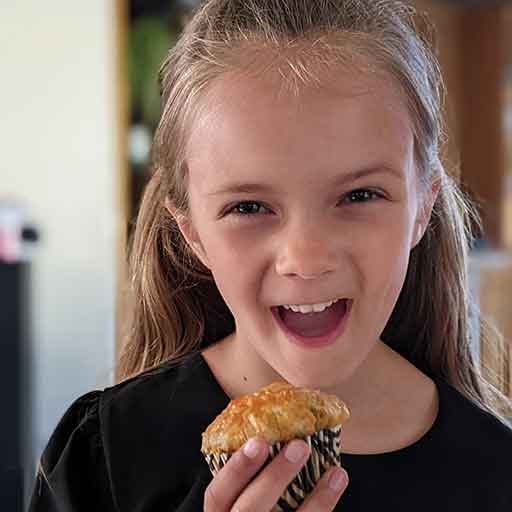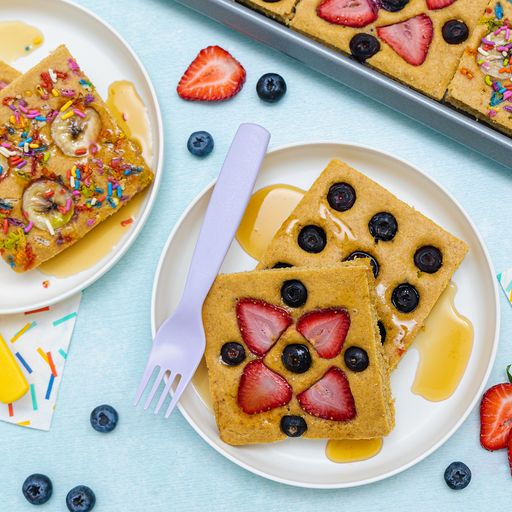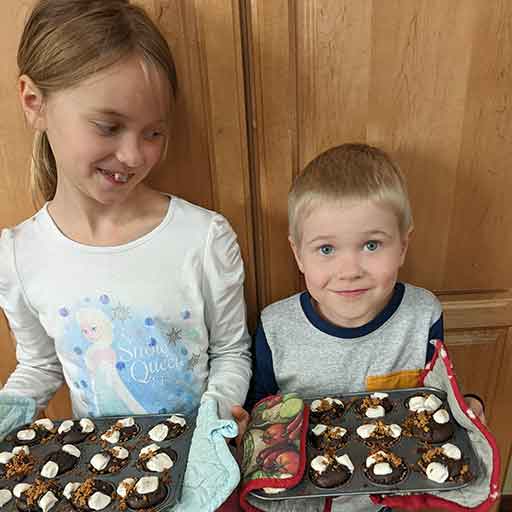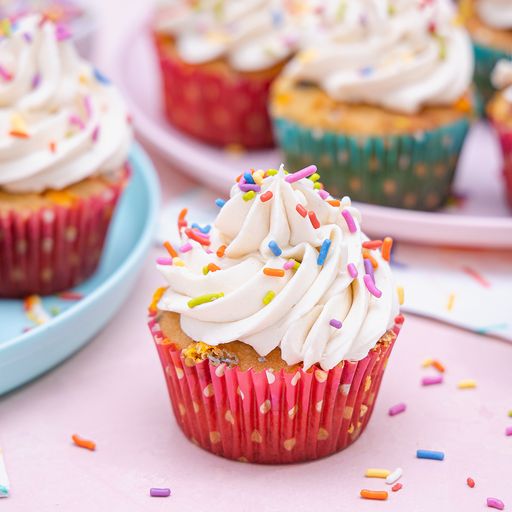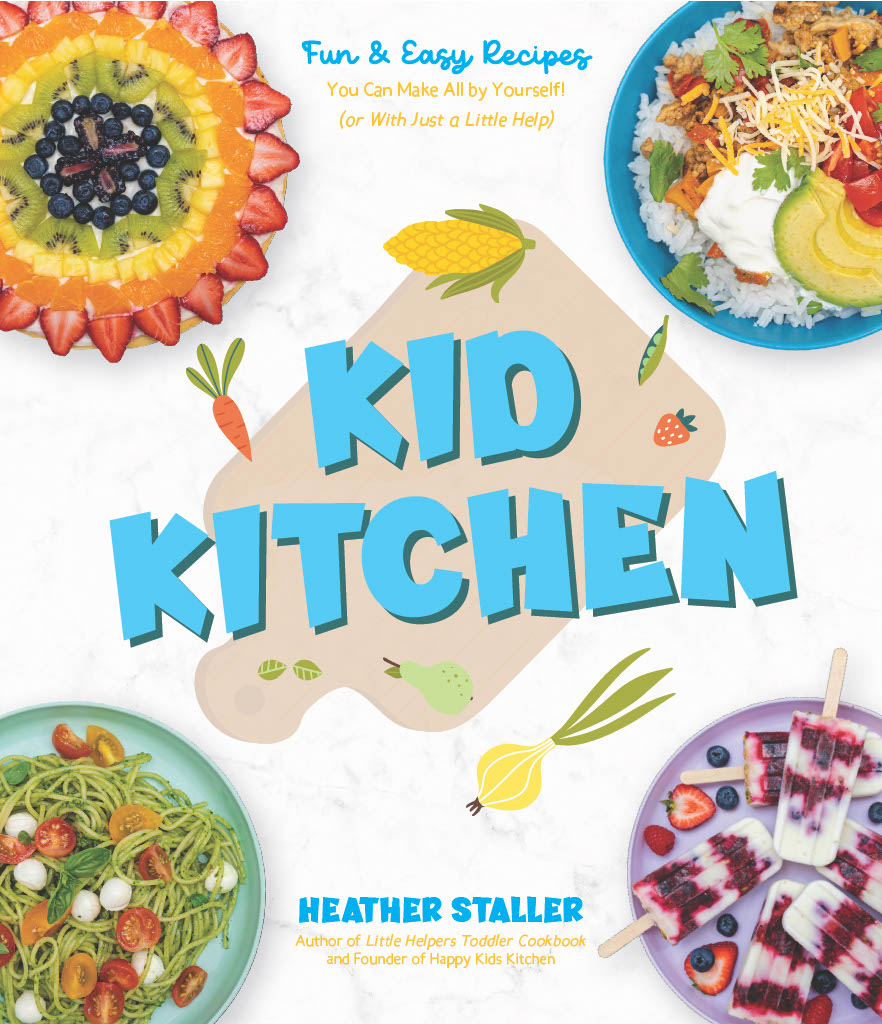 Do you want a sure-fire way to get your kids into the kitchen?!
In this fun, tasty, and easy-to-follow cookbook, food blogger Heather Staller invites elementary and pre-teens into the kitchen in her second book. Think of KID KITCHEN as the secret sauce to inviting kids into the kitchen and having fun together as a family—all while instilling confidence and taking some of the cooking off of your plate!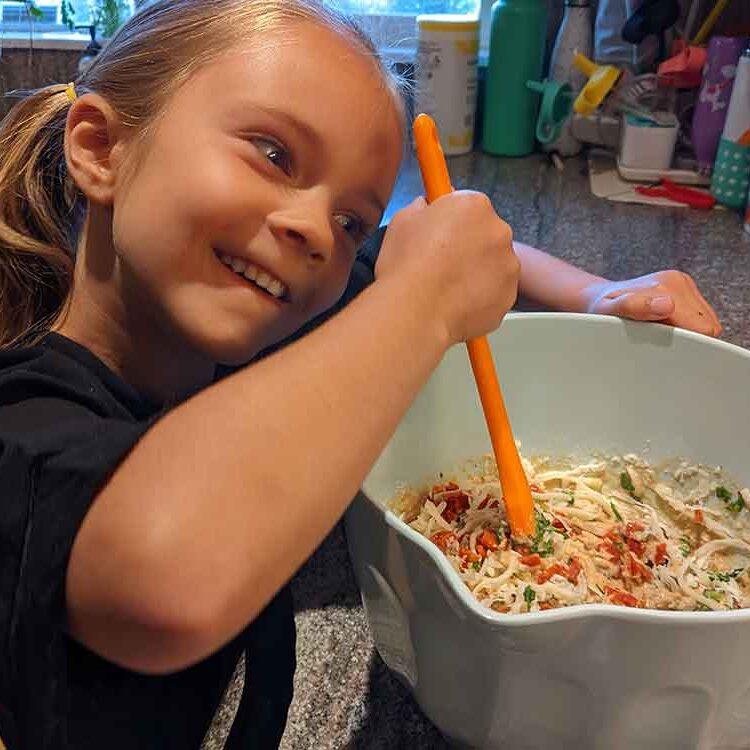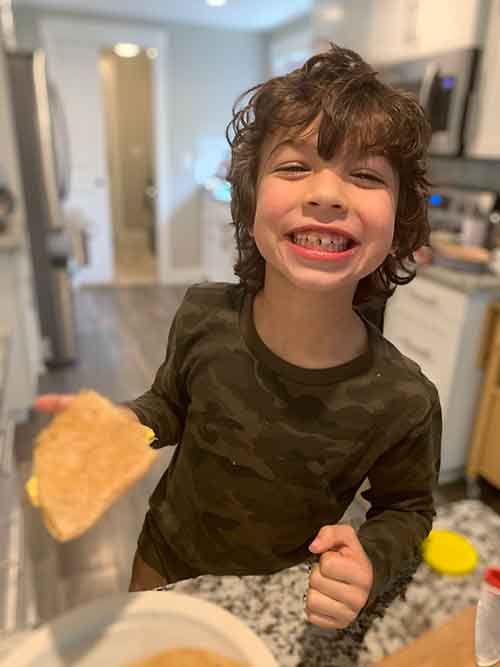 Fiesta Breakfast Quesadilla
Nathaniel, Age 7 (Brother: Alexios, Age 4)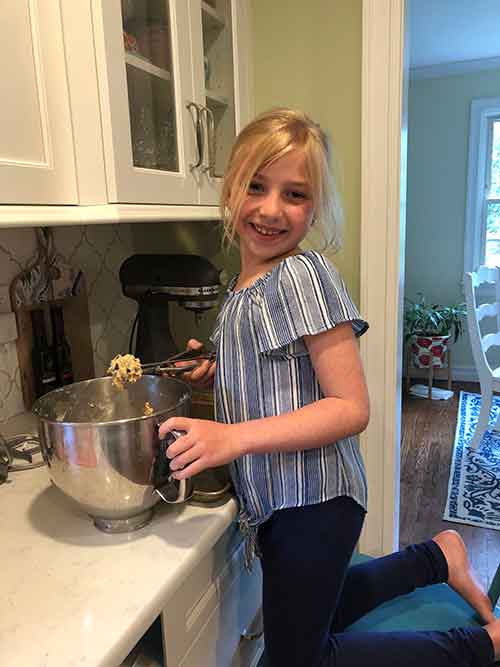 Big and Chewy Chocolate Chip Cookies
Kate, Age 9 (Brother: Jack, Age 6)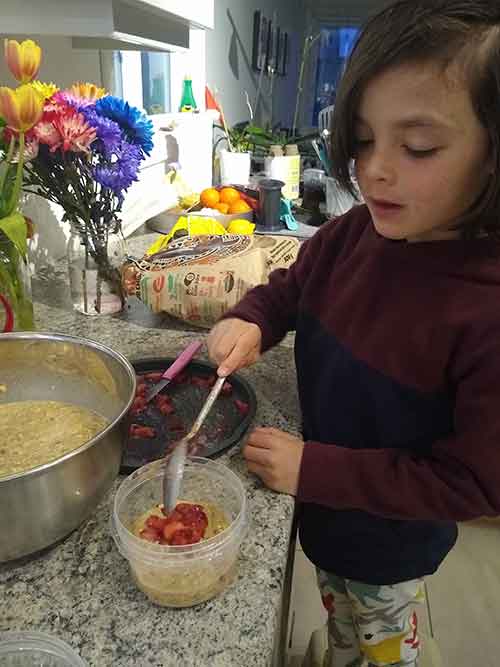 Banana Split Overnight Oats
Ben, Age 7
Check out what your favorite influencers are saying about Kid Kitchen
Founder of Weelicious and One Potato, cookbook author, and mom of 3
"KID KITCHEN is a must for anyone with budding young chefs! Heather puts the fun and passion into making recipes for and with children of all ages. I've got 3 kids who are all different ages and they all went nuts for the book. If you're looking for me, I'll be whipping up a batch of Heather's delectable Easy Peasy Noodle Stir Fry with my kids."
Founder of The Workspace for Children and mom of 3
Kid Kitchen, Fun and Easy Recipes You Can Make All By Yourself, is an invitation for children to grow lifelong confidence in the kitchen. Heather Staller blends her culinary skills and her fun, knowledgeable approach to cooking with kids. This recipe collection will be treasured by children and their families.  
Creator of The Natural Nurturer, mom, and former teacher
Heather's recipes tick all the boxes when it comes to kids cooking: easy, empowering, delicious, fun, and all with a healthier twist. My daughter always feels excited about cooking Heather's recipes because they are broken down with useful tips that make kids feel at home in the kitchen and I love that my child is learning a lifelong skill while learning creating a variety of tasty dishes our whole family enjoys.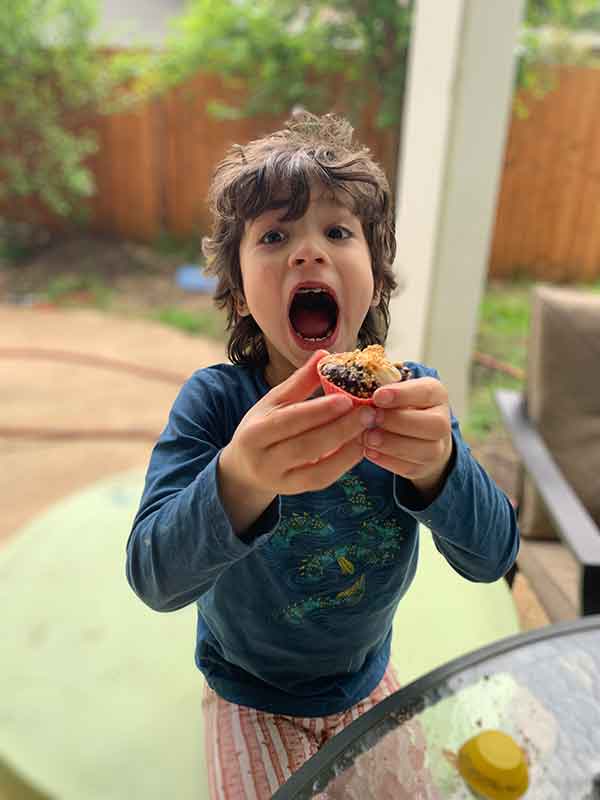 S'more Brownie Bites
"Super yummy! Love the graham cracker and chocolate brownie the best. Fun to make!"
Nathaniel, 7
"Fun recipe. Would go well with a summer BBQ. East enough to make all year round. As you can see in the pictures - we had a lot of fun making (and eating!) this one."

Christina (mom)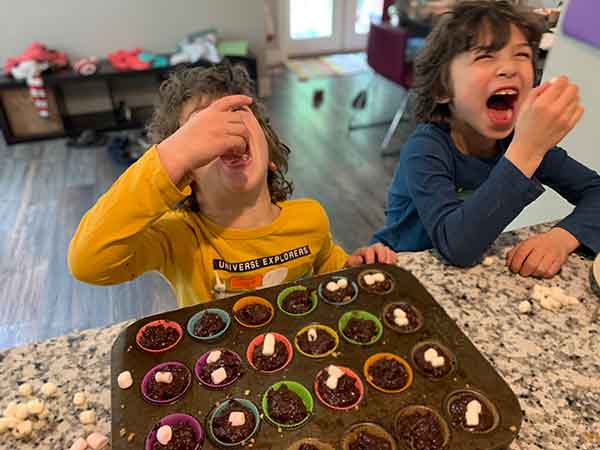 Ready to grab your copy? Kid Kitchen is available NOW!
Get over 30 recipes, ranging in difficulty from Easy Peasy (Level 1), to Totally Doable (Level 2), to Challenge Accepted (Level 3). Loaded with tips, techniques, and flavor combos, Kid Kitchen grows with your children as they gain confidence in the kitchen! Here are a few options for ordering your copy for delivery in March 2023!
The links below are affiliate links, and this site will earn a commission from any sales.
Want a taste of what's inside? 
Ultimate Burgers with Toppings Bar
Fiesta Breakfast Quesadillas
Chicken Caesar Salad Kebabs
Mild-but-Mighty Chili
Monster Cookie Energy Balls
Disappearing Blueberry Cobbler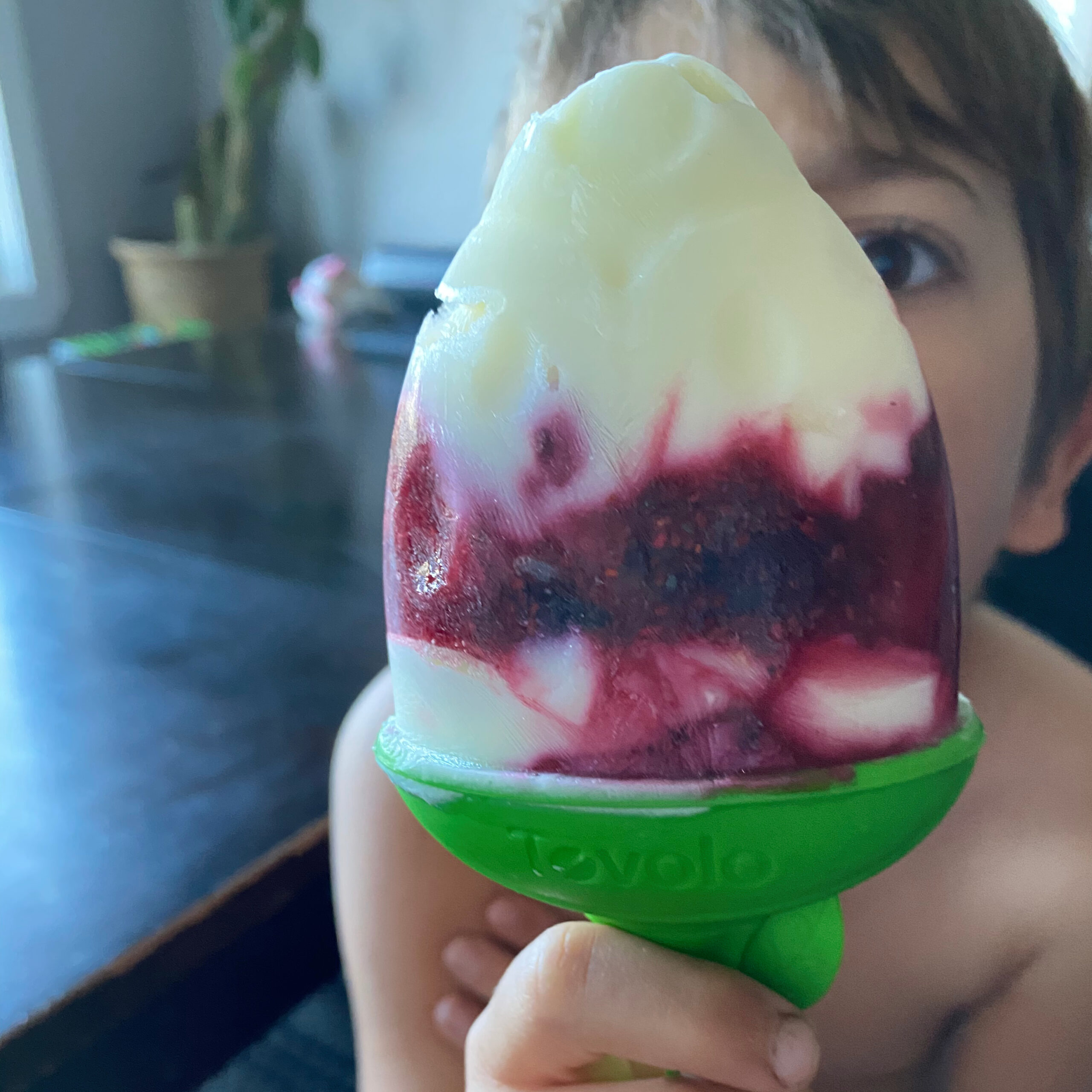 Berry Breakfast Popsicle
Made by Kid Chefs Jett (10 years old) and Crue (8 years old)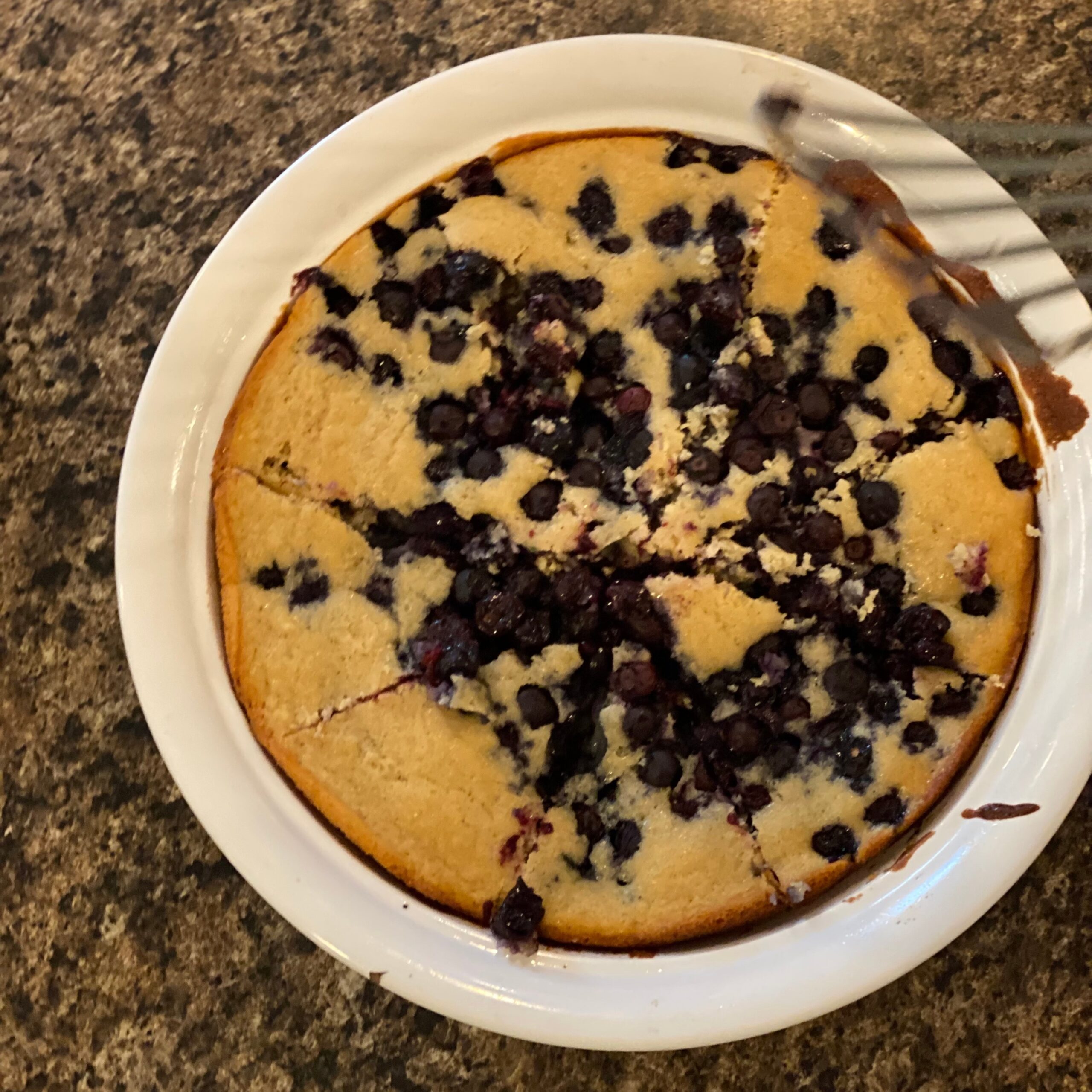 Disappearing Blueberry Cobbler
Made by Kid Chef Carl, Age 10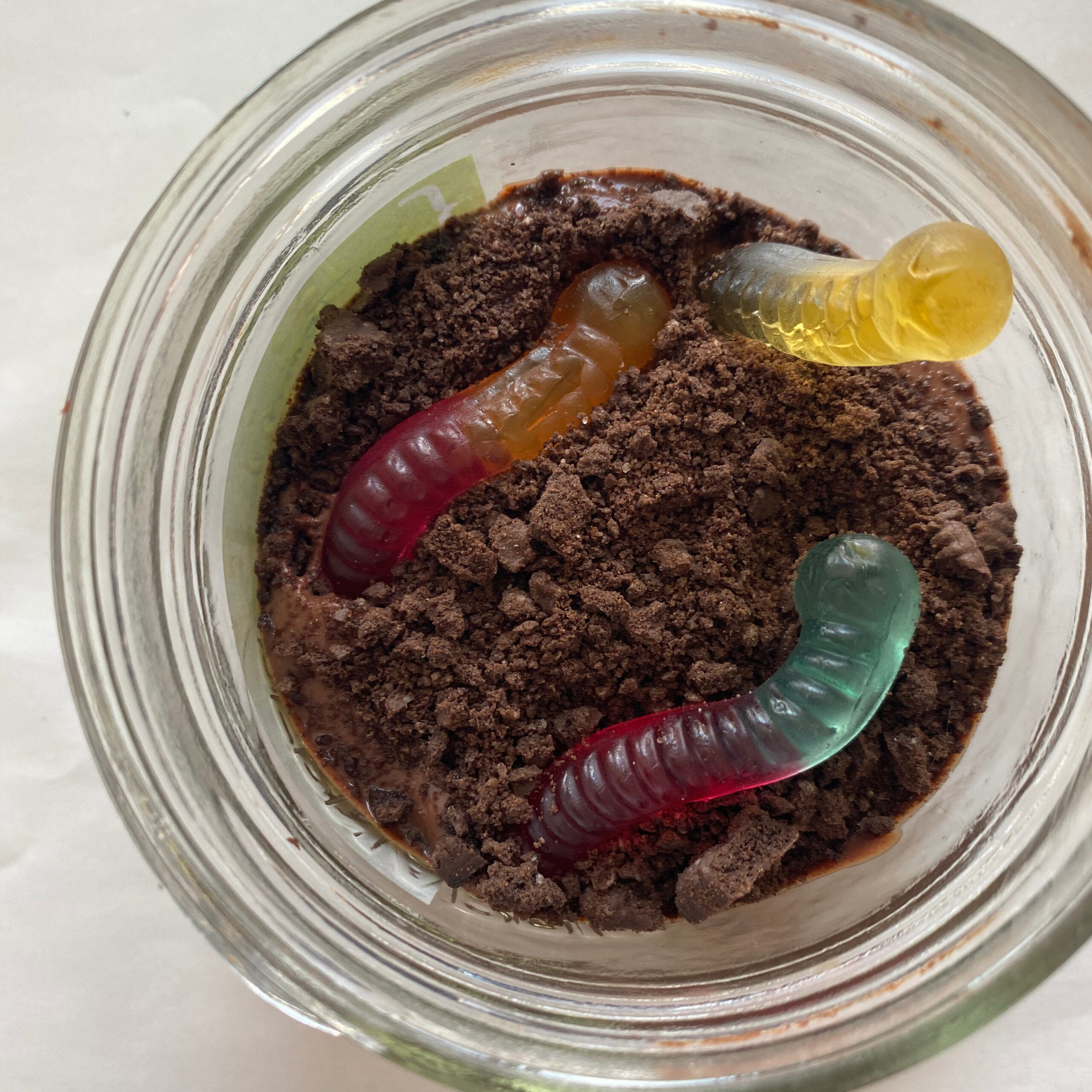 Secret Ingredient Chocolate "Dirt" Cups
Made by Kid Chefs Jett (10 years old) and Crue (8 years old)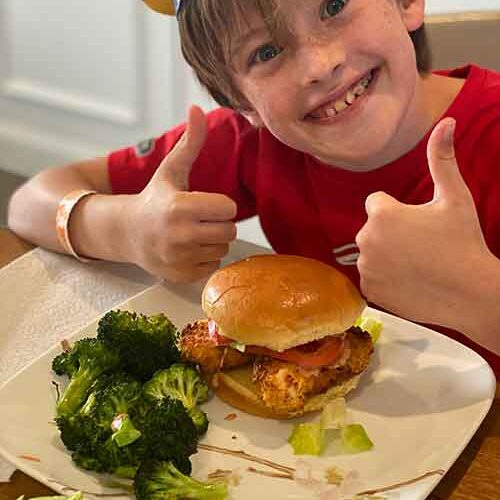 Is this cookbook for you?
Are you interested in getting your kids into the kitchen? Are you ready to help your kiddos gain even MORE cooking skills and MORE independence? Then KID KITCHEN is for YOU!
Tasty Rewards

What other activity takes LESS off your plate—but rewards you with delicious food ON your plate?

Try New Foods

Your competitors may be doing the same thing, but we'll help you navigate the world of opportunity. There's always room to improve and innovate.

Gain Kitchen Confidence

With recipes ranging from Easy-Peasy (Level 1) to Challenge Accepted (Level 3), your child will be able to build their kitchen confidence in no time.

Spend Time Together as a Family

We all know finding ways to spend quality time together can be challenging. Cooking together in the kitchen is a FUN way to enjoy new foods, take something off your to-do list, AND teaches valuable skills to your kids (without it seeming like a chore)!

Inspire Creativity!

With variations and options given for many recipes in KID KITCHEN, your child's inner foodie will be unleashed! Letting your kids have freedom when it comes to flavors, textures, and variations not only keeps everyone (and their tastebuds!) from getting bored, but also flexes their creative culinary muscle.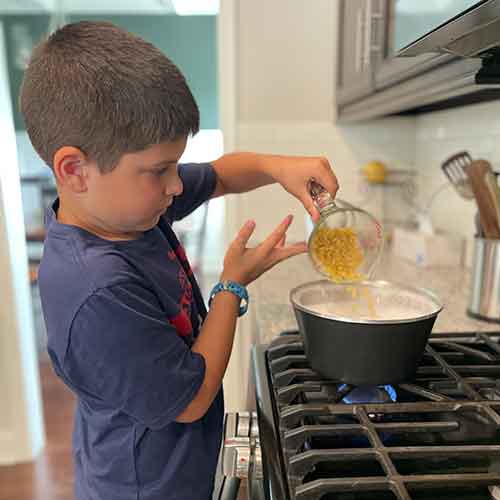 One Pot Mac and Cheese with Trees!
Noah, Age 8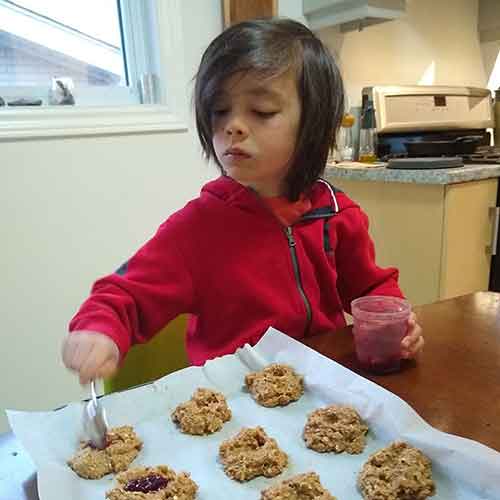 PB&J Breakfast Cookies
Ben, Age 7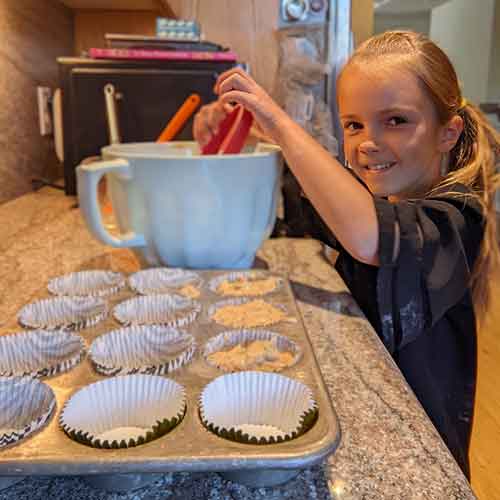 Pizza Lunch Box Muffins
Violet, Age 7
As the mom of two opinionated little boys, I get that attempting to raise happy, healthy eaters is no joke!
My kids have whined about sitting down for a meal and sneered at their veggies. Carefully packed lunches have come home uneaten. And they've definitely rejected dinner then asked for a snack 3 minutes later.
It's enough to drive you crazy, right?
What's my solution to overcoming these challenges?
Invite kids to join you in the kitchen and make food FUN! 
When your kids participate in the kitchen, you create pressure-free, fun opportunities for them to explore and learn about food.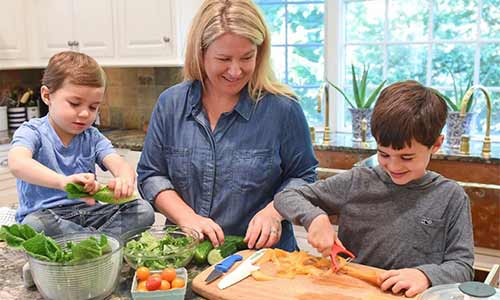 Heather Staller
Mom, Cookbook Author, Blogger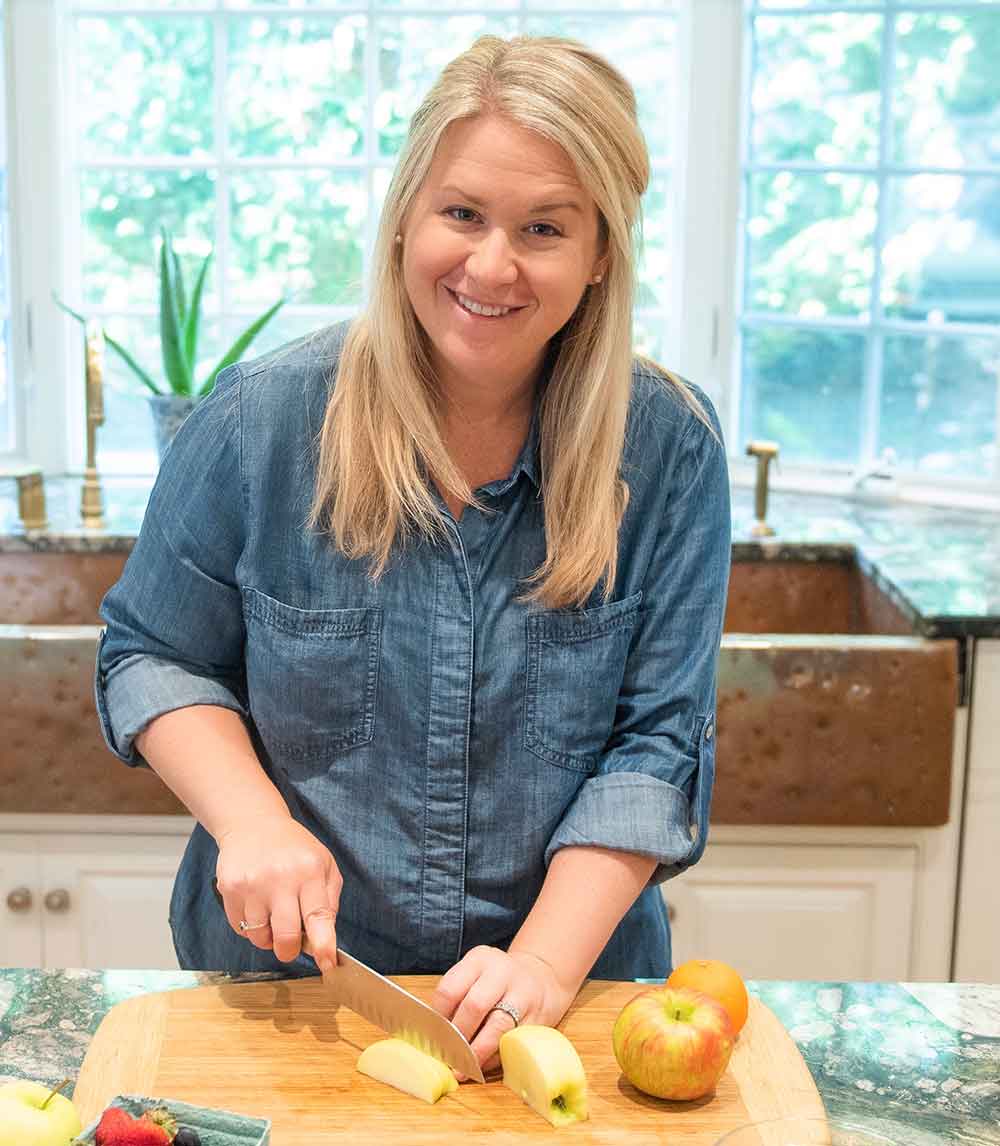 Frequently Asked Questions
Yes! This published book will be delivered to your home unless you choose an electronic option. 
Kid Kitchen is available NOW! Order it here.

While KID KITCHEN  is primarily for ages 7-12 looking to gain more independence and confidence in the kitchen, it truly is for ALL kid chefs given the right amount of adaptations and supervision! The family favorites in this book are aimed at kids' palates (that adults are sure to enjoy also!) From the child just starting out to those that want to expand their kid chef skills, there is something for everyone!
Adult supervision is always advised. As your children gain more confidence and skills in the kitchen, your level of hands-on supervision will vary. With three levels of difficulty, many recipes in KID KITCHEN can quickly be "mastered" by your budding chef! Of course, with heat and knives involved, we always recommend adult supervision.
We have done our best to include recipes for everyone! As allergies can vary, we have provided as many substitution suggestions as possible. KID KITCHEN also has a variety of recipes—some which include meat, dairy, and eggs and some that are vegetarian/vegan-friendly!
If you ordered your copy of Kid Kitchen before March 14, 2023, you find information here on claiming all of your pre-order bonuses! Thank you for supporting Happy Kids Kitchen on the new KID KITCHEN Cookbook!
Getting Your Kids In the Kitchen Has Never Been Easier!
WANT MORE WAYS TO INVITE YOUR KIDS INTO THE KITCHEN?
SUBSCRIBE TO OUR NEWSLETTER!
Recipes, Snacktivities, and More!