Banana Beet Cupcakes with Berry Cream Cheese Frosting
Pretty pink cupcakes filled with wholesome ingredients and even some veggies! Banana Beet Cupcakes are naturally colored with beets and the frosting is made perfectly pink from the juice left behind from defrosted frozen raspberries. They are a perfect weekend baking activity for kids or whip them up for a toddler birthday party or preschool get together. Plus, I am sharing my secret frosting recipe that doesn't even require a mixer (and no refined sugar either)!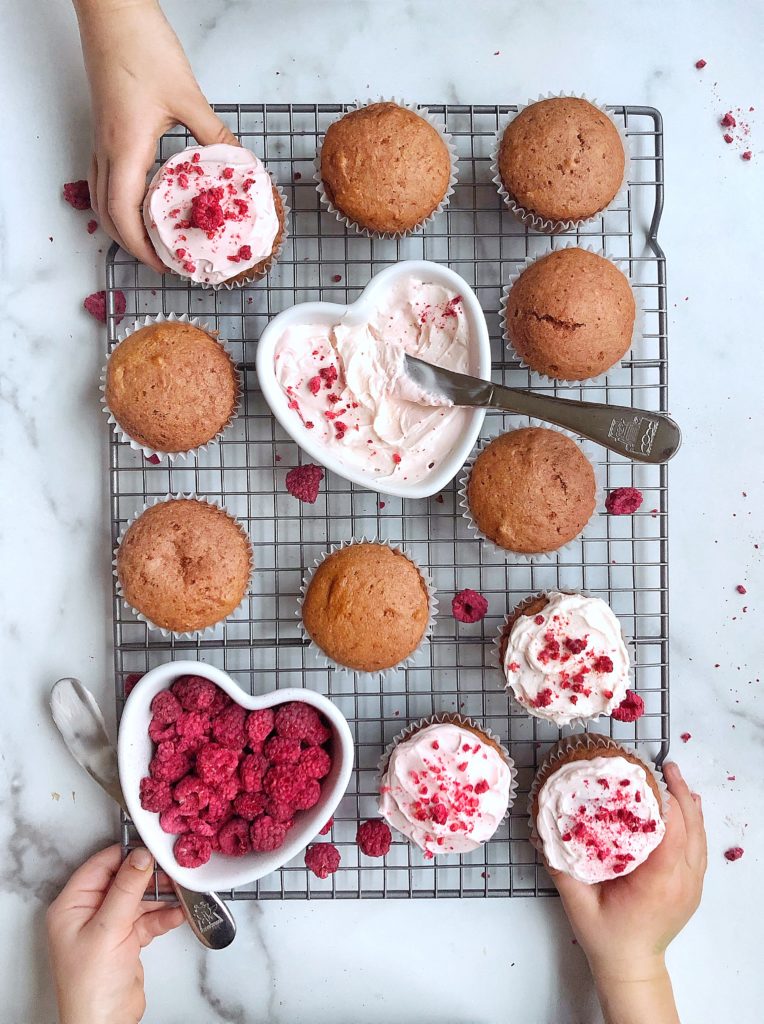 Kids can help make Banana Beet Cupcakes!
Remember that kids do not have to do all the steps included below! Helping can mean doing one thing in the recipe or being there from start to finish. Even adding one ingredient to the bowl has benefits!
Set yourself up for success! BEFORE you invite a child to bake with you, get out all the ingredients and tools, preheat the oven, be completely ready to go. I like to place everything on a baking sheet to keep in organized and contained.
Measure and mix the dry ingredients. Demonstrate how to fill a measuring cup and level it off with the back of a butter knife or wooden spoon so that the cup is "full and flat." Slowly whisk the dry ingredients together and explain why it's important to mix everything so all the cupcakes look at taste the same after they come out of the oven.
Add the ingredients to the blender and blend it up! Make sure to talk about beets and how they change the color of the batter.
Pour the pink mixture over the dry ingredients and stir together.
Have your child place the paper liners into the muffin cups. This is a great opportunity to practice counting too.
Scoop the batter into the muffin cups holding the scooper or spoon together.
Kids can mix the frosting ingredients together. You may want to spread the finished frosting onto the cupcakes (this task is a little tricky for kids to do but they can try if you are up for it!).
Decorate!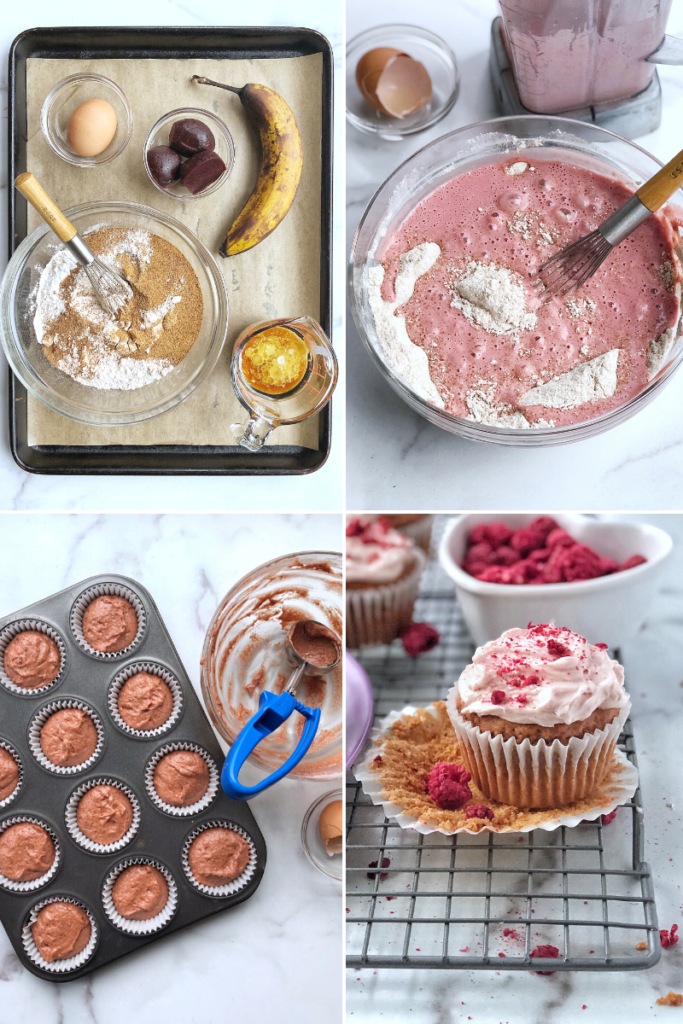 Ingredient suggestions and substitutions:
Flour: I like to use a blend of all-purpose white flour and whole wheat flours for these cupcakes. It adds a bit more fiber and nutrition to the recipe without making it feel like a healthy muffin. However, feel free to use all whole wheat flour, especially if it's a mild flour like a whole wheat pastry flour or white spelt flour. To make these gluten-free, sub a gluten-free flour blend that you like.
Egg-free? I have not tested it but since this recipe only has one egg, I feel like a flax "egg" would work well as a substitute. Let me know if you try it!
Dairy-free? The cupcakes themselves are dairy-free. As for the frosting, feel free to use a dairy-free cream cheese and whip the frosting together with a hand or standing mixer to make it light and fluffy. You can also use any frosting recipe you like instead.
Beets: I usually use a roasted beet that I've cooled and peeled for this recipe. They tend to help the batter stay pink. You can also use a pre-cooked beet as a short-cut. However, sometimes baking with beets is a complete mystery and the color fades after baking. If you want to ensure your cupcakes stay pink, feel free to add a little food-based coloring available at many grocery stores or on Amazon.

No Beets?

If you don't want to add beets to this recipe, you can easily sub another ripe banana instead.
Toppings for decorating: we used freeze-dried raspberries for a sugar-free, easy, and pretty topping for these cupcakes. However, feel free to get creative and add some sprinkles, fresh berries, or whatever you'd like.
Favorite kitchen tools for making Cupcakes:
Here are some things that I use every time I make muffins or cupcakes: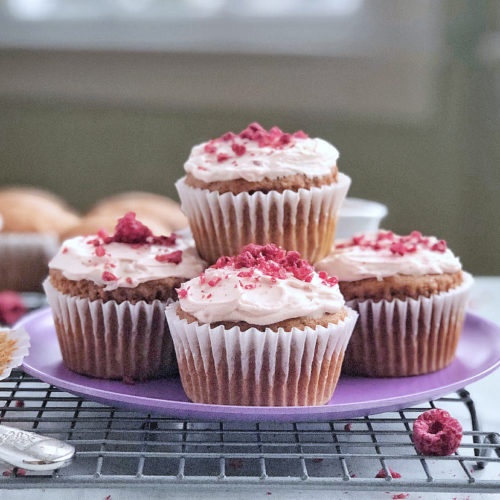 Banana Beet Cupcakes with Berry Cream Cheese Frosting
Naturally pink, healtheir cupcakes perfect for baking with kids
Ingredients
1

cup

all-purpose flour

1

cup

whole wheat flour

or use all gluten-free flour

2

tsp

baking powder

1/4

tsp

fine salt

1

tsp

ground cinnamon

1

very ripe banana

1

small cooked peeled beet

about 4 ounces

1

large egg

1/2

cup

coconut sugar

or 1/4 cup brown sugar

1/4

cup

maple syrup

or honey

1/4

cup

avocado oil

or other flavorless vegetable oil

1/2

cup

milk

unsweetend almond milk or any kind

2

tsp

vanilla extract

1/2

cup

freeze-dried raspberries

or other decorative topping
Berry Cream Cheese Frosting
8

ounces

whipped cream cheese

1

Tbsp

honey

or other sweetener

1/4

tsp

vanilla extract

1/2

cup

frozen raspberries, defrosted
Instructions
Preheat the oven to 350 degrees. Place paper liners or decorative cupcake papers into a standard muffin tin.

In a large bowl, add flours, baking powder, salt, and cinnamon. Whisk together until well combined.

Add remaining ingredients to a blender besides the raspberries. Blend until smooth.

Pour blender contents into the bowl with the dry ingredients. Stir with a spatula or spoon until just combined and no dry flour remains.

Divide the batter between the 12 muffin cups. Bake until a toothpick inserted into the center comes out clean, 16 to 18 minutes. Place cupcakes on a cooling rack.

Once cooled, spread frosting over each cupcake with a butter knife or small spatula. Sprinkle crushed freeze-dried raspberries over the top or decorate with other toppings as desired.
Berry Cream Cheese Frosting
Scoop cream cheese into a medium-sized bowl. Add honey and vanilla. Using a spoon, stir to combine.

Strain frozen raspberries over a bowl or measuring cup. Set the solids off to the side. Add a little of the raspberry juice to the cream cheese mixture at a time until you reach the pink color you'd like. Taste frosting to see if you'd like to add any additional sweetener.. Refrigerate until ready to use.
Save Banana Beet Cupcakes on Pinterest for later!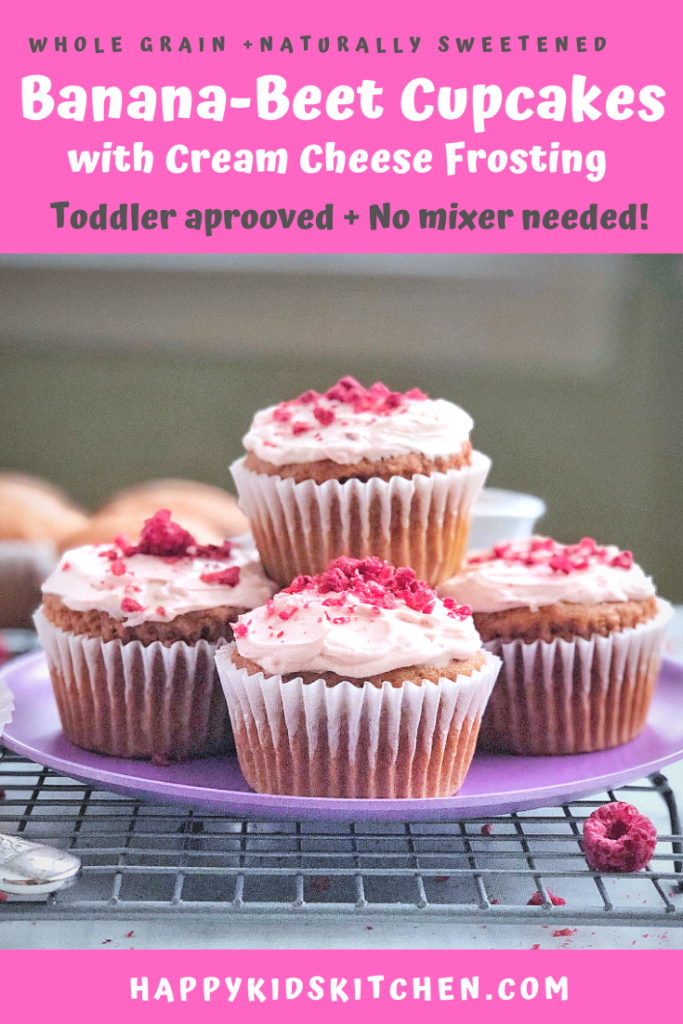 Other great recipes to bake with kids:
Banana-Pumpkin Blender Muffins