Banana Blueberry Muffin Tops
Part muffin, part cookie, a whole lot of yumminess! Banana Blueberry Muffin Tops are gluten-free, dairy-free, and easily made nut-free. Plus, they are way lower in sugar than most muffins and only lightly sweetened with ripe banana and a touch of maple syrup. If your family likes blueberry muffins, they are sure to enjoy this spin on the classic breakfast treat. Banana Blueberry Muffin Tops are made in just one bowl so it is a super easy recipe to cook with kids.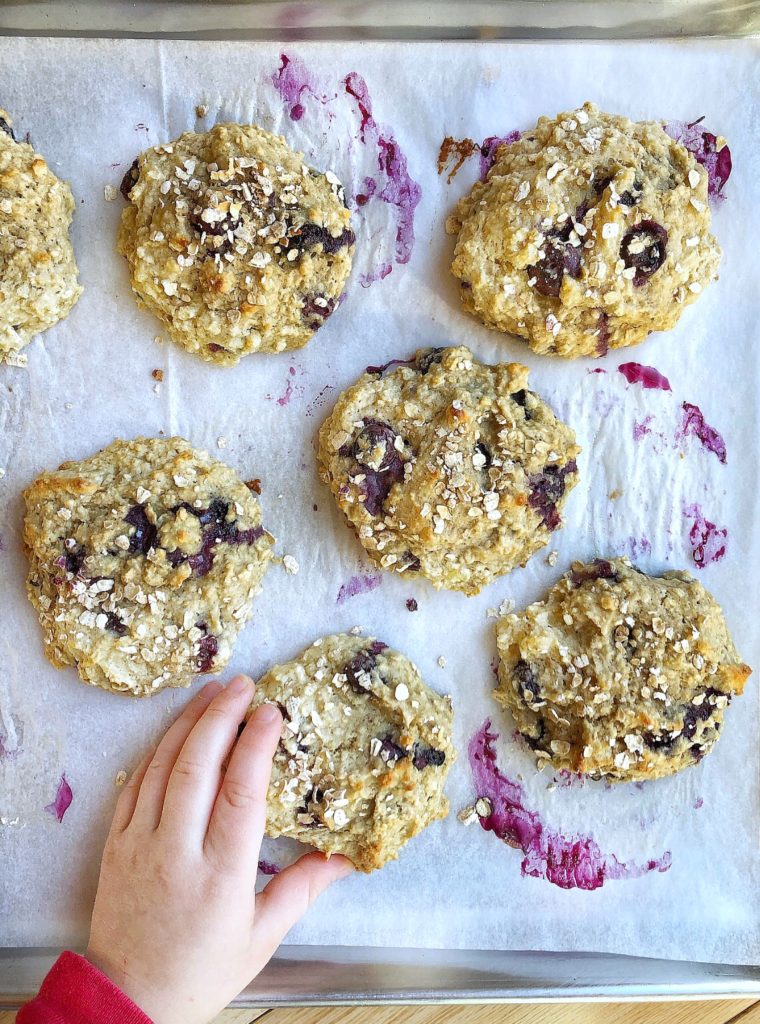 Cooking Banana Blueberry Muffin Tops with Kids
Gather all the ingredients before you invite your little one to bake with you. It will get things off to a smooth start. If you are baking with a very young child or if you would like to keep the mess down to a minimum, consider pre-measuring the dry goods like flours.
Mashing bananas! One of my favorite cooking activities for kids. We usually use a potato masher for this task but you can also use a fork or even a sturdy whisk. Kids sometimes get a little concerned when the banana initially gets stuck inside the mashing utensil. Just remind the child that it's ok and to keep mashing to get it out. Sometimes we like to make up a mashing song to make the activity even more fun. "Mash banana, mash mash banana!"
Make sure to crack eggs into a separate bowl in case any shells get in there. If the child isn't cracking the eggs, he/she can help dump the eggs from the small bowl into the larger bowl with the mashed banana.
Dump! Teach kids to add ingredients to the center of the bowl to avoid spilling.
Mix! Have a little one that wants to do everything herself? Ask if you can take turns mixing. Kids usually understand that concept well and that way the child can have some independence and you can get things well mixed.

Subs and Tips for Banana Blueberry Muffin Tops:
Nut-free? Almond flour gives these baked goods a light and fluffy texture. I really love using the almond flour in this recipe, but if you need to leave it out, here are some alternatives: Use the same amount (1 cup) of oat flour or 1/3 cup of a whole wheat or all-purpose wheat flour.
Egg-free? I have NOT tested this recipe with an egg substitute but I am guessing that a flax "egg" replacement might work. Please let me know if you try it!
No blueberries? Feel free to get creative with the mix-ins. I've tried mini chocolate chips, chopped nuts, and raisins and they've all been delicious additions. I've also made them plain, just banana muffin tops, and those are great too.
Don't have "quick" oats? You can pulse regular rolled oats in a food processor a couple times to break them down a bit more. Measure them after to process them.
Double the batch! These recipe makes 8 large muffin tops, but if you need to feed more people or want to make extra to freeze for later, you can easily double the recipe.
You can use a measuring cup or large spoon to make the mounds of batter on the baking sheet, but I like to use a large cookie scoop to make the job a little easier. Here is one I like.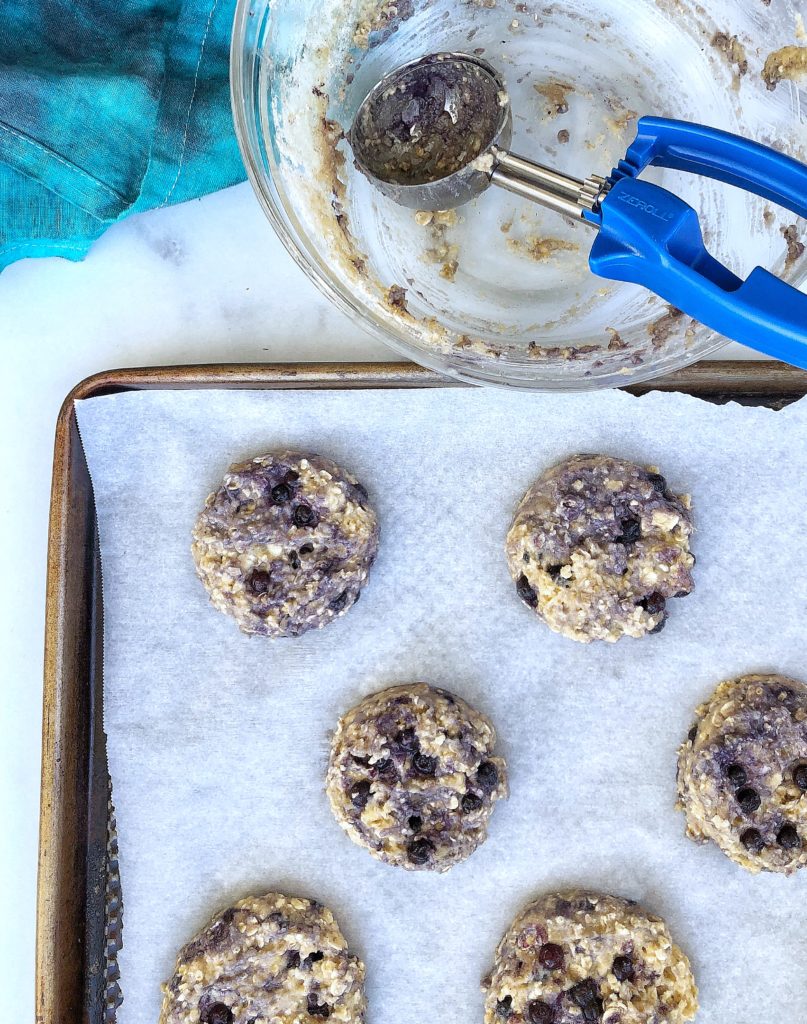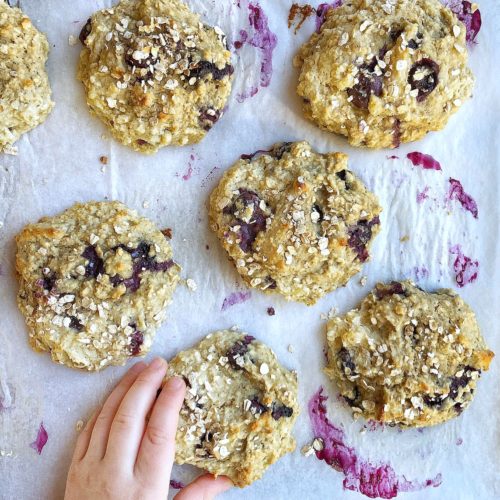 Banana Blueberry Muffin Tops
Healthy and delicous muffin/cookie hybrid!
Ingredients
1

very ripe banana

2

large eggs

2

Tbsp

oil

avocado or other flavorless oil

2

Tbsp

maple syrup or honey

1

cup

fine almond flour

1 cup

quick-cooking rolled oats

gluten-free if desired

1 1/2

tsp

baking powder

1/2

tsp

ground cinnamon

1/4

tsp

fine salt

1/2

cup

frozen wild blueberries or fresh blueberries
Instructions
Preheat oven to 350 degrees. Line a sheet pan with parchment or use a silicone baking mat.

Mash the banana in the bottom of a large bowl until no lumps remain (or only a few little ones remain). Mix in eggs, oil, and maple syrup. Add almond flour, oats, baking powder, cinnamon, and salt and mix until just combined. Gently stir in blueberries.

Scoop batter onto the prepared sheet pan using a 1/4 cup measuring cup or a large cookie scoop. Bake until lightly golden brown around the edges, 10 to 12 minutes. Allow to cool on the pan or transfer to a rack. Store in an airtight container on the counter for 1 day or in the refrigerator for 4 days. Wrap well and freeze for up to 1 month.
Save on Pinterest!!
Other recipes you'd love:
Banana Pumpkin Blender Muffins
Sweet Potato Gingerbread Muffins