Sweet Potato Gingerbread Muffins
Sweet, lightly spiced, tender muffins with added veggies? Yes, please! No need to bake cookies to get those yummy gingerbread flavors in your life. These Sweet Potato Gingerbread Muffins are the perfect way to have a festive treat any time of day. The muffins are filled with whole grain goodness and are naturally sweetened. Kids will love to get in the kitchen to help make these treats for breakfast, snack time, or any time of day. Making them together is a great way to expose kids to sweet potatoes, especially if your little one isn't a fan of the potatoes in their whole form. You can show your child that although she might not like roasted sweet potatoes, she might liked them baked into a sweet muffin. Cooking the muffins together means you aren't hiding the veggies but finding new ways to enjoy them.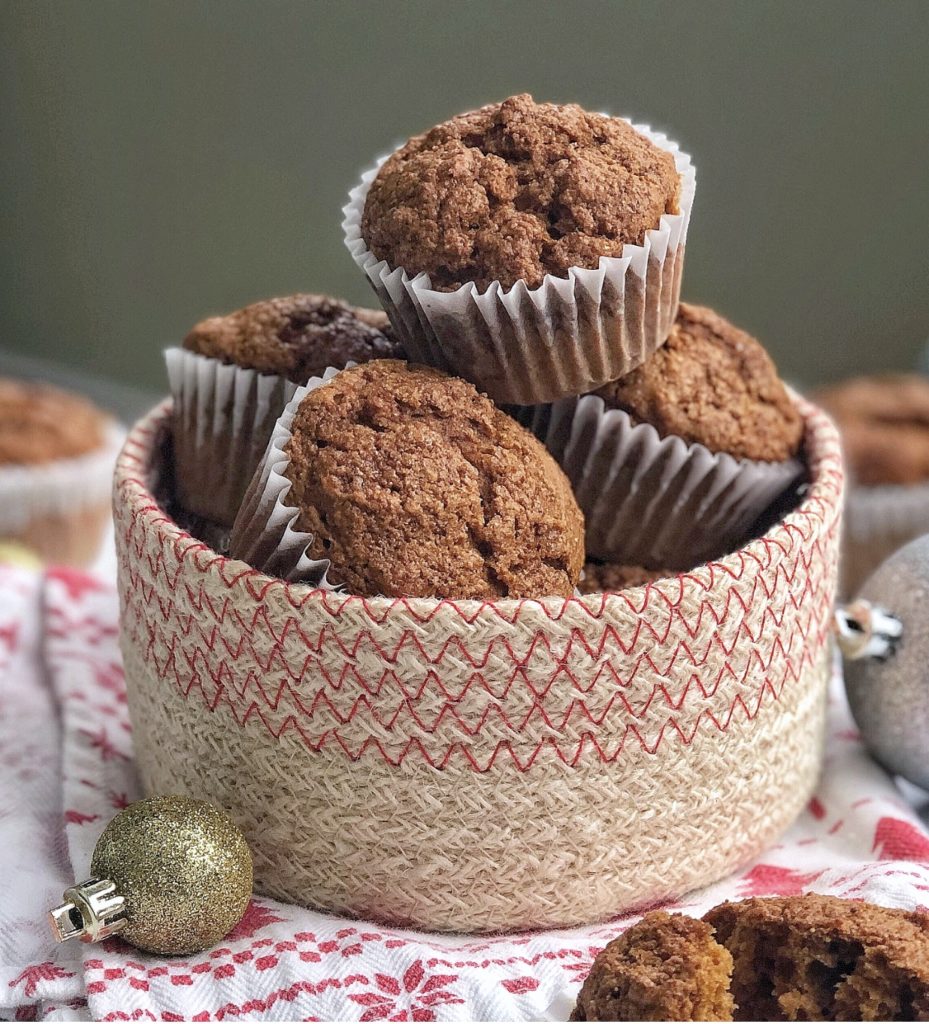 What kind of sweet potato should I use for Sweet Potato Gingerbread Muffins?
You can use any variety of sweet potato you'd like. However, the form of sweet potato, raw, mashed, or canned, will change the amount of liquid you add to the muffin batter.
Canned sweet potato is a great shortcut to make this recipe super duper easy. Many grocery stores now carry canned, fully cooked and pureed sweet potato right next to the cans of pumpkin puree. It's just sweet potato-nothing else, so it is just as healthy as cooking the sweet potato on your own. Use 1 cup of the canned puree in the recipe, but since in has a higher liquid content than plain cooked potato, reduce the amount of milk in the recipe to 1/2 cup. These instructions are also included in the recipe noted below.
Have some extra mashed sweet potato in the fridge? If it's just sweet potato, nothing added to it, you can use that in the muffins too. Use 3/4 cup and keep the milk amount at 1 cup as directed in the recipe.
Milk: I usually use unsweetened almond milk for this recipe to keep it dairy-free. You can use cow's milk, coconut milk, or whatever kind of milk you have on hand.
Pumpkin puree: if you don't have sweet potato or canned sweet potato on hand, you can use canned pumpkin instead. Use 1 cup of pumpkin puree and reduce the amount of milk to 1/2 cup.

Substitution Suggestions for Sweet Potato Gingerbread Muffins:
Flours: Want to make this recipe gluten-free? Use your favorite gluten-free flour mix. We often use Bob's Red Mill brand or Cup-4-Cup works well too. We love using Bob's Red Mill white whole wheat flour for baked goods because it has a more mild flavor than traditional whole wheat flour (with the same health benefits). You can also use equal parts whole wheat and all-purpose flours for great flavor and added nutrition.
Egg-free? Sub a "flax egg" for the regular egg. Mix 1 tablespoon ground flax meal with 2 tablespoon water and set aside for 2 minutes. Use in the recipe just like the egg.
Oil or butter? I like to use avocado oil in most muffins and other baked goods, but you can use melted coconut oil, vegetable oil, or even melted butter, if you'd like.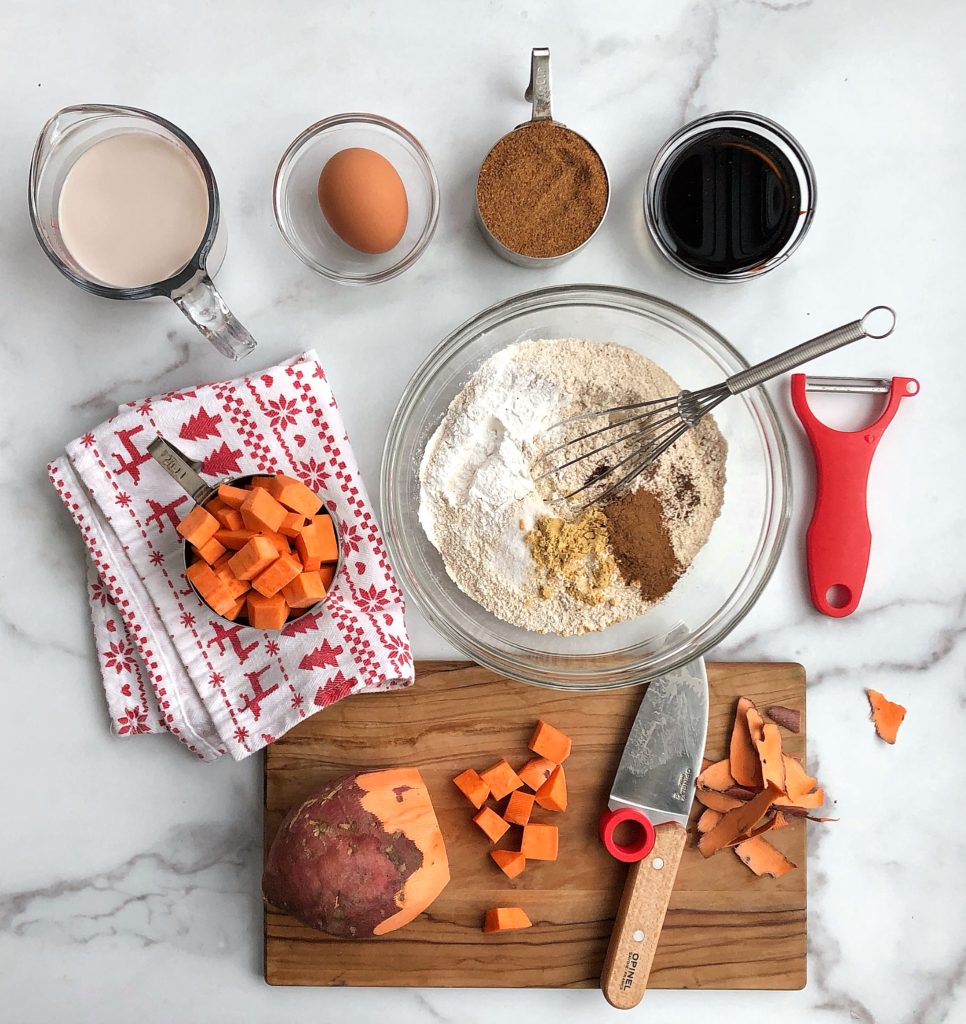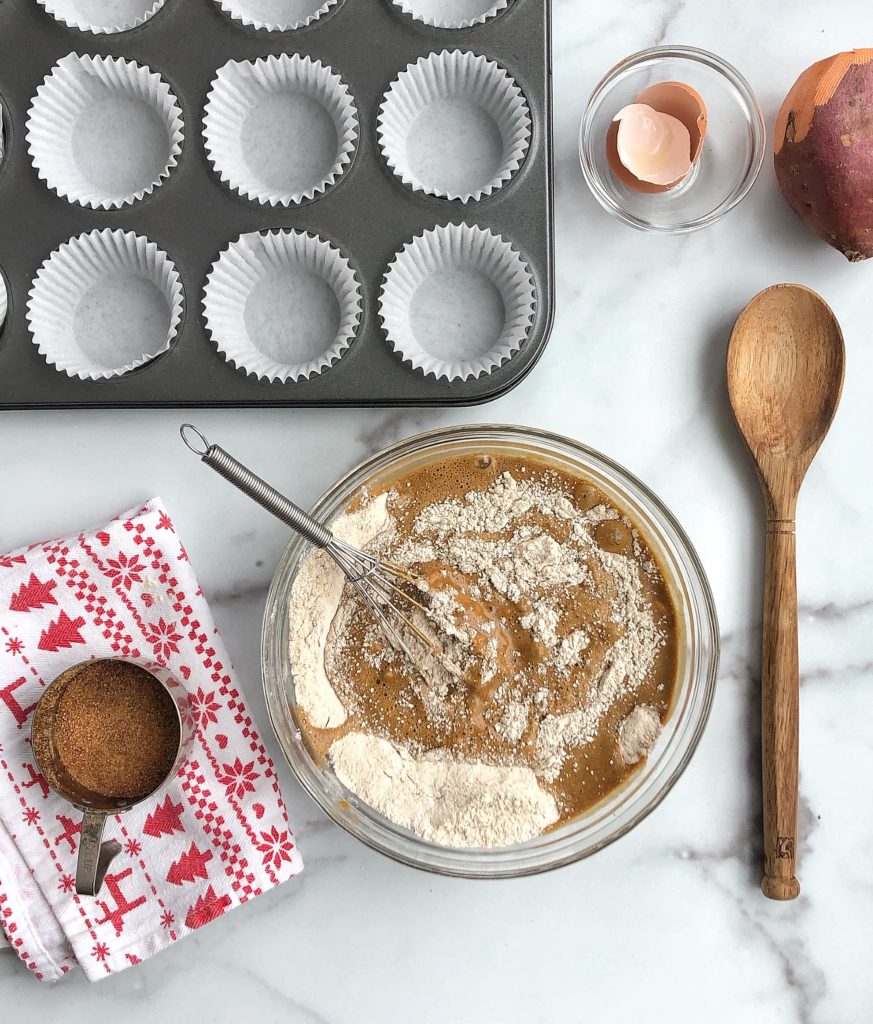 Favorite kitchen tools for making muffins:
Here are some things that I use every time I make muffins:
-Unbleached paper muffin liners (Love these because they are non-stick!)
–Large and small portion/cookie scoops (Get a set of three! Can be used for so many things beyond muffins too.)
–A great muffin tin (You probably already have one, but here is one just in case.)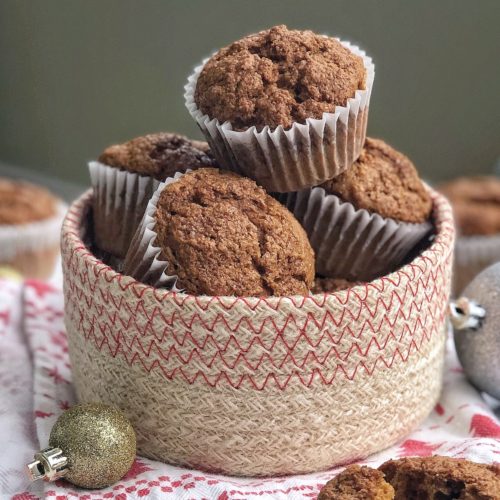 Sweet Potato Gingerbread Muffins
Wholesome, sweet, and full of festive flavor.
Ingredients
1

heaping cup

peeled, diced sweet potato

or see note below for using canned sweet potato puree

2

cups

whole wheat, all-purpose flour, or gluten-free flour mix

1

tbsp

baking powder

1/4

tsp

fine salt

3/4

tsp

ground ginger

1

tsp

ground cinnamon

1/8

tsp

ground allspice

1/8

tsp

ground cloves

1/2

cup

coconut sugar

or brown sugar, plus more for top

2

tbsp

molasses

2

tbsp

maple syrup

1

large

egg

1/4

cup

oil

avocado or vegetable

1

cup

milk

any kind

1

tsp

vanilla extract
Instructions
Preheat oven to 350 degrees. Line a muffin pan with paper liners.

Place diced sweet potato in a small pot and cover with water. Simmer on medium heat until very soft, about 10 minuites. Drain and set aside to cool for 5 minutes. Meanwhile, whisk flour, baking powder, salt, and spices together in a large bowl until well combined. Set aside.

Place cooked sweet potato and remaining ingredients in a blender. Blend until smooth. Pour over the dry ingredients and mix with a spoon or spatula until everything is just combined.

Scoop batter into muffin cups. Sprinkle a pinch of extra coconut sugar on top of each muffin, if you'd like. Bake until lightly browned and a toothpick inserted into the center of a muffin comes out clean, about 16 to 18 minutes. Allow to cook fully before enjoying.
Notes
Use canned sweet potato puree to make this recipe even easier! Use 1 cup puree and reduce the milk to 1/2 cup. No need to use a blender, just whisk the wet ingredients together in a bowl.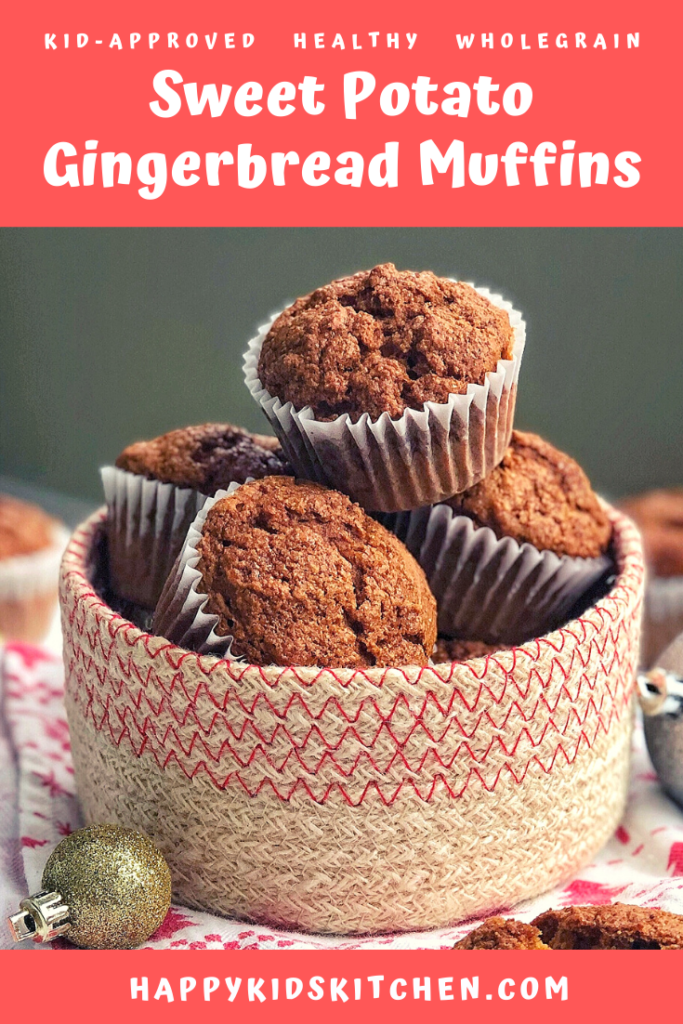 Want more healthy baking recipe to make with kids??
Banana-Pumpkin Blender Muffins
Chewy Ginger Cookies (Vegan and Gluten-free)