Chewy Ginger Cookies (Vegan and Gluten-Free)
Chewy Ginger Cookies are my favorite cookie of all time! I know that sounds extreme, but they really are a family favorite. Perfect for Christmas or any party, but I also bake them up several times a year, not just for the holiday season! Every Mother's Day I send them to my Mom as a gift and my boys ask for them as a special treat often too. My Chewy Ginger Cookies are gluten-free, vegan, and free from refined sugars. However, you would never know they are "healthier" cookies after tasting them. Make a double batch and bring them to a party or package them up as a homemade gift. My kids love helping make these cookies, especially rolling the dough balls in the coconut sugar before being baked. Crispy edges and soft, chewy centers with perfect warm, sweet spices….Can you tell I could go on about these cookies forever? I think you'll really enjoy them too!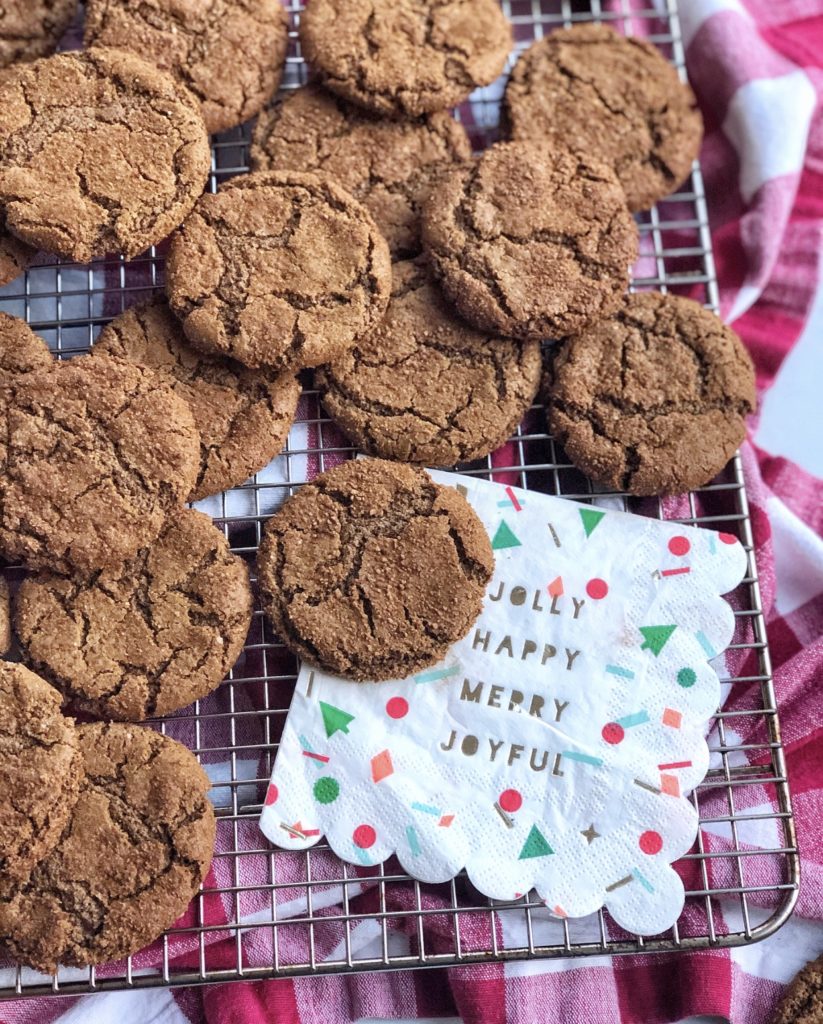 Can I make these Chewy Ginger Cookies grain-free or nut-free? Flour Substitutions:
I really like the texture the combination of oat and almond flours gives the cookies, but I have tried some flour substitutions to accommodate other dietary needs. I've had success making the cookies with Bob's Red Mill Paleo Flour Mix. Use 2 cups of the mix in place of the oat and almond flours. Alternatively, you could replace the oat flour with an additional 1/2 cup of almond flour, 2 tablespoons coconut flour, and 2 tablespoons cassava flour.
For a nut-free cookie, use an additional cup of oat flour in place of the almond flour.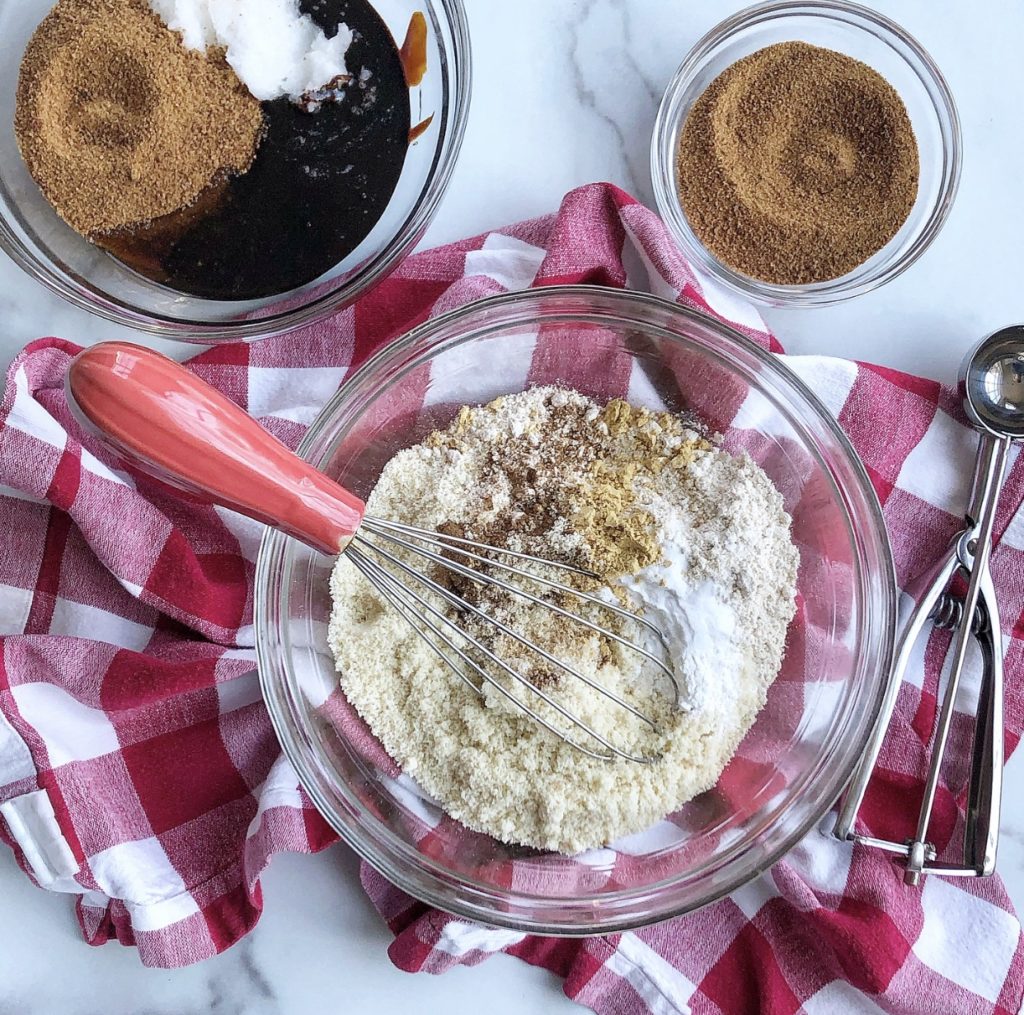 Tips for Making Chewy Ginger Cookies with Kids:
Measure! If you want to cut down on the amount of mess you make while cooking with kids (And it can be super messy, right?), pre-measure some ingredients before inviting your little one in the kitchen. Even measuring one or two ingredients together can be a great learning experience.
Dump! Adding the ingredients to a bowl is fun. Make sure to instruct your child to dump into the center, not on the edge, of the bowl to prevent any spills.
Scoop and Roll! Scoop and roll the dough together. You child might not make perfectly rough balls of dough but you can always go back and make them rough after they have a turn. As a mentioned before, rolling the dough in the extra sugar is a really fun and easy activity for kids.
Give! Package them up as a gift! Giving what you bake is a great lesson about kindness. Cooking isn't always about eating but about sharing what you've made.
My essential cookie making supplies:
Parchment Paper Sheets: these precut, unbleached parchment paper sheets make clean-up a breeze and ensure your cookies never stick to the pan. Plus, cutting the right sized piece of parchment paper from the roll is such pain! That's why I can't live without these sheets that fit perfectly in a baking pan.
Cookie Scoop: make your cookies look more uniform and professional by using a portion scoop to measure the dough. It makes scooping the cooking dough so much easier and kids love to help use these tools too! I really recommend investing in a high quality scoop because the less expensive ones tend to break really quickly. You can also buy a set of three scoops to use for all kinds of baking projects.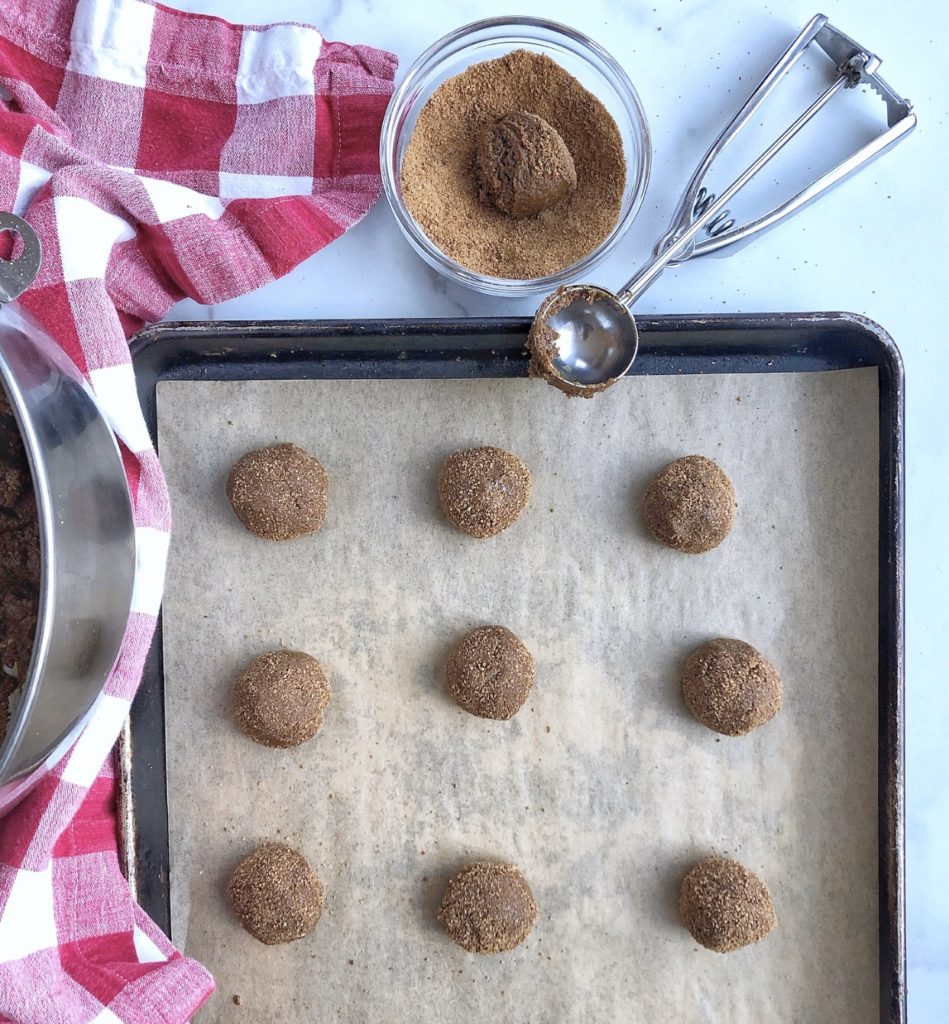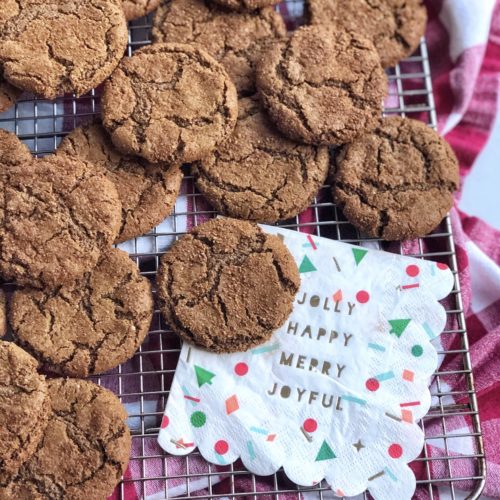 Chewy Ginger Molasses Cookies
Gluten-free and vegan, perfectly chewy, sweet, and delcious.
Ingredients
1

cup

oat flour

see flour substitutions above

1

cup

almond flour

not almond meal

1

tsp

baking powder

1

tsp

baking soda

1/4

tsp

fine salt

3/4

tsp

ground ginger

1/2

tsp

ground cinnamon

1/4

cup

coconut oil

at room temperature

1/2

cup

coconut sugar

plus more for rolling

1

Tbsp

maple syrup

3

Tbsp

molasses

not black strap

1

tsp

vanilla extract

2

Tbsp

unsweetened almond milk

or milk of choice
Instructions
Preheat oven to 350 degrees and line 2 sheet pans with parchment paper or use silicone baking mats.

In a large bowl, whisk flours, baking powder, baking soda, salt, and spices until well combined. Set aside.

Add remaining ingredients to the bowl of a standing mixer or in a large bowl if using a hand mixer. You can also mix by hand with a wooden spoon, but it will take a little bit longer to come together. Mix until ingredients are smooth and well combined.

Slowly add dry ingredients into the bowl. Mix until a sticky but cohesive dough forms. You should be able to roll the dough into balls easily.

Place about a 1/4 cup of additional coconut sugar into a small bowl. Scoop heaping tablespoon-sized balls of dough then roll them into the sugar, coating on all sides. Place coated balls on the prepared baking sheets, spacing them about 2 inches apart.

Bake for 5 minutes then open the oven and bang the pan against the oven rack or remove it and lightly drop it on the counter. Place back in the oven for another 5 minutes. Remove and bang the pan again. Dropping the pan like this helps the beautiful, cracked tops form on the cookies. Allow cookies to cool for 2 minutes on the pan then use a spatula to transfer them to a cooking rack. Once fully cooled, store at room temperature in an air-tight container for up to 5 days or freeze for up to a month.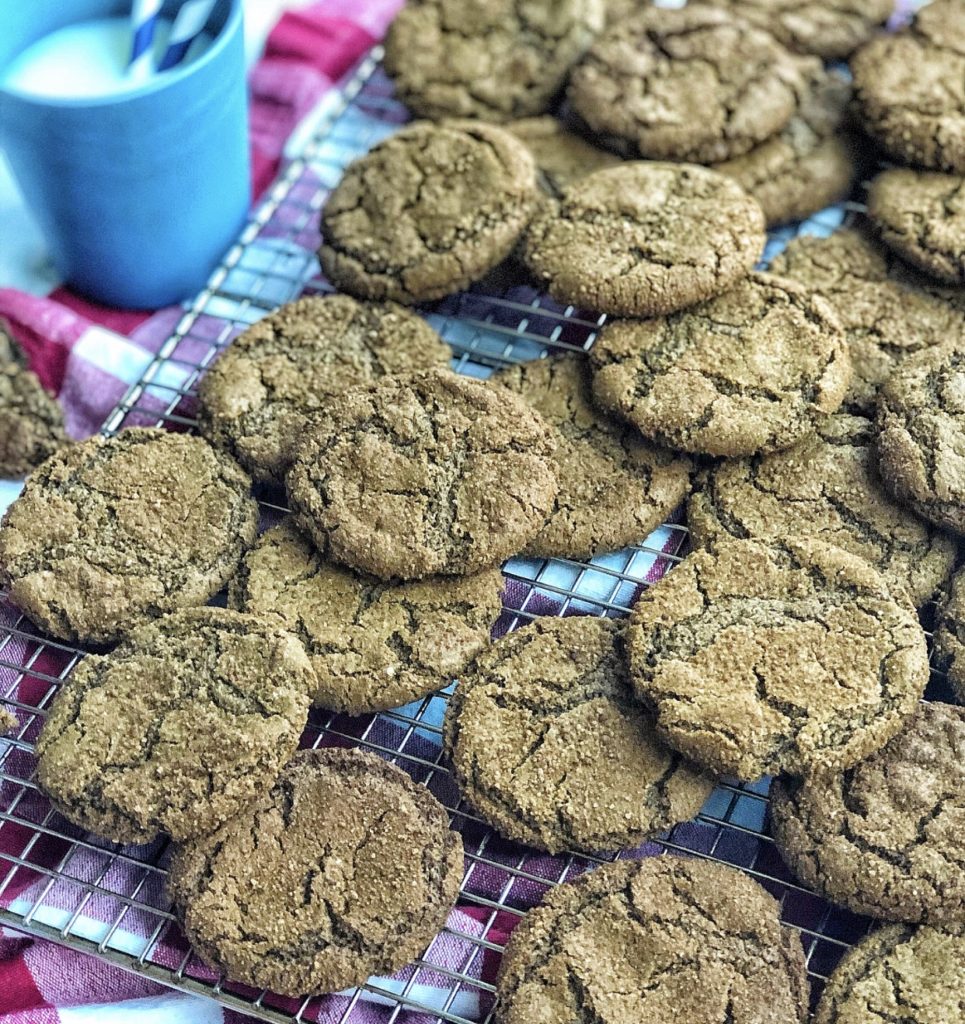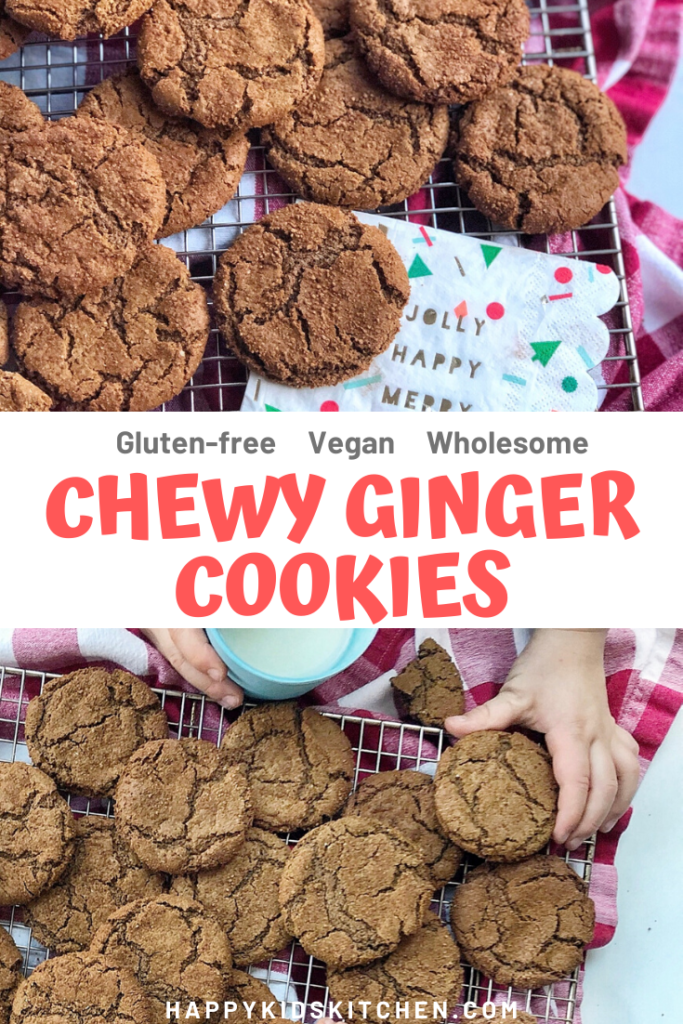 Looking for other sweet but healthy recipe? Check out the posts below!
Banana-Pumpkin Blender Muffins