3 Healthy Treat Recipes with Zucchini
Adding zucchini to cookies, brownies, smoothies, and other sweet treats is a great way to get even the pickiest toddler on board with trying some new vegetables. You don't need to hide veggies in sweet treats. Rather, we can to get into the kitchen and make the veggie-packed recipes together! Zucchini is a great veggie to start adding to sweet recipes because it is mild in flavor and can be used in a variety of ways such as grated, chopped, or blended. Soon you'll be asking yourself, "What other treats can make with zucchini?"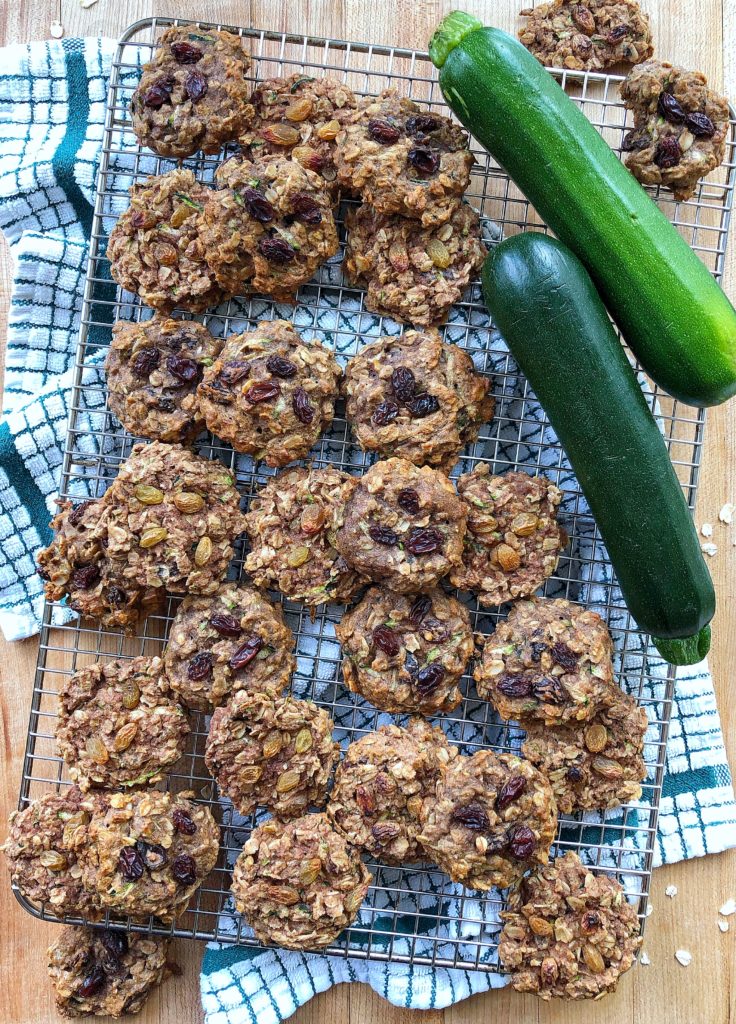 Zucchini Oatmeal Raisin Cookies
This recipe is a special sneak peek from my eCookbook, No Sugar Still Sweet, written in partnership with Kacie Barnes, a pediatric dietitian. I'm sharing the full recipe below, but if you are interested in learning more about the ebook and seeing the other 21 fruit-sweetened breakfast, snack, and dessert recipes, click HERE.
Zucchini Oatmeal Raisin Cookies
Makes 14-16 cookies
Like sweet zucchini bread in cookie form! These little treats are egg, dairy and nut-free, so they are great for any children with food allergies or to pack for school snack. Feel free to customize the little treats any way you'd like: add chopped nuts, hemp seeds, different dried fruit, or leave the zucchini out for a classic oatmeal cookie. You can use either applesauce or mashed banana in this recipe, however the banana yields a slightly sweeter cookie. If you want a gluten free cookie, substitute oat flour or any gluten-free flour blend for the whole wheat flour.
1 cup unsweetened applesauce or mashed banana (about 2 medium very ripe bananas)
1 cup shredded zucchini, excess moisture squeezed out in a towel
¼ cup neutral oil
1 teaspoon vanilla extract
½ cup plus 2 tablespoons whole wheat flour (or any flour)
1 cup rolled old-fashioned oats
½ teaspoon baking soda
1 teaspoon ground cinnamon
¼ teaspoon fine salt
¼ cup raisins
Preheat oven to 350 degrees. Line a sheet pan with parchment paper.
In a large bowl, mix applesauce or banana, zucchini, oil, and vanilla.
Add flour, oats, baking soda, cinnamon, and salt. Stir to combine. Stir in raisins.
Scoop about 2 tablespoon-sized spoonfulls of batter onto baking sheet pan and flatten each one a little with your fingers or the back of a spoon. Cookies will not spread much during baking so you can fit them all on one pan.
Bake until set and golden brown around the edges, 15 to 18 minutes.

Zucchini Brownie Bites
Little "two bite" brownies filled with deep chocolate flavor and tons of grated zucchini. These are a treat loved my kids and adults alike. Full recipe HERE.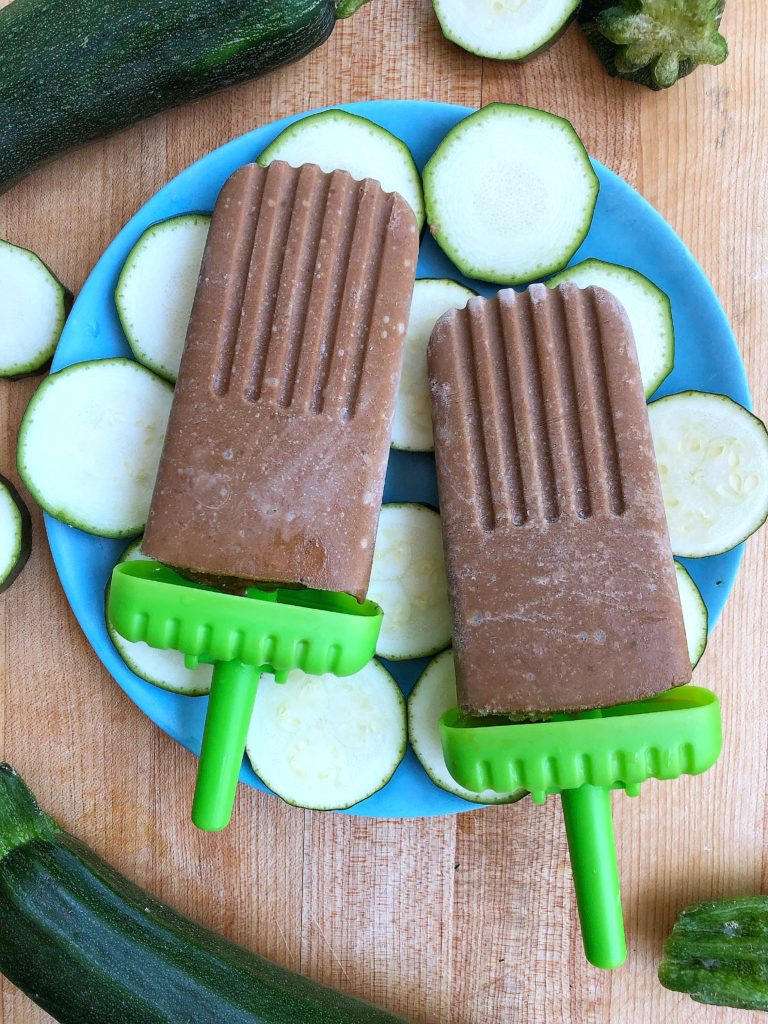 Chocolate Zucchini Fudgesicles
Zucchini blends really well into smoothies so why not make a creamy, nutritious combo and freeze it into popsicles? These frozen treats are made from 6 simple ingredients, dairy-free, and are naturally sweetened with dates. Full recipe HERE.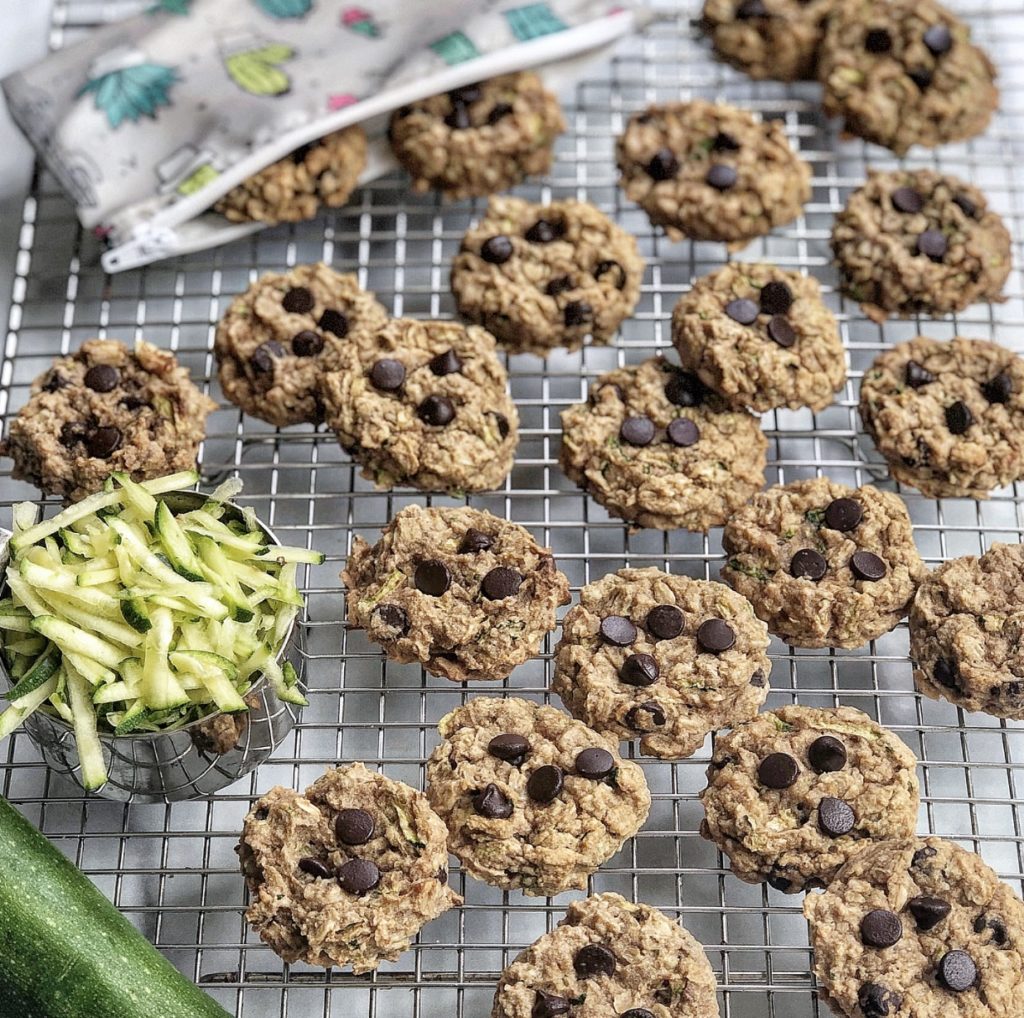 Zucchini Oatmeal Raisin Cookies with some adaptions: used stevia-sweetened chocolate chips instead of raisins, used oat flour, and added in some chopped walnuts.
Save to Pinterest for Later!