Chicken Parmesan Mini Meatloaves with Roasted Broccoli
This easy weeknight sheet pan meal is a family favorite. Chicken Parmesan Mini Meatloaves with Roasted Broccoli is the best combo of comfort food and nutritious, veggie-packed dinner. You mix ground chicken with chopped spinach and a few other simple ingredients and then form it into individual patties. Top the meatloaves with sauce and mozzarella cheese that's melted to gooey perfection. Bake with broccoli and serve with your favorite pasta or just on its own.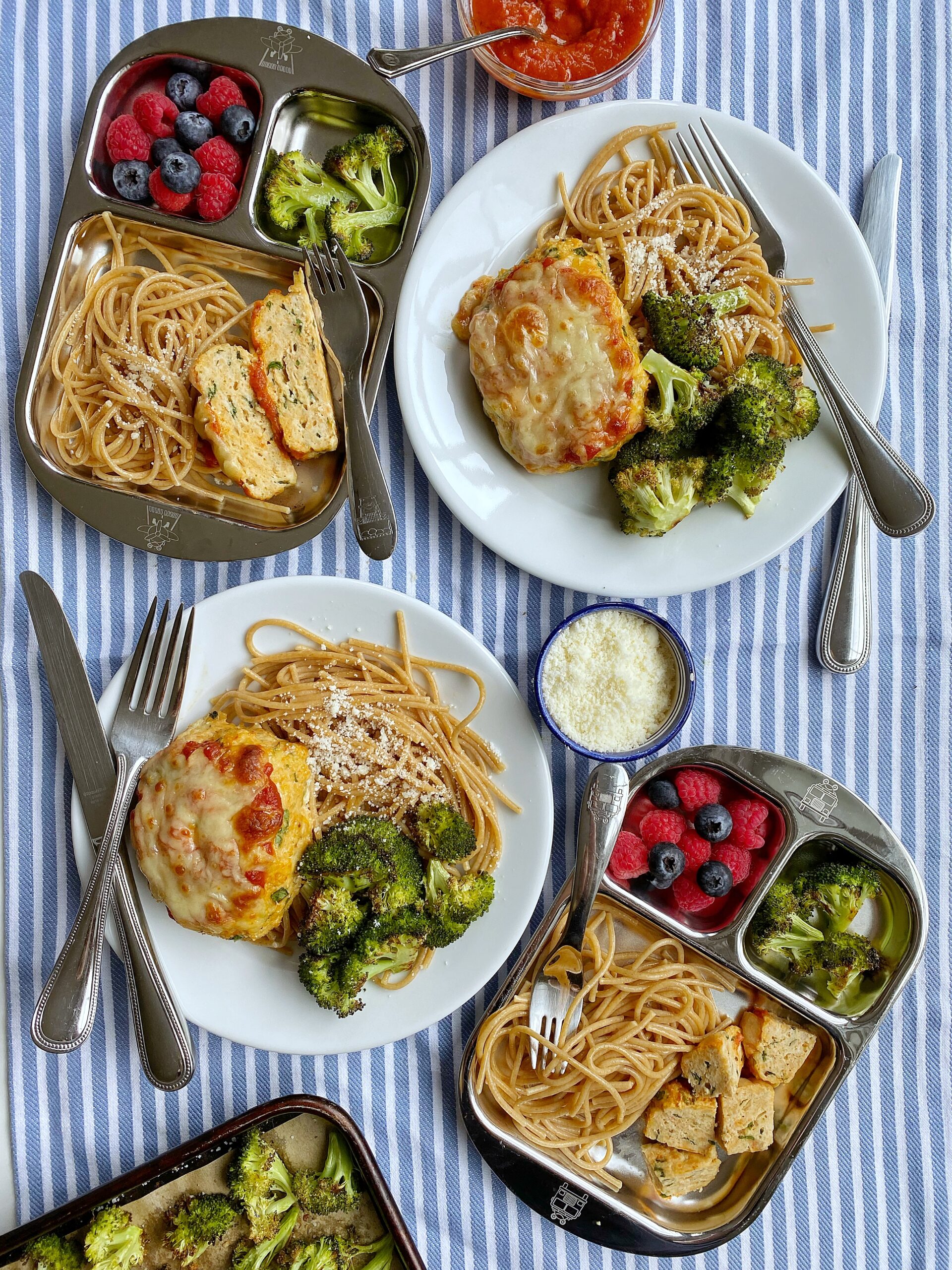 Kids in the Kitchen:
Many of us don't want little kids handling raw meat, and that's totally ok, especially on a busy weeknight. However, there are many ways kids can help with meals like this:
Add the ingredients to the bowl: Kids can measure the meatloaf seasonings, breadcrumbs, and crack the egg. Then you can take the job of mixing it all together and forming the loaves.
Top with sauce and cheese: Kids can top the meatloaves by spooning the marinara sauce (place it in a separate bowl in case the spoon touches the raw meat) and then sprinkle with cheese.
Break up the broccoli, add seasonings, and toss together. Helping make the broccoli might mean kids are more likely to eat it with dinner.
Pick the pasta: if you are serving this meal with pasta, kids choosing which kind can be the most simple but still impactful way to be a part of the meal prep.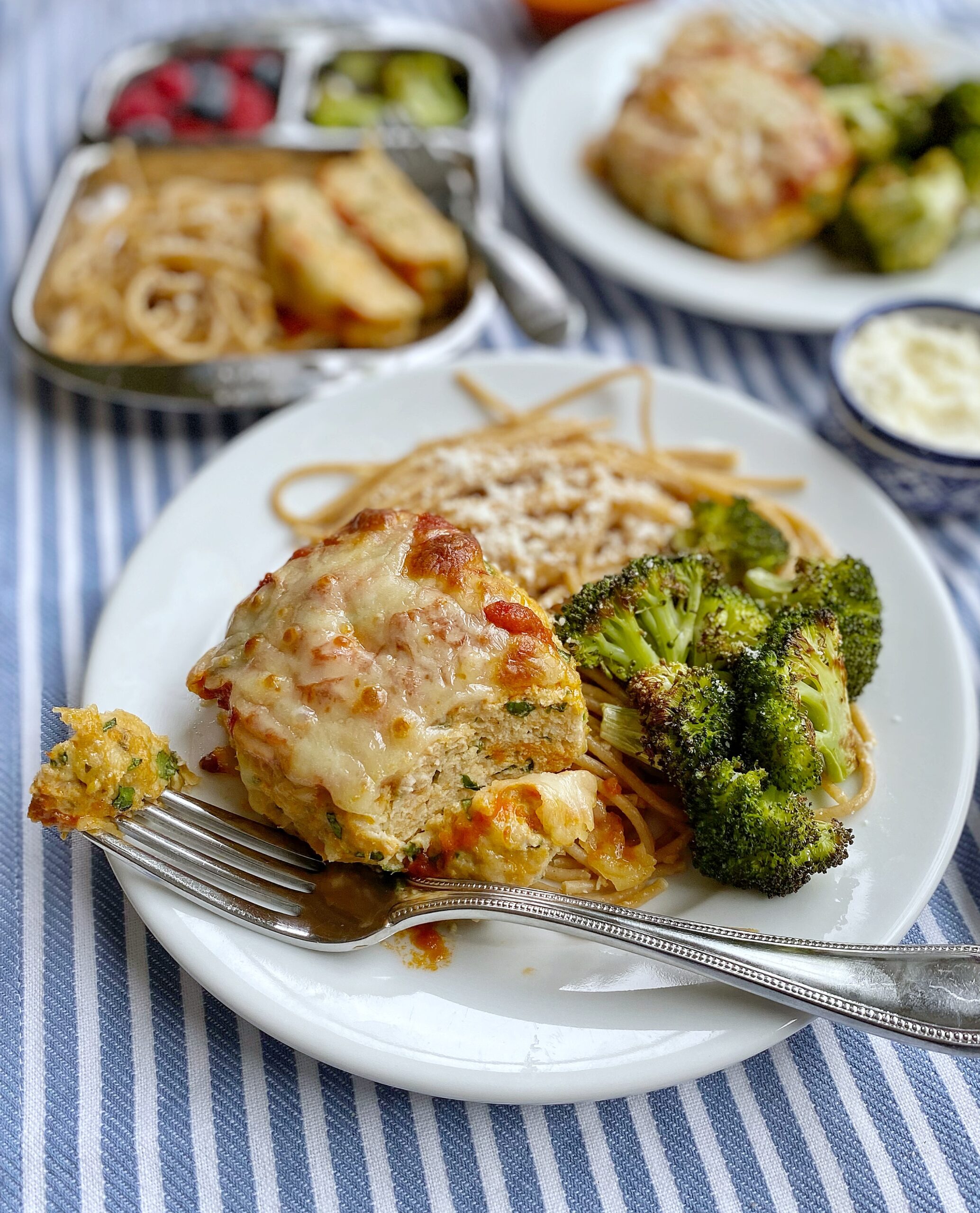 Subs and Tips for Chicken Parmesan Mini Meatloaves:
Ground meat: chicken (preferably dark meat or a combination of light and dark meat) is the best choice for this recipe. However, if you only have ground turkey, that will work too. I would not use ground beef for this recipe. The flavor doesn't go well with the "parmesan" theme of this meal.
Gluten-free: it's easy to make this meal totally gluten free by using your favorite gluten-free breadcrumbs or even sub some almond flour.
Egg-free: Instead of an egg, you can use pretty much any liquid (about 3 tablespoons) to help hydrate the breadcrumbs and bind the meat mixture together. You can use a substitute like you would with baking (like a flax egg). You could also use milk, dairy or dairy free.
Dairy-free: Use you favorite mozzarella cheese substitute to top the meatloaves and you can leave out the parmesan cheese in the meat mixture and add an additional 1/4 tsp of salt for seasoning.
Can I make one large meatloaf? If you make one instead of 4 mini, the meatloaf will probably take twice as long to cook, but it can be done. Just make one meatloaf in the center of the pan, then half way though add the broccoli around the edges of the pan so it doesn't burn before the meatloaf is done.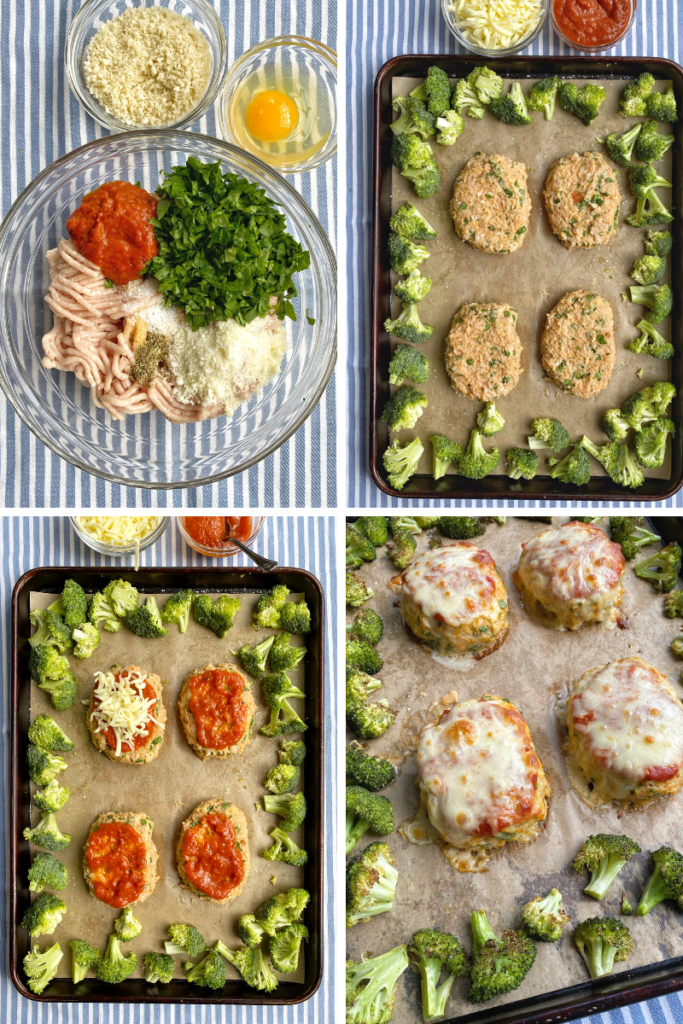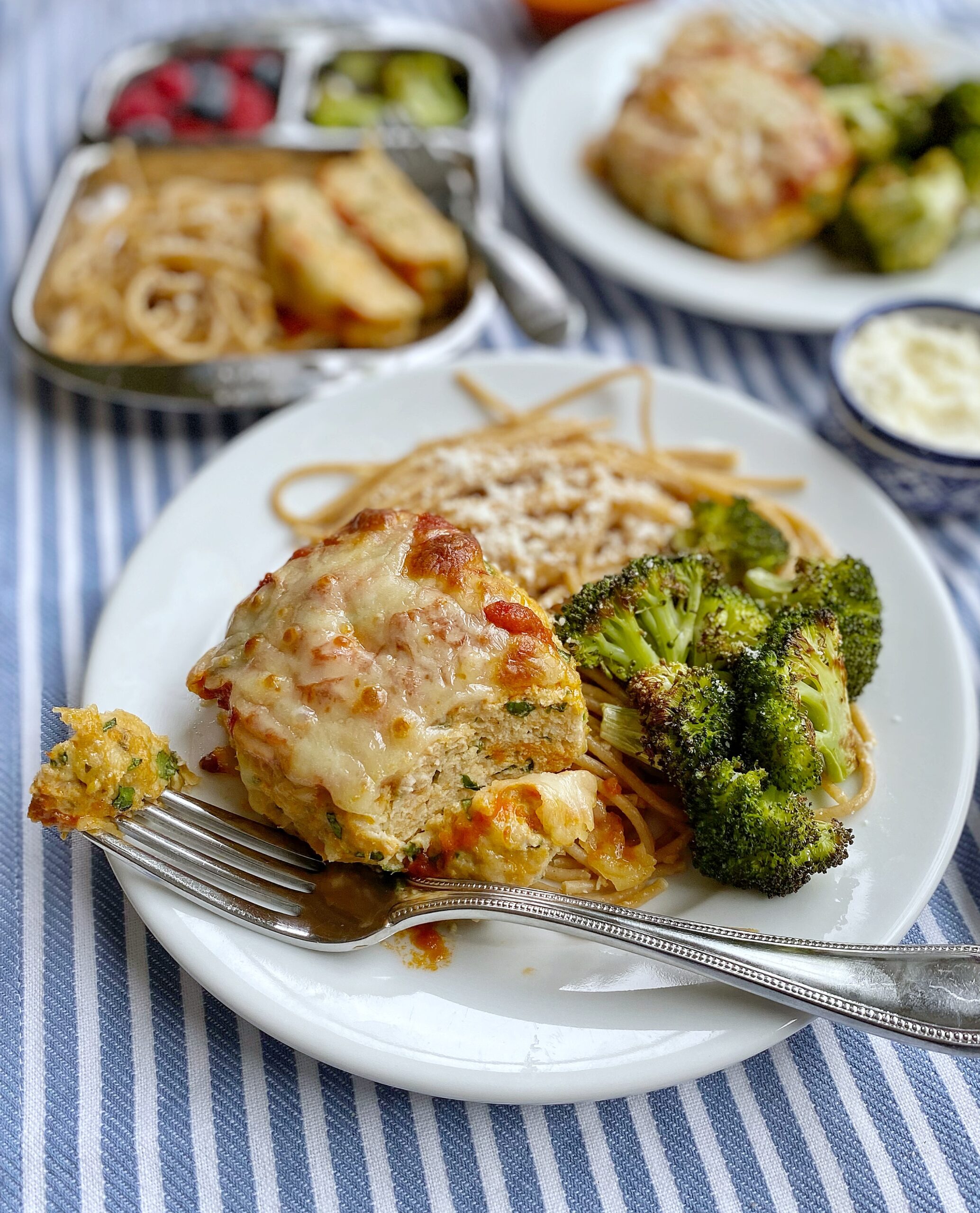 Chicken Parm Mini Meatloaves with Roasted Broccoli
An easy and healthy weeknight dinner cooked on one sheet pan.
Ingredients
1

pound

ground chicken (or turkey)

1

cup

baby spinach, chopped small

or use frozen chopped spinach, squeezed dry

3

Tbsp

grated Parmesan cheese

1/3

cup

marinara sauce, divided

use your favorite jarred or homemade pasta sauce

3/4

tsp

garlic powder, divided

1/2

tsp

kosher salt, divided

1/4

tsp

dried Italian seasoning or dried oregano

1

large egg

or liquid egg substitute

1/2

cup

Panko breadcrumbs or gluten-free breadcrumbs

3/4

cup

shredded mozzarella cheese

10 to 12

oz

broccoli florets

1

Tbsp

olive oil
Instructions
Preheat oven to 400 degrees. Lightly grease a large, rimmed sheet pan with oil or line with parchment or foil for easy clean up.

In a large bowl mix ground chicken, chopped spinach, grated parmesan, 2 tablespoon of marinara sauce, 1/2 tsp garlic powder, 1/4 tsp salt, Italian seasoning, egg, and breadcrumbs.

On the sheet pan, form the chicken mixture into 4 equal, oval shaped mini meatloaves, like you are making a big meatball but with a flat top. Spoon the remaining marinara on the top of each of the meatloaves then sprinkle with the shredded mozzarella.

Toss the broccoli florets with a tablespoon of oil, a 1/4 tsp of salt, and a 1/4 tsp of garlic powder. Scatter the broccoli on the pan around the meatloaves.

Bake until the cheese is browned and bubbly and the meatloaves are cooked through, 15 to 20 minutes. (The internal temp should be 165 or you can cut one open to make sure it is no longer pink inside.) Serve with broccoli and cooked pasta, if desired.
Save to Pinterest!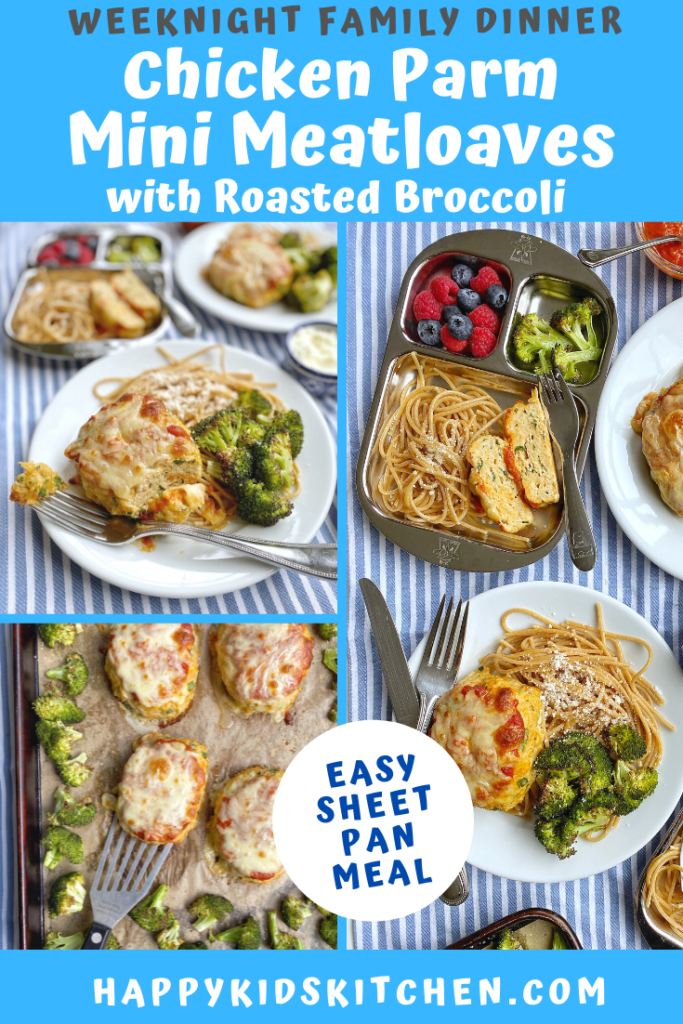 Want more sheet pan meals and one pot dinner ideas? Check out my ebook, Simply Satisfying Meals. The book is 30 stress-free dinners, including instant pot or slow cooker recipes, sheet pan meals, and one pan bakes. For the full recipes list and more information click HERE. 
Simply Satisfying Meals: 30 stress-free dinners
One Pot Pasta with Veggie Packed Sauce
Vegan Burrito Bowls with Cilantro-Lime Rice