Vegan Burrito Bowls with Tofu Crumbles and Cilantro Lime Rice
This is a healthy dinner that I like to call "accidentally vegan" because your family won't even notice it's totally plant-based. Vegan Burrito Bowls are packed with protein and veggies! Plus, this DIY meal comes together in 30 minutes. The tofu is crumbled and cooked until crisp, making is super popular even with tofu-skeptics. Pair it with some veggies and flavorful rice, and this dinner is one you'll be putting on the menu every week.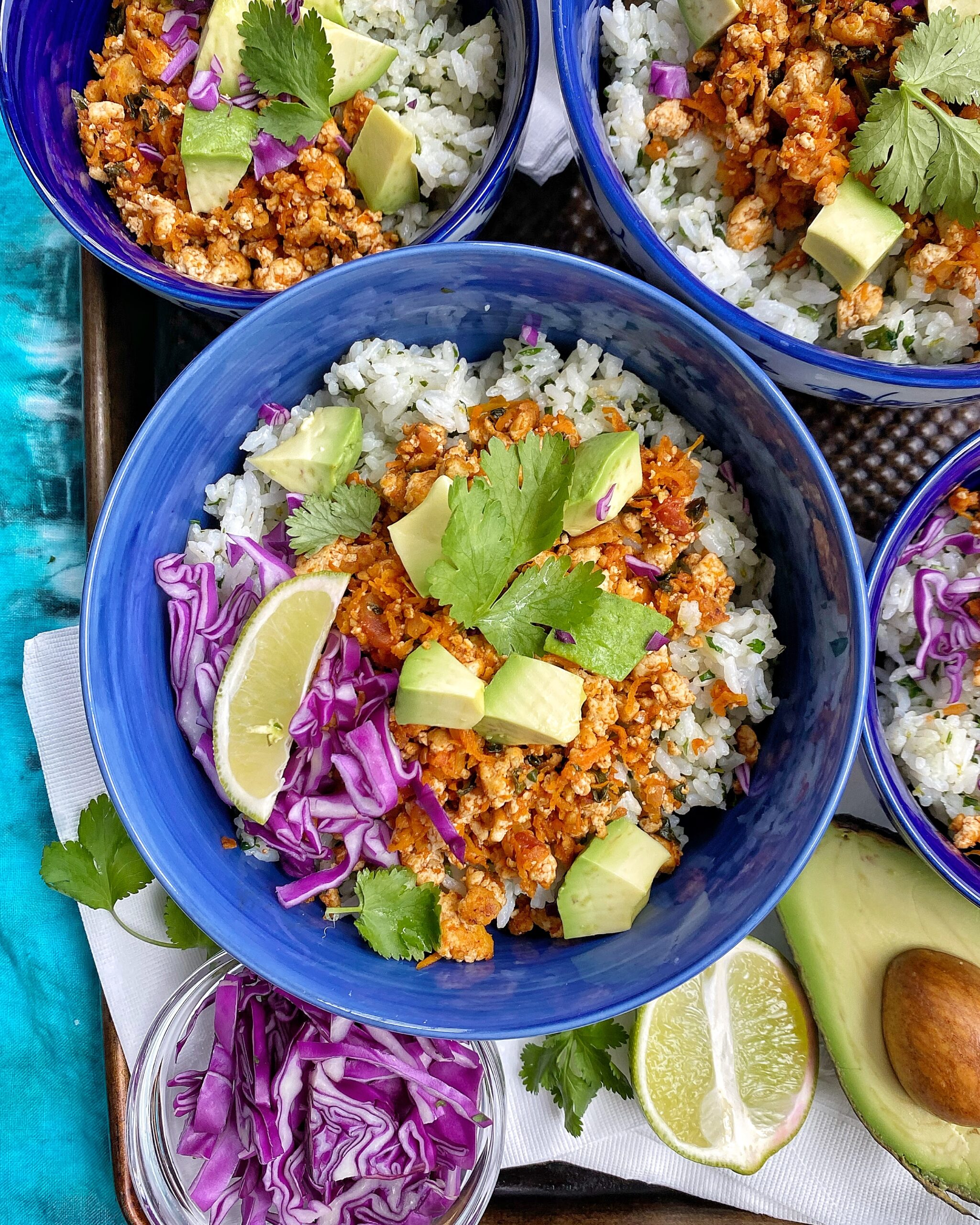 Kids in the Kitchen:
Crumble! Your child can help break the tofu up in little crumbled by using his fingers. Give him a chunk of tofu and a plate to squish it over. My younger son loves this job because it's nice and messy.
Prep veg: Kids can help grate the carrot and tear up some spinach leaves. Also, while it cooks, kids can pick the cilantro leaves for garnish and chop the avocado into bite-sized pieces or mash the avocado for guacamole.
Add to the rice: Kids can help zest the lime then add the ingredients to the cooked rice.
Assemble the bowls: Kids will love to be able to create their own unique burrito bowls by adding the toppings themselves. Have a child that's still learning to eat mixed foods or prefers things separated? That's ok! Just use a plate or a divided plate and let her place the different components of the meal in separate areas.
Kids like tacos or burritos? This tofu filling is great in taco shells or wrapped up a tortilla or served in a crunchy taco shell. It's even great inside a quesadilla!

Subs and Tips for Vegan Burrito Bowls:
Best kind of tofu? I like to buy organic, sprouted tofu or regular organic tofu. There has been lots of recent research that tofu can be a very healthy part of our diets. Here is an article explaining the benefits and more recent research on soy products like tofu if you'd like to learn more. I also really like this Instagram post that explains the myths about tofu and more information about the best kinds of soy products.
No tofu? You can use a pound of any ground meat you like instead. Cook it the same way as the tofu in the recipe.
Other veggies?: Add in chopped peppers, onion, scallion, frozen spinach, grated zucchini…pretty much any vegetable will work well in the tofu scramble. Just make sure the vegetables are either chopped finely or grated.
Don't like cilantro? You can use chopped flat leaf Italian parsley instead or just omit the herbs entirely.
Like beans? You can easily add any cooked beans such as black or pinto to the tofu mixture or serve them in the bowls alongside the tofu crumbles.
Time saver: I often buy precooked rice in the freezer aisle of my grocery store so I don't have to worry about cooking the rice for this meal. You can either heat the frozen rice in a large bowl in the microwave or in a pot on the stove (add a splash of water and heat over low heat so it doesn't stick to the bottom).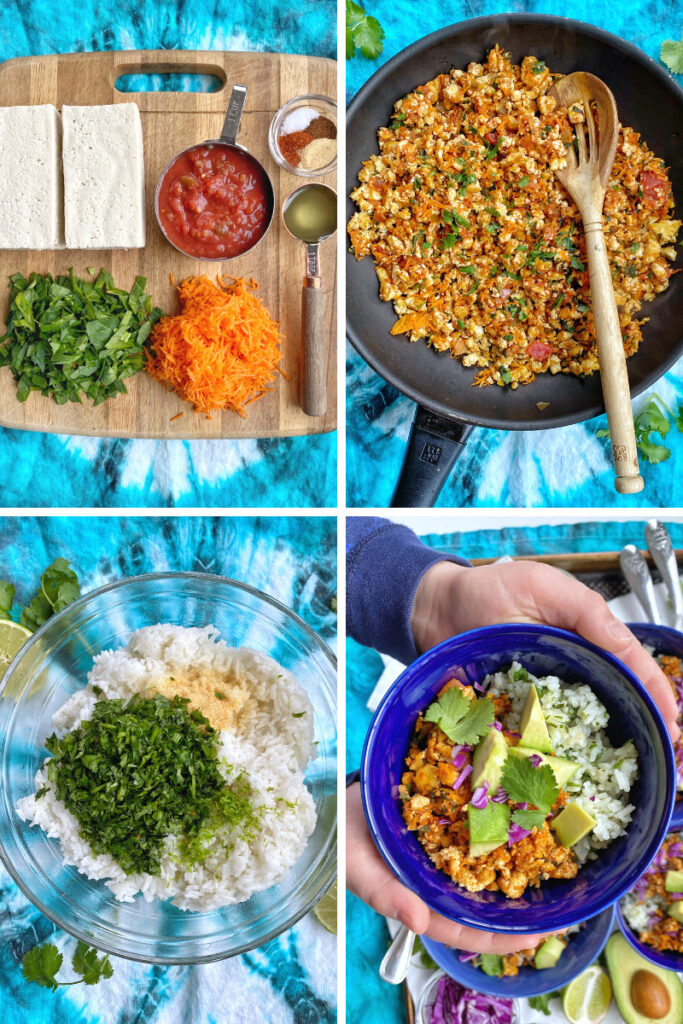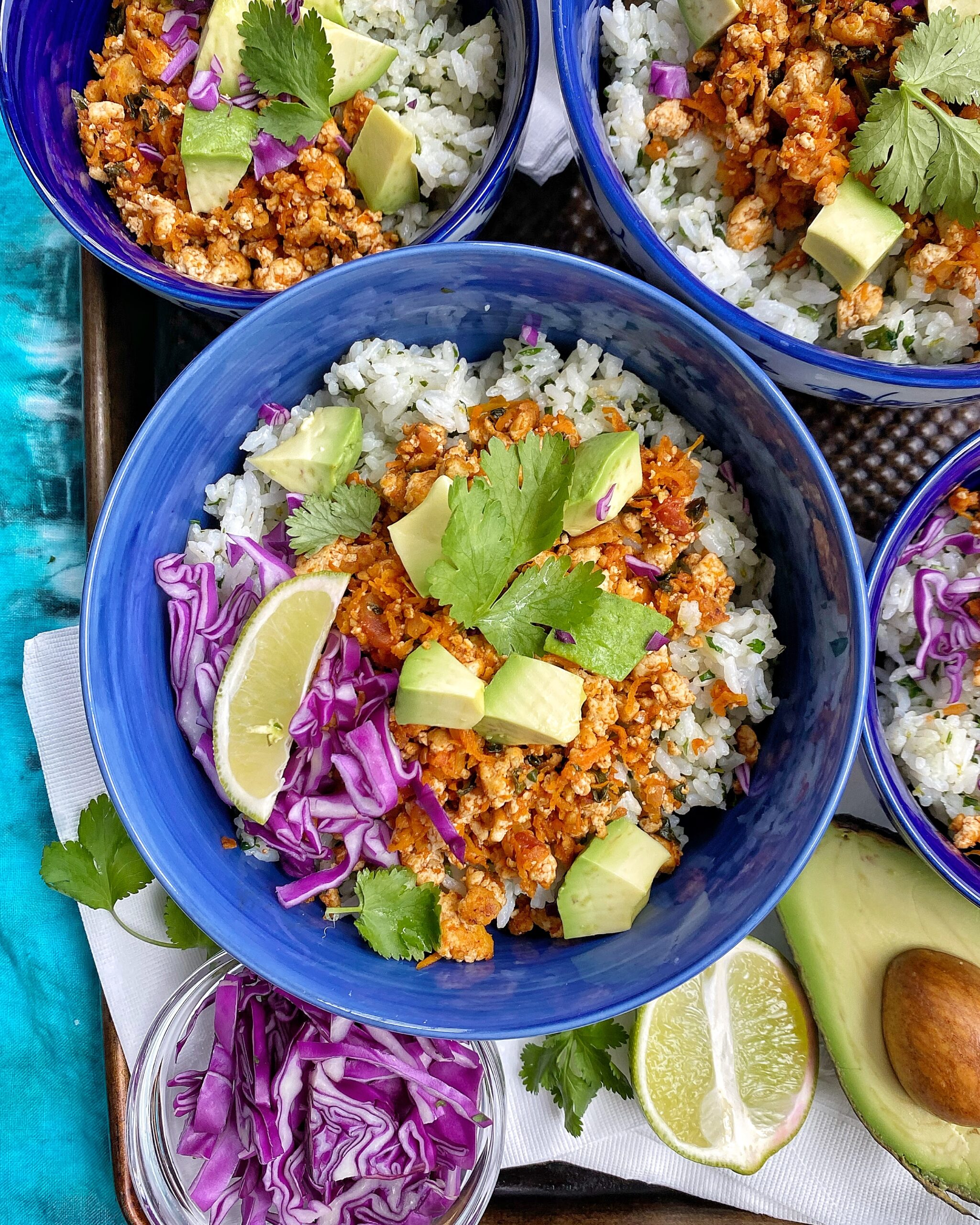 Vegan Burrito Bowls with Tofu Crumbles and Cilantro Lime Rice
Plant-based and gluten-free but you wouldnt know it! Kid approved and so easy to customize.
Ingredients
Cilantro Lime Rice
1 1/2

cups

long grain white rice

3 cups cooked rice

1/2

tsp

kosher or sea salt

1/2

cup

finely chopped cilantro

1

tsp

lime zest

1

Tbsp

fresh lime juice
Veggie Tofu Crumbles
1 (15 oz)

pkg

extra-firm or firm tofu

1

Tbsp

avocado or vegetable oil

1

cup

finely grated carrot (1 large carrot)

1

cup

chopped baby spinach

or 1/2 cup grated zucchini

1

cup

jarred mild salsa

1/2

tsp

kosher or sea salt

1/2

tsp

chili powder

1/2

tsp

smoked paprika

or regular paprika

1/2

tsp

garlic powder

1/4

tsp

ground cumin
Toppings (optional)
1/2

cup

shredded red or green cabbage

1

avocado, diced

or guacamole

1

cup

grape or cherry tomatoes, diced

1/4

chopped cilantro, for garnish

lime wedges, for garnish
Instructions
Cilantro Lime Rice
If using uncooked rice, get that started first. I like to cook mine in the instant pot but you can also cook it on the stove. For Instant Pot, add rice, 2 cups of water, and the salt to the insert. Cook on high pressure for 8 minutes, then allow to natural release pressure for 10 minutes. Release the rest of the pressure then remove lid and fluff rice with a fork. For stove top, boil 3 cups of water in a pot. Stir in rice and salt. Cover, turn heat down to medium/medium-low, and allow to simmer until rice is cooked and the water has been absorbed. Turn off heat and allow to rest for 5 minutes. Remove lid and fluff rice with a fork.

Once rice is cooked, stir in cilantro, lime zest, and juice. Taste then add more salt if needed. Keep warm until ready to serve.
Veggie Tofu Crumbles
Cut tofu into 4 large pieces then pat dry with a kitchen towel or a couple layers of paper towels. Heat oil in a skillet (I like to use non-stick) over medium-high heat. Crumble tofu directly into the pan (or you can do it onto a plate first if you prefer). Make sure there aren't any large peices of tofu left. It should look like the texture of ground meat after you cook it with a few larger bits here and there. Once all the tofu is in the pan, leave it to brown for 2 to 3 minutes. As the tofu starts to get brown stir in every 30 seconds to a minute to dry it out and brown it really well. This process should take about 10 minutes.

Once the tofu is browned, add the grated carrot and chopped spinach. Cook until spinach is wilted, about 1 minute. Stir in the salt and spices and cook for 30 seconds. Add salsa and simmer unti most of the liquid in the pan has evaporated.

To serve, add rice to bowls then top with tofu crumbles. Add desired toppings then enjoy!
Save to Pinterest!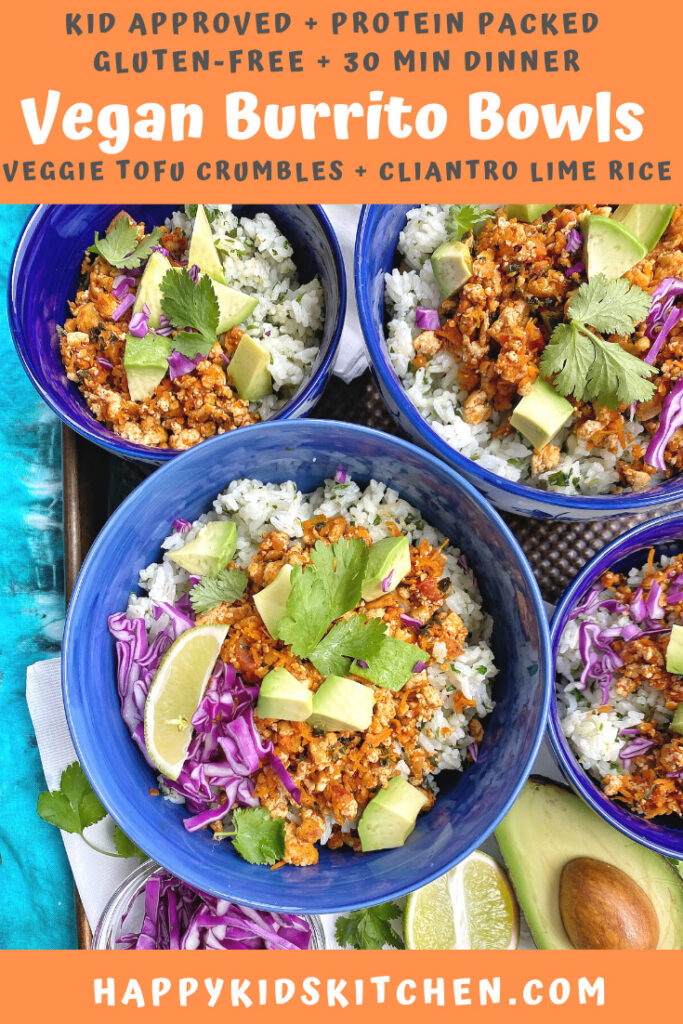 Other Easy Dinner recipes:
Vegetarian Lasagna Rolls with White Beans and Spinach
Orange Sweet and Sour Stir-Fry
Teriyaki Turkey and Veggie Meatballs