Orange Sweet and Sour Stir-Fry
Need a healthy, easy dinner the whole family will love? This Orange Sweet and Sour Stir-Fry is your answer! This is not your typical, boring stir-fry. Tossing the tofu, chicken, or shrimp in a little cornstarch before cooking makes it extra crispy and soak-up the sweet, tangy sauce. The orange flavor makes this recipe 100 percent kid-approved!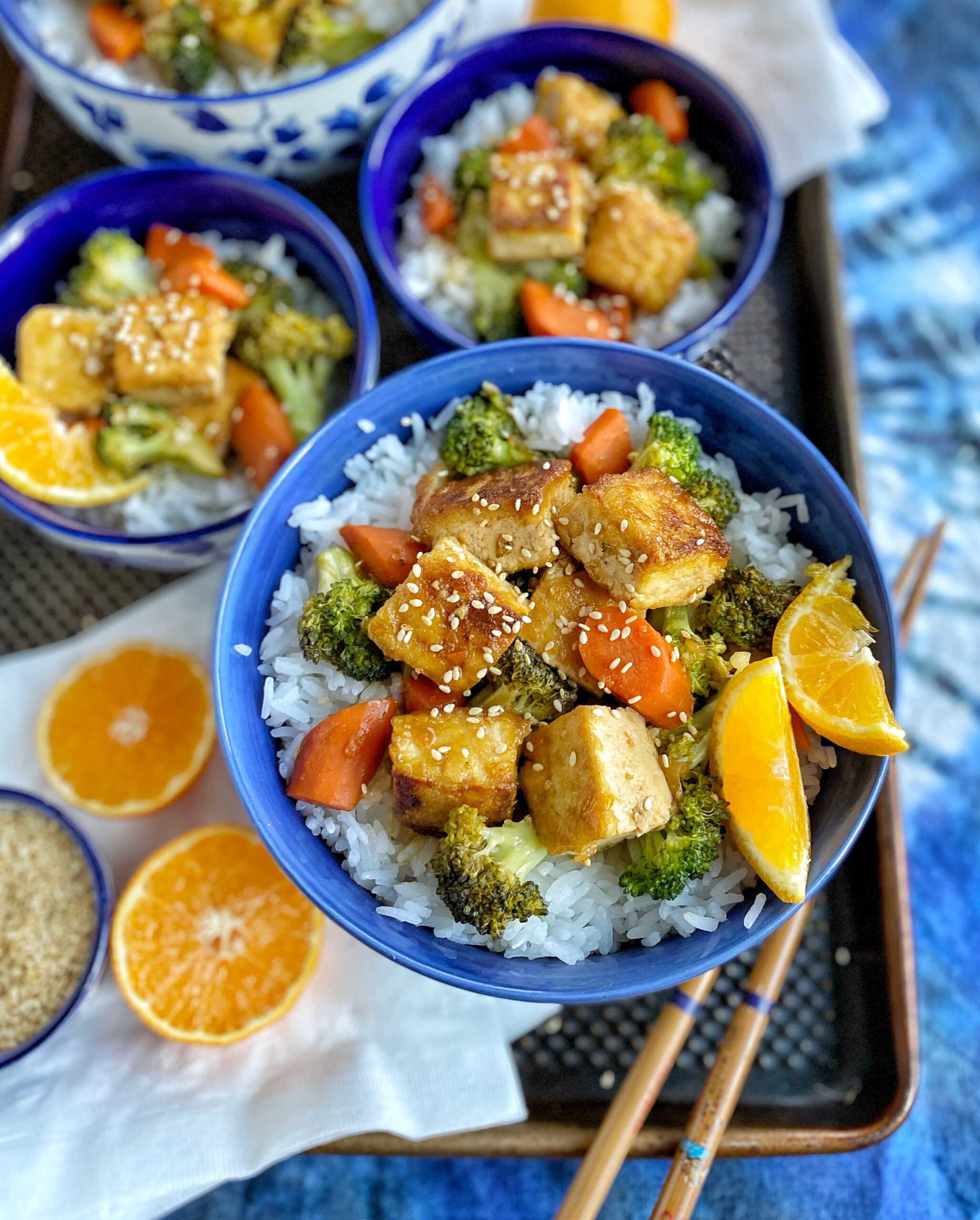 Kids in the Kitchen: Orange Sweet and Sour Stir-Fry
Pick and wash: Getting kids involved in making this recipe can start at the store. Kids can help choose which veggies the want in the stir-fry or help pick which head of broccoli to place in the shopping cart. At home, toddlers and kids can help rinse the veggies and dry them before getting chopped.
Prep: Get out those kid-safe knives and a peeler! Kids can help prep the produce alongside you. Even doing something as simple as transferring the broccoli you cut to a bowl can be a beneficial way to involve kids in this recipe. Kids can also easily help cut the tofu (although you might not get perfect squares in the end but that's ok).
Stir sauce up: Measure ahead or let your child measure with you. Then have the child whisk all the ingredients together in a bowl.
Garnish: Let kids sprinkle on those sesame seeds or other toppings on their own dinner portion. They can also choose which eating utensils to use and if they would like the stir-fry on top of the rice/noodles or on the side. Any way to give kids control of their own meal helps them enjoy it more in the long run.

Subs and Tips:
Vegetables: You can totally customize this recipe with whatever veggies you like and have on hand. Add onion, sliced peppers, cauliflower, mushrooms, scallions… Just make sure you cut the veggies into equal sizes so they cook at the same amount of time. Frozen veggies like broccoli and green beans will also work great here. They will probably need less cooking time so adjust as needed.
Protein Choices: I most often make this recipe with tofu, but chicken or shrimp would work well too. If using chicken, cut boneless, skinless chicken breasts or thighs into bite-sized pieces and be sure the chicken is cooked through before removing it from the pan to cook the vegetables as directed in the recipe.
Need a short-cut? If you are pressed for time, you can definitely skip tossing the protein in cornstarch before cooking. The stir-fry will still be delicious. You can also get help from the store and buy some pre-cut veggies or even use any frozen vegetables you have in the freezer.
Pan choice: I like to use a large non-stick skillet for this recipe. You can also use any large skillet or wok.
Kid chopsticks: My boys love eating with kid-friendly chop sticks such as the fun shark ones you see in the picture above. Using a novel eating utensil often helps kids get interested in a new or unfamiliar meal, so it's definitely a parent win! I usually give my kids both the chopsticks and a fork in case they get frustrated trying to use the chopsticks. Here is a link to my Amazon store (affiliate) where I list several chopstick options.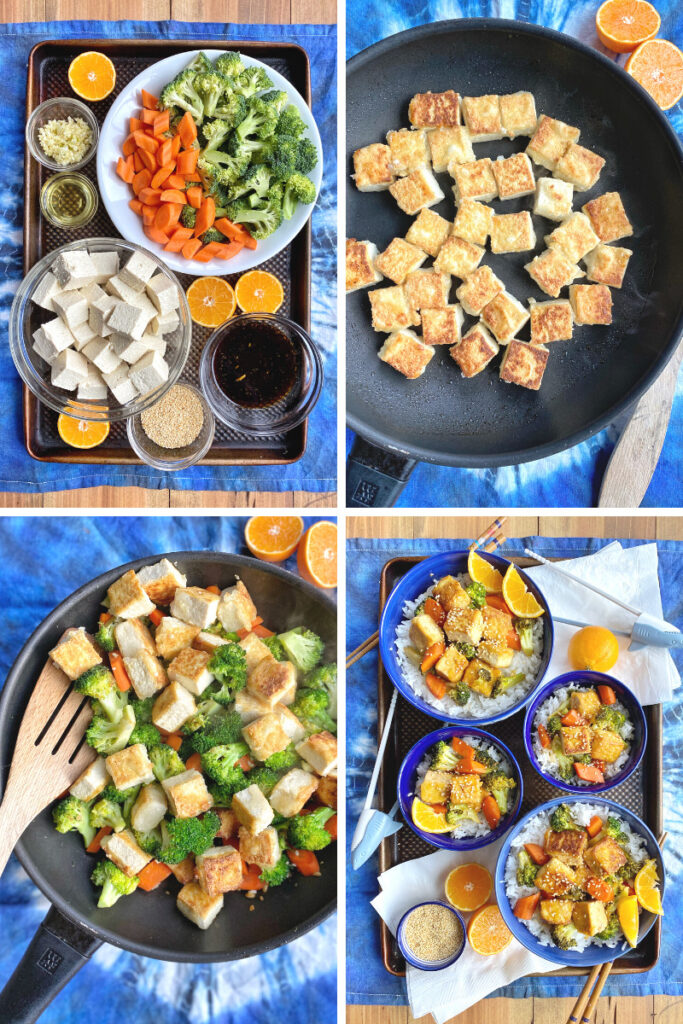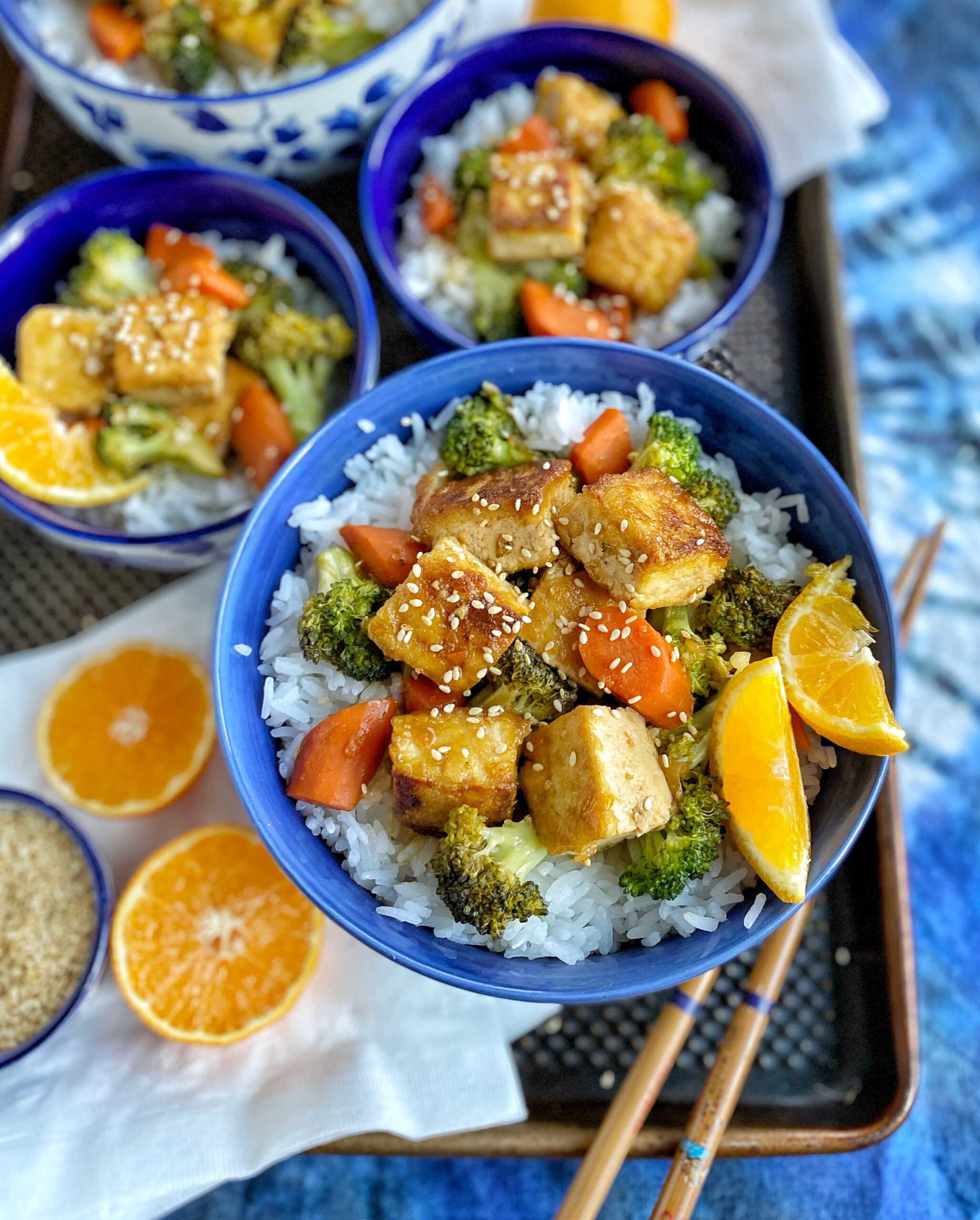 Orange Sweet and Sour Stir-Fry
Healthy and Easy Family Dinner
Ingredients
1/4

cup

fresh mandarin or orange juice, from 2 clementines or 1/2 large orange

6

Tbsp

tamari, low-sodium soy sauce, or coconut aminos

1

Tbsp

rice vinegar

3

Tbsp

honey or maple syrup

1

tsp

sesame oil

1/2

tsp

grated fresh ginger, optional

1

14-16 oz pkg

firm or extra-firm tofu

or 1 pound cubed chicken or peeled raw shrimp

3

Tbsp

cornstarch or arrowroot powder

3

Tbsp

avocado or vegetable oil

2

garlic cloves, minced

2

heads

broccoli, cut into small florets (about 4 cups)

2

large carrots, peeled and sliced

any vegetables you like (see suggestions in post)

2

Tbsp

toasted sesame seeds

cooked rice or rice noodles, for serving
Instructions
Make sauce: In a medium bowl, stir together juice, tamari, vinegar, honey, sesame oil, and ginger (if using). Whisk in 1/4 very hot water and make sure the honey isn't stick at the bottom of the bowl. Set aside.

Drain tofu then wrap it in a few layers of paper towel or in a kitchen towel. Press to remove some of the excess liquid. Cut the tofu into 1/2-inch cubes and place in a large bowl. Sprinkle cornstarch over the tofu and toss gently to coat. It's ok if it's not completely even. If using chicken or shrimp, use the same method as for the tofu above, but make sure the chicken is fully cooked before removing from the pan.

Heat 2 tablespoons of oil in large skillet over medium-high heat. Once hot, add tofu (or other protein) in an even layer. Cook tofu until browned, about 2 minutes per side. Sprinkle tofu with a pinch of salt then remove to a plate.

Turn heat down to medium. Add remaining tablespoon of oil in the skillet then add garlic. Cook for 30 seconds then add the broccoli and carrots. Stir and cook until the garlic is lightly golden brown. Add half the sauce over the vegetables then stir and cook until vegetables are tender and cooked to your liking. Add tofu back into the pan then pour over the remaining sauce. Stir to combine and cook for an additional minute to thicken the sauce slightly.

Sprinkle with sesame seeds then serve over cooked rice or noodles. Add additional sesame seeds and/or an Asian-style hot sauce to taste.
Save to Pinterest!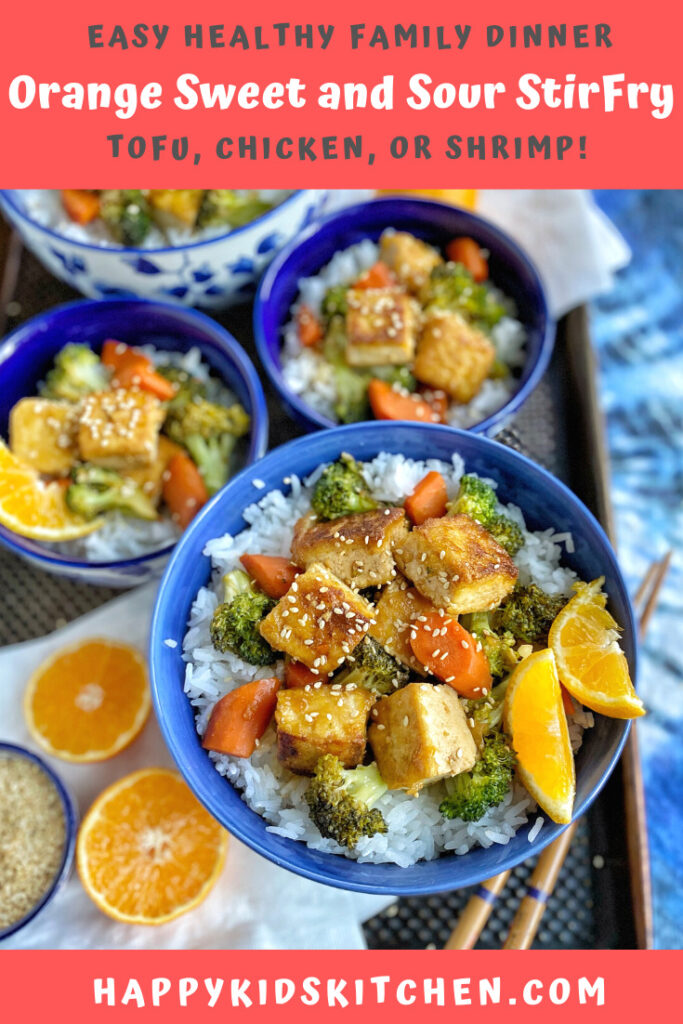 Other easy DINNER recipes:
No-Boil Pasta Bake (with Veggies!)
Teriyaki Turkey and Veggie Meatballs