Teriyaki Turkey and Veggie Meatballs
This is one of my family's favorite meals! Teriyaki Turkey and Veggie Meatballs are a healthy, flavorful, easy weeknight dinner. They are packed with 3 different vegetables and happen to be gluten-free because I use almond flour as a binder. However, you can also use breadcrumbs if you want to make them nut-free or don't have almond flour on hand. The meatballs are great for babies, toddlers, and adults. Eat them on their own (cut up for babies and toddlers) or over rice or asian-style noodles.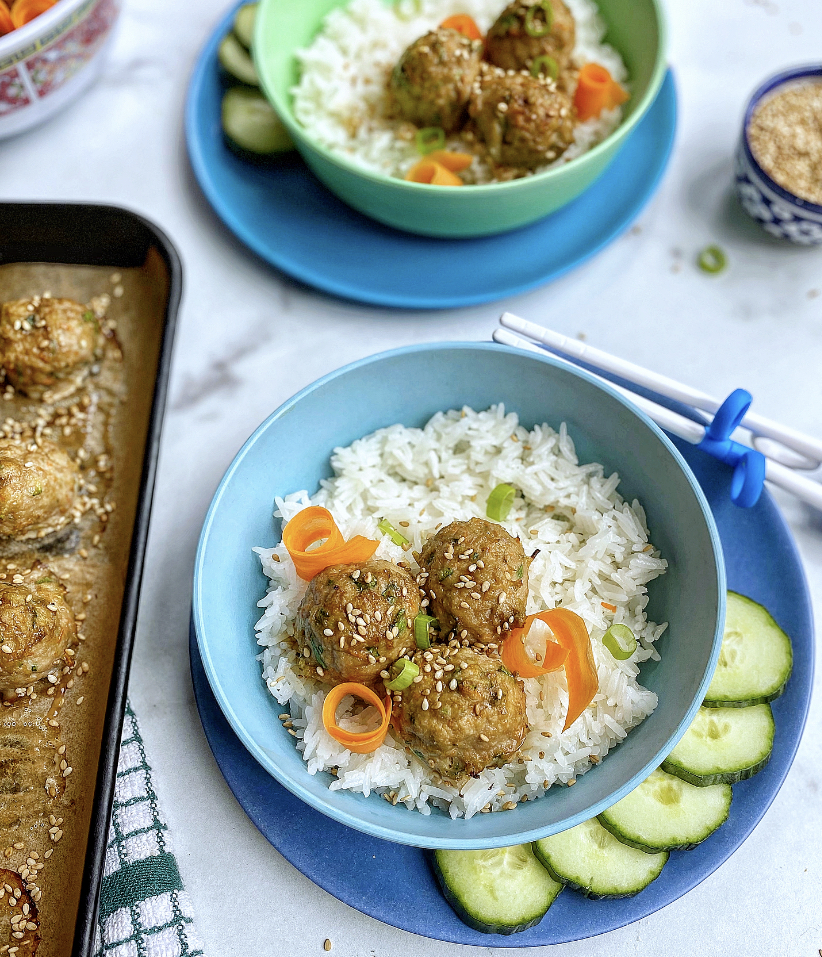 Kids in the Kitchen: Teriyaki Turkey and Veggie Meatballs
Raw meat and kids? I don't recommend toddlers and younger children handle raw meat. They are too likely to touch their faces or other surfaces. However, there are many other parts of this recipe that are very kid friendly. See below. It's also important to explain why we have to be careful around raw meat and how we always wash our hands after cooking with raw proteins.
Prep the veggies: Grating veggies is a great way for kids to help and gain exposure to vegetables. Hold the carrot/zucchini and the box grater together so that you can keep little fingers away from the grater "teeth." Kids can also help squeeze the liquid out of the grated veggies. After prepping the veggies, kids can help add all the ingredients to the bowl with the ground turkey.
Mix the sauce: While you are mixing up the meatballs, you child can help by gently stirring the sauce ingredients together.
Help plate and serve: Having a family meal goes beyond making the food. Have your child choose the dinner plates, silverware,  and whatever else you need at the dinner table.
Subs, Tools, and Tips:
No Turkey? Ground chicken would also work well in this recipe.
Nut-free or no almond flour? Almond flour gives these meatballs great texture and moisture but you can also use any kind of fine breadcrumbs you have instead.
Sauce: You can use regular or low sodium soy sauce instead of tamari in this recipe. If you use coconut aminos, you may want to add
Veggies: You can really use any finely grated or chopped veggies in this recipe. Broccoli, cauliflower, cabbage… Adding chopped scallion and/or cilantro is a great way to boost the flavor as well.
Cookie scoop?: Not just for cookies! I love using my scoopers for making meatballs so much less messy. I don't even roll them into perfect balls after scooping. Here is a set of scoopers that I use: HERE.
Parchment sheets: I can't live without there pre-cut, non-stick parchment sheets. HERE are the ones I use to make clean-up a breeze.
Cooking for babies or baby-led weaning: reduce or leave out the tamari/soy sauce in a portion of the meatball mixture as it will add too much sodium to the recipe. If baby is under 1, leave out the honey and use a little maple syrup to sweeten.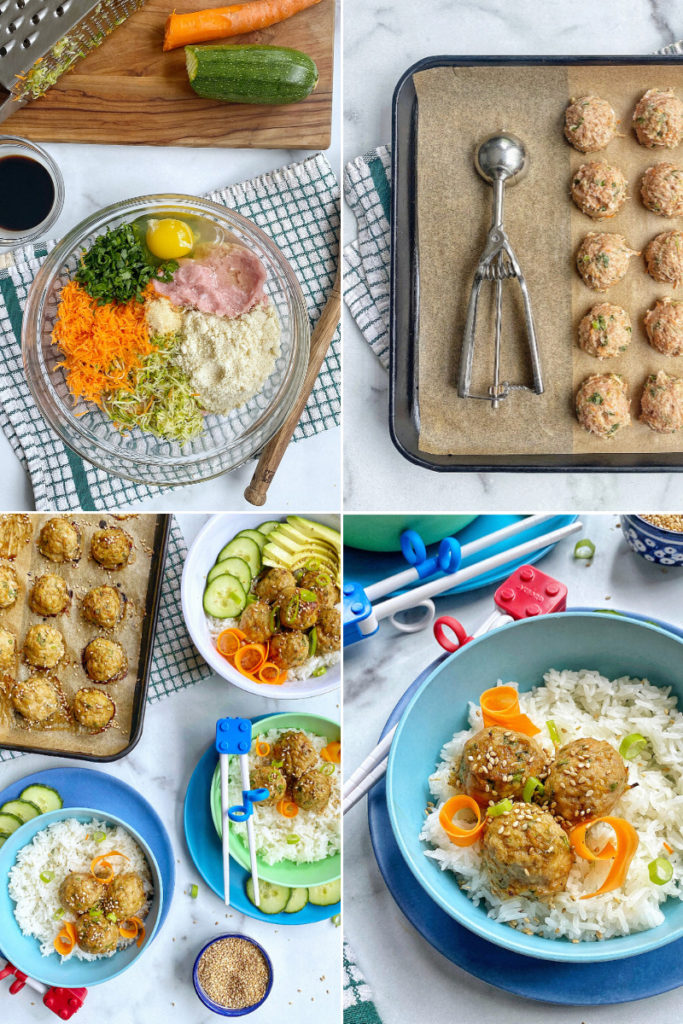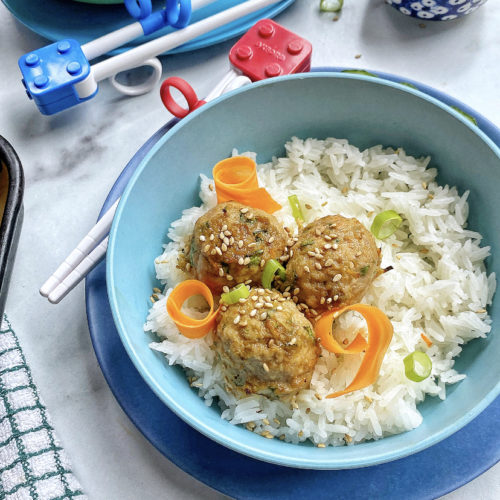 Teriyaki Turkey and Veggie Meatballs
A healthy, flavorful meal the whole family will love!
Ingredients
1

pound

ground turkey

prefer dark meat but any kind is fine

1/4

cup

finey grated carrot

1/2

cup

finely grated zucchini

1/2

cup

finey chopped spinach

1/2

tsp

garlic powder

1

tsp

toasted sesame oil

1

large egg

or flax "egg"

1/3

cup

almond flour

or breadcrumbs

1/4

cup

tamari or coconut aminos

or soy sauce (not gluten-free)

1

Tbsp

honey or maple syrup

toasted sesame seeds

optional

rice or noodles, for serving
Instructions
Preheat oven to 400 degrees. Line a sheet pan with parchment paper or aluminum foil. If using foil, grease with oil to prevent sticking.

Add turkey to a large bowl. Place grated carrot and zucchini in a kitchen towel and squeeze to remove any excess liquid. Add dry veggies to the bowl. Add spinach, garlic powder, sesame oil, egg, and almond flour/breadcrumbs.

In a small bowl, mix tamari/coconut aminos and honey until honey is dissolved (not at the bottom of the bowl). Add 2 tablespoons of the sauce to the bowl with the other ingredients. Mix very well with a large spoon or rubber spatula.

Once the meatball mixture is well combined, use a 2 tablespoon cookie scoop or your hands to portion into 24 meatballs. If using your hands, keep them wet (rinse under water) to prevent the meat mixture from getting too sticky.

Spoon a little more of the sauce mixutre of each meatball before baking. Bake until cooked through and lighly browned, about 12 minutes. Sprinkle with sesame seeds, if desired. Serve warm with rice or noodles.
Save to Pinterest!
Other Family Dinner Recipes:
Easy Veggie and Bean Quesadillas
Easy Homemade Pizza (with Yeast-Free Dough)