Easy Homemade Pizza (with yeast-free dough)
Does your family do pizza night or "Pizza Fridays" ? It has become a delicious tradition in our home and something new really look forward to each week. I created this yeast-free, whole wheat pizza dough so you can make easy homemade pizza without planning ahead or waiting for the dough to rise. You simply stir together the 5 ingredients to make the dough, roll it out, then top it however you'd like. It's the perfect hands-on recipe to get the kids into the kitchen!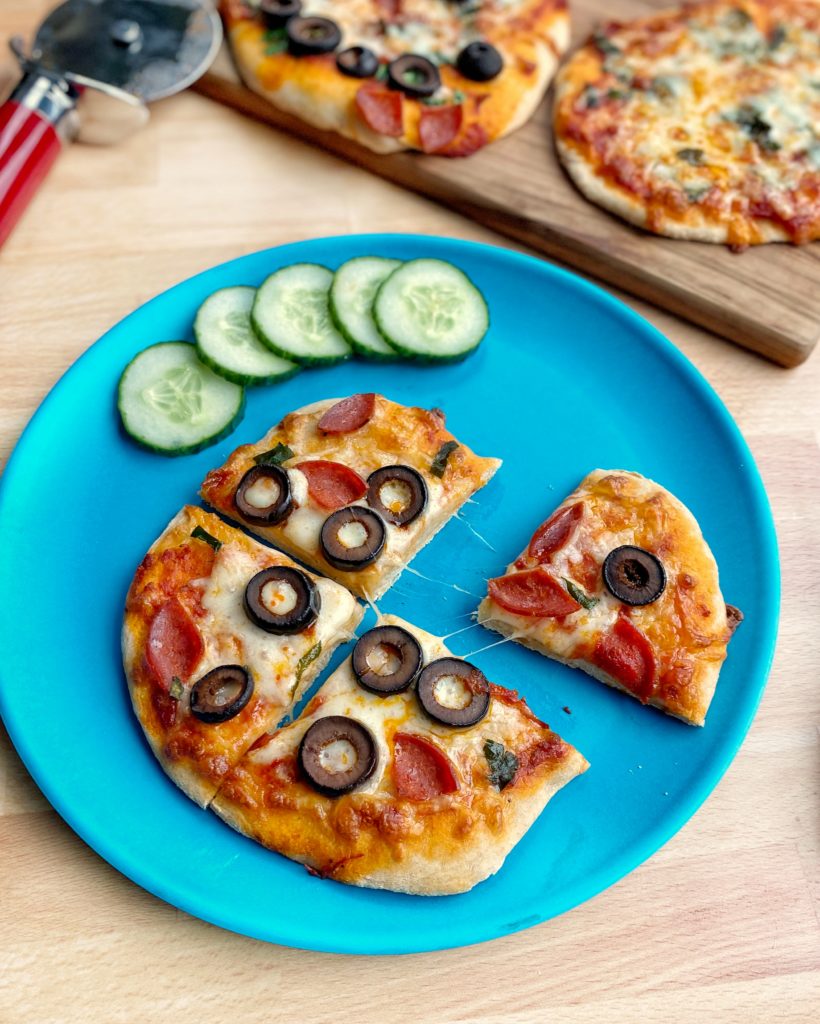 Kids in the Kitchen: Easy Homemade Pizza
Make the dough together: Kids + flour usually equals a giant mess! However, there are some things you can do to reduce the chaos. Pre-measure the flour into the bowl or food processor bowl then have kids measure the remaining ingredients. You could also make dough then call kids in to help roll it out and top it. Make it work for whatever level of patience you have that day 😉
Roll! After dividing the dough into small balls, let the kids roll out their own pizzas. I like to use a small rolling pin I have that is originally made for fondant cake decorating but I find it a great size for kids' hands. Here are two options on my Amazon store (affiliate links).
Help prep veggies! Have any pepper, mushrooms, or other veggies around? Let the kids slice and chop them with kid-safe knives. Even if they choose not to put them on their pizzas, they will benefit from the exposure and knife practice. You can make sure they are toppings you or other adults will likely use so food doesn't go to waste.
Pizza party! Set out the sauce, cheese, and other toppings and let the kids make their own creations. It's so much fun!
Tips and Substitutions:
Flour: I like to use a mix of whole wheat and white flours for this dough, but you can use all of one or the other as well. You can also use a gluten-free flour mix but, because gluten-free flour will absorb less liquid than regular flour, I would add 3/4 cup of water at first then add in a little water at a time until the dough comes together.
Mixing methods: You can easily make this dough in a bowl, but I find it much easier to add everything to a food processor and press the button. The food processor method is faster and makes less mess on the counter, but you do have to wash it after.
Size: Want larger pizzas to cut up and share? You can split the dough in half and roll out big pizzas, placing one on each baking sheet. You will need to bake the pizzas for longer than stated instructions below.
Thick or thin? You can roll the dough out as thin or as thick as you prefer your pizza crust. The dough will not expand a lot while baking so take that into consideration when rolling it out.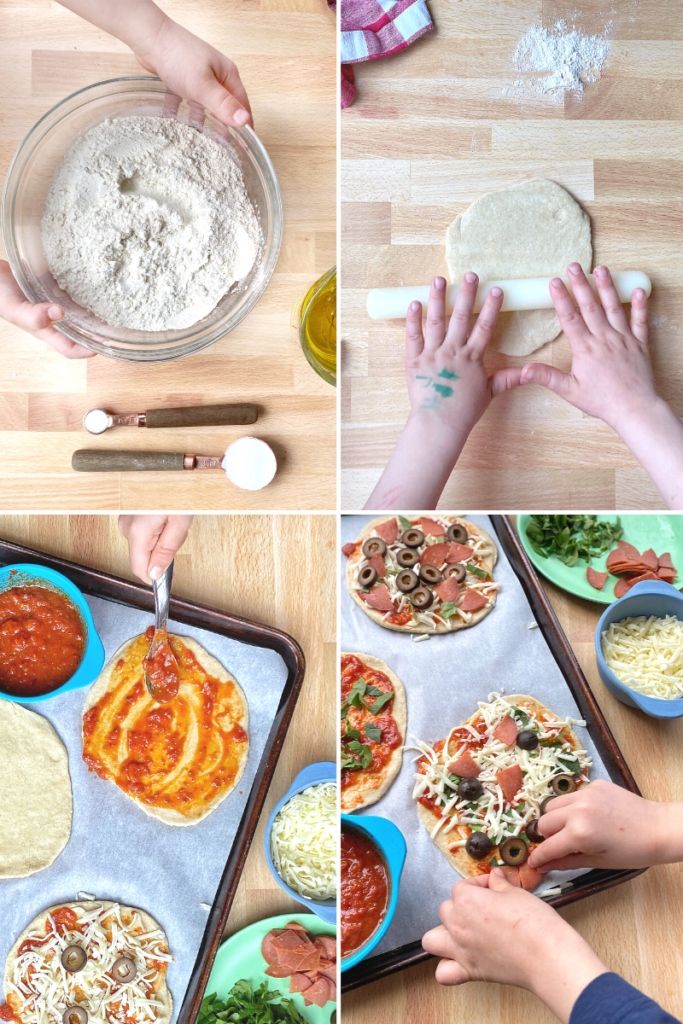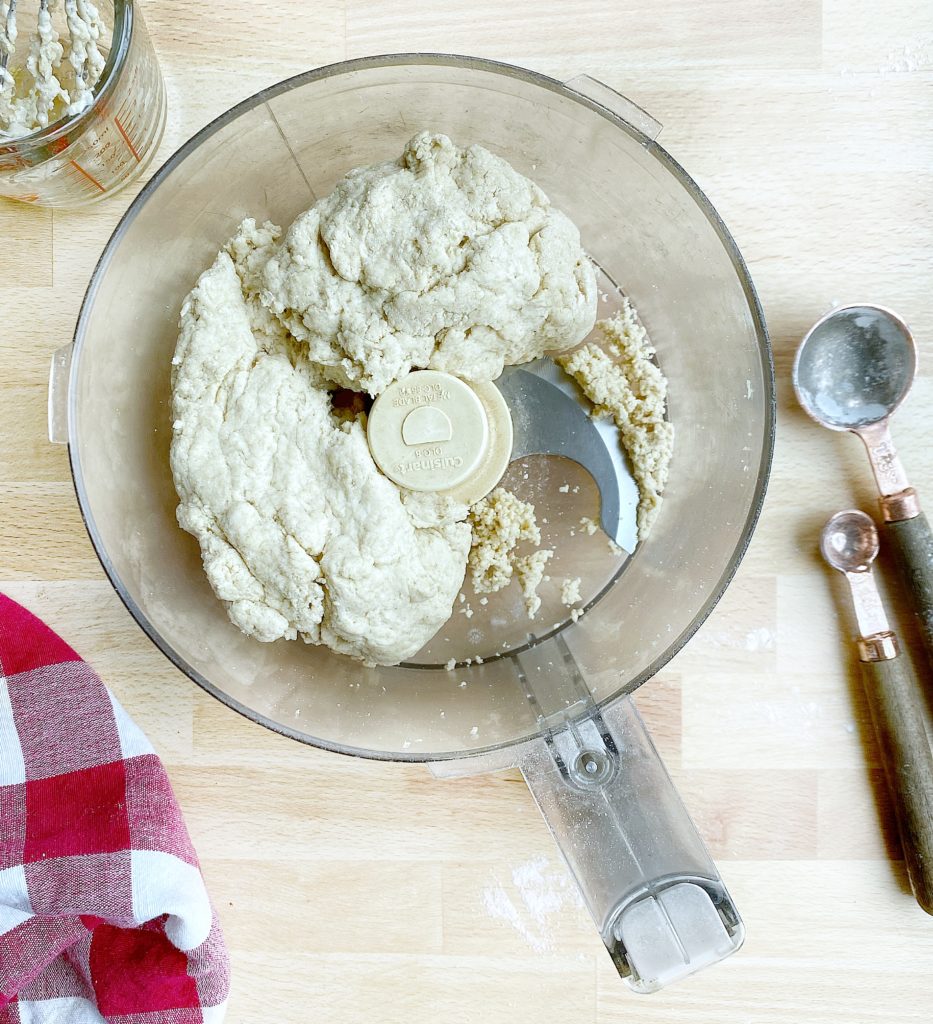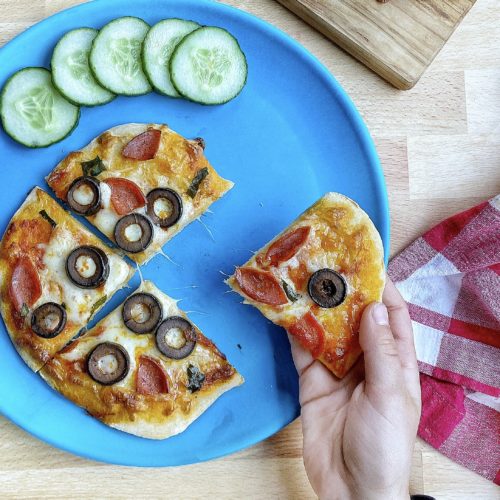 Easy Homemade Pizza
Quick, yeast-free, whole wheat dough to use for a family pizza night!
Ingredients
Pizza dough
1 1/2

cups

whole wheat flour

1

cup

all-purpose flour

or more whole wheat

1

Tbsp

baking powder

1/2

tsp

fine salt

1

cup

warm water

2

Tbsp

olive oil

2

tsp

honey

optional
To make pizzas
1

cup

pizza or marinara sauce

2

cups

grated mozzarella cheese

toppings such as spinach, pepperoni, veggies, olives...
Instructions
Preheat oven to 400 degrees. Line 2 baking sheets with parchment or grease with oil.

Food processor method: add flours, baking powder, and salt to the food processor and pulse to mix. Mix olive oil and honey into the warm water then pour into the food processor. Process until a smooth dough forms. Remove blade then form dough into a ball on the counter. Knead a few times to make sure the dough is smooth and well mixed.

To make dough by hand: add flours, baking powder, and salt to a large bowl. Whisk to combine. Add olive oil and honey to the warm water. Pour over the flour. Use a wooden spoon to mix until a rough dough forms. Dumb dough out onto a work surface and knead until smooth. If the dough is too sticky, dust with additional flour as needed.

Divide dough into 6 equal pieces. Roll each piece out into a circle about 1/2-inch thick then place on the baking sheets.

Top each crust with a couple spoonfuls of pizza sauce then sprinkle on a 1/4 cup of the cheese. Place on any additional toppings as desired.

Bake pizzas until crust is golden brown and the cheese is bubbly, about 10 to 12 minutes. Cool for 5 to 10 minutes then slice into wedges. Enjoy!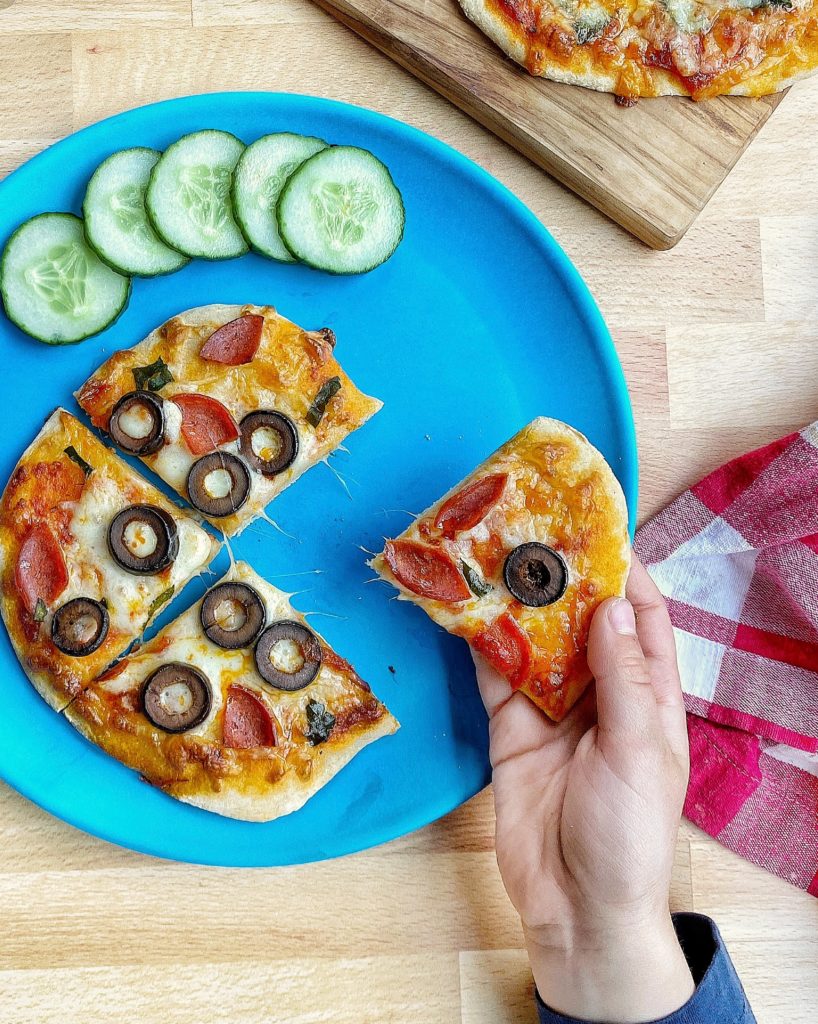 Save to Pinterest!!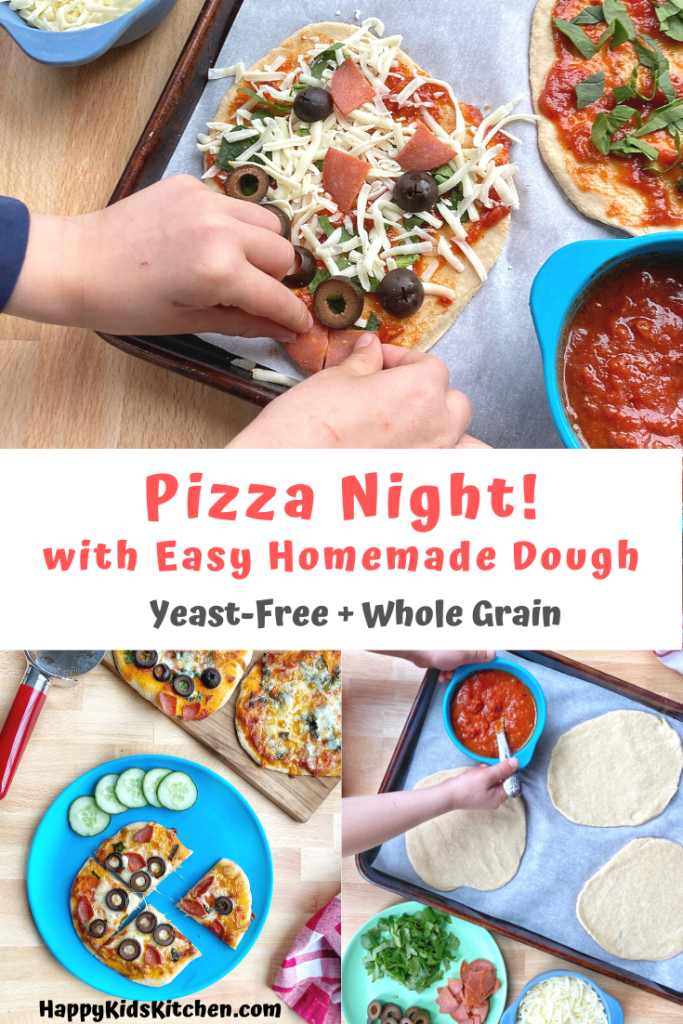 Other dinner recipes you might enjoy:
Baked Spaghetti Cups (with veggies)
Rainbow Fried Rice (or Quinoa)