Rainbow Fried Rice (or Quinoa!)
Rainbow Fried Rice is easy, healthy, delicious, and the perfect recipe to cook with kids. I call this veggie-packed dish *Magical* Rainbow Fried Rice because every time I make it in a cooking class it disappears off kids' plates. The adults in the room, whether parents or teachers, stare in disbelief as they watch usually "picky" eaters gobbling up the rainbow of veggies and rice. It's no surprise that kids can be involved in every aspect of this recipe -starting at the store with choosing the veggies to include and helping chop them up at home. Making Rainbow Fried Rice is the best way to expose kids to lots of different veggies in a fun, pressure-free way. See section below for more tips on making this dish with kids! And be sure to let me know if you give it a try!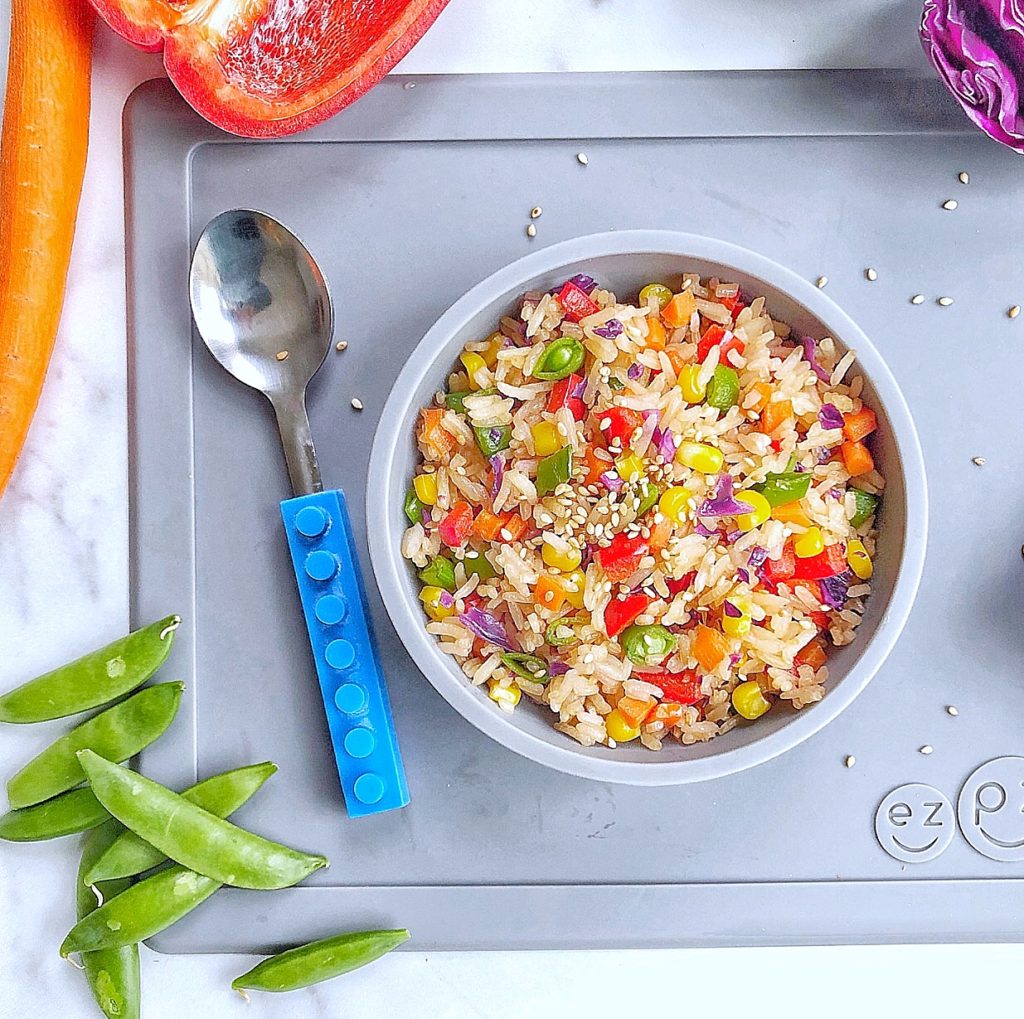 Eat the Rainbow!
I love teaching kids about "eating the real food rainbow" and how fun it is to include lots of different colors and textures in what we cook. However, I don't like to focus specifically on nutrition in my classes. Young kids won't enjoy or try more foods if we tell them those foods are "healthy." Toddlers and preschoolers (and well, pretty much most people) really only care if food tastes good. So that's what we focus on: that colorful food looks and tastes delicious! Cooking with a variety of fruits and veggies fosters a love for those healthy foods in a natural, age appropriate way.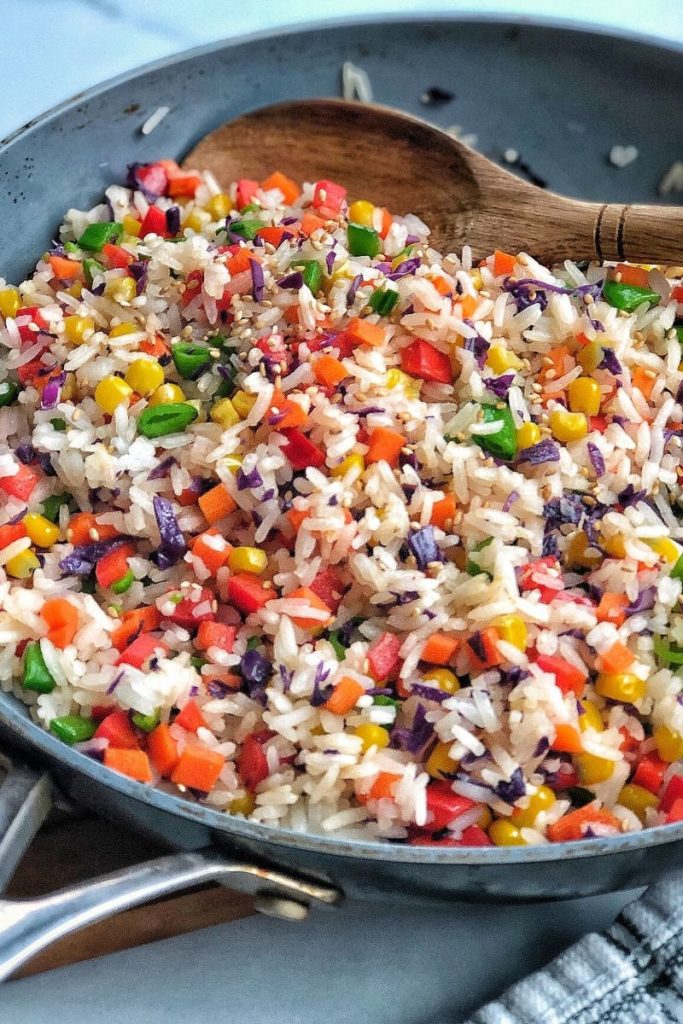 Tips for Making Rainbow Fried Rice with Kids and "Picky" Eaters:
Don't think your child would eat all those different veggies mixed together? First, you never know until you try! Second, even if your child doesn't eat what you cook together, he/she still benefits from the experience! Keep trying and the exposure and skill building will pay off. Here are some more tips on making this recipe together:
Start at the store or market! Talk about the different colors you see in the produce isle. Put your child in charge of choosing a veggie in one or two colors: "For our green veggie today, should we get broccoli or green beans?"
Help chop! Prep the veggie (cut in strips) to make it easier for your child to cut with a kid-safe knife then let your little one dice it up. My knife suggestion and tips on teaching knife skills are in the post HERE.
Transfer and measure! If you child isn't into chopping or gets tried, have him/her help transfer the veggies to a bowl for you. Your child can also help measure the sauce ingredients and mix them together in a small bowl.
If you feel comfortable, have your child help add the veggies to the pan. He/she doesn't have to be up there long, but kids love to see what the cooking process looks like. Have another job ready at a different area in case your child doesn't want to leave the stove.
Garnish! Kids love to customize their food. Let your child take a pinch of sesame seeds and sprinkle them on top of his/her own bowl. You could also add sliced scallions or chopped cilantro too. If you don't have anything to add on top, simply letting your child help spoon the rice into a bowl will make him/her feel more invested in the meal.
Have a child that is very hesitant about eating lots of foods mixed together? Start making the rice with only one or two veggies and work your way up to adding more ingredients next time.
Chop everything really small! Everything mixes together really easily that way. Plus, it cooks fasted too!
Subs and Suggestions for Rainbow Fried Rice:
Rainbow Fried Rice isn't just delicious, it's super versatile and easy to make your own.
You can use leftover white or brown rice, cooked quinoa, riced cauliflower, or a mixture of any of those choices.
I often find already cooked and frozen rice or quinoa at the store so I can make this dish in a flash. Sometimes shortcuts are necessary!

 See picture below for some options I like to use.

Want more protein? Scramble in a couple eggs or add in chopped up chicken, shrimp, or tofu.
Use fresh or frozen veggies!
Use whatever veggies you like or have on hand! Here are some more suggestions by color:
–Red: bell peppers or tomatoes
–Orange: bell peppers, carrots (shredded or diced)
–Yellow: pineapple (adds some yummy sweetness!), bell pepper, frozen or fresh corn
–Green: so many options! Broccoli, kale, spinach, frozen peas, green beans, sugar snap peas…
–Blue: maybe blue potatoes? Haha. I usually just serve this with a side of fresh blueberries to cover that color, but please let me know if you find any good options!
–Purple: also a tough one but my go-to is cabbage. It's so pretty and blends really well with the rice.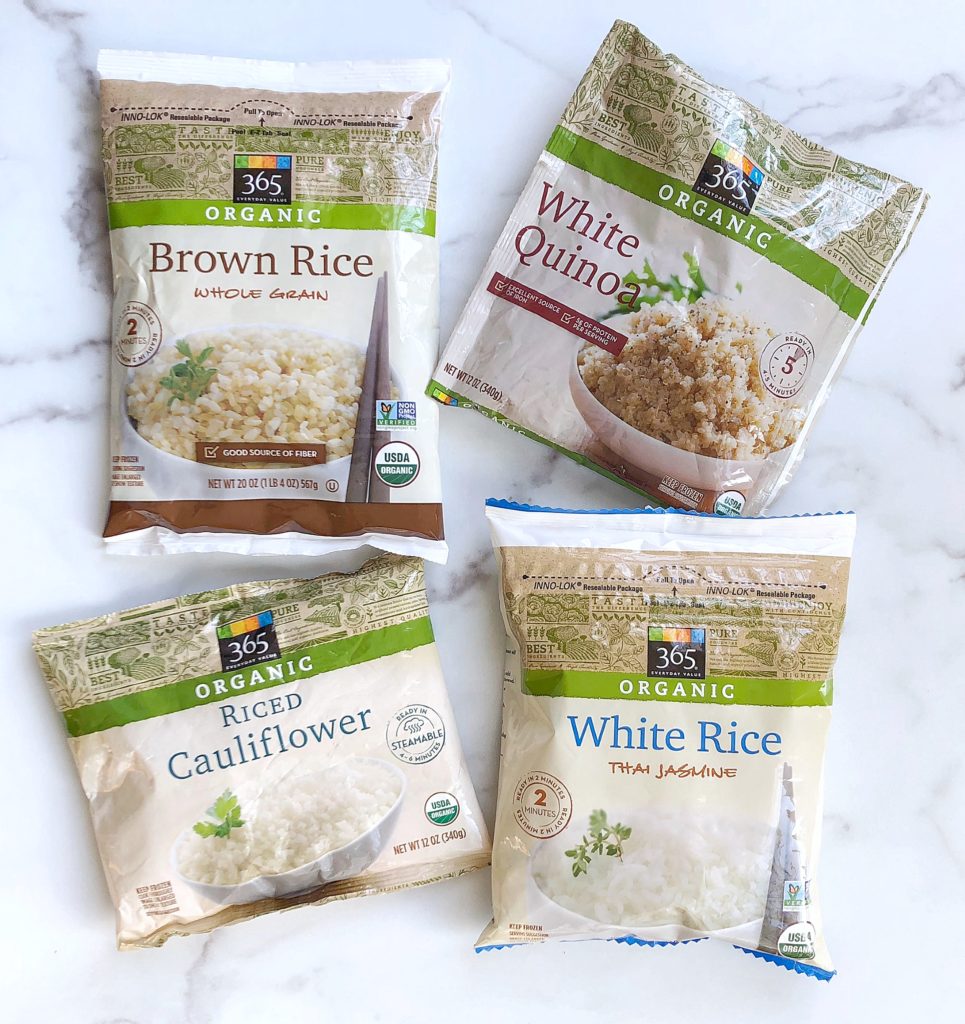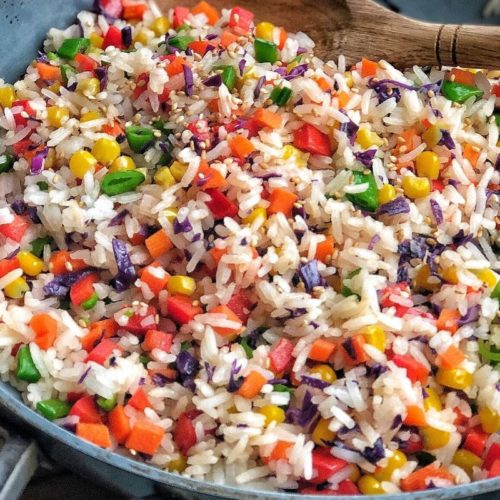 Rainbow Fried Rice
Versatile, easy, veggie-packed recipe to cook with kids! See add-in suggestions and substitutions in post above.
Ingredients
2

tsp

avocado oil

or any flavorless oil

2

cups

diced fresh or frozen vegetables

see suggestions below

3

cups

cooked rice, quinoa, or frozen riced cauliflower

or a combination of those

1/4

tsp

garlic powder

3

Tbsp

low-sodium soy sauce, tamari, or coconut aminos

1

tsp

rice vinegar

1

tsp

honey or agave syrup

optional

1

Tbsp

toasted sesame seeds

optional
Vegetable Suggestions
1/2

red bell pepper, diced small

1

medium carrot, peeled and diced small

1/4

cup

frozen corn or diced fresh pineapple

1/4

cup

frozen peas

1/2

cup

finely chopped red cabbage
Instructions
Heat oil in a large skillet or saute pan over medium heat. Add raw veggies and cook, stirring occasionally, until softened, about 2 to 4 minutes.

Add rice, frozen veggies, and garlic powder to the pan and stir to combine. While rice heats through, mix soy sauce, vinegar, and honey together in a small bowl.

Once all the ingredients are cooked and hot, pour sauce over the top and stir to combine. Turn off heat and serve warm. Sprinkle sesame seeds of top, if desired.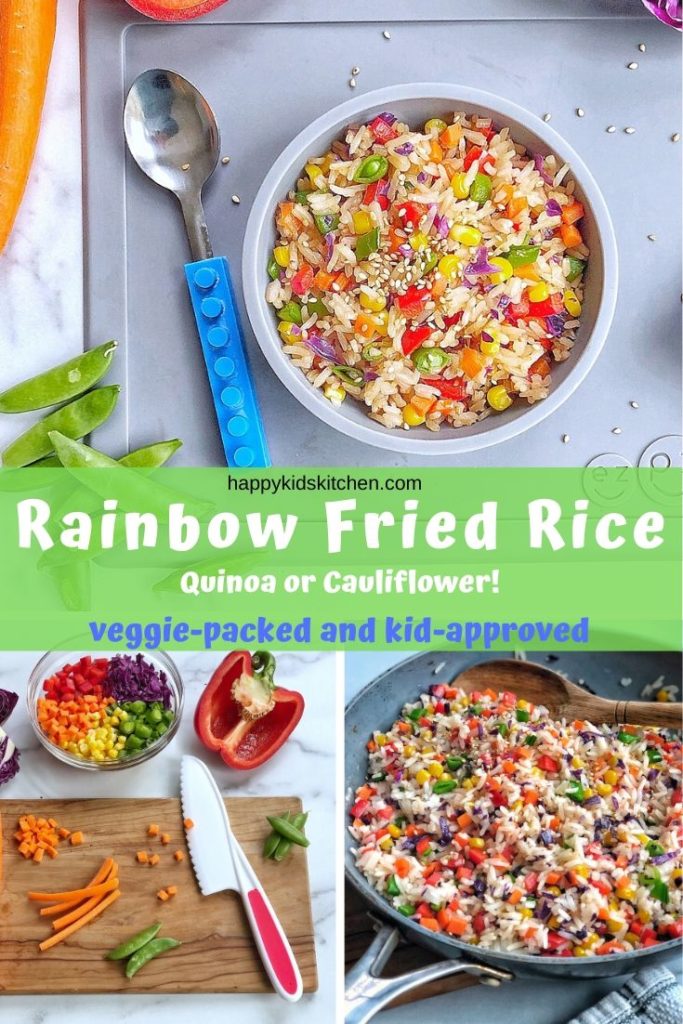 More Veggie-Filled Recipes to Cook with Kids:
3 Healthy Treat Recipes with Zucchini