Spinach Pesto Pizza Toasts
Spinach Pesto Pizza Toasts is the perfect fun recipe to get kids into the kitchen and get some extra veggies into lunch, dinner, or snack time. We love to cut the sliced bread into tree shapes with a cookie cutter during Christmas time. However, these Spinach Pesto Pizza Toasts are great anytime of year. Cut your favorite bread into any shape you'd like or even leave the bread whole. Any way you slice it, Pizza Toasts are easy enough to make with the littlest helpers. Kids can do the whole recipe from start to finish! The pizzas can be also be adapted to fit many different eating preferences or dietary needs. Use the quick homemade pesto recipe I've included below or buy it at the store to make this cooking activity even easier.
 How to Make Spinach Pesto Pizza Toasts with Kids:
If making the pesto from scratch, be sure to have your little one add big handfuls of the spinach to the food processor and help press the buttons to turn the machine off and on.
Have your child help use the cookie cutter to cut the bread into shapes.
Use a child-safe knife to cut the pepper strips into small pieces. Show your child how small the peppers should be then let her try to cut them on her own. If they aren't perfect, that's ok. You can also go back after and cut them a little smaller as well.
Spread the pesto or other sauce on the toasted bread together. I like to spoon some into the middle and then use the back of the spoon to spread the sauce all over the toast. You child will probably want to keep spooning sauce onto the toast, but remind him that a little goes a long way and keep spreading what's already on there.
Place a little cheese on your work surface or in a small bowl and let your child sprinkle it on the toasts. We like to pretend its "snow" falling on the trees.
Decorate with the peppers or whatever other veggies/toppings you'd like to add. Have fun!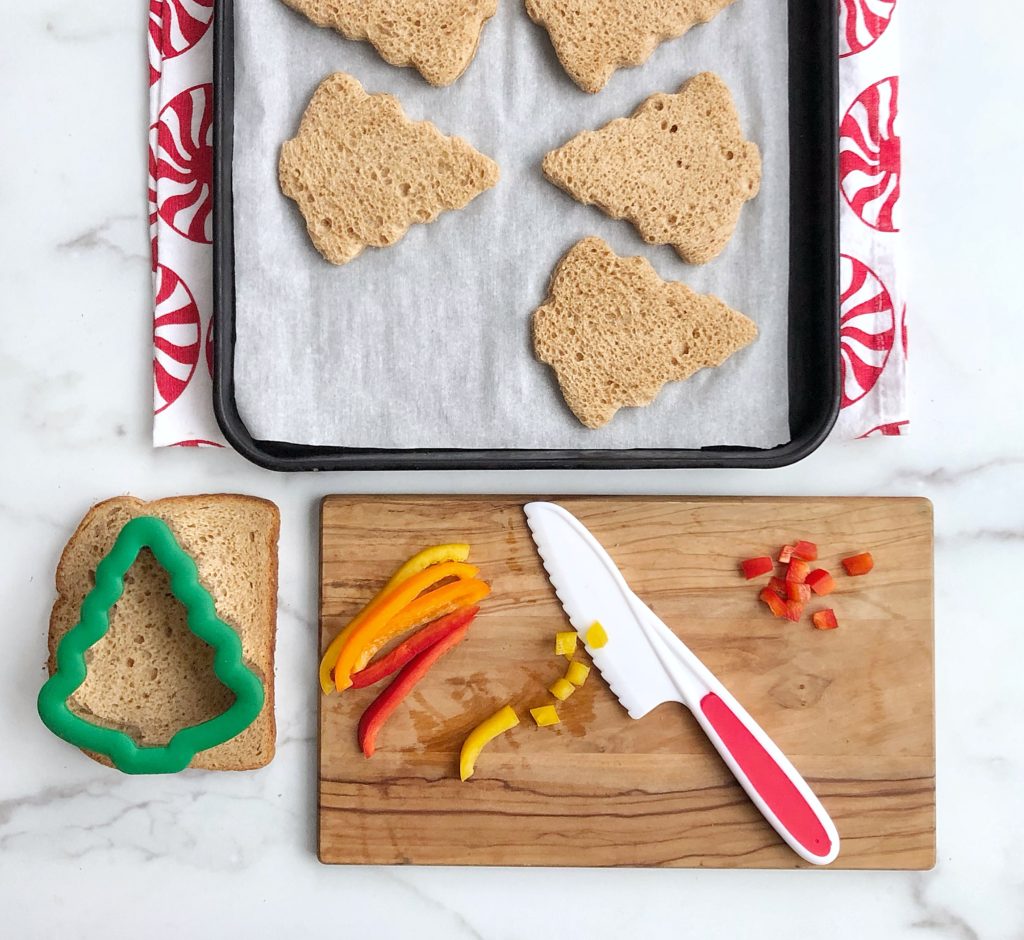 Helpful Tools, Tips, and Substitutions:
Need a child-safe knife recommendation and tips on how to use them with your child. Check out this blog post for more info: Teaching Knife Skills to Toddlers and Kids
I love these cookie cutters. They are easy for kids to use and cut though bread easily (after you wiggle back and forth a little).
Gluten-free? Use your favorite gluten-free bread or any other crust that you can cut into shapes.
Dairy-free? Use a dairy-free cheese alternative or leave off the cheese and it will still be a yummy pesto toast. The pesto recipe I've included is dairy-free.
Not into pesto? Feel free to use regular tomato sauce instead. Sometimes we chop up some cooked broccoli or grate up some carrot and stir it into jarred sauce for a quick veggie boost.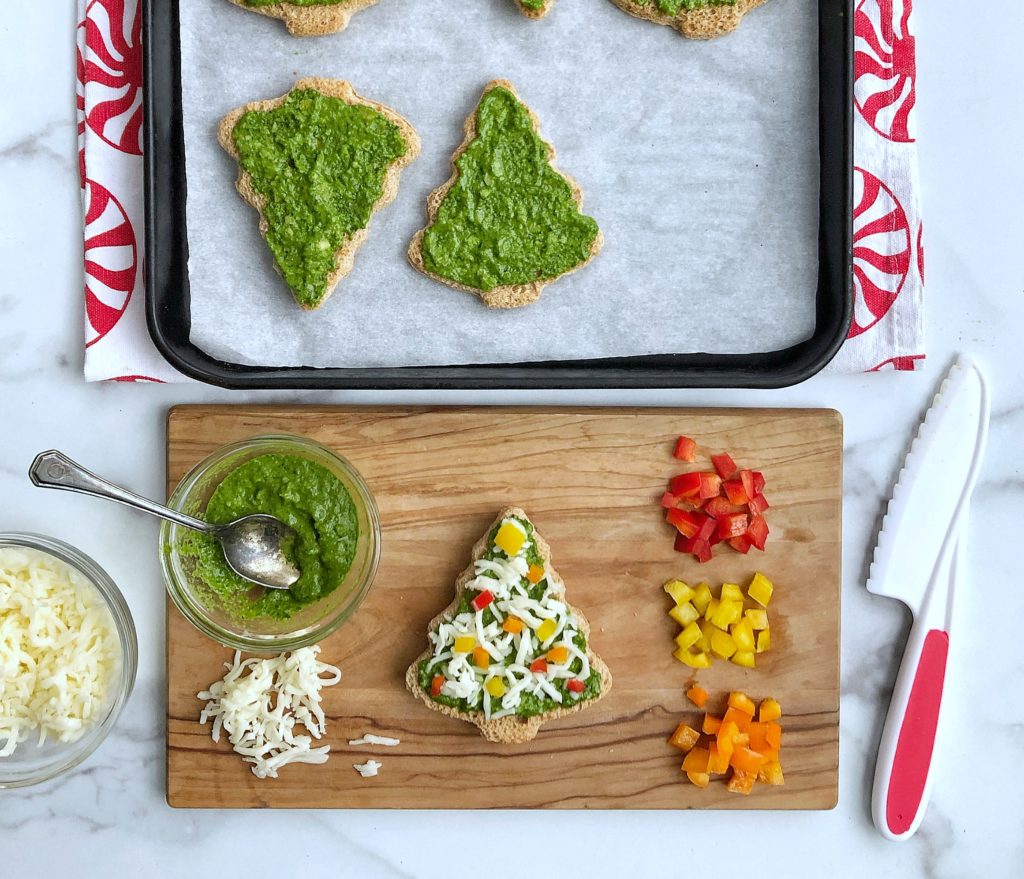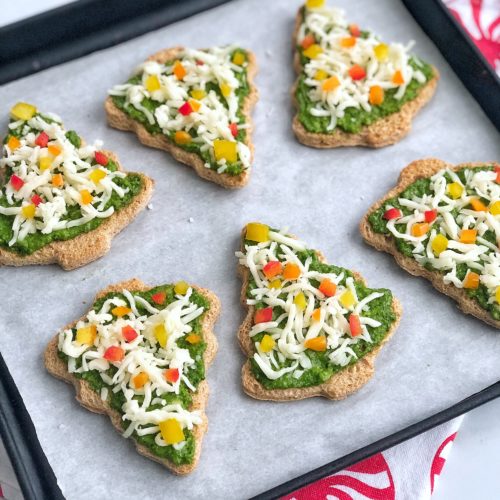 Spinach Pesto Pizza Toasts
Fun, veggie-packed, easy cooking activity for kids!
Ingredients
8

slices

sandwich bread

any kind

1/2

cup

Easy Spinach Pesto, store bought pesto, or other sauce

Bell peppers, thinly sliced into strips

red, yellow, and orange

1/2

cup

shredded mozzarella cheese

or dairy-free alternative
Easy Spinach Pesto
3

packed cups

baby spinach

1/4

cup

sliced or slivered almond

or any nut or seed like walnuts or pumpkin seeds

1/8

tsp

garlic powder

1

tbsp

lemon juice

1/4

tsp

honey

optional

1/4

tsp

salt

1/4 to 1/3

cup

oil

I like to use half olive oil and half avocado oil
Instructions
Preheat oven to 425. Line a sheet pan with parchment paper or aluminum foil.

Cut each slice of bread into a shape using a cookie cutter or leave it whole, if you wish. Place bread on the pan and toast it in the oven for 2 minutes or until every lightly browned.

Cut pepper strips into tiny little squares. Once bread is toasted and cool enough to handle, spread with pesto, top with a sprinkle of cheese, and decorate with pepper "ornaments." We like to put a yellow piece right at the top of the tree to look like a star.

Bake pizzas until cheese is melted, 3 to 5 minutes. Enjoy warm. 

For Pesto: Add all the ingredients besides the oil into a food processor. Blend to chop everything finely. With the food processor running, stream in a ¼ cup of oil. Stop and scrape down the sides of the processor bowl then continue to blend until smooth.

Add additional oil or a splash of water to thin out pesto if needed. Try pesto and add more salt or lemon juice to taste. Store pesto in an airtight container in the refrigerator for up to a week.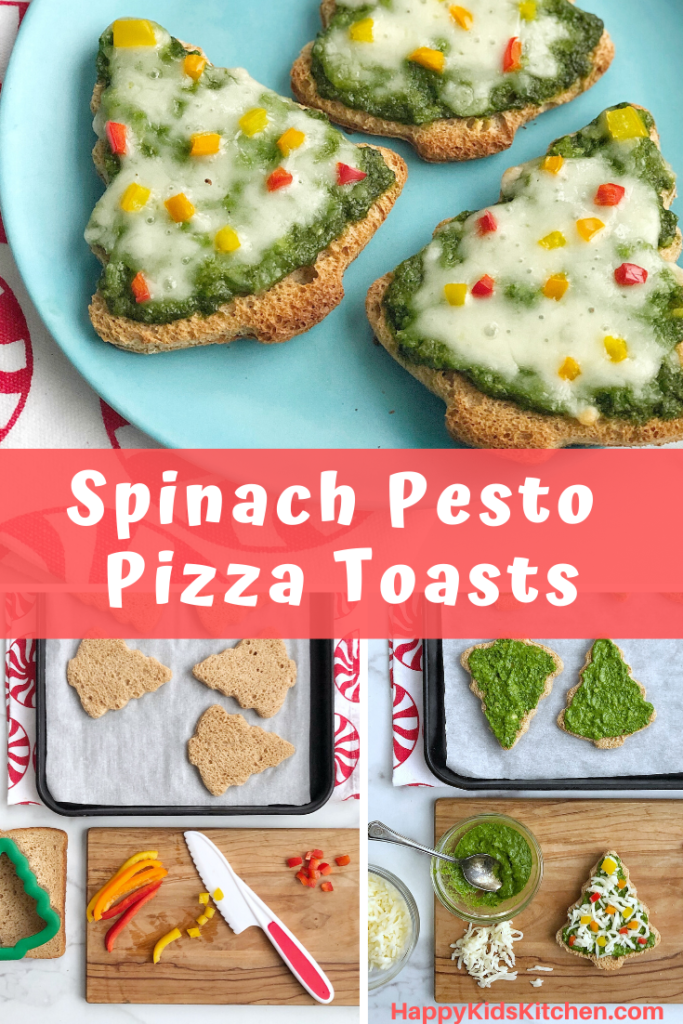 Looking to make some other fun recipes with kids?
Chewy Ginger Cookies (Vegan and Gluten-free)
Baked Spaghetti Cups (with Veggies!)
Sweet Potato Gingerbread Muffins