Teaching Knife Skills to Toddlers and Kids (Safety and Basics)
Want your child to enjoy a wider variety of foods? Learn useful skills to gain independence and develop confidence? Teaching knife skills to toddlers and kids enriches their lives on so many levels. As a preschool cooking instructor and mom of two, I have seen how teaching knife skills to toddlers and kids allows them to engage with their food in a pressure-free, fun way. Although it's never too late to start, I believe learning to cook at a young age sets our children up for a lifetime of better eating and wellness habits. Using a knife is the cornerstone of this lifelong practice.
Note: You will see several different knives being used by the kids in the photographs below. The pictures were taken before I purchased by current favorite child-safe knife recommendation (more below). I still use the knives pictured (also in my Amazon store), they just aren't my favorite ones. Also, thank you to my friend, Nicole Derr, for taking these photographs of one of my preschool cooking classes.
Is it safe to teach my toddler to use a knife?
Safety is always the #1 goal for our kids. The child-safe knives I recommend can't cut little fingers, when used properly, but are generally able to get through more foods than you'd expect. It would take a lot of sawing back and forth across the skin to cause harm and most children would feel discomfort and stop way before that happens.  However, it is really important that we teach children that knives are TOOLS, NOT TOYS. Here are some tips on teaching safety rules about knives:
Tools, not Toys: Here is the language I use when explaining this #1 safely rule: Holding a knife in my hand I explain that "These knives are not toys. That means we only use knives to cut food. When we are done cutting, we put our knives down flat on the mat (or cutting board). Putting your knife down shows me that you are able to follow the rules and are ready to do more cutting." We want kids to know that although the plastic knives are safe to use, unlike "real" knives only grown-ups touch, they need to treat them like "real' knives. That way, they will already be "pros" when they are grown-ups.
Teach, Model, and Remind. Learning to use a knife safely is just like teaching our children the safety rules about other life experiences. We use a helmet while riding a bike. We hold hands while crossing a street. Clearly explaining, demonstrating, and reminding children about these rules and doing so often is how they will learn. Testing limits, learning though play, and being very active are all age appropriate behaviors. We can't expect toddlers to use knives appropriately and perfectly right off the bat. Try and try again.
Stay Calm and Carry On. Easier said than done, I know, but do the best you can. Make learning a new skill a positive experience. If your child is using the knife in a disrespectful way, banging, waving, or putting the knife in her mouth, calmly remind your child that knives are just for cutting food. If your child continues using it disrespectfully, tell the child that you have another cooking job you need help with (dumping ingredients into a bowl, sprinkling some salt, stirring…) then remove the knife and place it out of sight. This shouldn't be a punishment, but a redirection. If your child is upset about the knife being removed, remind her that you can try to use it again another time soon (state a specific time like "tomorrow" or "later today").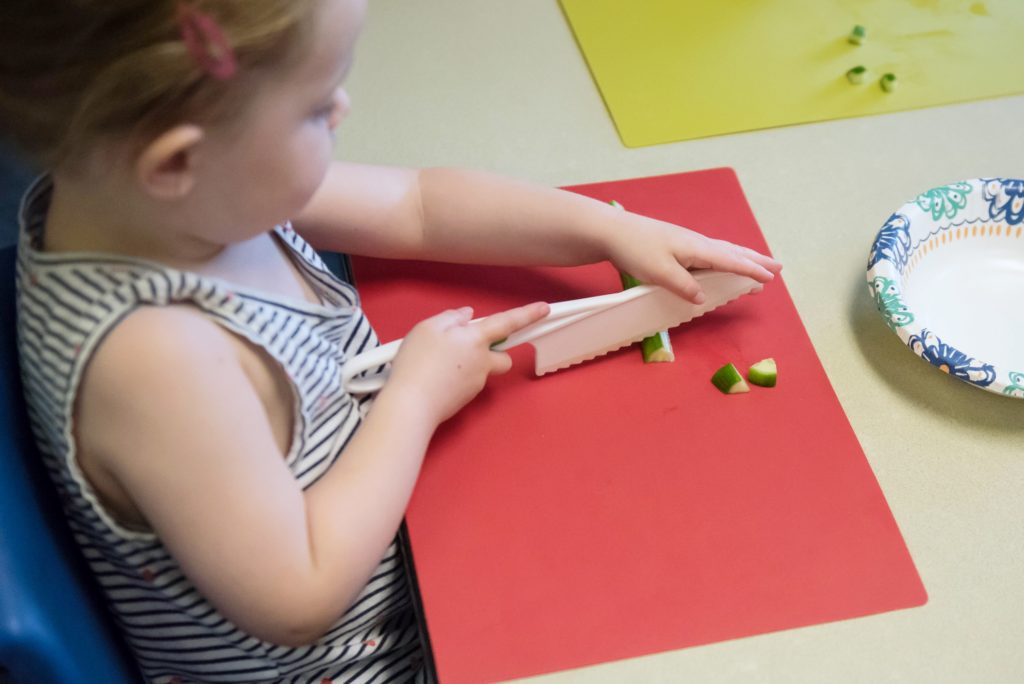 Why should my toddler learn to use a knife?
Independence: "Me do it!" If you have a toddler, you've probably heard this exact phrase or one like it. If your child is rejecting food at the table or only insisting on eating certain snacks all day long, they will likely benefit from having more control over their food choices and preparation.
Exposure without Pressure: Cooking is fun, especially when getting to use a knife, so use that novelty to your advantage. Have your little one touch, smell, and chop foods he is apprehensive about eating. Ease any hesitation, by pairing a less-preferred food with one you know your child loves. For example, if your child loves strawberries but won't eat cucumbers, set up a cutting "snactivity" that involves cutting both foods.
Development of Fine Motor Skills: Using their little hands to control the knife, helps toddlers prepare to master other skills like holding a pencil and tieing their shoes in the future.
What's a good age to start?
This is probably the most common question I get regarding kids and knives. First, I want to remind you that every child's temperament is different. You know your child best. Also, before you begin teaching your child to use a knife, consider your own level of comfort. If you are nervous about your little 20-month-old getting involved in the kitchen, wait a little longer. Everyone's journey will be different, but here is my general age timeline for using knives:
18 to 20 months: Some kids may be ready sooner than others, but generally I recommend introducing children to a child-safe knife between 18 to 20 months. Choose a safe, stable space such as in This means standing behind your child, holding the knife together, and cutting something soft (like a banana). Even making one or two slicing motions together counts as an introduction. At this point, I wouldn't let your child hold the knife on their own. Do a simple activity then say that you will put it away to do some more cooking another time.
2 years old: By this age most children are ready to use the knife more independently. However, their little hands aren't quite strong enough to control a knife with much precision. Let your child safely experiment and even struggle a little bit while cutting. Don't step in right away when they can't cut something. They are learning. If you see your child is getting frustrated, ask if he needs help. Many toddlers will push your hand away. That's ok! Let them figure it out and cut alongside them to model the cutting technique. If your child continues to get very frustrated but still doesn't want help, have him help with transferring the
3 and 4 year olds: As your toddler gets older and has more experience using a knife, you will be amazed at the progress she is making. I recommend sticking with the child-safe knives through the toddler years to continue building skills and mostly for peace of mind. You'll be able to set your child up with a cutting station and work on other parts of the meal while still supervising.

What knife should I buy?
Below are my knife recommendations for kids.
Want a knife set that's lightweight, easy to clean, and budget friendly? I recommend the Tovola or Starpack nylon knives. Over the past 10 years I have tried and tested a bunch of different knives made specifically for children this one has come out on top. I love that the Tovla knives come in a set of three different sizes. Your child can start with the smallest size and grown into using the larger ones or siblings can use the knives at the same time. Plus, you can use the largest size knife to demonstrate and chop right alongside your child, keeping any sharper knives out of reach. These knives are also more stain resistant than some of the other popular nylon knives I've used in my classes. They are lightweight but sturdy and easy to pop into the dishwasher to clean. See Amazon affiliate link below.
Tovla Jr. Nylon Knives for Kids, 3-Piece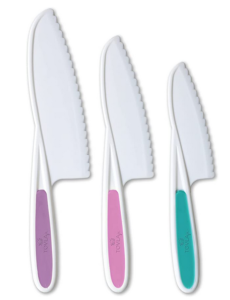 This nylon set is affordable and versatile. It also comes in other colors.
This stainless steel set by Kibbidea is also a great option. I recently had a 5 year old test these knives and she said they helped her sawed through the veggies much more easily than the nylon knives above. I really like the quality of these knives and that the set comes with a pairing knife (great for little hands), a "chef" style knife, and a serrated "bread knife". I think this knife set would definitely grown with your child and be good for ages 3 to 6. However, the set is more of an investment and is not able to go in the dishwasher.
If you're looking for more kid friendly cooking utensils, I love this set that includes a set of child-safe knives and many other tools that little chefs will enjoy using in the kitchen.
Looking for knives for older kids and other cooking tools for kids? Head to my post, The Best Cooking Tools for Kids. or other gifts for kids that love to cook? Check out my blog post, The Best Cooking Gifts for Kids, Toddlers to Teens.

How do we start?
Overall, take an experimental and learning approach to getting started. Remember cooking should always be fun. Demonstrate, let your child figure it out on his own, and then gage your child's individual needs. Maybe he just wants to safely explore the food or maybe he wants you to show him how to cut in a more precise way? Here are some simple tips on getting started:
Show your child how to hold the knife. For the best control, the child's hand should be all the way at the top of the handle where the blade and handle meet. It is ok for your child to explore different hand positions. Remind him that it might be easier to hold in the way you demonstrated before.
Make sure your child has a stable, clear surface to cut on, such as a cutting mat or board. If your board is slipping around, place a piece of damp paper towel underneath to keep it from moving.
Start with very soft foods like bananas, zucchini, cucumbers, and strawberries.
Pre-cut foods into smaller, more manageable-sized pieces before giving them to your child to cut. For example cut foods into strips or long, thin pieces so that the child-safe knife can easily get through the food.
Show your child how to make a sawing motion: "back and forth…back and forth." Simply pressing down with the knife will not be enough pressure to cut through some foods.
Show your child how to do the "top chop." After sawing back and forth to start the cut, place the free hand not holding the knife on top to push down and add extra pressure to get through the food.
It is normal for kids to not want help. There have been many times my hand has been swatted away from an attempt to correct a child's cutting motion or knife grip. If the child is being safe, just let it be and start chopping with your own child-safe knife right alongside.
It is normal for kids to get tired. Cutting is hard work. Have your child transfer the food you cut to a bowl or move on to another task.
In need of some easy, delicious recipes?
Download my free ebook, Easy Snacktivities, to get 8 simple, interactive recipes so kids can get creative with food and practice those knife skills! Click HERE!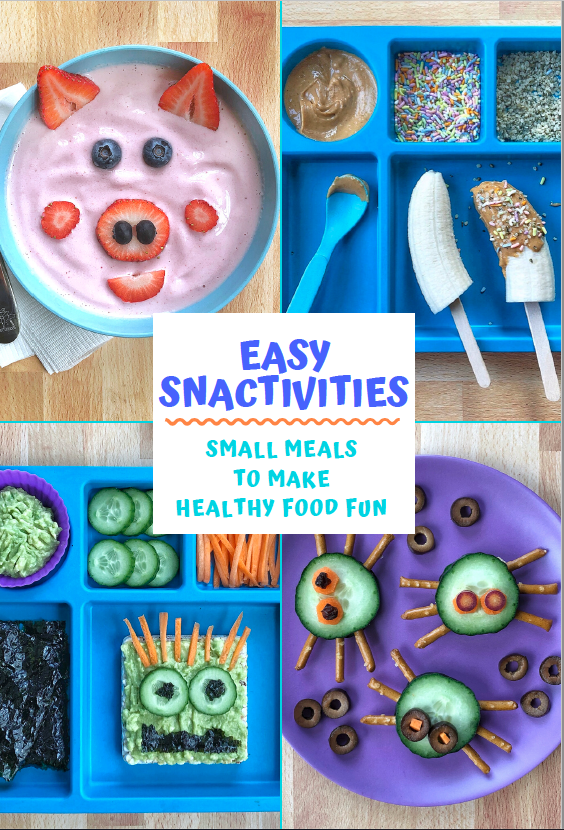 Also, my print cookbook, Little Helpers Toddler Cookbook, is specifically designed to use when cooking with young children. I divided the instructions into steps kids can do and ones adults should take the lead on. However, I'm really proud that the recipes are not just "kid food," but meals, snacks, and desserts the whole family will love.
Check out some posts on the blog with recipes that are perfect for cooking together.
The Best Recipes to Cook with Kids
6 Apple Recipes to Cook with Kids
"Hungry Caterpillar" Fruit Salad
Please reach out anytime with questions! I know this is a tricky subject. Email heather@happykidskitchen or direct message on Instagram are the best ways to get in touch.
Happy Cooking!
Heather 🙂
Don't forget to SAVE TO PINTEREST so you can refer back to this post when you need it: