The Best Cooking Tools for Kids
The BEST Cooking Tools for Kids!
I always like to say not much is needed in the kitchen beyond a good knife, a cutting board, and an oven mitt. However,  I admit to sometimes treating myself (or my kids!) to a new brightly colored set of mixing bowls or a cool new gadget. We all have limited space, however it can make getting in the kitchen a bit more fun and kids LOVE having a set of kid knives, spatulas, or other tools to call their own. If you are looking for something to add to your kitchen fun, I hope this list of The Best Cooking Tools for Kids will help!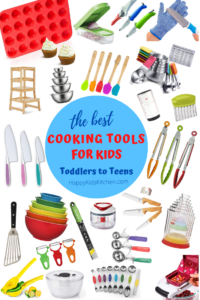 While there are plenty of cooking tools for adults and kids alike on the market, my list below pretty much sticks to my tried-and-true basics. These are the kids' cooking tools I am always recommending to families wanting to spend more time together in the kitchen whipping up meals and teaching their kids cooking skills that will last a lifetime (and will give YOU a break every once in a while when it comes to mealtime).
Do you have any must-haves not on the list? Comment below or tag me.
TikTok: @happykidskitchen
Facebook: @heather.happykidskitchen
Knives for Kids:
Having a child-safe knife is the one essential tool I recommend when parents want their kids to start cooking. Not only does a knife help toddlers and young kids learn life skills, but it really helps expose them to lots of fruits and veggies. If you'd like some guidance on how to teach toddlers and kids to use a knife, head to my blog post, Teaching Knife Skills to Toddlers and Kids (Safety and Basics).
Toddler and younger kids: For little hands just starting to use a knife there are a few options. I like the set of three because you can use the same knife alongside your child, and your child can use them for several years as their hands grow.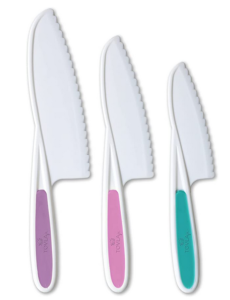 This nylon set is affordable and versatile. It also comes in other colors.
Tovla Jr. Nylon Knives for Kids, 3-Piece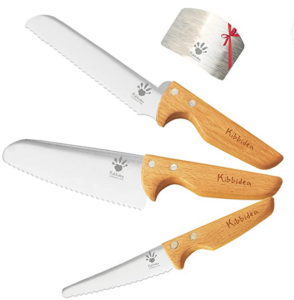 Made from stainless steel and wood. Requires a little more care since these can't go in the dishwasher.
Older kids: We have the first three options shown here, and they all work great. The Opinel knife is a little more expensive, but it is a great gift. The TruChef kit below is also a great gift for a young chef that is really into cooking and would want their own set of knives. I don't recommend relying on a cut resistant glove because we want kids to learn how to use a knife as they would if not using a safeguard. However, if you and/or your child are really nervous, it is a nice thing to have when kids first start using a knife with a real blade.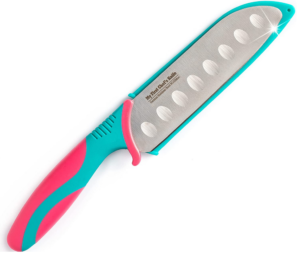 Cooking with Kids – My First Chef's Knife for Kids, Teal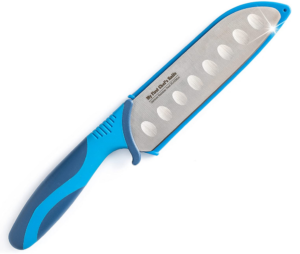 Cooking with Kids – My First Chef's Knife for Kids, Royal/Navy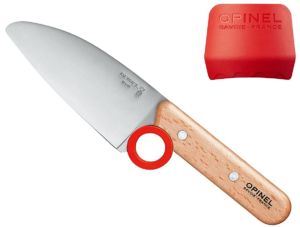 Opinel Le Petit Chef Kids Knife with Finger Guard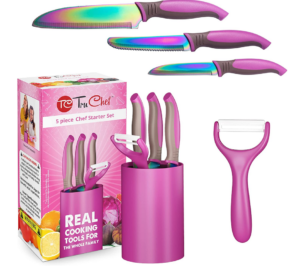 TruChef Kids Knife Set For Cooking, 5 Piece
Cut-Resistant Glove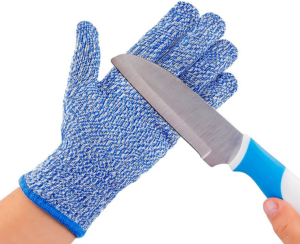 TruChef Kids Cut Resistant Gloves

Produce Prep
These tool making chopping, dicing, and peeling more fun! I've been using many of these tools in my cooking classes for years. Kids really get so excited to work with veggies when getting to use a novel item in the kitchen. Plus, they will probably make your time in the kitchen more efficient and easier.
Onion/Vegetable Chopper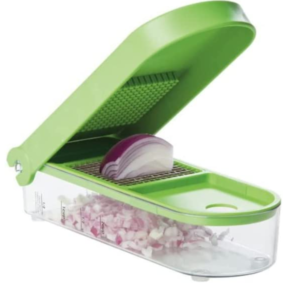 Prepworks by Progressive Onion Chopper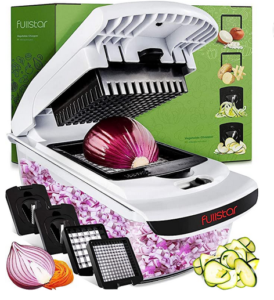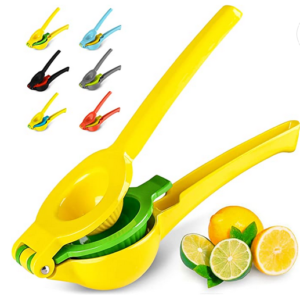 Crinkle Cutter
These make cutting fruit and veggies so much fun! Use to cut pretty much any produce! Roast potatoes, cut cucumber and carrots into "chips", or cut apples/watermelon into "fries."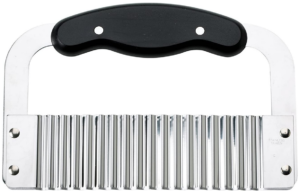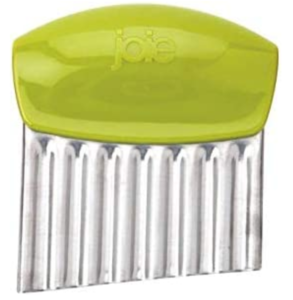 Joie Crinkle Cutter / Wavy Knife
Julienne Peeler
Such an easy way to shred carrots and other vegetables.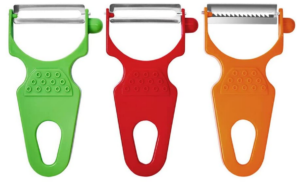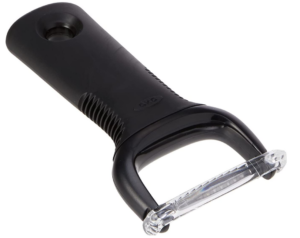 OXO Good Grips Julienne Peeler
Pull Chopper
Like a mini food processor but gets out lots of kid energy too!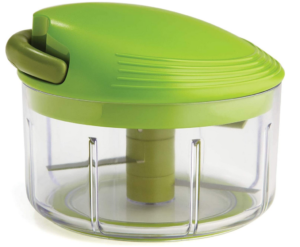 Kuhn Rikon Pull Chop Chopper/Manual Food Processor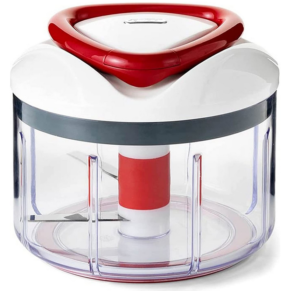 Hand Powered Chopper
Great for chopping garlic!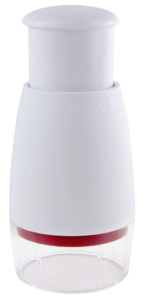 Zyliss Zick Zick Classic Manual Food Chopper
Salad Spinner
My kids love using this!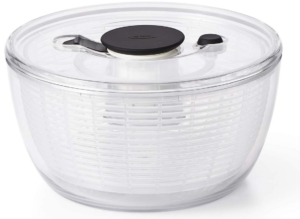 OXO Good Grips Little Salad & Herb Spinner, Small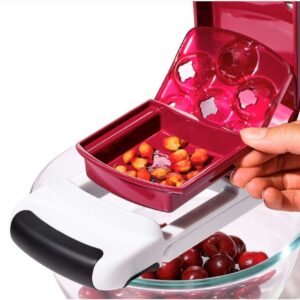 Baking Tools
Make baking with kids (or kids baking independently) more fun and less stressful with these scoops, measuring cups, mixing bowls, and more.
Scoops
Makes cookies, muffins, and more uniform and more professional looking. Plus, it makes transferring batter/dough much easier.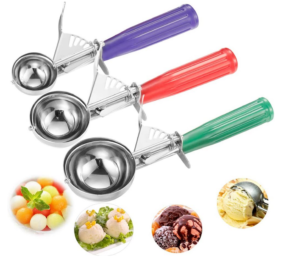 Cookie/Ice Cream Scoop Set, 3 pieces

Bowls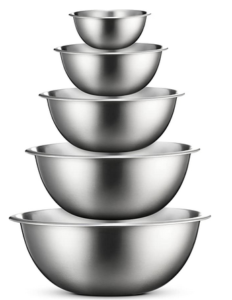 FineDine Stainless Steel Mixing Bowls, Set of 6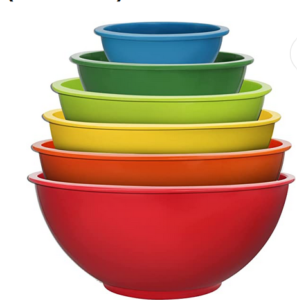 Classic Mixing Bowl Set, 6 Piece
Silicone Muffin Pans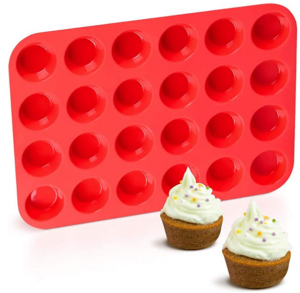 CAKETIME Silicone Muffin Pan Mini 24 Cups Cupcake Pan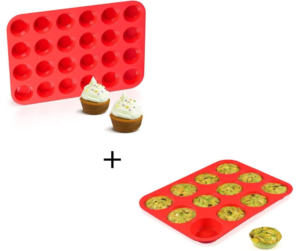 CAKETIME 24-Cup Mini Muffin Pan 1-Pack, 12-Cup Muffin Pan 2-Pack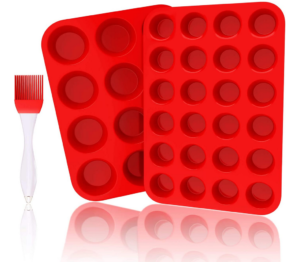 Silicone Muffin Pan Set – 12 Cups & 24 Cups Cupcake Pan
Spatulas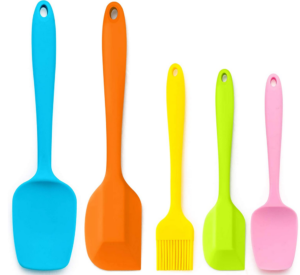 TeamFar Silicone Spatula, 5 Piece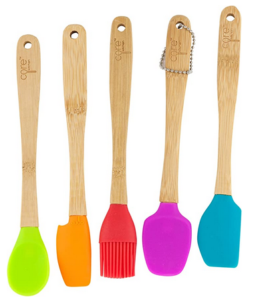 Core Kitchen 5 Piece Crete Mini Utensil Set
Measuring Cups and Spoons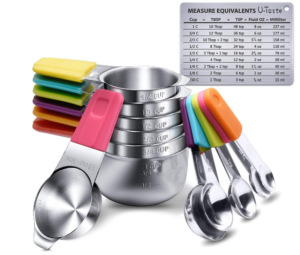 U-Taste Magnetic Measuring Cups and Spoons, Set of 13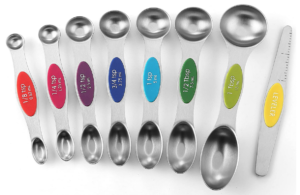 Spring Chef Magnetic Measuring Spoons, Set of 8
Liquid Measuring Cups
Great for measuring peanut butter!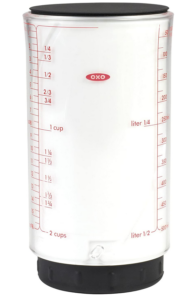 OXO Good Grips 2 Cup Adjustable Measuring Cup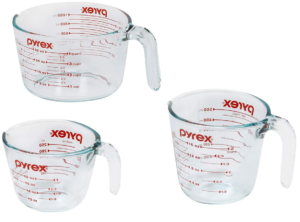 Pyrex 3 Piece Glass Measuring Cup Set
OXO Good Grips 7-Piece Nesting Measuring Beaker Set
Additional Cooking Tools
Tongs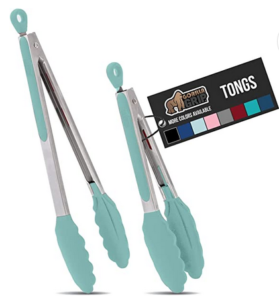 Gorilla Grip Stainless Steel Silicone Tongs for Cooking, Set of 2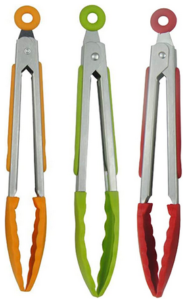 7″ Mini Silicone Kitchen Stainless Steel Serving Tongs
Fish Spatula
Not just for fish! This is my favorite tool for flipping pancakes and other foods in a skillet.

Victorinox Flexible Turner Fish Spatula


Sabatier, Flexible Turner Fish Spatula
Learning Towers

These special kitchen stools are great for getting toddlers and younger kids up at counter hight. My kids used one for many years and I loved how easy these stools made it to have the kids in the kitchen with me. There are many choices at varies price points listed below.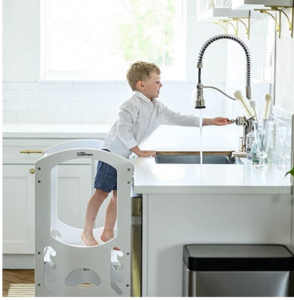 Little Partners Kids' Learning Tower
Guidecraft Little Helper Stool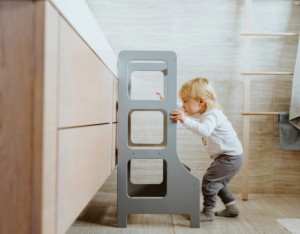 Duck Wood Workshop's Kitchen Tower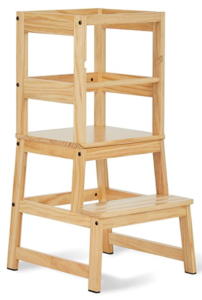 Dream on Me Funtastic Tower and Step Stool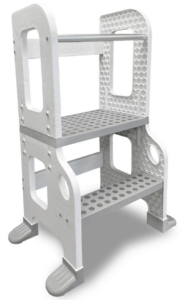 CORE PACIFIC Kitchen Buddy 2-in-1 Stool
Want easy recipe to cook with kids??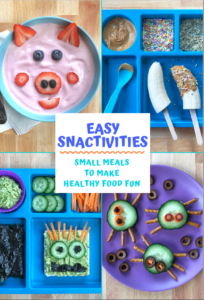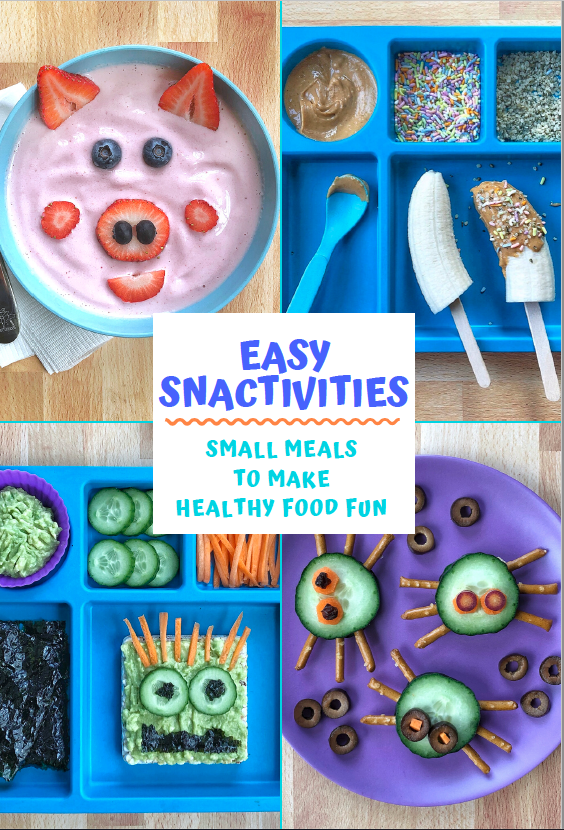 First, check out my FREE ebook, Easy Snacktivities. (Great for Toddlers and Younger Kids)
And also search my website for recipes like Zucchini Oatmeal Chocolate Chip Cookies, Chicken Fajita Burrito Bowls, or Banana Pancake Bites.
Looking for a recipe book to gift to a child?? Check out Kid Kitchen, Fun and Easy Recipes kids can cook themselves (or with just a little help).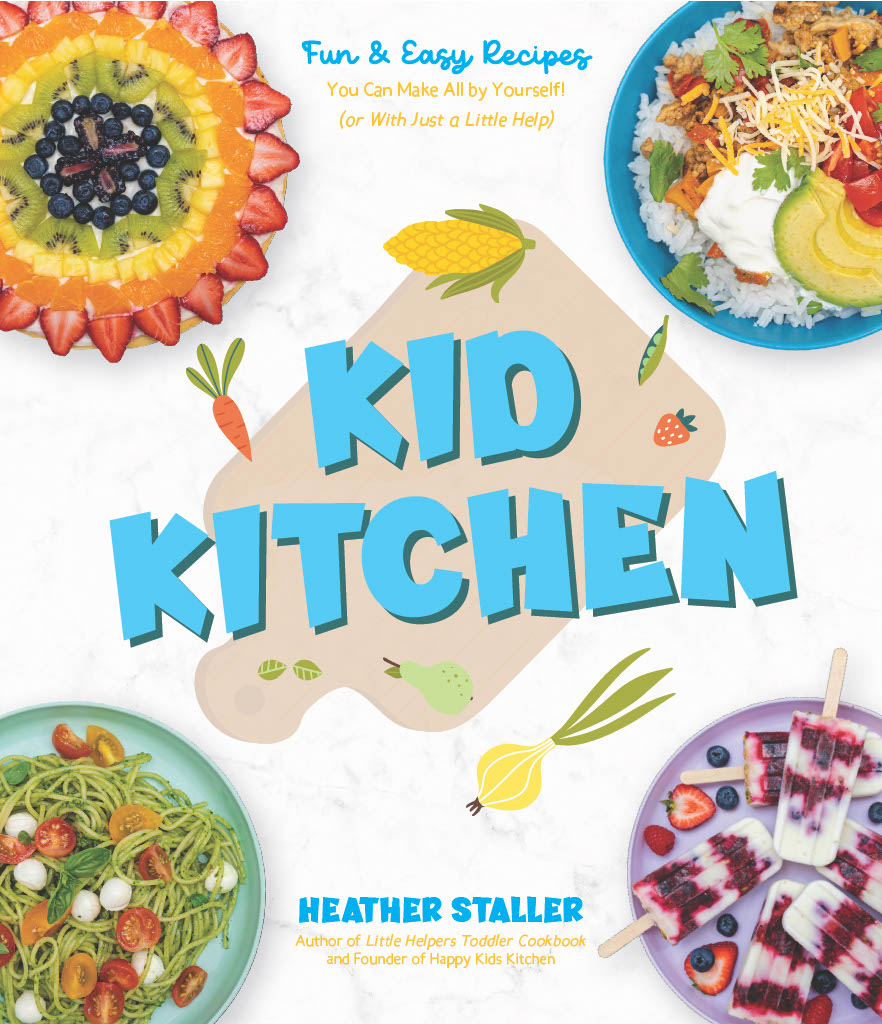 Save to Pinterest!