Banana Upside Down Pancake Bites
All you need for this fun little breakfast recipe is bananas (or any fruit) and your favorite pancake mix! Kids are going to love to make and eat these Banana Upside Down Pancake Bites, and so will the whole family!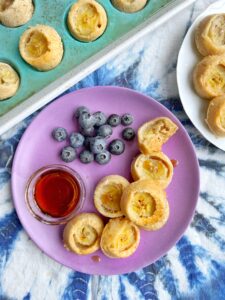 Kids in the Kitchen:
Younger kids will love to help make this recipe and older kids will be able to make these pancake bites all on their own!
Banana/Fruit: Kids can use a child-safe knife or simply a butter knife to slice the bananas. If you are concerned that your child won't slice the banana evenly or turn it into mush, you may want to give them their own banana to cut however they'd like. Then they can snack on that too while you slice the bananas into enough pieces to use in the recipe.
Mix: Kids can measure and mix the pancake batter. Make sure to use a large enough bowl, so kids can easily stir without spilling too much over the sides.
Scoop: It might get a little messy, but have kids use a spoon or scooper to place a little pancake batter on top of each banana slice. For younger kids, you may want to have them hold your hand and do this action together, so they can get the hang of how it feels to scoop and pour the right amount of batter.
Garnish: Have kids help finish their own plates or a platter for the family by dusting the pancakes with powdered sugar and/or extra cinnamon.
Subs and Tips for making Banana Upside Down Pancake Bites
Banana/Fruit: It's best to use fairly ripe bananas. However, they don't have to be super ripe like you would use for banana bread or muffins. You can also sub bananas for any fruit you'd like. I think some diced pineapple would be especially delicious!
Pancake Mix: Use whatever pancake mix you enjoy. It can be gluten-free or high protein–whatever you need to match how your family likes to eat.
Homemade pancake batter: If you want a homemade whole wheat pancake batter, try the pancake batter in my Blueberry Pancake Breakfast Cobbler recipe.
Suggested Equipment: I really like using a silicone muffin pan for this kind of recipe because it's easier to remove the pancake bites. See my Amazon Baking Essentials list HERE for products I love to use.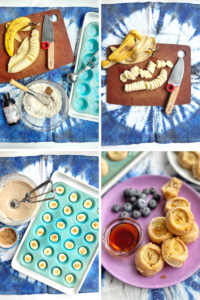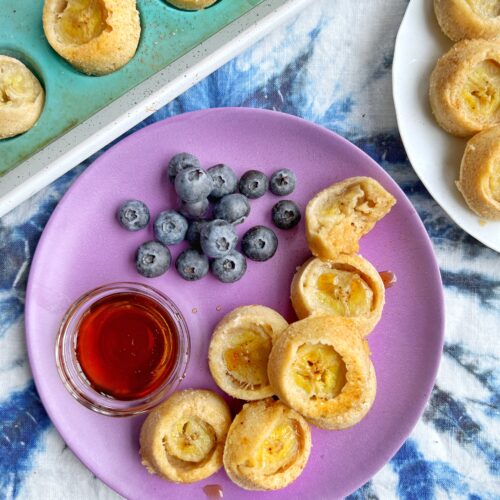 Banana Upside Down Pancake Bites
Just fruit and your favorite pancake mix! Fun breakfast kids can make.
Equipment
mini muffin pan, preferably silicone
Ingredients
oil spray or melted butter, for greasing pan

2

ripe bananas

or 1 cup diced pineapple or other fruit

2

tbsp

brown sugar or coconut sugar

1 1/2

cup

pancake mix (and ingredients needed in instructions)

1/4

tsp

cinnamon

1/2

tsp

vanilla extract

maple syrup and/or powdered sugar, for serving
Instructions
Preheat the oven to 375 degrees. Grease a mini muffin tin really well with oil spray or melted butter.

Slice the bananas, making sure to get about 12 slices from each so you have 24 slices total. Place a slice of banana in each of the mini muffin holes.

Sprinkle each slice of banana with a pinch of brown sugar.

Make your pancake batter according to the package instructions. I like to add cinnamon and vanilla for extra flavor, but that is optional.

Scoop about a heaping tablespoon of batter on to each banana slice. Tap the muffin pan on the counter a couple of times to make sure the batter settles around the banana and any air bubbles are released.

Bake until puffed and golden brown, 12 to 14 minutes. Cool for a few minutes then run a butter knife around each pancake bite to help get them out of the pan. Serve pancakes bites with maple syrup for dipping or dust with powdered sugar, if desired.
Save to Pinterest!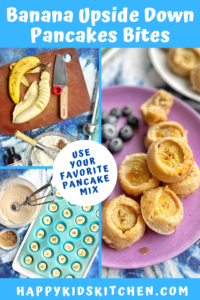 Other Breakfast Recipes to Try:
Kid-Friendly Make Ahead Breakfasts
Blender Cottage Cheese Pancakes
Blueberry Pancake Breakfast Cobbler
Banana Protein Blender Pancakes