Kid Friendly Make-Ahead Breakfasts
Mornings super busy? Here too! That's why I've compiled a list of healthy breakfast recipes that are easy to prep in advance and make the morning so much easier. These Kid Friendly Make-Ahead Breakfasts are recipes the whole family will enjoy. Waffles, pancakes, oatmeal, muffins, breakfast cookies, yogurt parfaits, smoothies, and more…whatever your kiddos enjoy for breakfast, you'll find and easy and healthy recipe below. Stock your freezer/fridge and feel the stress melt away!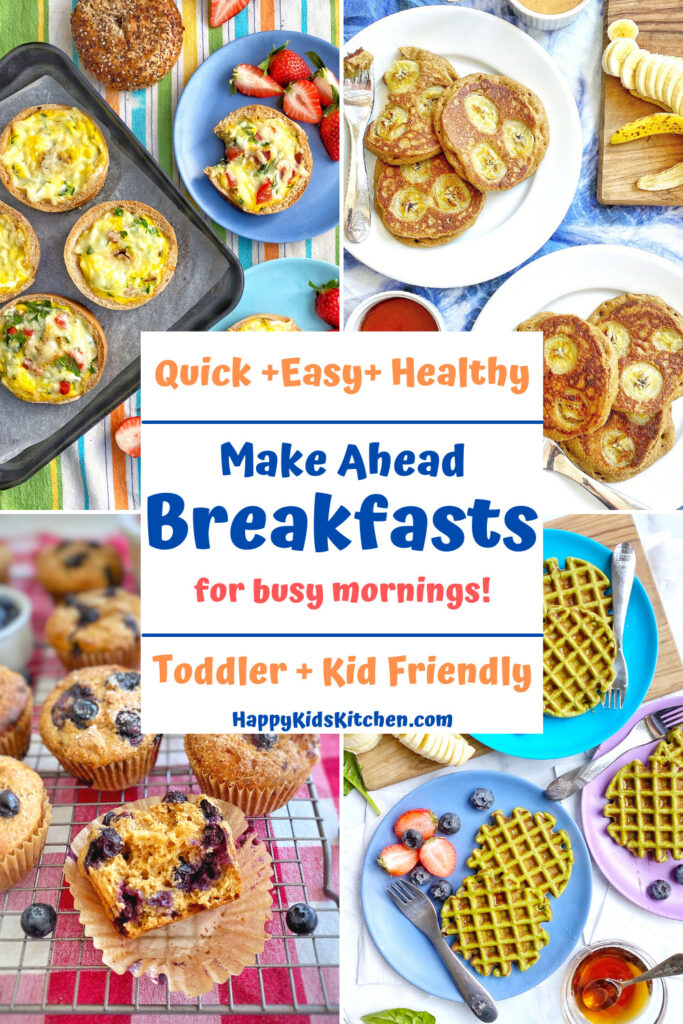 Tips for Successful Make-Ahead Breakfasts:
Stick to meals/types of food you know your family/kids already enjoy: It would be terrible to make a giant batch of muffins, freeze them, and then no one eats them. Been there! If your son loves waffles, then make those and freeze them. If your daughter loves smoothies or yogurt, check out that section below for ways to make those types of recipes in advance.
Get kids involved with planning and prep (but not too much): As I mentioned above, it's great to make breakfast items your kids enjoy. If you want your child to be even more excited about breakfast, let him choose between two types of the recipe you want to make: "Do you want to try these banana waffles or the chocolate ones this week?" You want your child to feel some power over the decision but not get too many choices that would be overwhelming. And of course you knew this was coming, but having your child help make the recipe is even better!
Freezer storage: glass containers are nice for food storage, but they often take up way too much space. Instead, I like to use silicone bags such as THESE. They come in lots of different sizes and are easy to clean and reuse. If you don't want to invest in some reusable bags, traditional freeze zip-top bags will work well too. Just ensure that your food is as airtight as possible to prevent freezer burn.
Freezing liquids: If you freeze a liquid such as oatmeal or smoothies in glass containers or mason jars, be sure to only fill the container 1/2 to 2/3 of the way full. This will account for the expansion of the liquid when it freezes and prevent the glass from cracking.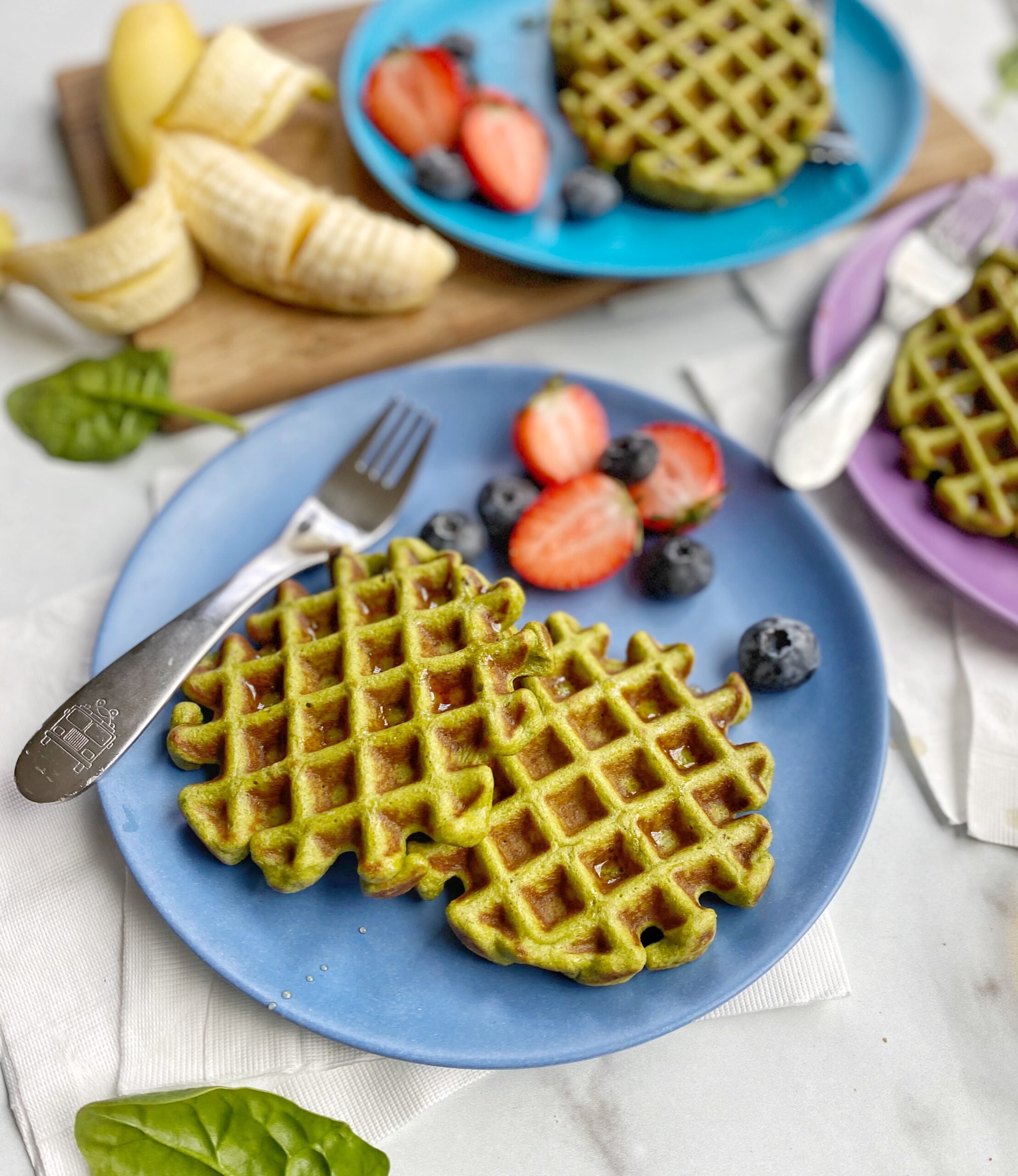 Pancakes and Waffles:
Both pancakes and waffles are great breakfast recipes to make ahead and store for easy reheating. Make a double batch when you have time and freeze the leftovers. Pancakes and waffles are also great recipes for getting lots of nutritious ingredients into kiddos. The recipes I've included below are high in protein, fiber, and some have added veggies.
To freeze pancakes and waffles, cool completely after cooking then freeze flat on a baking sheet until solid. You can then stack them and pack them into a plastic freezer bag or a reusable one like THIS.
Here is an article with step-by-step instructions on how to freeze pancakes (can use same method for waffles too).
Here are a few other recipes from The Natural Nurturer and Yummy Toddler Food that look great for making ahead: Chocolate Waffles (with veggies!) , Healthy Carrot Apple Pancakes, and Best 2-Ingredient Pancakes for Babies and Toddlers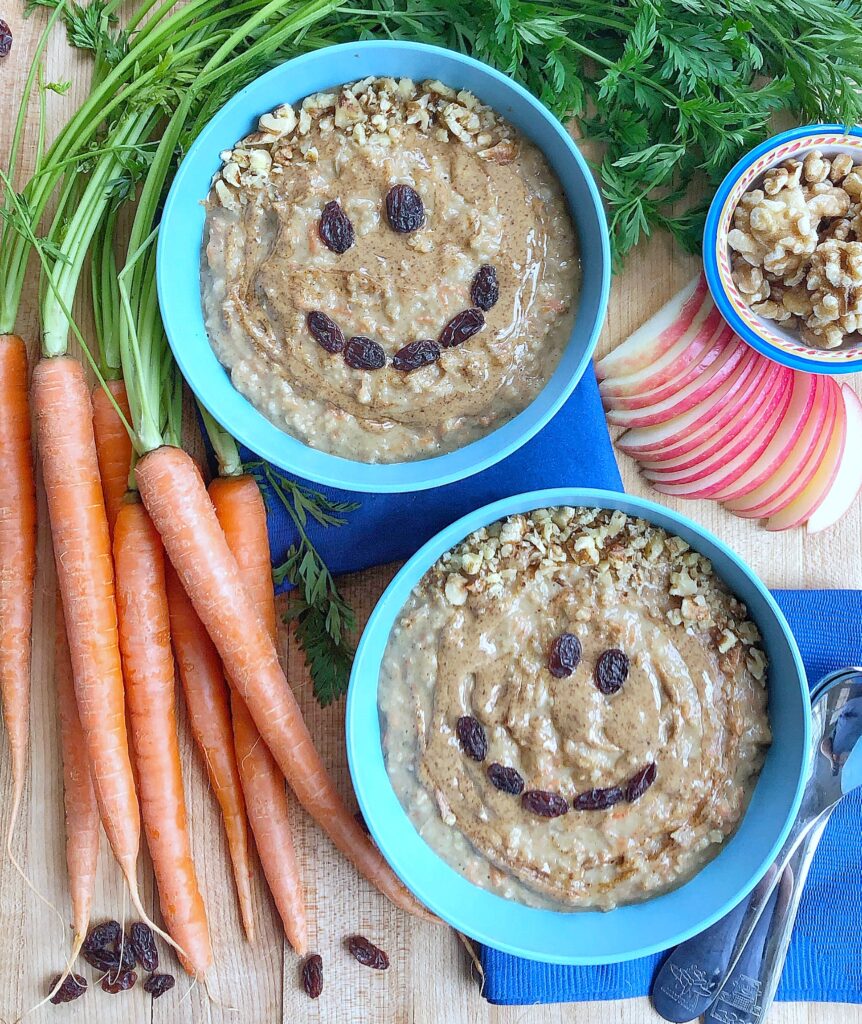 Make-Ahead Breakfasts: Oatmeal
(Baked, Cups, Slow Cooker, and Overnight)
Crockpot Carrot Cake Oatmeal: This is a "sneak peek" recipe from my popular ebook, No Sugar Still Sweet. It's a perfect recipe to prep the night before and having waiting for you when you wake up in the morning. Not only is it easy to make-ahead, but it's great to freeze and reheat in individual portions. I like to freeze the cooled oatmeal in silicone muffin cups then pop them out and store in a freezer bag.
Baked Oatmeal: My friend Taesha of The Natural Nurturer has several of baked oatmeal recipes on her sight that are all veggie loaded. Blueberry Zucchini Baked Oatmeal and Baked Apple Sweet Potato Oatmeal sounds like amazing breakfast ideas, right?
Oatmeal Cups are like portable bowls of oatmeal– so fun and easy for kids to eat! Here are two recipes and how-to posts that look great: Baked Oatmeal Cups 4 Ways (vegan)  and  Tender Baked Oatmeal Cups (with egg)
Overnight Oats: You can eat overnight oats straight from the fridge like a cold porridge or warm them up quickly in the microwave before serving. Oats are full of fiber and nutrients. Plus, you can easily add protein, fruit, and even veggies. Here's a great article on making overnight oats  How to Make Overnight Oats (Plus 15 recipes0. This recipe looks delicious for kids that love bananas: Banana Overnight Oats

Make-Ahead Breakfasts: Egg Recipes
Make-Ahead Breakfast Sandwiches: Full of protein, fiber and veggies! Best of all, they are delicious and totally kid-approved. Make a bunch of sandwiches, stick them in the freezer, then pull them out and quickly heat as needed.
Breakfast Biscuit Bombs (stuffed biscuits): Like homemade hot pockets! Take canned biscuit dough and stuff it with all of your favorite breakfast foods ( like scrambled egg, bacon or ham, veggies, and melty cheese)! They store well in the fridge for a few days and freeze well too.
Breakfast Bagel Boats: These are omelettes baked inside a bagel! You can fill them will whatever veggies, meat, and cheese you like then bake. You can store them in the fridge for 3 to 4 days and reheat in the toaster over or microwave before serving in the morning.
Baked Egg Muffins/Cups: These are basically mini frittatas or baked egg with whatever fillings you like. I made these all the time when my boys were babies and toddlers because they are so easy to fill with veggies and healthy ingredients. I usually did spinach, broccoli, and quinoa and topped the cups off with some shredded cheese. Here is an awesome veggie-packed recipe from the Natural Nurturer, but remember, you can use one vegetable, omit the vegetables and just do cheese. Sky is the limit: Healthy Veggie-Loaded Egg Muffins There Best-Ever Spinach Egg Muffins from Yummy Toddler Food also look great.
Breakfast Burritos and Sandwiches: I like to keep our breakfast burritos pretty simple. Here's how I do it: I scramble up some eggs (one egg per burrito). Sometimes I add spinach or other vegetables to the eggs if my kids will let me. I melt some cheese on a large whole wheat tortilla in the microwave, add the eggs and some cooked bacon/ham to the center, and then roll it up. I keep them in a glass container in the fridge for 2 to 3 days then heat them in the microwave as needed. There are lots of great, detailed recipes on the web, but here is one I found that looks good:How to Make Freezer-Friendly Breakfast Burritos
Same concept as burritos, but if anyone in your family is a fan of getting breakfast sandwiches at the drive thru, making and freezing them is a great way to save money.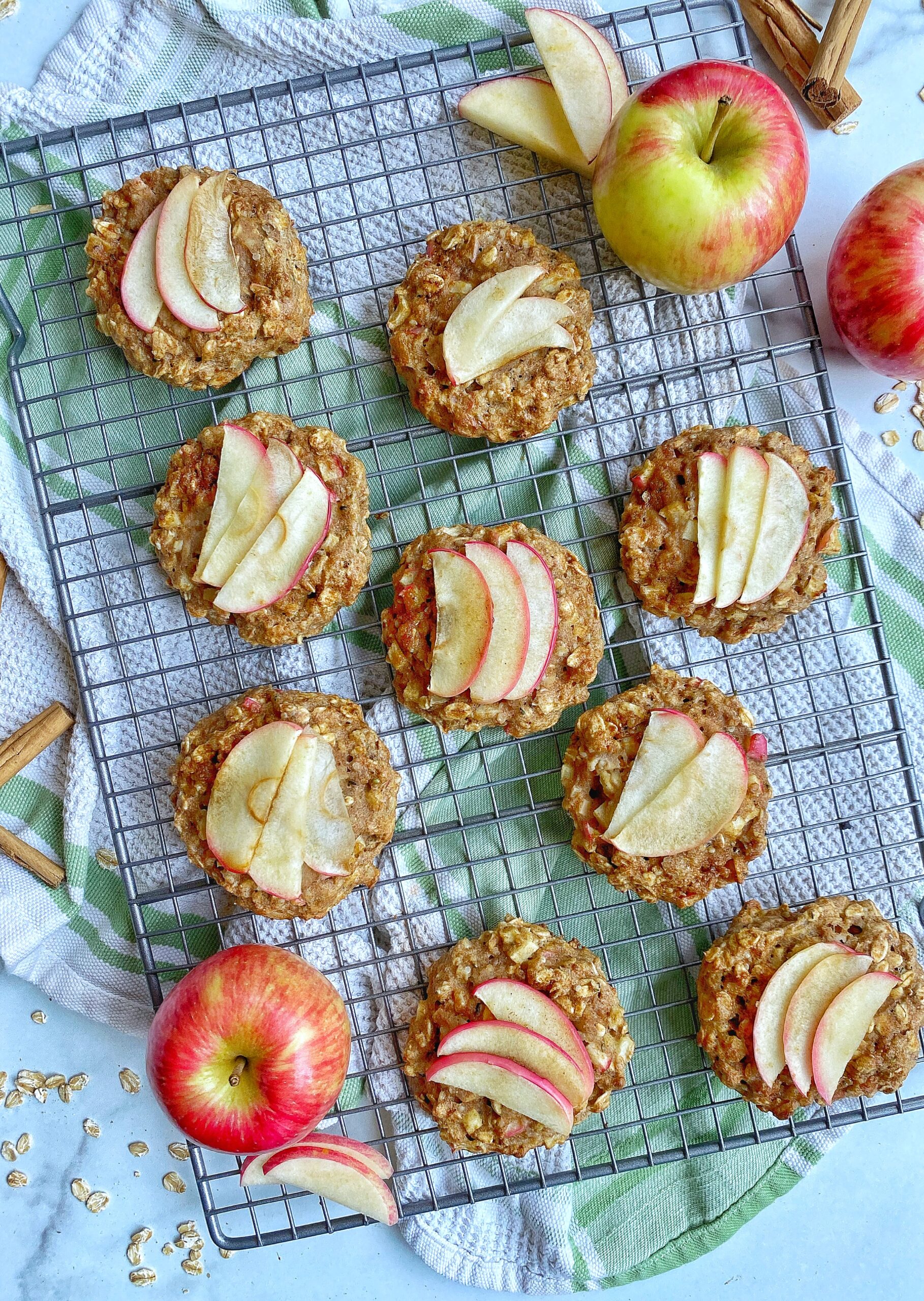 Make-Ahead Breakfasts: Muffins and Baked Goods
Muffins can be packed with nutritious ingredients and are easy to make ahead of time to have on hand for busy mornings. Here are the healthy muffin recipes on my site: Healthy Strawberry Banana Muffins, Cottage Cheese Blueberry Muffins, Banana-Pumpkin Blender Muffins, Mini Super Green Blender Muffins, Healthy Cranberry Orange Muffins, and Sweet Potato Gingerbread Muffins. OR, part muffin and part cookie, these two "muffin top" recipes are a great twist on the classic breakfast baked goods: Banana Blueberry Muffin Tops and Lemon Poppyseed Muffin Tops
Similar to muffins, my Snack Cake recipes are great to make ahead and delicious for breakfast: Carrot Apple Snack Cake, Apple-Cinnamon Snack Cake, Strawberry Oatmeal Snack Cake. These recipes can also easily be baked in muffin cups for a more portable breakfast option.
My Sweet Potato Snack Bars also make a great breakfast or early morning snack on-the-go.
Breakfast Cookies: What kiddo wouldn't want cookies for breakfast, right? My PB&J Breakfast Cookies (from my Kid Kitchen cookbook) and  Apple Pie Breakfast Cookies are always a hit and these Veggie Loaded Breakfast Cookies (with carrot and zucchini) by The Natural Nurturer look amazing.
Make-Ahead Breakfasts: Yogurt and Smoothies
One of the most successful make ahead breakfasts in my house has been yogurt parfaits. I layer full-fat plain Greek Yogurt with berries, such as mashed raspberries or frozen wild blueberries sweetened with a little maple syrup. I also add some chia seeds or hemp seeds for a nutritious boost. Granola, chopped nuts, toasted coconut, etc are also great topping options. This is something kids can help assemble and would have fun making their own parfaits the night before. I use small mason jars to make the parfaits and store them in the fridge for 2 to 3 days. (Crunchy toppings like granola should be added right before serving or they will get soggy.)
Yes, you can make smoothies ahead of time! Smoothies are a quick and healthy meal to start out with. However, prepping the ingredients into bags or making the smoothies completely ahead and freezing are two great ways to cut prep time and ensure you have what you need on hand. I love this article that shares all the ways to make smoothie making easier and more efficient, including freezing them into pops or to-go container: 4 Simple Ways to Make Smoothies in Advance.
Did I miss a category of breakfasts that you'd like to know how to make ahead? Let me know and I'll add more! Comment below or send me an email heather.happykidskitchen.com
Save to Pinterest to view later: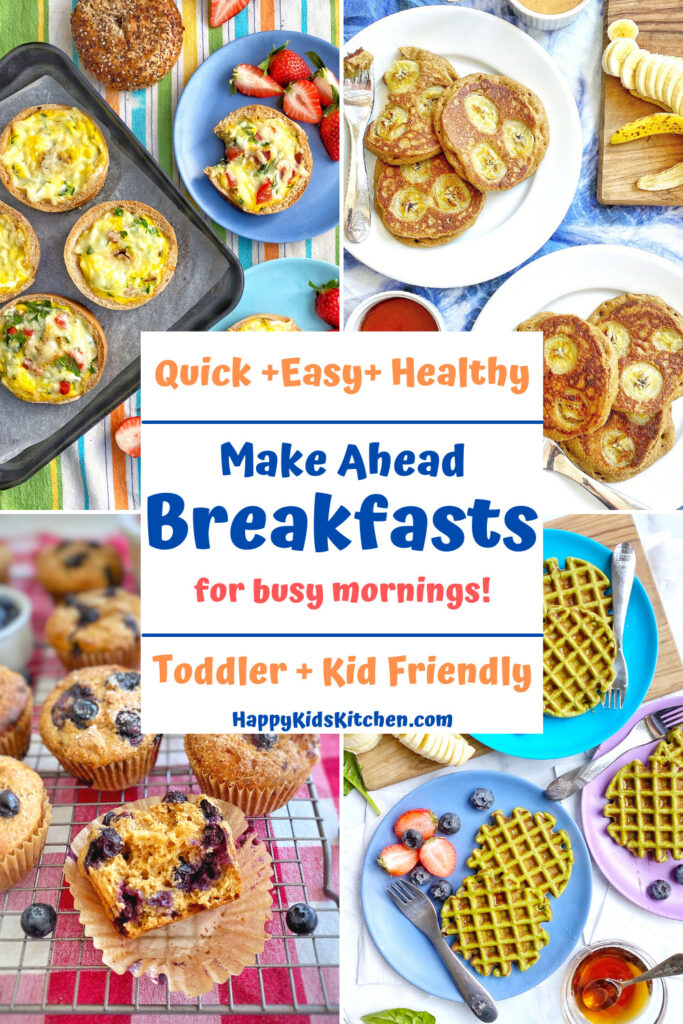 Other articles to check out:
10 Best Tips for Cooking with Toddlers and Kids
Teaching Knife Skills to Toddlers and Kids: Basics and Safety
The BEST recipes to cook with Kids