Breakfast Bagel Boats (Baked Omelette Bagels)
A fun and healthy breakfast that the whole family will love! These Breakfast Bagel Boats are like a bagel stuffed with an omelette. Hollow out a bagel, pick your toppings.. spinach, peppers, tomatoes, bacon, ham, whatever you like, then pour in some beaten egg and bake. Kids will love to help make and eat this yummy bagel upgrade!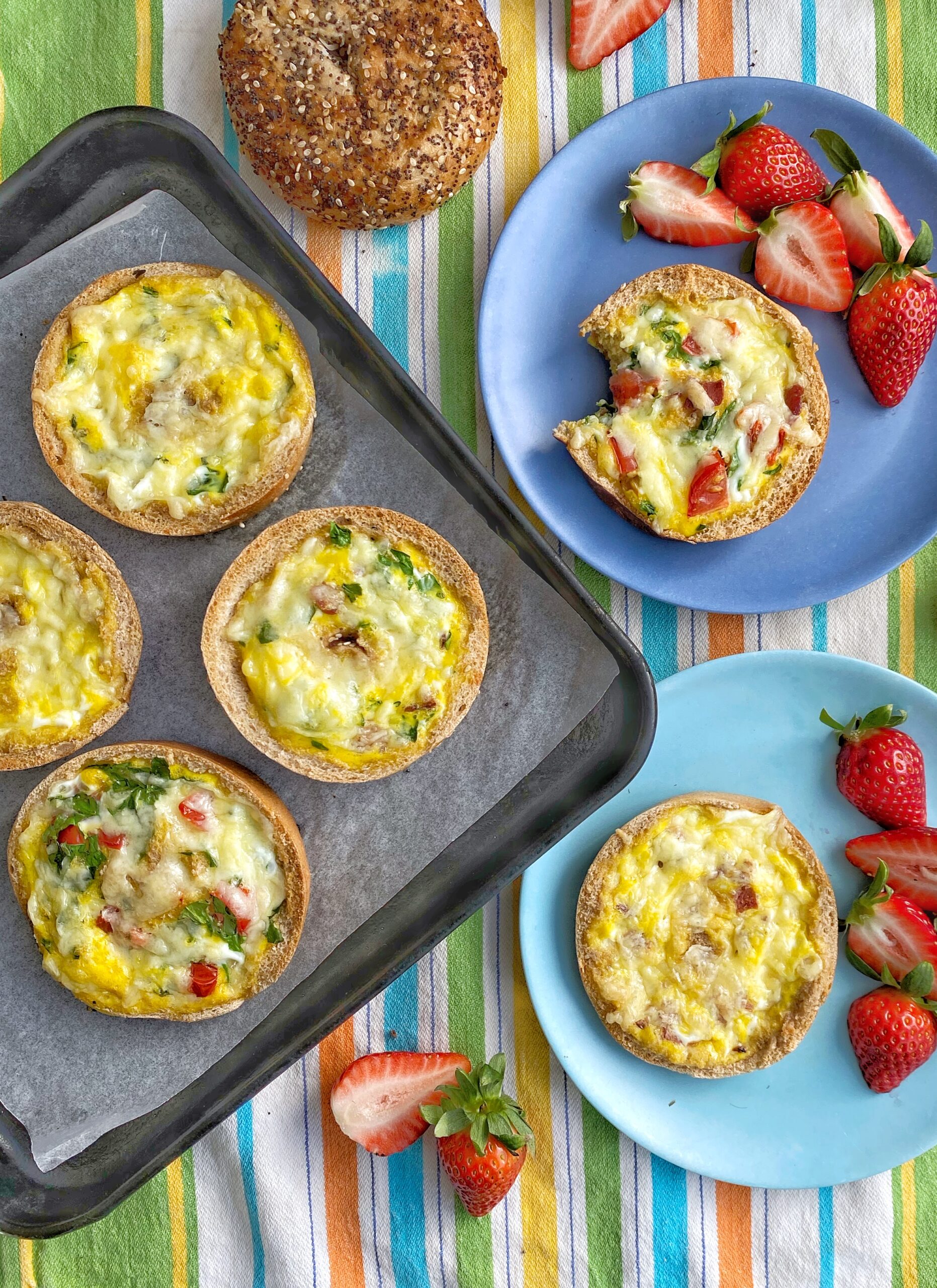 Looking for the BEST bagels to be delivered right to your door? I have a discount code for you!
One Mighty Mill, freshly milled whole wheat bagels are made from organic wheat that's milled right down the street from me in Lynn, Ma. OMM bagels contain top notch ingredients and no preservatives. I also love the One Mighty Mill tortillas, pretzels, and always buy the bags of freshly-milled flour to use in my own baked goods.
Click HERE and use the code Happy15 to get 15% off your first purchase of One Mighty Mill. I highly recommend getting the "Mighty Fresh Value Box" for the best variety and price.
This post is not sponsored, but I do get a small commission if you purchase anything from the OMM website through my link. I only talk about OMM products because I'm so passionate about them and have been purchasing them myself for years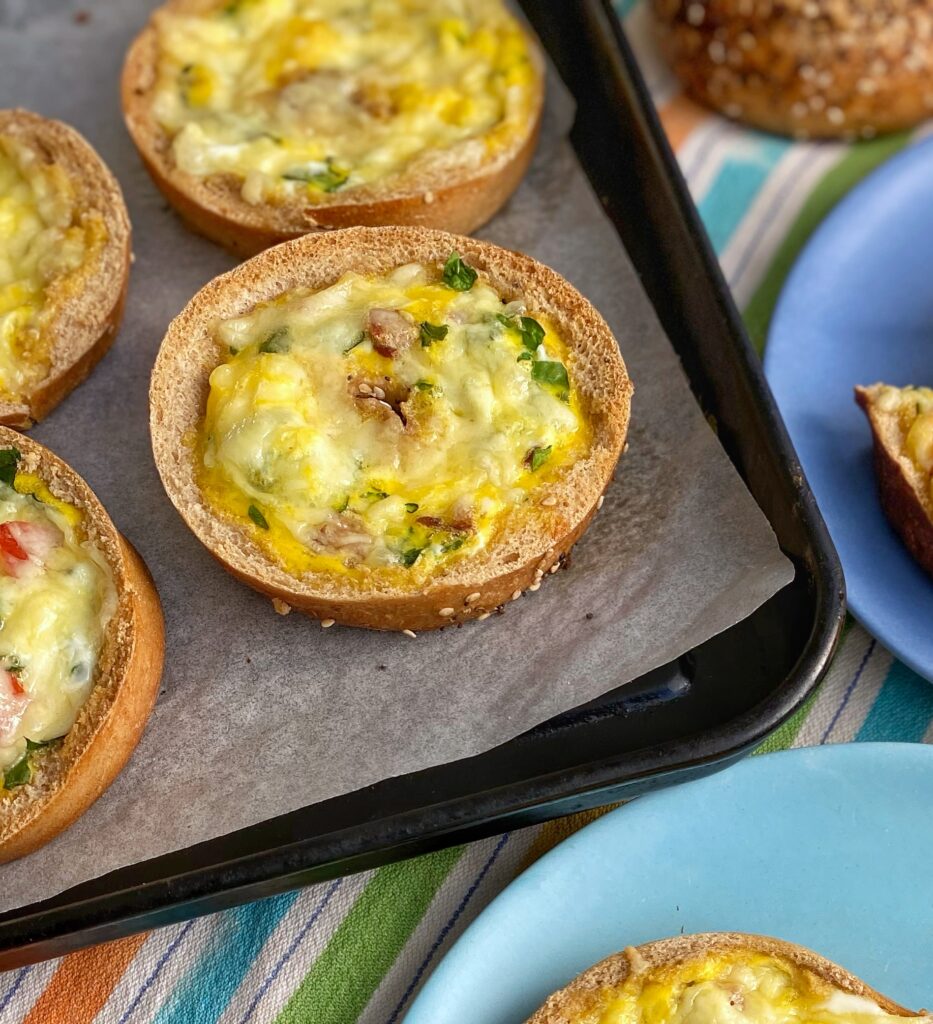 Kids in the Kitchen:
Prep the fillings: kids can help tear up the spinach leaves, chop pepper or tomatoes, and place some cheese into a bowl.
Crack the eggs: This is a great recipe to practice those egg cracking skills. Keep a towel near by and if you want some guidance on how to teach kids to crack eggs, check out my video on Instagram HERE.
Fill and pour: Let kids choose a bagel then place the fillings inside. Pouring the egg can be a little tricky, so I recommend holding the cup/bowl together while you pour.
Serve: Don't forget kids can help prepare fruit to go on the side, get out plates, get drinks ready, and help set the table for breakfast.
Subs and Tips for Breakfast Bagel Boats:
Dairy-free: Leave out the cheese or use a dairy-free shredded cheese instead.
Filling ideas: I like to chop up some baby spinach so it fits nicely inside the bagel boats. Anything you like in an omelette, goes well inside these bagels. Chopped up bell peppers, tomatoes, cooked bacon, ham, leftover roasted veggies…anything goes! You can also experiment with different kinds of cheese. Some crumbled goat cheese or feta could be really yummy.
Video: Check out my video on Instagram HERE for a step-by-step visual guide on how to make these bagel boats.
Want to make more or less servings? It's easy…just use one egg per 1/2 of bagel. You can make 1 bagel or 10!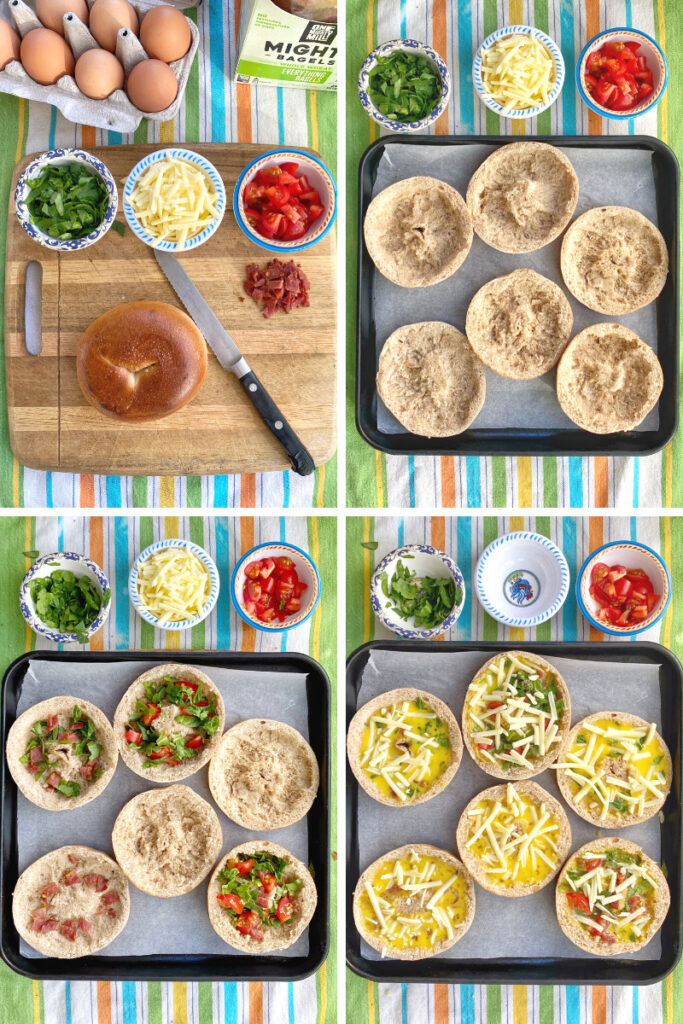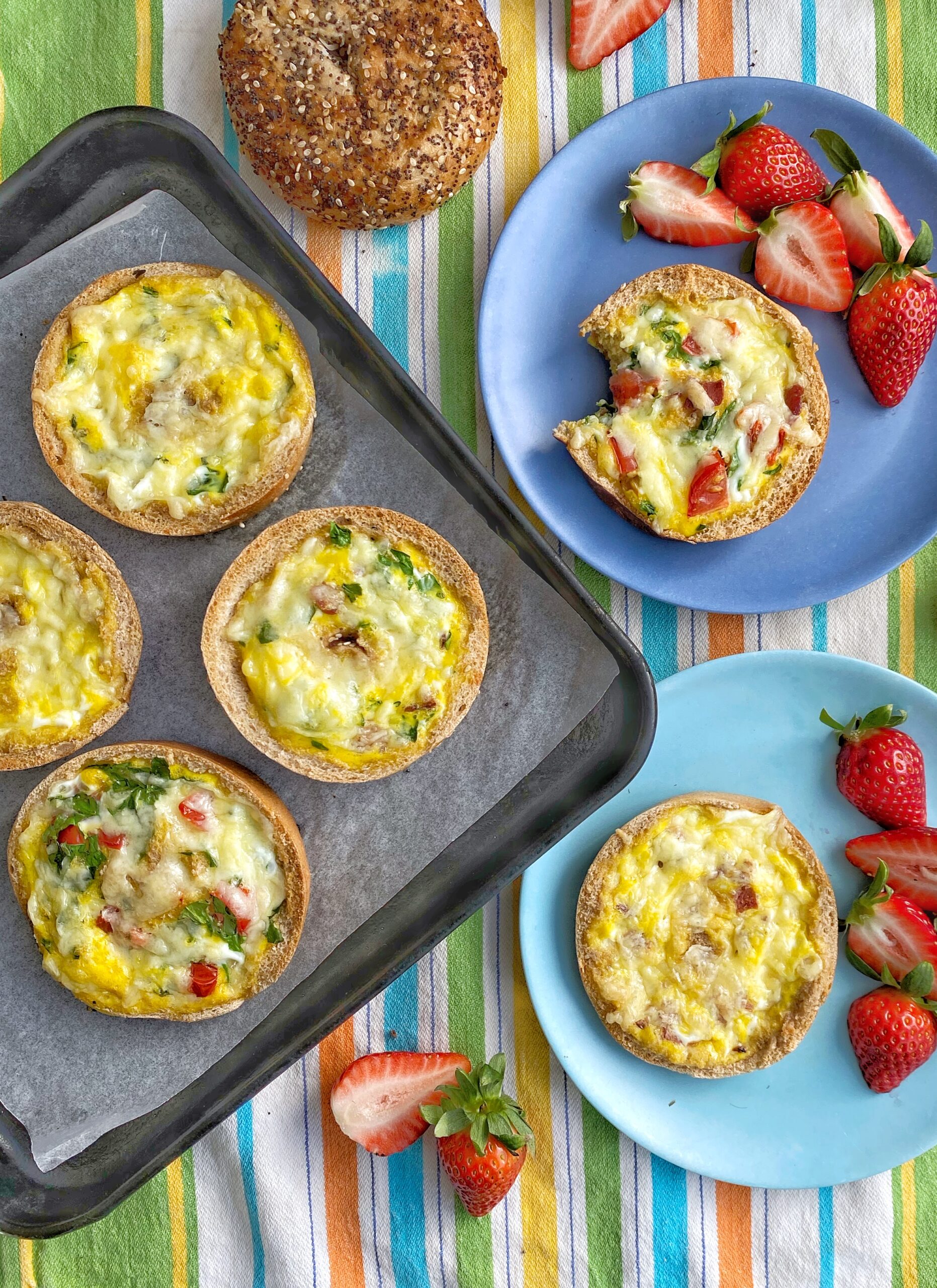 Breakfast Bagel Boats
Baked omelette stuffed bagels easy to customize for the whole family and so fun for kids to help cook.
Ingredients
3

bagels (everything or plain)

6

large eggs

1/2

cup

shredded cheddar cheese

optional

Fillings, such as spinach, diced peppers, diced tomatoes, cooked bacon, diced ham...
Instructions
Preheat the oven to 375 degrees. Line a sheet pan with parchment paper or aluminum foil (helps with clean up if any egg spills).

Cut your bagels in half using a serrated knife. Carefully scoop out most of the soft inner part of the bagel. Push down around the inside of the bagels to make the dough inside more compact and make more room. If you get a tear, just take a piece that you already removed and push it back inside the bagel to fill the hole. (Don't throw away your bagel insides. Snack on them, make them into croutons, or grind them into breadcrumbs.)

Crack the eggs into a large liquid measuring cup or bowl. I like to use one with a spout so it's easier to pour into the bagels. Use a fork or whisk to beat the eggs very well combined. Season with salt and pepper to taste.

Place your hollowed out bagels on the prepared baking sheet then fill with desired toppings. Slowly pour the egg evenly between all the bagels. Sprinkle the tops with cheese, if using. Bake until egg is set and tops of the bagels are golden brown, about 15 minutes. Serve warm.
Save to Pinterest!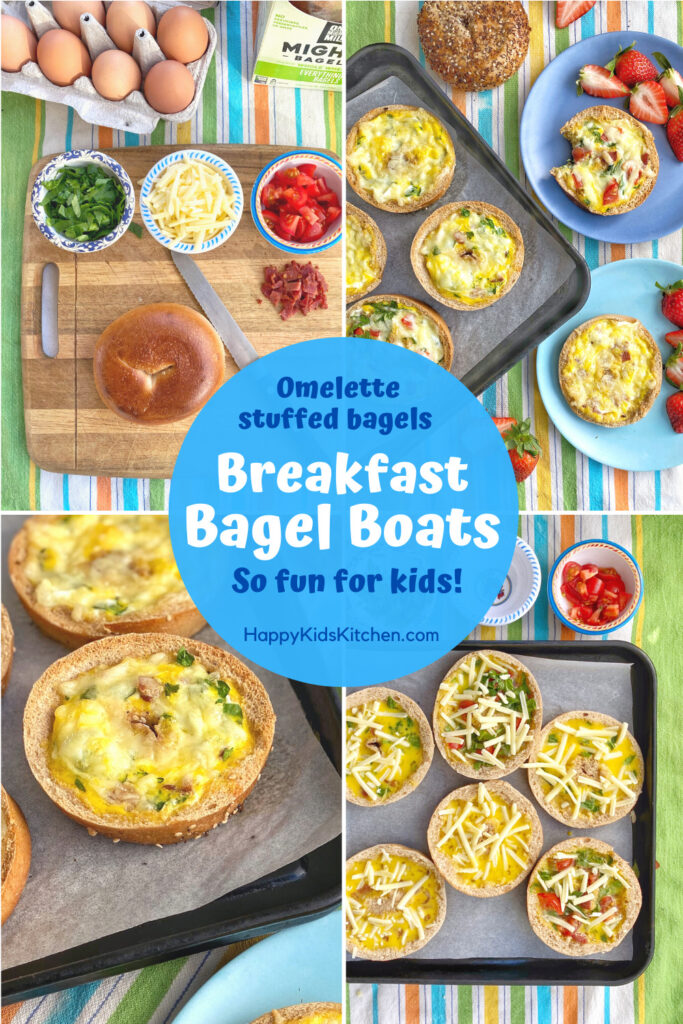 Other Breakfast Recipes to try:
Banana Protein Blender Pancakes