Banana Protein Blender Pancakes
This is the kid-approved, healthy breakfast you need in your life! These Banana Protein Blender Pancakes are naturally sweetened, dairy-free, and full of protein and healthy fat from nut or seed butter. The recipe is so easy! You just throw everything into a blender so it's perfect for kids to help too. I like placing a few slices of banana right on top of each pancake before flipping. The bananas get so sweet and caramelized, but that's totally optional of course. Add a drizzle of peanut butter and maple syrup and this breakfast will feel like a special treat.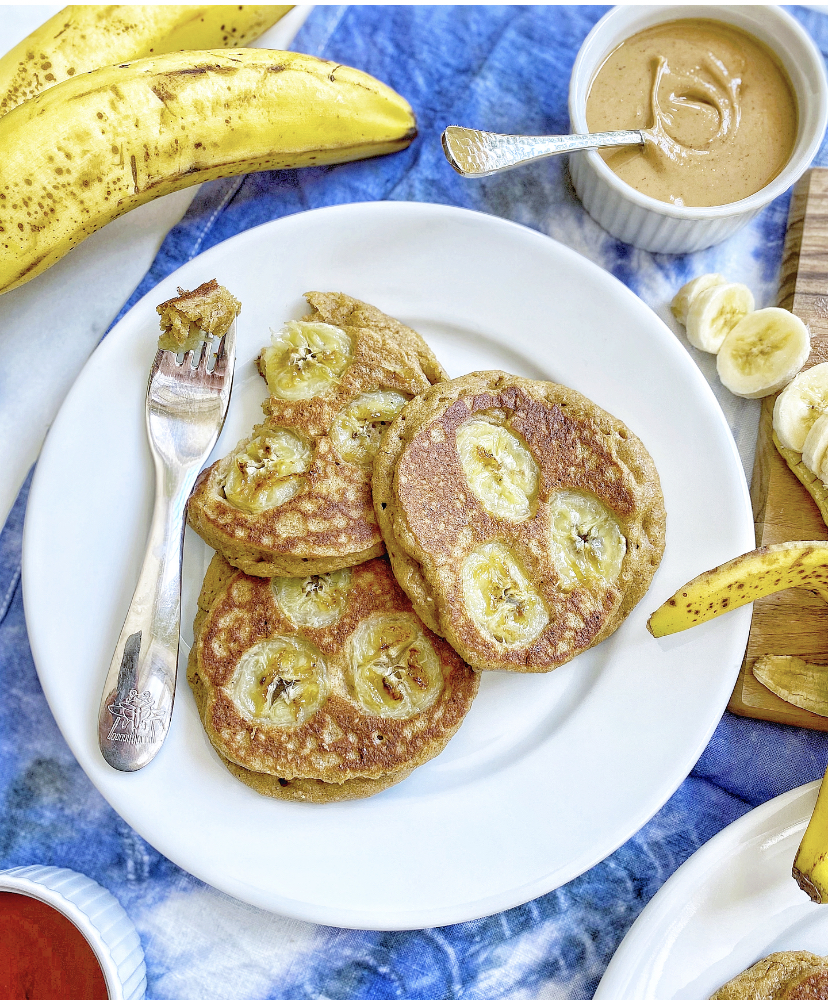 Kids in the Kitchen: Banana Protein Blender Pancakes
Peel the bananas: let kids take the peels off and place the banana into the blender. If that's all your child want to do to help make this recipe, that's great! Participating even a little but will be beneficial.
Measure or pre-measure: make cooking with young kids easier by measuring a few or all the ingredients ahead of time. You can also teach children to measure by placing a large bowl under where they're measuring so the bowl will catch any spills.
Add to the blender: kids will love to help add all the ingredients to the blender. It's such an easy way to get toddlers involved in preparing breakfast. Explain how to safely use a blender (always make sure the lid is on tight) then let your little one work the buttons. Do a countdown then cover your ear together!
Choose toppings: let your child decided how she would like to top the pancakes: more bananas, a drizzle of peanut butter, or some maple syrup on the side for dipping…what else could you add to the top?
Tip and Subs
Gluten-free: make sure to use certified gluten-free oats.
Nut-free: instead of peanut butter use sunflower seed butter or whatever nut-free seed butter you like.
Egg-free: use a flax "egg" or other egg replacer to sub for the eggs.
Oil: I use avocado oil for this recipe but feel free to use any vegetable oil or melted coconut oil. Melted butter would also work if you don't need your pancakes to be dairy-free.
How sweet?: the maple syrup added to the batter is completely optional and I would definitely leave it out if my kids were topping or dipping their pancakes in syrup. Toddlers often don't need the syrup sweetness and are happy with the sweetness the ripe banana gives the pancakes.
Topping: placing a few slices of banana on top of the pancakes before flipping and cooking on the second side create a really yummy and unique pancakes(see picture below). However, if you aren't planning on eating the pancakes right away, the banana tend to discolor and get too mushy. You could always try the banana out on a few pancakes then leave the rest plain (which is also delicious!).
Tools: I like using a "fish spatula" to flip pancakes because they are very thin and make it easy to get under the pancakes. Here is a link to one on Amazon for you to see.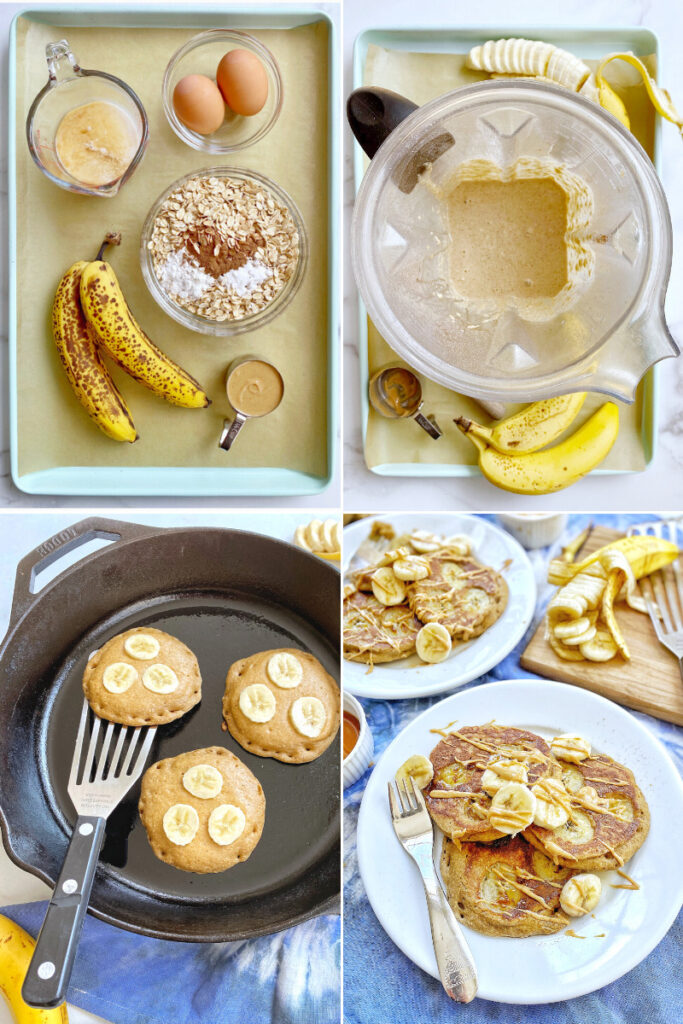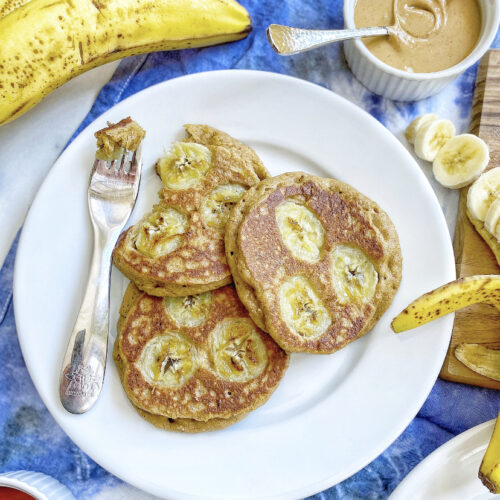 Banana Protein Blender Pancakes
Easy, healthy pancakes the family will love.
Ingredients
2

overripe, spotty bananas

2

large eggs

1/4

cup

natural peanut butter, almond butter, or sunflower seed butter

2

Tbsp

vegetable or avocado oil

plus extra for cooking

2

Tbsp

maple syrup (optional)

1/2

cup

milk (any kind)

2

tsp

vanilla extract

2

tsp

apple cider vinegar

2

cup

rolled oats

gluten-free if desired

1

tsp

baking powder

1

tsp

baking soda

1 1/2

tsp

cinnamon

1/4

tsp

fine salt

omit if your nut butter is salted

1

banana, sliced (for topping)

optional
Instructions
To a blender add banana, eggs, nut/seed butter, oil, maply syrup, milk, vanilla, and vinegar. Blend until smooth.

Add oats, baking powder, baking soda, cinnamon, and salt. Blend until oats are fully ground and incorporated. Scrape down the sides of the blender to ensure there is nothing stuck to the side. Blend again if necessary.

Heat a skillet or griddle over medium heat. Grease with a little oil. Scoop pancake batter onto pan and spread a little with the back of your scooper or measuring cup. Cook until the edges of the pancakes look dry and bubbles begin to form, about 2 minutes. Add 3 to 4 slices of banana if desired then flip and cook another minute. Repeat until all batter is used.

Serve pancakes warm with a drizzle of nut/seed butter and/or maple syrup if desired. Leftover pancakes can be refrigerated for a week or frozen for up to a month.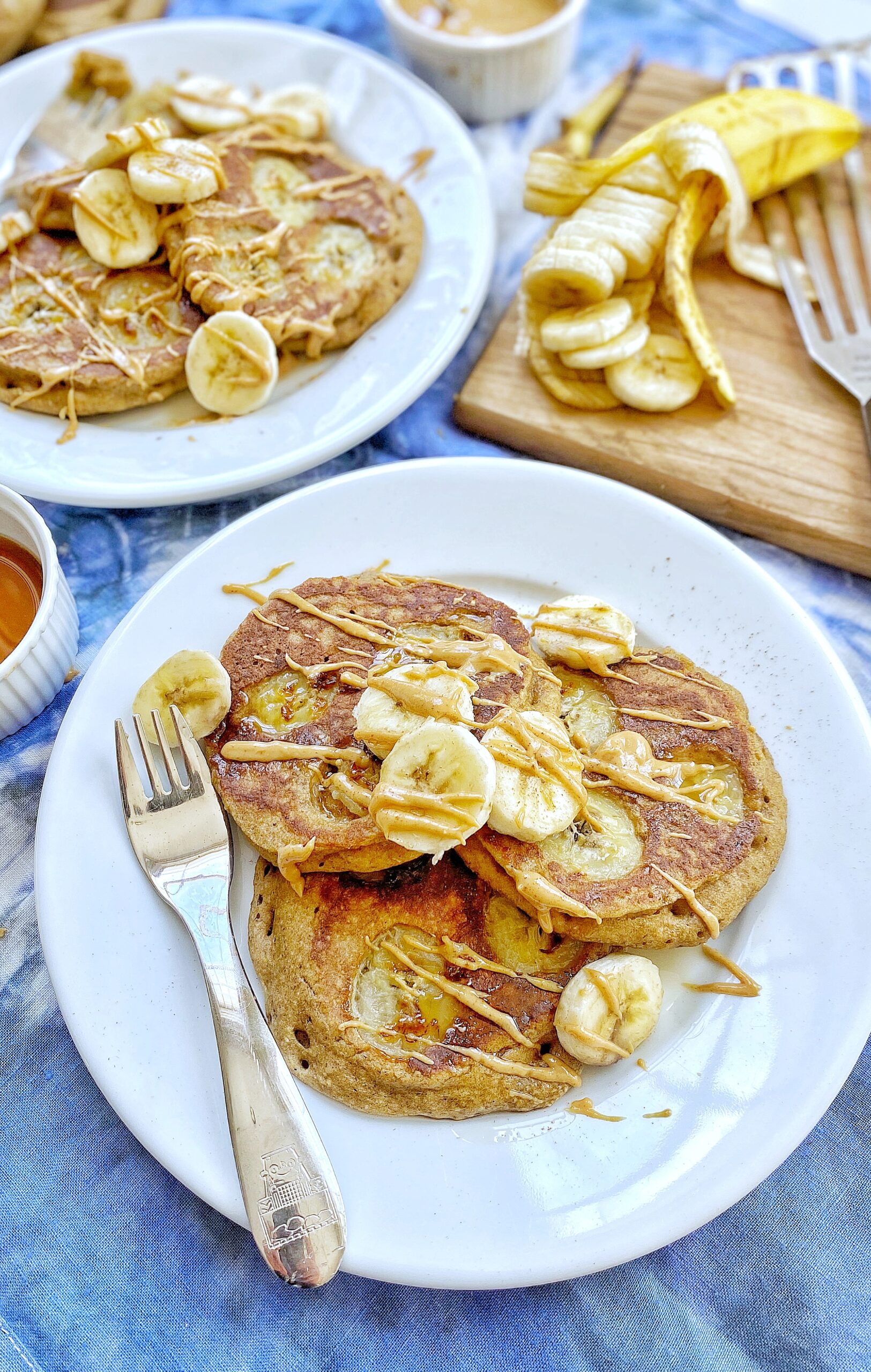 Save to Pinterest!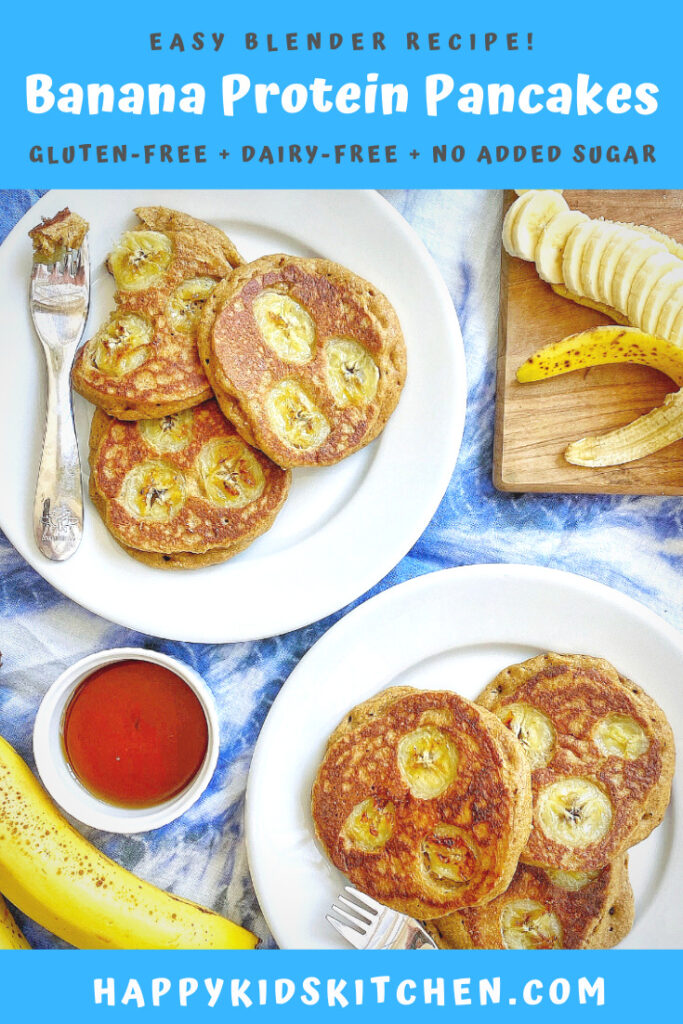 Other healthy breakfast recipes:
Banana Pumpkin Blender Muffins