Pancakes for a crowd (or just the family) without standing in front of the stove! This Baked Sheet-Pan Pancakes can be dressed up for the 4th of July and decorated like a flag or simply topped with whatever fruit you'd like. Whole grain and lightly sweetened with maple syrup, this is a festive but healthy breakfast. Plus, the batter comes together fast and easy in one bowl, so it's great for kids to help make too.

Kids in the Kitchen: Baked Sheet-Pan Pancakes
Prep the fruit: Kids can wash the berries and pat them dry. Use a child-safe knife or a pairing knife to remove the tops of the strawberries, place them on the cut end and make 3 to 4 slices. Since you have to cut the strawberries into pretty uniform slices, this job is probably best for older kids. However, younger kids can use a knife to cut the stem off then hand it to you to do the rest.
Measure the ingredients: this is a great opportunity to learn to make the measuring cups and spoons "full and flat." Teach kids to gently scoop up the flour then level it off so you don't compact the flour and get too much.
Crack the eggs: make sure to crack the eggs into the large bowl before you add anything else so you can remove any shells that get into the bowl. If you want a how-to video on teaching kids to crack eggs on my Instagram page HERE.
Spread the batter then top with fruit: you don't have to make a flag! Let your child place the berries or any sliced fruit on top of the batter as he/she would like. Have more than one child that wants to get involved? Divide the pan into sections and let each child top as they wish.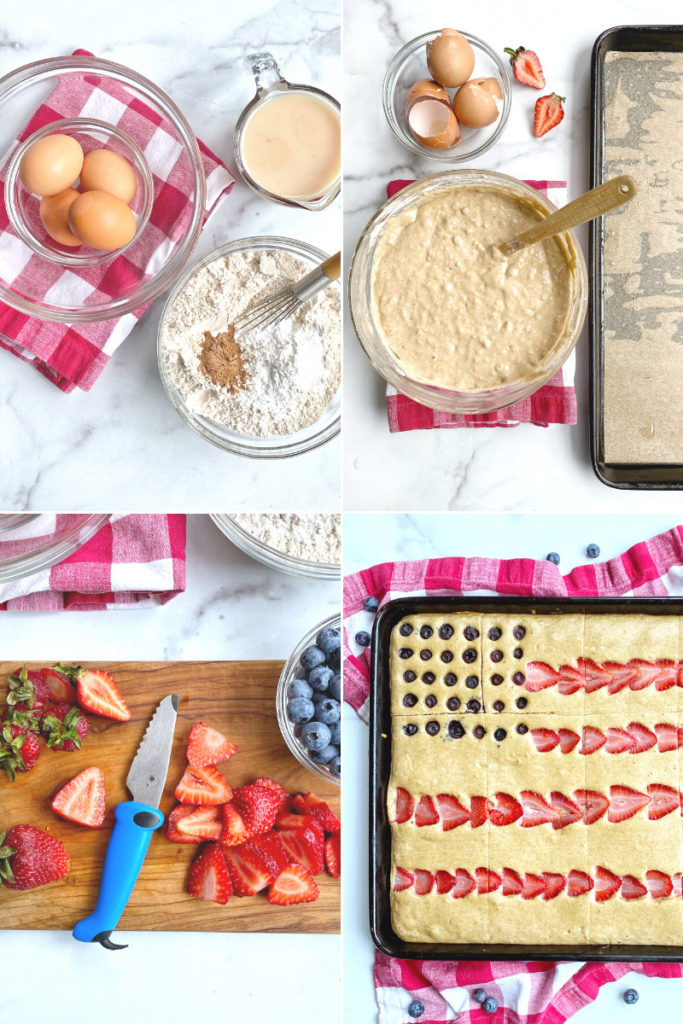 Subs and Tips:
Flour: I like to use a "white whole wheat flour" for this recipe because it has they extra fiber and protein of a whole wheat flour but with a more mild flavor. You can get this same affect by using half all-purpose flour and half regular whole wheat flour. You can also use all white (all-purpose) flour or all whole wheat. Whatever you'd prefer. I have not tried making this recipe with gluten-free or oat flour so I can't recommend those. Please let me know if you make any substitutes and how it works out.
Egg-free? You might be able to make a half batch with a flax egg substitute, but I have not tried it so I can't tell you for sure how it will turn out/
Dairy-free? Use oil and a dairy-free milk to make this recipe completely dairy-free.
Fruit or other toppings: Not making this recipe for 4th of July? Use any fruit like sliced banana, peaches, raspberries…to top the pancake. Other toppings like chocolate chips
Not serving a large crowd? Make a half batch! Use a 1/4 sheet pan or a 9-by-13 to make the baked pancake. More details in the recipe below.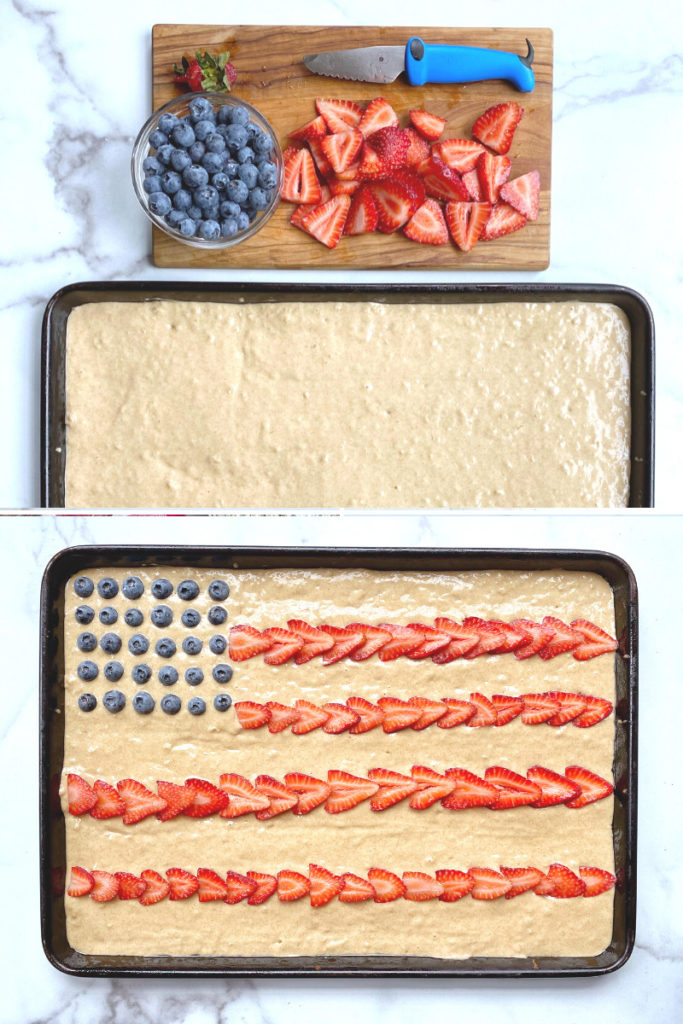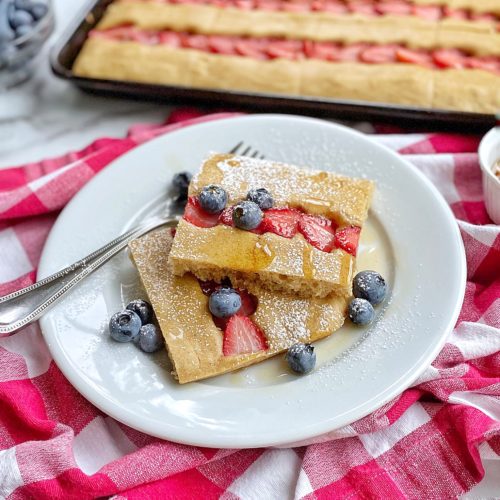 Baked Sheet-Pan Pancakes
Healthy baked pancakes topped with fruit.
Ingredients
4

large eggs

1/2

cup

unsweetened applesauce or mashed banana

1/4

cup

flavorless oil or melted butter

1/4

cup

maple syrup or honey

plus extra for serving

2

tsp

vanilla extract

1

cup

milk (any kind)

3

cups

white whole wheat flour

all-purpose flour or a mix of all-purpose and whole wheat

1

Tbsp

baking powder

1

tsp

cinnamon

1/4

tsp

fine salt

1

pound

strawberries

sliced

1/2

cup

blueberries

or use whatever fruit you'd like

powdered sugar, for serving

optional
Instructions
Preheat oven to 400 degrees. Grease a standard 15-by-18 rimmed baking sheet with oil. Line the pan with parchment paper for easier removal.

In a large bowl, mix eggs, applesauce, oil, maple syrup, vanilla, and milk.

In a medium-sized bowl, whisk flour, baking powder, cinnamon, and salt. 

Dumb flour mixture into the wet ingredients and stir until just combined and no dry flour remains. Pour batter onto your prepared baking sheet and spread into an even layer.

Decorate the top of the pancake batter as desired. Bake until golden brown around the edges and a toothpick inserted into the center of the baked pancake comes out clean, 10 to 12 minutes. Allow to cool for 5 to 10 minutes, dust with powdered sugar, if using, then slice into squares. Serve with maple syrup, if desired.
Half Recipe (serves 4 to 6)
Use a quarter sheet pan or a 9-by-13 inch square cake pan/baking pan. Halve the ingredients above and follow instructions above. Cook until set, about 8 minutes.
Save to Pinterest!!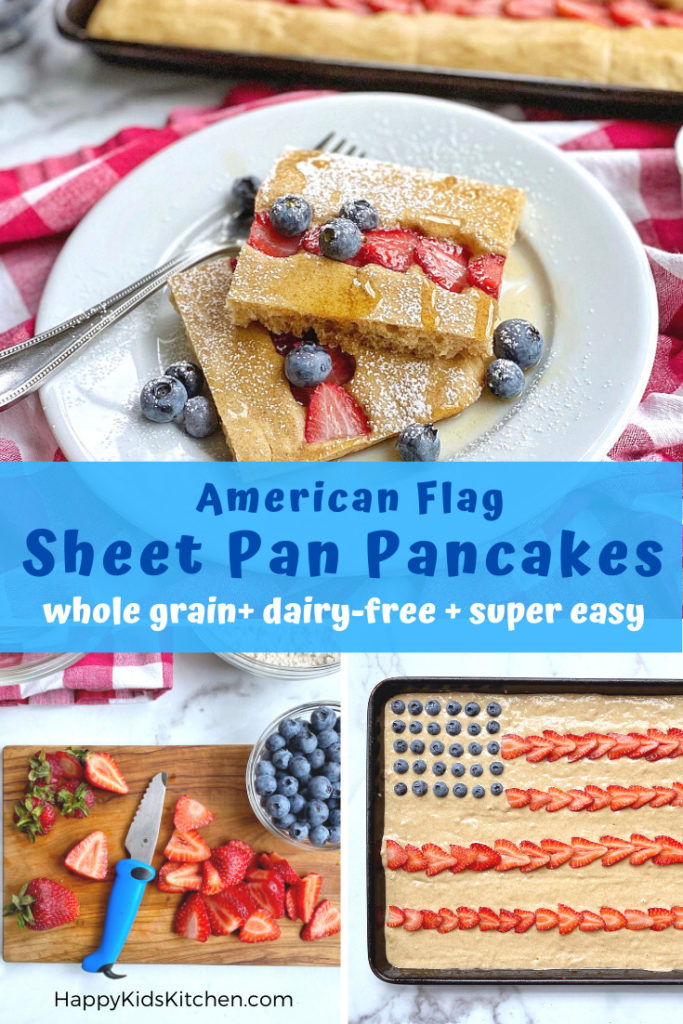 Other recipe to check out:
Chocolate Chip Zucchini Bread Bars