Chocolate Chip Zucchini Bread Bars
A healthier baked good that's naturally sweetened, full of whole grains, and has added veggies? Yes! These Chocolate Chip Zucchini Bread Bars are easy to make and a great way for veggie skeptics to get on board with zucchini. These treats are lower in added sugar and naturally sweetened with banana and maple syrup. However, if you are cooking for toddlers or younger kids, you can omit some or all of the chocolate chips to reduce the added sugar even more. My family really enjoyed this recipe and I hope your family will too!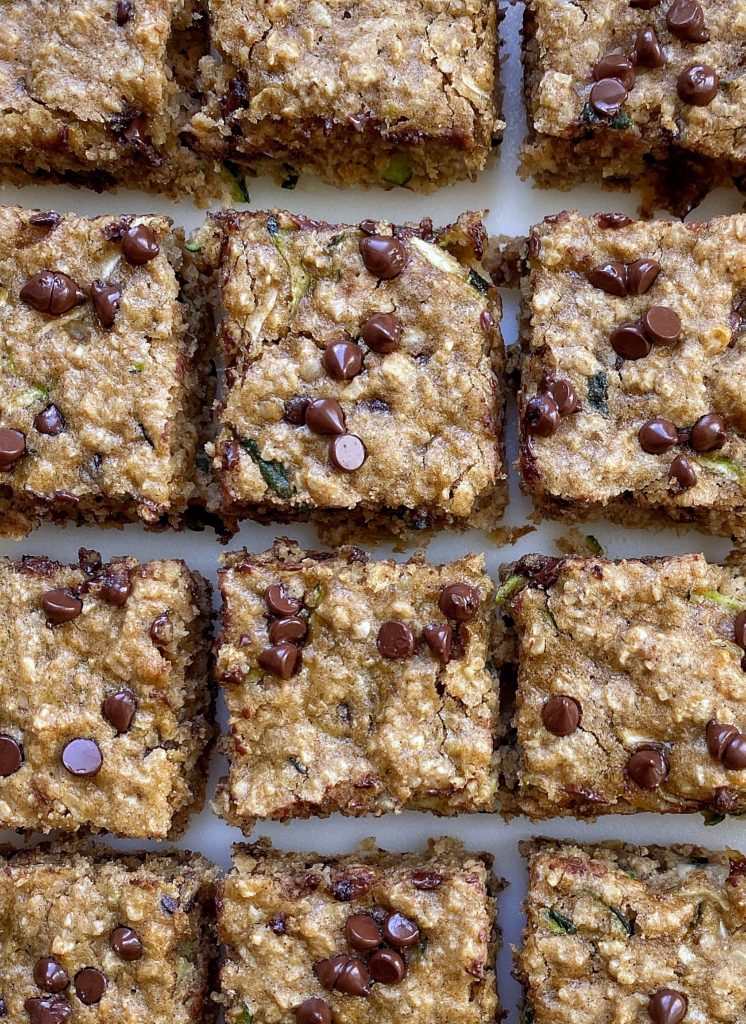 Kids in the Kitchen: Chocolate Chip Zucchini Bread Bars
Grate it up! Shred up the zucchini on the box grater together. Don't worry, if you hold both the grater and the zucchini together, your little one won't get hurt. Place your hand in front of your child's hand when holding the zucchini. Prepping the veggie together is great exposure and practice.
Measure first! There are quite a few ingredients to measure in this recipe. When baking with toddler and younger kids I suggest measuring a least half of the ingredients ahead of time. You could even add all the wet ingredients to one bowl and the dry to another and just let your child mix everything together.
Use a large bowl. Mixing in a large bowl means less mess when cooking with kids. I try and always and demonstrate what speed I'd like kids to stir before letting them have a turn. Most likely, their mixing will result in at least a little spillage, but that's ok. With practice, kids will eventually learn to better control the spoon or spatula.
Sprinkle. Save some of the chocolate chips to have your child help shower over the top of the pan. It's a fun and easy kitchen task.
Subs and Tips:
Gluten-free: You gluten-free oats and a cup-for-cup gluten-free flour mix to make these treats completely gluten-free.
Egg-free: Since there is only one egg in this recipe, you can use any egg substitute you usually use in baked goods such as a flax "egg". See a comprehensive article about how to make a flax egg HERE.
No Banana? Feel free to use applesauce instead. You may want to add a tablespoon or two additional maple syrup or other sweetener since applesauce is not as sweet as ripe banana.
No chocolate? Leave out the chocolate chips or add it dried fruit or chopped nuts instead.
More Chocolate? I included the double chocolate version below! It's so delicious and all you have to do is sub some of the flour for cocoa powder.
No "quick" oats? Pulse 1 1/4 cups regular rolled oats in a food processor until they are broken down and only a few pieces of whole oat remain. Use in the recipe in place of the quick oats.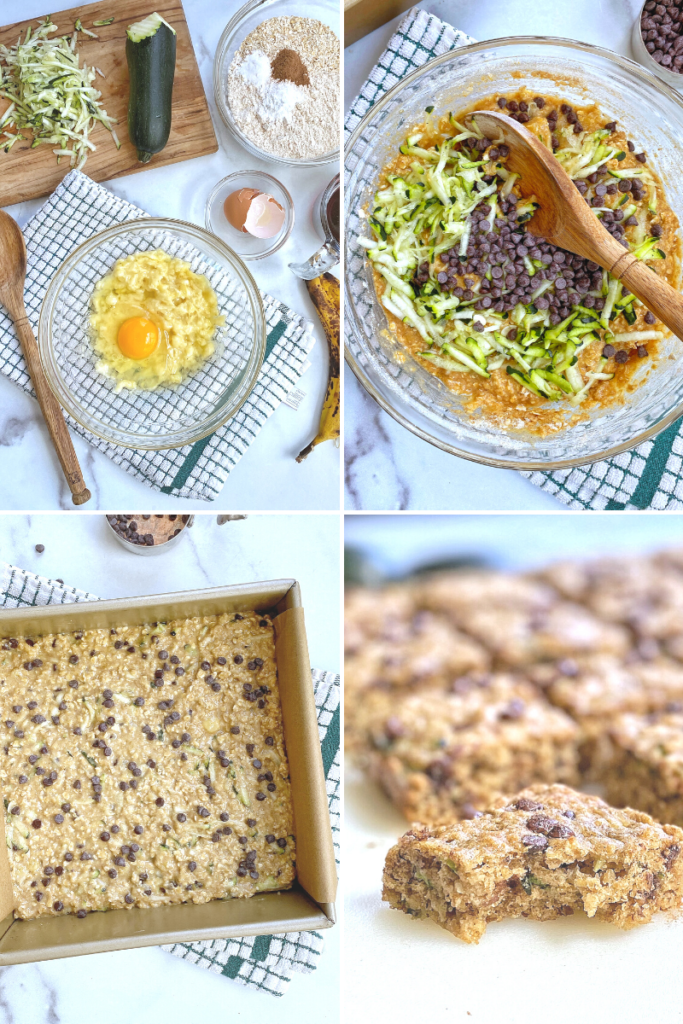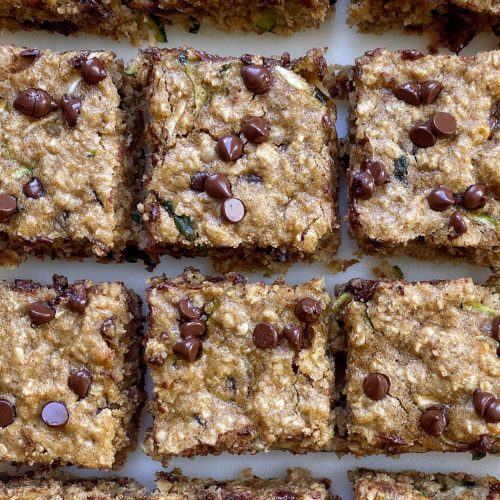 Chocolate Chip Zucchini Bread Bars
Healthier baked treat with zucchini
Ingredients
1

cup

quick-cooking rolled oats

see how to sub with regular rolled oats in the post above

1/3

cup

whole wheat

or 1/2 cup all-purpose flour

1/2

tsp

baking powder

1/2

tsp

baking soda

1/4

tsp

fine salt

1/2

tsp

cinnamon

1

very ripe banana

or 3/4 cup unsweetened applesauce

1

large egg

1/4

cup

avocado or vegetable oil

1/4

cup

maple syrup or honey

1

cup

grated zucchini

1/4

cup

mini chocolate chips

or 1/3 cup regular-sized chocolate chips
Instructions
Preheat oven to 350 degrees. Line an 8-inch square cake pan or baking dish with parchment or grease with oil.

In a medium-sized bowl, whisk together oats, flour, baking powder, baking soda, salt, and cinnamon until combined.

In a large bowl, mash the banana then stir in egg, oil, and maple syrup. Squeeze grated zucchini in a kitchen towel or paper towel to remove most of the excess water. Stir in zucchini.

Add dry ingredients and chocolate chips to the wet ingredients and mix until just combined. Pour batter into prepared pan and smooth the top to make it level. Sprinkle on some additional chocolate chips if you'd like.

Bake until lightly golden around the edges and cooked through in the center, about 18 to 25 minutes. Cool completely then cut into 9 large squares or 16 small squares. Store bars in an airtight container at room temperature for up to 2 days or in the fridge for 5 days.
Notes
For a Double Chocolate Zucchini Bread Bars, instead of the 1/3 cup of flour in the recipe above use 1/4 cup flour and 2 Tbsp of unsweetened cocoa powder. 
If the banana you use is large or very ripe, you may need to bake these bars for longer. Test the center with a toothpick or knife to make sure it isn't too wet in the center.
Save to Pinterest!!
Other Yummy Treats:
Chocolate Chip Banana Bread Cookies