Chocolate Chip Banana Bread Cookies
Love the warm, comforting flavors of banana bread but also craving some chocolate chip cookies? This recipe is the best of both worlds! Chocolate Chip Banana Bread Cookies are a treat you can feel good about making and enjoying with your kids! Made in one-bowl, this easy recipe is also packed with whole grains and lower in added sugar than most desserts. The cookies can easily be made egg-free and gluten-free too.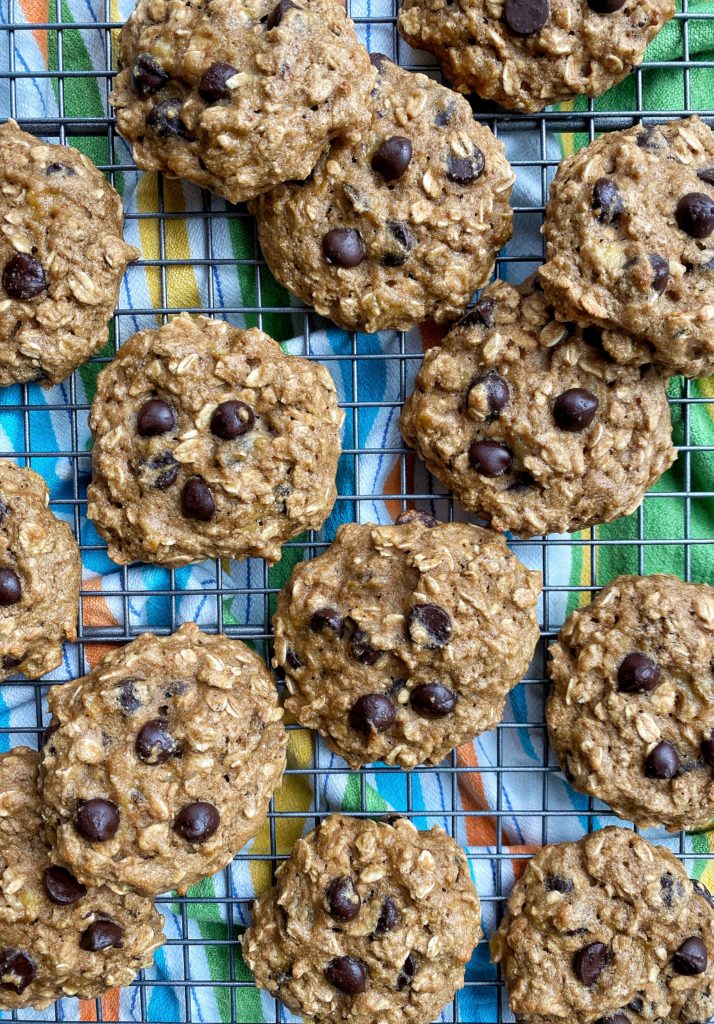 Kids in the kitchen: Chocolate Chip Banana Bread Cookies
Mash! Have kids peel and place bananas in a bowl and mash with a potato masher or the end of a whisk. If you want to use a fork to mash, place bananas on a plate and use a the tines of the fork to mash the banana into the plate.
Measure! Make sure kids see the difference between a cup that's heaped up "too full" and a little empty "too little." Then scoop up the right about and let them see that it's "full and flat".
Dump! Adding the ingredients to a bowl is fun. Make sure to instruct your child to dump into the center, not on the edge, of the bowl to prevent any spills.
Scooping this cookie dough might be a little too messy for little ones to do on their own, so I suggest having your child place three chocolate chips into the top of each scoop of batter as you go. That way, she is occupied and you can scoop the dough evenly.
Subs and Tips for making Chocolate Chip Banana Bread Cookies:
No Bananas? You can sub 3/4 cup applesauce instead. Since applesauce isn't as sweet as bananas, I would also increase the amount of sugar by an additional 2 to 4 tablespoons, depending on how sweet you like your desserts.
Gluten-free? Sub a cup-for-cup type gluten-free flour mix for the whole wheat flour and be sure to use gluten-free oats.
Egg free? Sub a flax "egg" for the egg. 1 tablespoon ground flax seed mixed with 3 tablespoons water and set aside for 5 minutes to gel.
No chocolate? This recipe would be great with any add-ins you can think of…raisins, dried cranberries, chopped nuts, seeds…Yum!
Quick oats? I have not tried using quick cooking oats instead of the regular "old-fashioned" rolled oats for this recipe. However, my guess is that it would work with varied results. I would also reduce the amount of flour to 1/2 cup.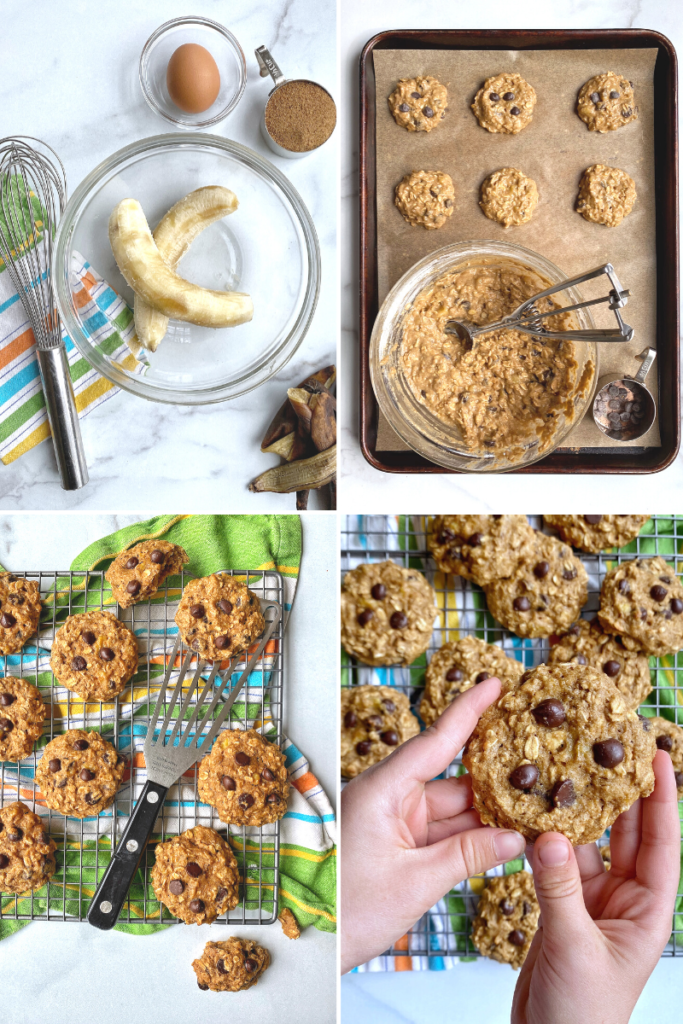 Favorite Tools for making Cookies (affiliate links):
Parchment Paper Sheets: these precut, unbleached parchment paper sheets make clean-up a breeze and ensure your cookies never stick to the pan. Plus, cutting the right sized piece of parchment paper from the roll is such pain! That's why I can't live without these sheets that fit perfectly in a baking pan.
Cookie Scoop: make your cookies look more uniform and professional by using a portion scoop to measure the dough. It makes scooping the cooking dough so much easier and kids love to help use these tools too! I really recommend investing in a high quality scoop because the less expensive ones tend to break really quickly. You can also buy a set of three scoops to use for all kinds of baking projects.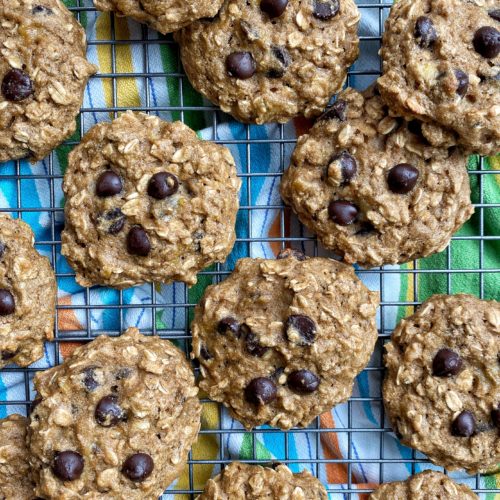 Chocolate Chip Banana Bread Cookies
Banana bread and chocolate chip cookies in one!
Ingredients
2

super ripe large bananas

3/4 cup mashed

1/4

cup

oil

avocado, vegetable, or any neutral oil

1/4

cup

maple syrup or honey

1

egg

or flax egg

1

tsp

vanilla extract

1

tsp

cinnamon

1 1/2

tsp

baking powder

1/4

tsp

fine salt

1

cup

rolled oats

3/4

cup

whole wheat or all-purpose flour

or gluten-free blend

1/2

cup

chocolate chips

or 1/3 cup mini chocolate chips
Instructions
Preheat oven to 350 degrees. Line a sheet pan with parchment paper, silicone baking mat, or lightly grease with oil.

Mash bananas in a large bowl. Stir in oil, maple syrup, egg, vanilla, cinnamon, baking powder, and salt.

Mix in oats and flour until just combined. Stir in about 3/4 of the chocolate chips, reserving some to place on the top.

Scoop about 2 tablespoons of batter at a time onto the prepared pan. Top each cookie with a few chocolate chips. Bake until set and lightly golden brown around the edges, 10 to 12 minutes. Cool for 5 minutes then transfer cookies to a cooling rack. Store cookies in an airtight container at room temp for 2 days, in the fridge for 5 days, and in the freezer for 2 months.
Save to Pinterest for when those spotty bananas are sitting on your counter!
Other recipes to check out:
Banana Pumpkin Blender Muffins
Super Green Mini Blender Muffins