Apple Pie Breakfast Cookies
The warm fall flavors of apples and cinnamon are packed into these cookies healthy enough to eat for breakfast or a snack any time of day. Apple Pie Breakfast Cookies are full of whole grain goodness, fruit, and you can even add some veggies (grated carrot) if you'd like. What kiddo wouldn't want cookies for breakfast, right?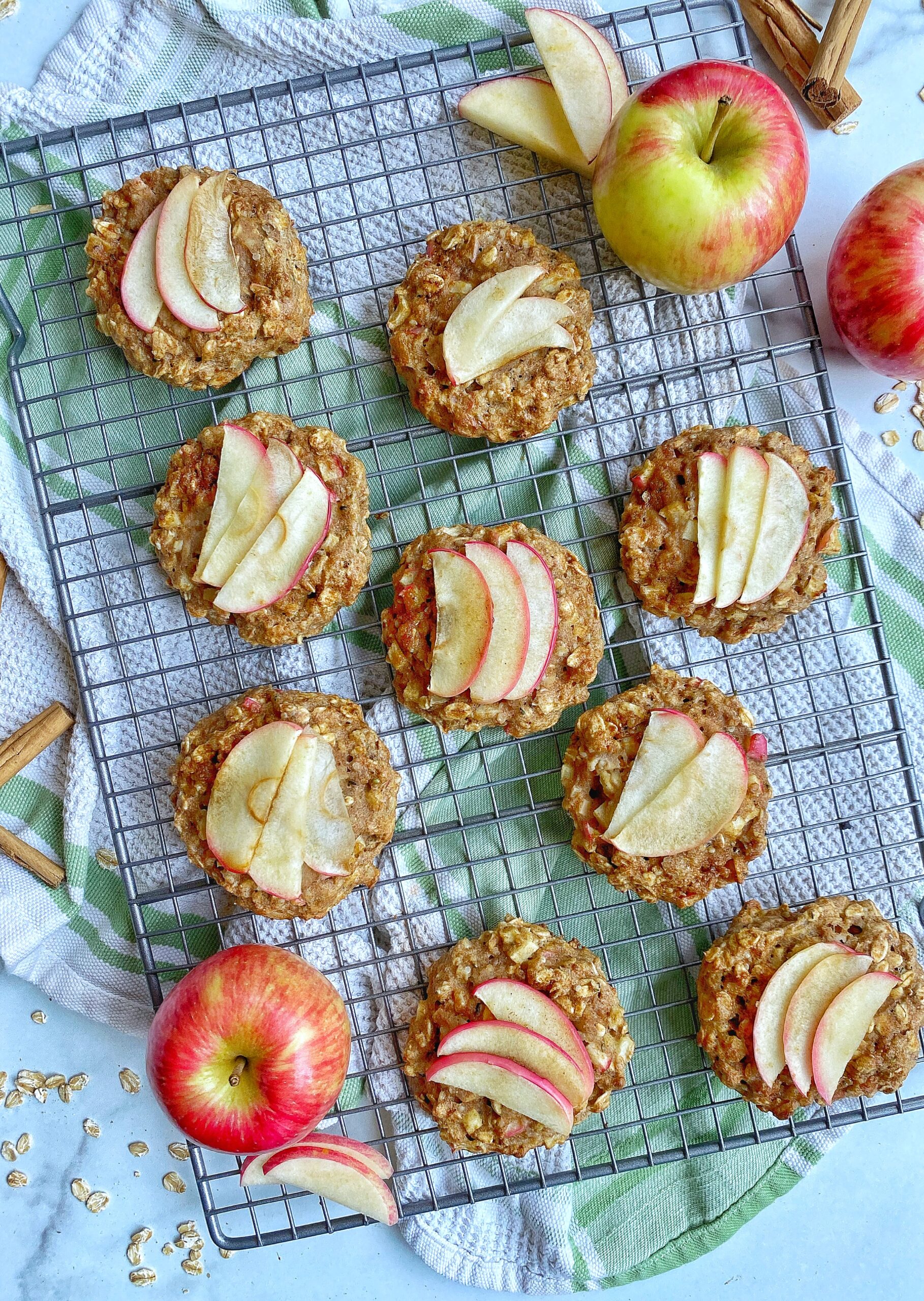 Kids in the Kitchen: Apple Pie Breakfast Cookies
Chop the apples: cut apples into sliced then have kids help cut them into a small dice. If kids don't cut them small enough, that's ok. Just go back and chop them smaller after they're done. If you want to use thinly sliced apples for the top of the cookies, I would do those on your own ahead of time, since that part would be a little tricky for kids to do.
Measure: If you want to cut down on the amount of mess you make while cooking with kids (And it can be super messy, right?), pre-measure some ingredients before inviting your little one in the kitchen. Even measuring one or two ingredients together can be a great learning experience.
Mix: make sure to use a large bowl so everything stays inside while kids help mix.
Top: kids can help sprinkle the cinnamon-sugar over the top of the cookies then add the apple slices if you're using those.
Subs and Tips:
Apple: any kind of apple you like works in this recipe. I recommend chopping the apple really small so the cookies stay together better and you get lots of apple in each bite. You can also grate the apple if you'd prefer, but I would squeeze some of the excess liquid out of the grated apple before adding it to the dough.
Oat flour: you can make your own oat flour by blending rolled oats in a blender until finely ground into a powder. If you don't have oat flour or would prefer using a different flour, you can use whole wheat or all-purpose flour. See recipe for amount.
Gluten-free?: Make sure to use gluten-free rolled oats and oat flour.
Egg-free? I haven't tested these with any egg substitutes but I think using a flax "egg" would work well. Comment below if you make this recipe without eggs, so I can pass the info along.
Sugar/Sweetener: I like using maple syrup to sweeten these cookies. However, you can use honey or agave if you'd prefer. The cookies are not very sweet, so if you are not used to lower sugar baking, you can add a couple tablespoons of granulated sweetener to the batter as well.
Add-ins: you can get creative and add whatever you'd like to these cookies. I love adding grated carrot for some extra sweetness and veggie goodness as well as chopped walnuts for some crunch. You can add whatever nuts and/or seeds you like or even dried fruit like raisins or dried cranberries.
Helpful tools:  Parchment Paper Sheets: these precut, unbleached parchment paper sheets make clean-up a breeze and ensure your cookies never stick to the pan. Plus, cutting the right sized piece of parchment paper from the roll is such pain! That's why I can't live without these sheets that fit perfectly in a baking pan. Cookie Scoop: make your cookies look more uniform and professional by using a portion scoop to measure the dough. It makes scooping the cooking dough so much easier and kids love to help use these tools too! I really recommend investing in a high quality scoop because the less expensive ones tend to break really quickly. You can also buy a set of three scoops to use for all kinds of baking projects.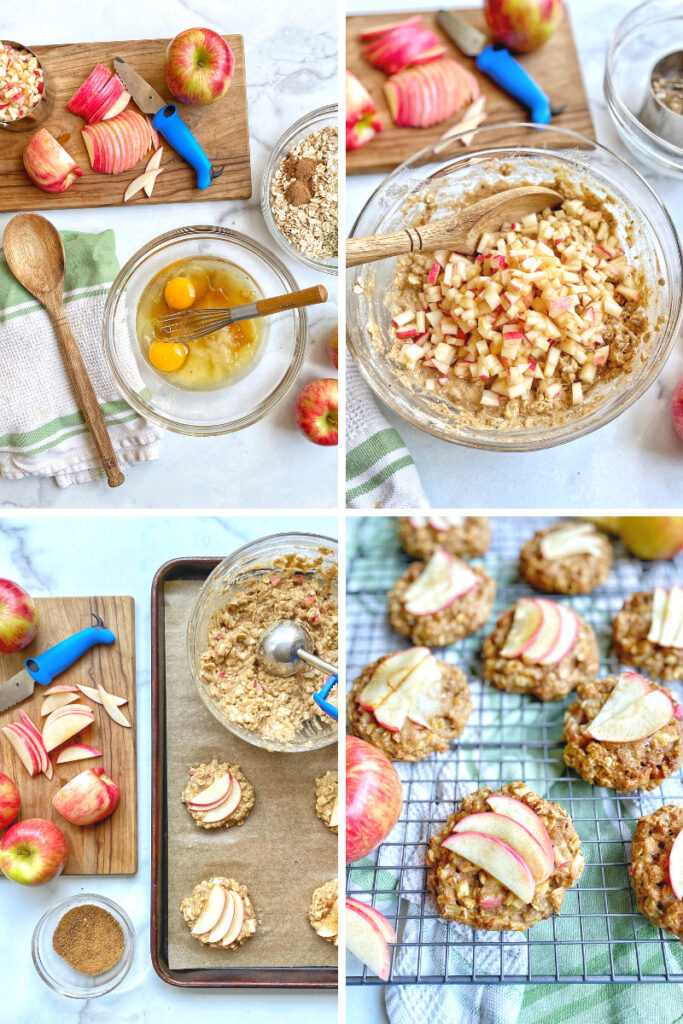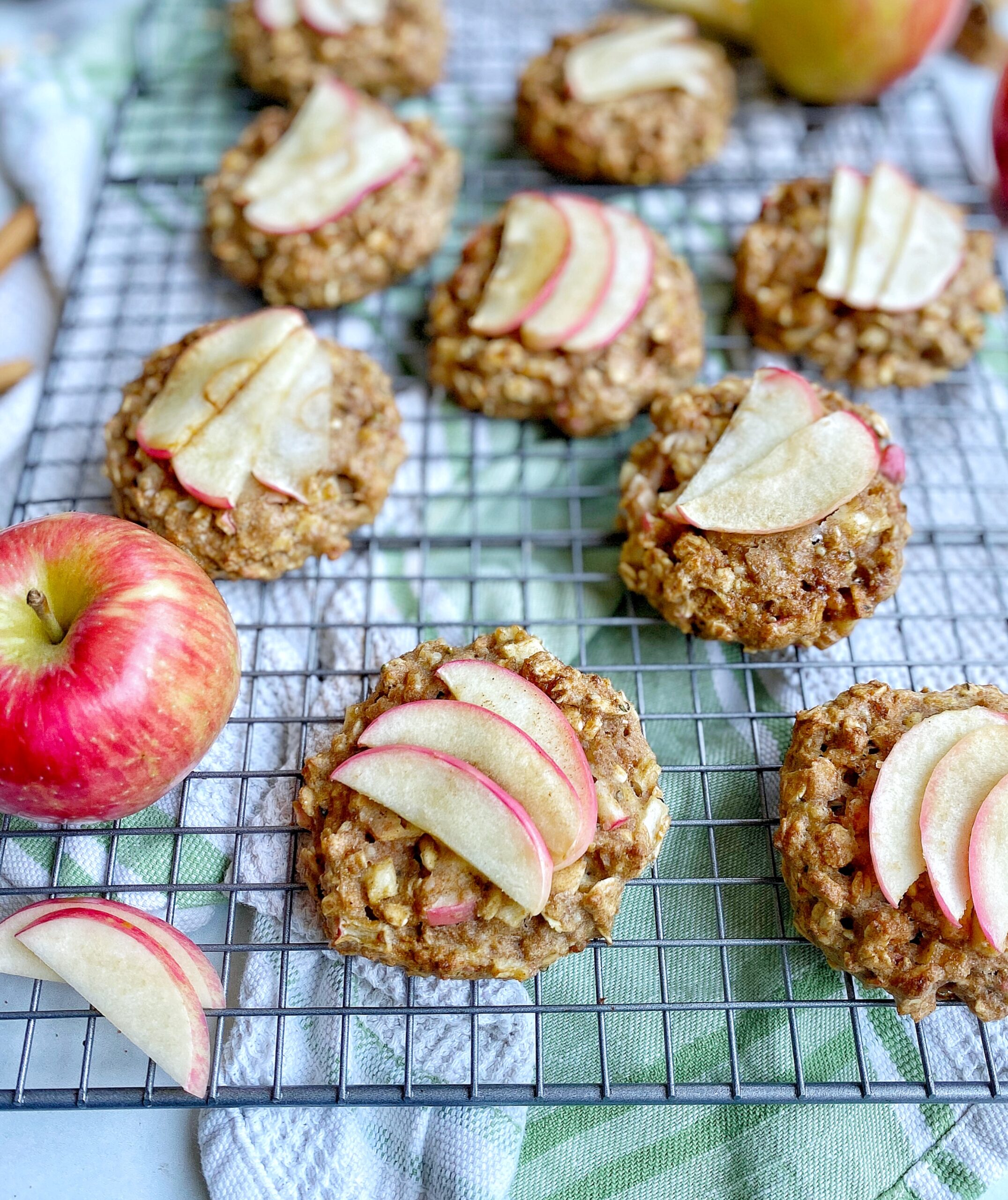 Apple Pie Breakfast Cookies
Wholesome cookies packed with goodness.
Ingredients
2

large eggs

1/2

cup

unsweetened applesauce

1/4

cup

avocado or vegetable oil

1/4

cup

maple syrup or honey

2

tsp

vanilla extract

1

tsp

cinnamon

1 1/2

tsp

baking powder

1/4

tsp

fine salt

1

cup

rolled oats

1 1/4

cups

oat flour

or 3/4 cup whole wheat flour

2

Tbsp

hemp seeds or chia seeds

or both

1

cup

finely chopped apple (about 1 medium apple), plus another 1/2 apple thinly sliced for the top (optional)

1

Tbsp

coconut sugar or granulated sugar
Optional Add-ins
1/4

cup

finey chopped walnuts

1/2

cup

finely grated carrot

1/4

cup

raisins or dried cranberries
Instructions
Preheat oven to 350 degrees. Line a baking sheet with parchment paper or a silicone baking mat.

In a large bowl, whisk eggs, applesauce, oil, maple syrup, and vanilla until blended.

Mix in cinnamon, baking powder, and salt. Using a spatual or wooden spoon, mix in oats, flour, seeds, and 1 cup finely chopped apple. Stir in any additonal add-ins that you'd like.

In a small bowl, mix the 1 tablespoon of sugar with a spinkle of cinnamon.

Using a large scoop or a 1/4 cup measuring cup, scoop batter into 10 large cookies. Sprinke a pinch of cinnamon-sugar over each cookie. Top with slices of apple, if desired.

Bake until cookies are lightly browned around the edges and cooked through, 10 to 12 minutes. Cool then enjoy.

Store in an airtight container at room temperature for a day then store in the refigerator for up to 5 days. Freeze cookies for up to a month.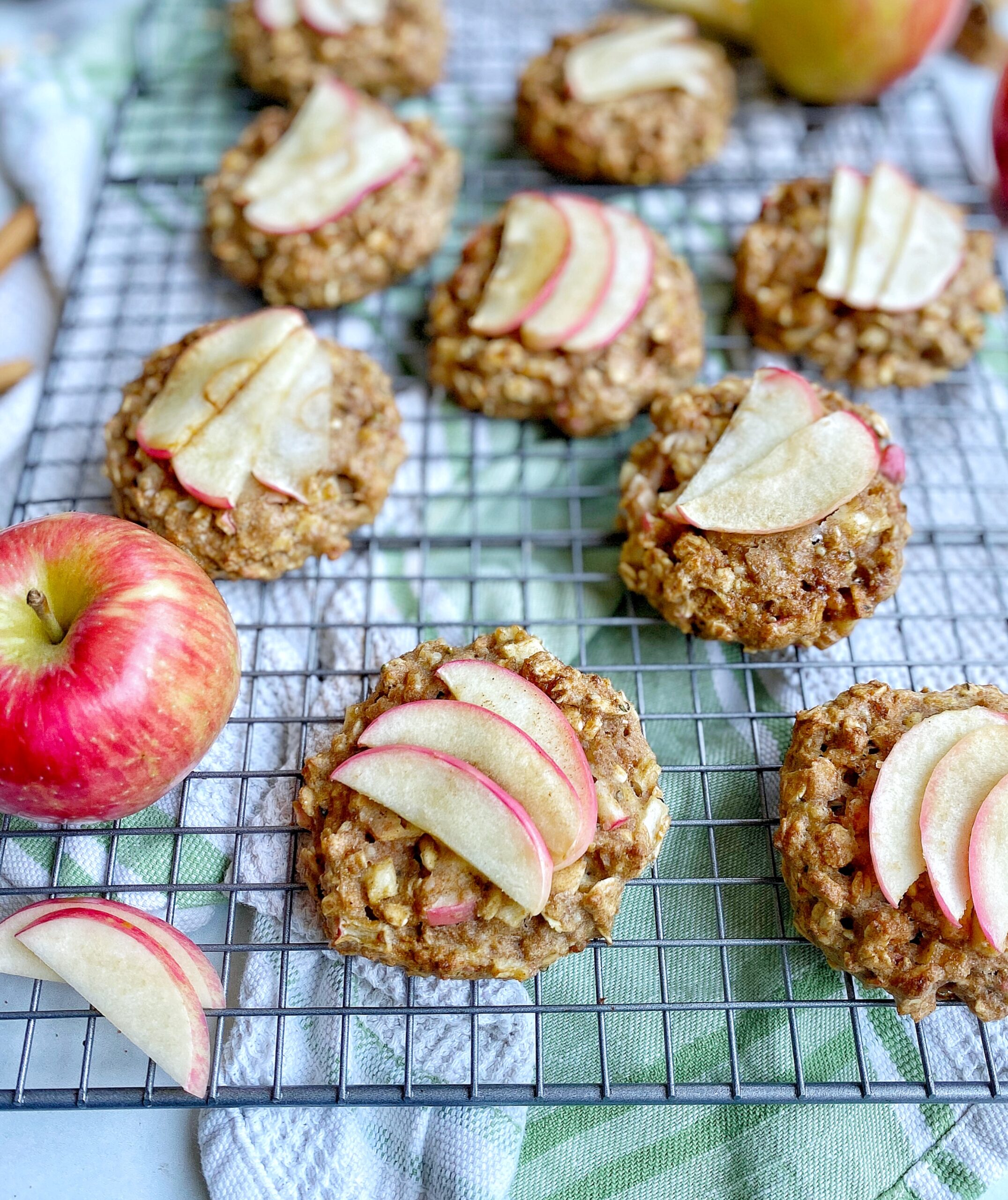 Save to Pinterest!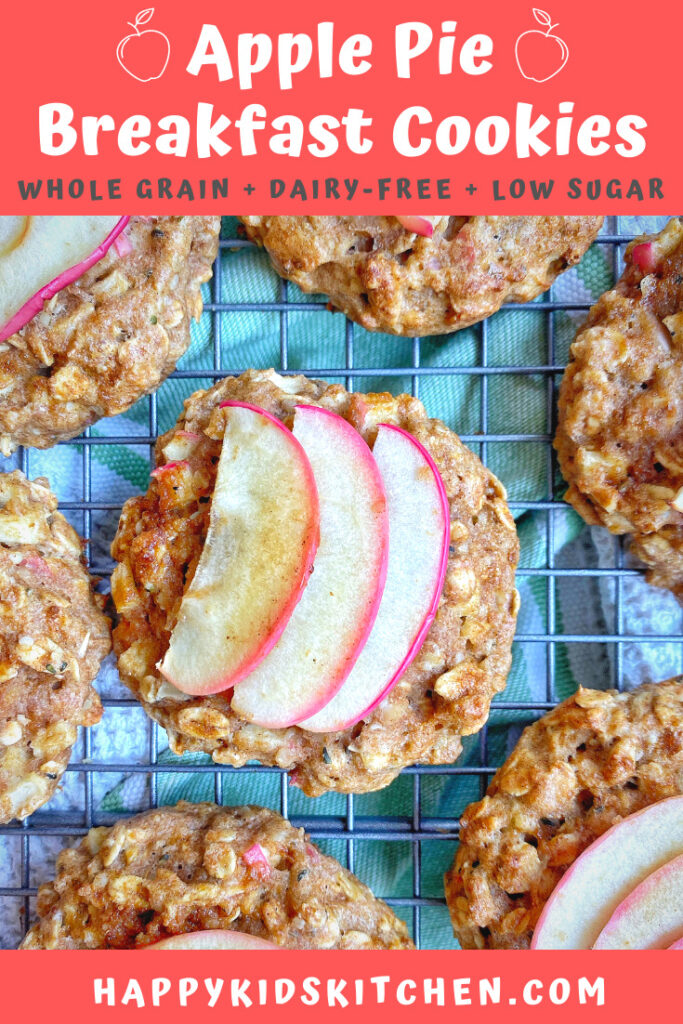 Want more apple recipes to make with kids? Check out my blog post Healthy Apple Recipes to Cook with Kids for some fun ideas.
Other recipes to try:
Banana-Pumpkin Blender Muffins