This 5-Ingredient, One Bowl cookie recipe couldn't be easier. No-Bake PB+J Cookies are a healthy little treat prefect for making with kids! Plus, you don't even have to turn on the oven. Stir your favorite nut or seed butter with some oats, seeds, a little honey and salt then form them into balls to stuff with store-bought or homemade jam. I included a raspberry chia jam recipe below if you want to make your own easy jam and keep this whole recipe refined sugar free. However, I've made these thumbprint cookies with regular jam too. Either way, these cookies are a healthy treat filled with healthy fat, fiber, and flavor.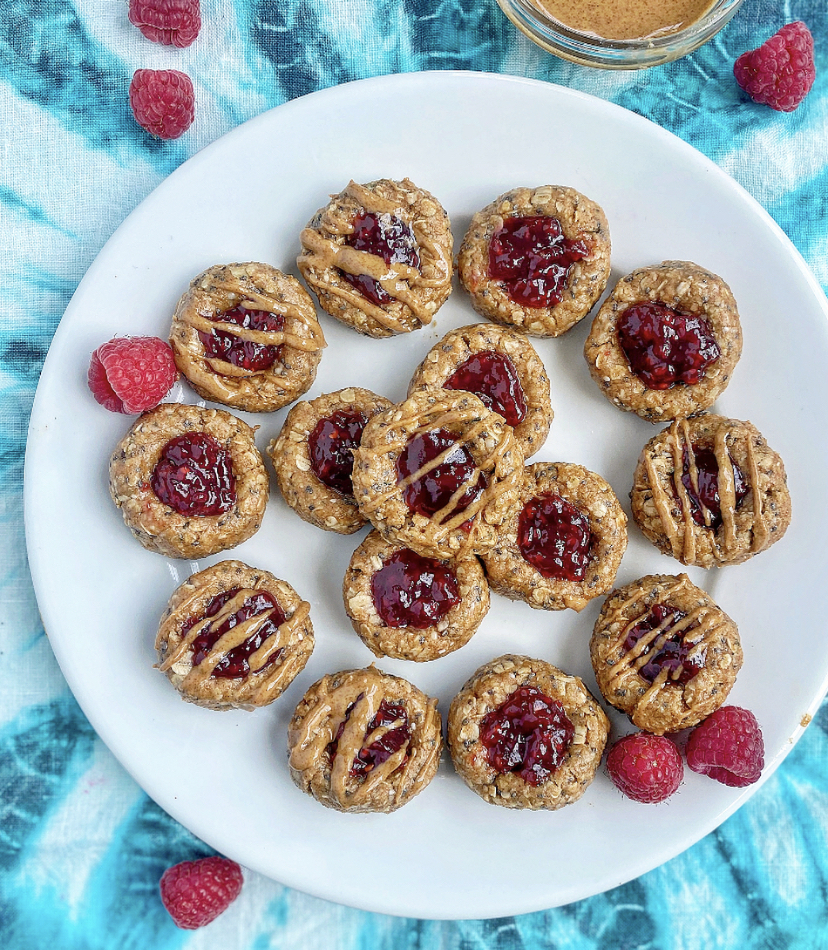 Kids in the Kitchen: No-Bake PB+J Cookies
Measure: Since this recipe only has a handful of ingredients, it's great for kids to help from start to finish.
Mix: This dough is thick and will be a little tricky for kids to mix. However, once the dough is mostly combined and no longer sticky, kids can squeeze and squish it together with clean hands.
Roll: Scoop or measure a piece of dough then give it to your child to roll into a ball. It probably won't be a perfect ball but you can always roll it again after. Kids can also help make a hole in the center of the ball with their fingers.
Jam: Let your child take a small spoon of jam and fill each cookie. If drizzling the top with extra nut butter, that is a fun job for kids too.

Subs and Tips for PB+J Cookies
Oats: Don't have quick cooking oats? Pulse regular rolled oats in a food processor until they are roughly chopped. You will probably need a cup and 2 to 3 tablespoons of rolled oats to make a cup of the processed oats. Make sure to use certified gluten-free oats if you want this recipe to be gluten-free.
Nut free? Use sunflower seed butter or other nut butter alternative instead of peanut butter.
Jam: You can use whatever jam your family likes in this recipe. Making your own chia jam takes a little extra time but it's really delicious and allows you to reduce the amount of sugar in the recipe. However, I have used store bought jam in these cookies too and there is nothing wrong with taking that shortcut!
Dough scoop: you can eyeball the amount of dough needed to make even balls or use a tablespoon measuring spoon. I like to use a small cookie scoop to take the guess work out of it and make it easier to evenly divide the dough. Here are some I like on Amazon (affiliate link).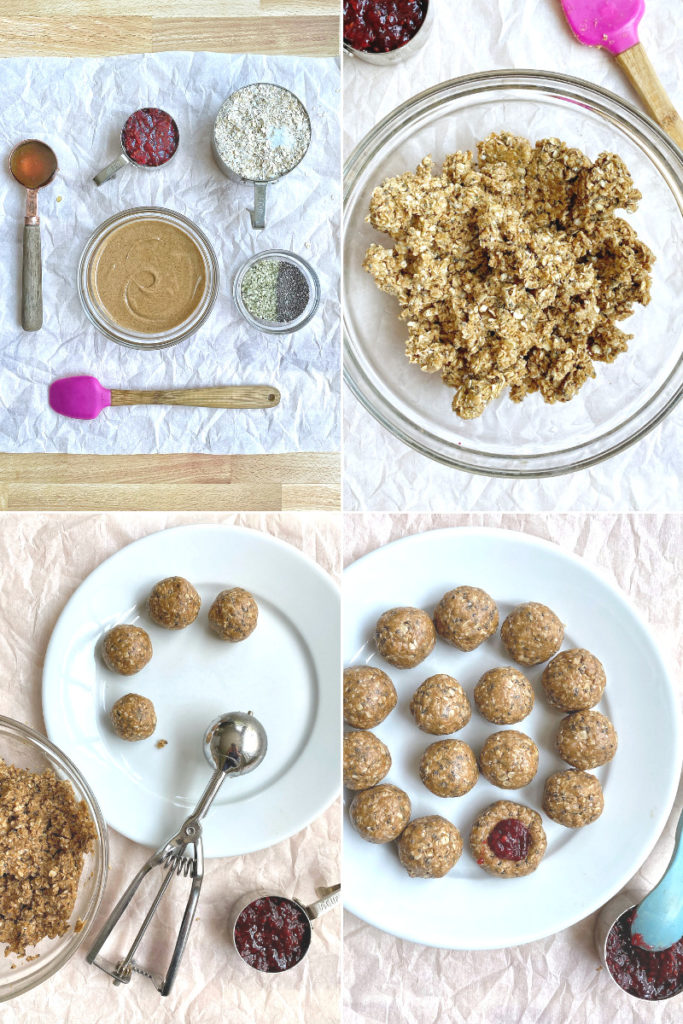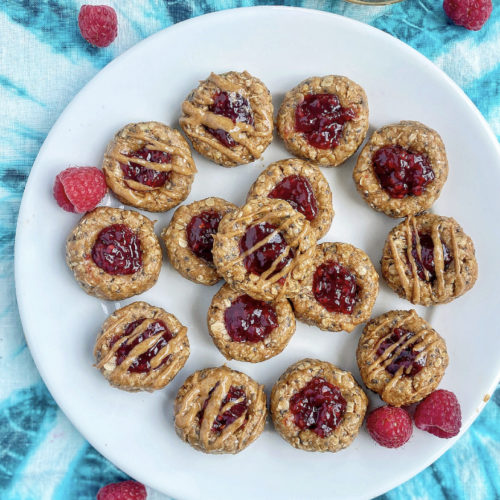 No-Bake PB+J Cookies
One-bowl, healthy cookies
Ingredients
1

cup

quick-cooking rolled oats

gluten-free if desired

1

Tbsp

chia seeds

1

Tbsp

hemp seeds

or more chia seeds

pinch of salt

omit if nut butter is salted

2/3

cup

unsweetened natural peanut butter or almond butter

or sunflower seed butter

2

Tbsp

honey or maple syrup

1/4

cup

store-bought or homemade jam (recipe below)
Raspberry Chia Jam
10

ounces

frozen raspberries

about 3 cups

2 to 3

Tbsp

maple syrup

or to taste

2

Tbsp

chia seeds
Instructions
If using the homemade chia jam recipe, make that first.

Add oats, seeds, and salt to a large bowl. Toss with your hands to combine. Add nut butter and honey. Use a spatula or spoon to mix thoroughly. The dough should be thick but not dry. If too sticky to roll into balls, add a little bit more oats. If the dough is too crumbly and dry, add a little more nut butter and mix again.

Once dough is formed, roll heaping tablespoon-sized balls and place them on a plate. Use your finger to create a hole in the center of the ball. If the dough cracks in places, just pinch it back together to form a round cookie.

Fill each hole with jam and drizzle the cookies with extra nut butter (optional). Place the cookies in the fridge for 20 to 30 minutes until set and easier to pick up. Store in an airtight container in the refrigerator for a week or so.
Raspberry Chia Jam
Add raspberries and a splash of water to a pot. (I like to use a wide saucepan because it cooks faster.) Cook over medium heat until bubbling. Reduce the heat to a simmer and cook, stir occasionally, until the raspberries and thick and only a little liquid remains.

Add maple syrup and cook a few more minutes. Remove from heat and stir in the chia seeds. Transfer jam to a bowl or container. Cool on the counter for 10 minutes then refrigerate until chilled and thickened. Refrigerate jam for up to a week.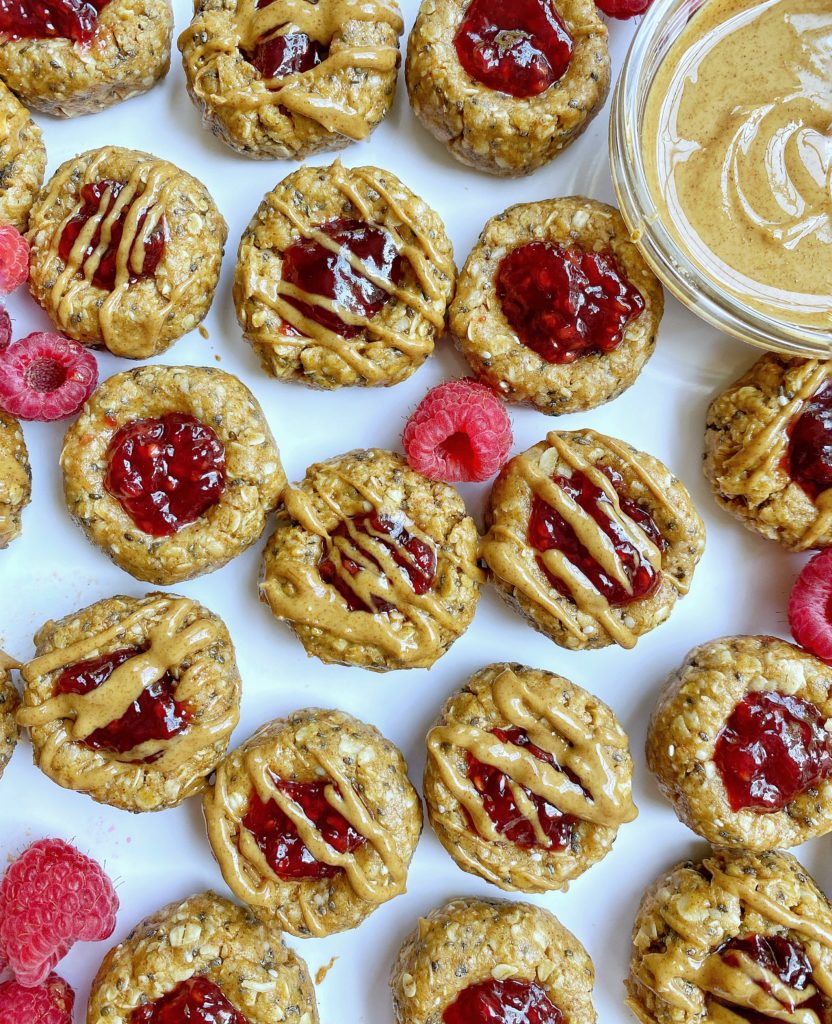 Save to Pinterest!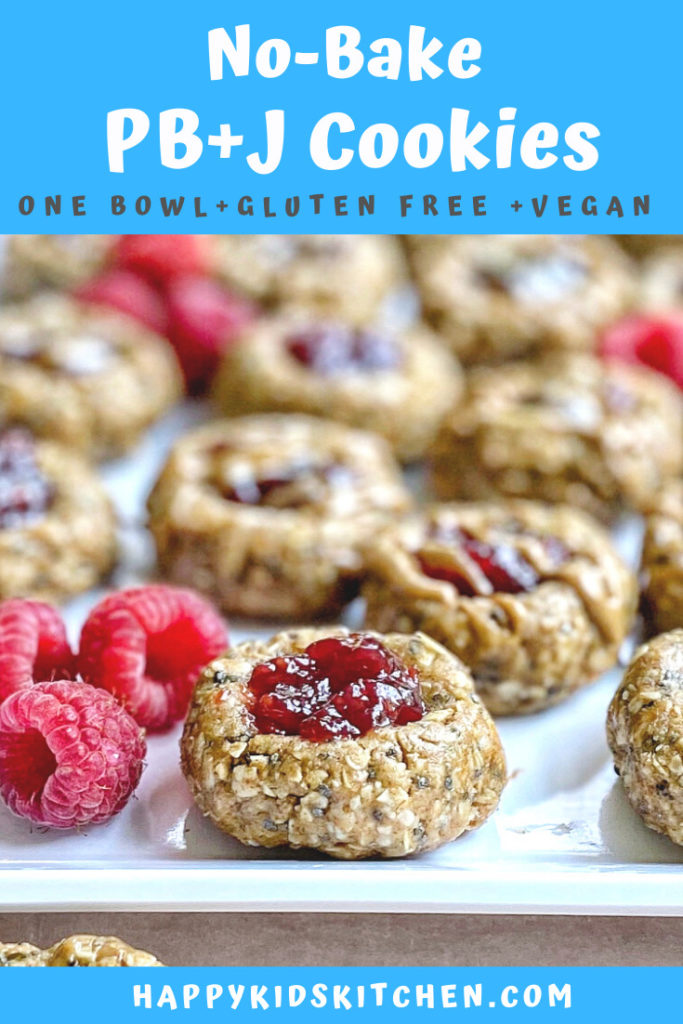 Other Healthy Cookie Recipes:
Chewy Peanut Butter Cookies (Monster Cookies)
Oatmeal Raisin Cookie Dough Bites (No-Bake)
Chocolate Chip Banana Bread Cookies