Oatmeal Raisin Cookie Dough Bites
No added sugar, only a few simple ingredients, and packed with protein! Oatmeal Raisin Cookie Dough Bites are a great healthy snack for kids. You may know this type of snack by another name: energy balls or bliss bites, but we like to call them "cookie dough" in my house because…well, it sounds delicious! You can easily make these nut free using sunflower seed butter instead of almond butter. They are great to have on hand as a quick, nutrient rich snack for toddlers and kids of all ages (and us adults too, of course). Plus, they really taste like an oatmeal raisin cookie but without all the added sugar!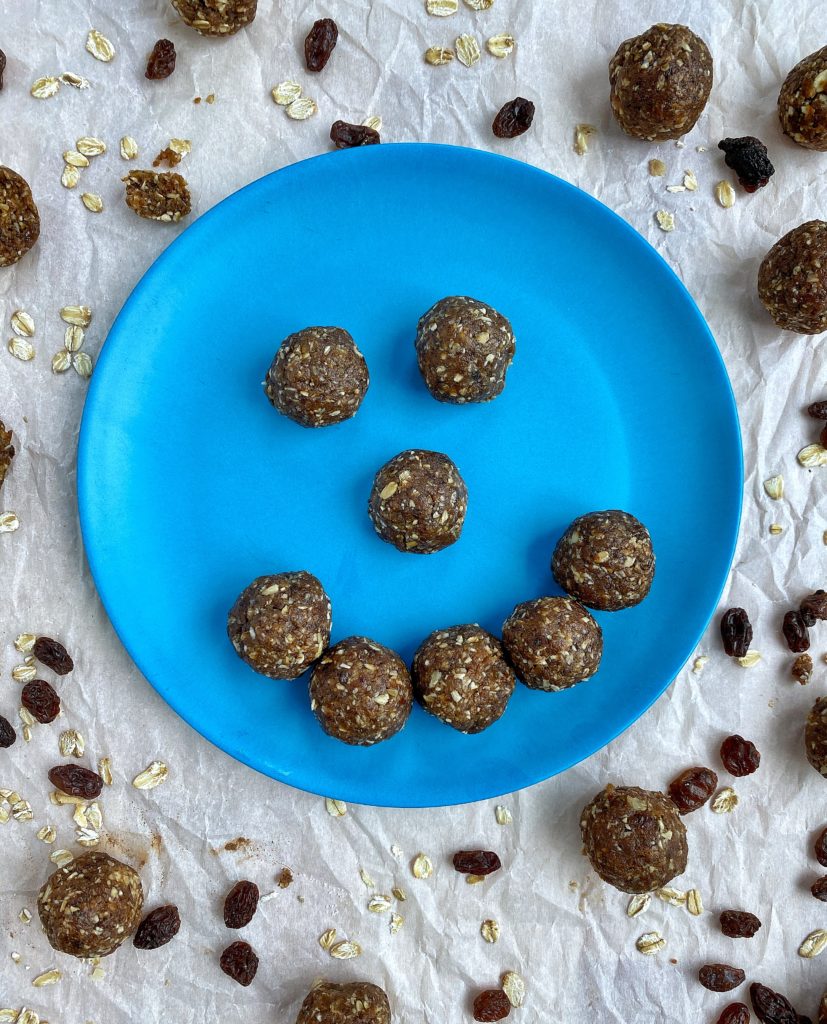 Kids in the Kitchen: Oatmeal Raisin Cookie Dough Bites
This recipe quick and only has a few ingredients, so it's perfect for making with toddlers and young kids. Here are some tips for cooking this recipe together:
Pre-measure the almond butter. This task can get messy and I envision little hands covered in sticky nut butter. It's probably best to measure before your child starts helping.
Dump in it! Your child can add the oats to the food processor and help press the buttons. Then once the oats are ground, she can add in the rest of the ingredients too.
Cover those little ears! The food processor can be pretty loud when it grinds the oat mixture, so just as a precaution, have your child step back after helping with the buttons or cover her ears.
Roll 'em. You will probably have to re-roll them into actual balls after your little one has a turn. Kids usually have a little trouble not squishing the dough, but it's still fun for them to practice.
Subs and Tips:
Nut-free: Use your favorite seed butter (such as sunflower seed butter) to make this completely nut free!
Gluten-free: make sure to use certified gluten-free oats.
Nutrient boosts: customize these bites with whatever seeds or add-ins you'd like. Chia seeds, hemp seeds, ground flax, or finely ground nuts would all work into the dough well and add lots of extra nutrients to these snacks.
Raisins too dry?: this recipe works best with fresh, plump raisins. When you squish a raisin between your fingers it should be sticky and soft.  If your raisins have been sitting around a while they will dry out and won't be sticky enough to turn into a dough. To make your raisins soft again, place them in a bowl and cover them with very hot water. Let them soak for 5 to 10 minutes then drain well and use in the recipe.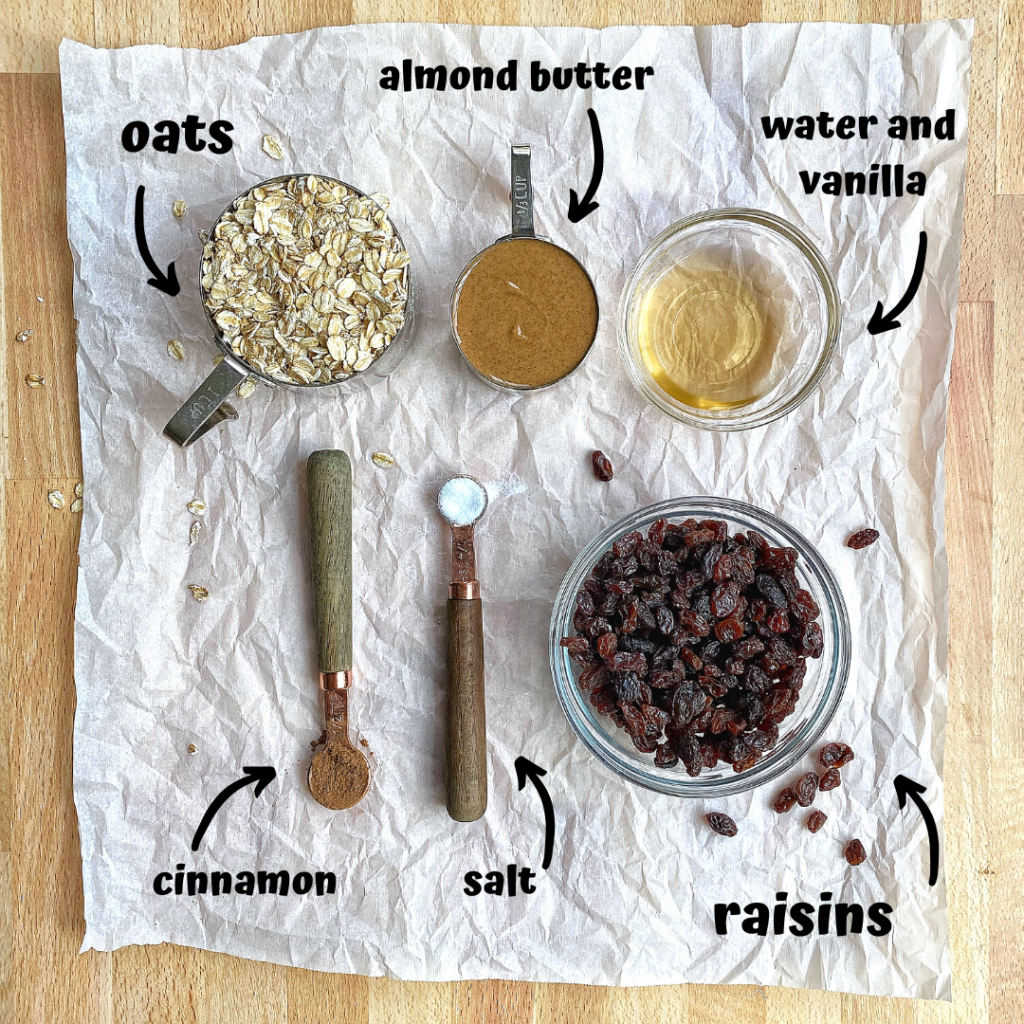 Oatmeal Raisin Cookie Dough Bites
Healthy, edible cookie dough that's packed with protein and only sweetened with fruit.
Ingredients
1

cup

rolled oats

gluten-free if desired

1

cup

raisins

if very dry soak in hot water for 5 min then drain

1/2

cup

natural, unsweetened almond butter

or sunflower seed butter

1/2

tsp

cinnamon

1/8

tsp

fine salt

leave out if nut butter is salted

1/4

tsp

vanilla extract

3

Tbsp

warm water
Instructions
Add oats to a food processor. Grind into a coarse flour.

Add remaining ingredients then process until a sticky dough forms. This could take about a minute. Check to make sure the dough easily rolls into balls. If it is too dry, add a little water at a time until it is sticky enough.

Remove blade from food processor then roll dough into tablespoon-sized balls. Store in an air-tight container at room temperature on in the refrigerator for a week or so. You can also freeze the cookie dough bites for longer storage.
Save to Pinterest!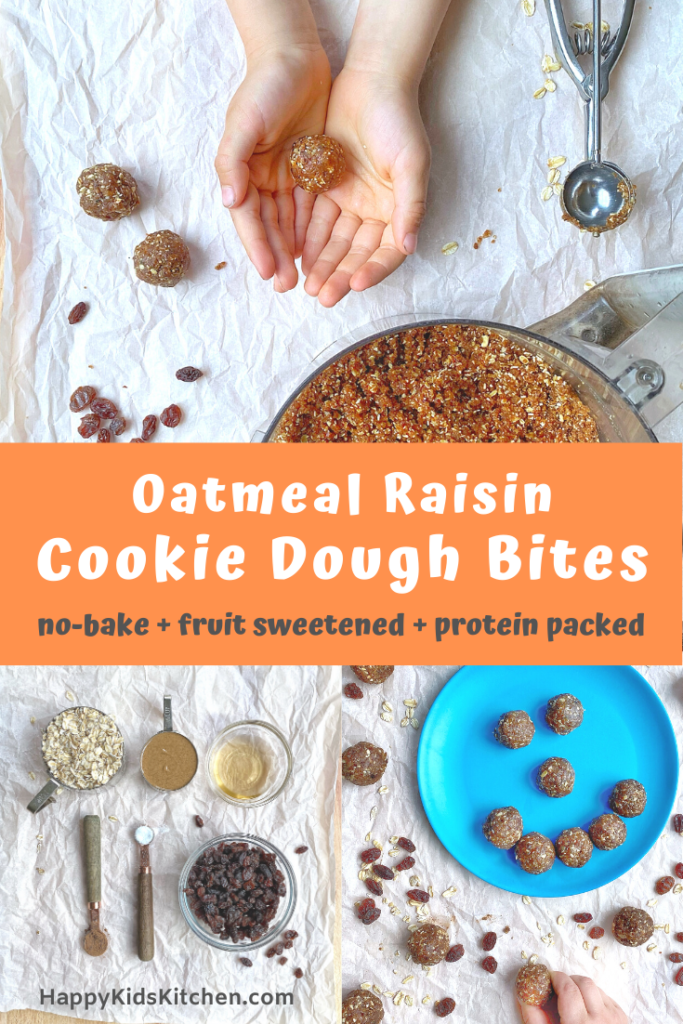 Other recipes to check out: