A healthier granola bar alternative that you can make at home! These No-bake Trail Mix Cups are super easy to customize with whatever ingredients you have on hand. Crushed pretzels, cereal, chopped nuts, seeds, dried fruit…it all gets coated in your choice of nut/seed butter and a little sweet honey to stick all the yumminess together. Get the kiddos into the kitchen to help stir it all up and press it into muffin cups. These snack cups are seriously addictive!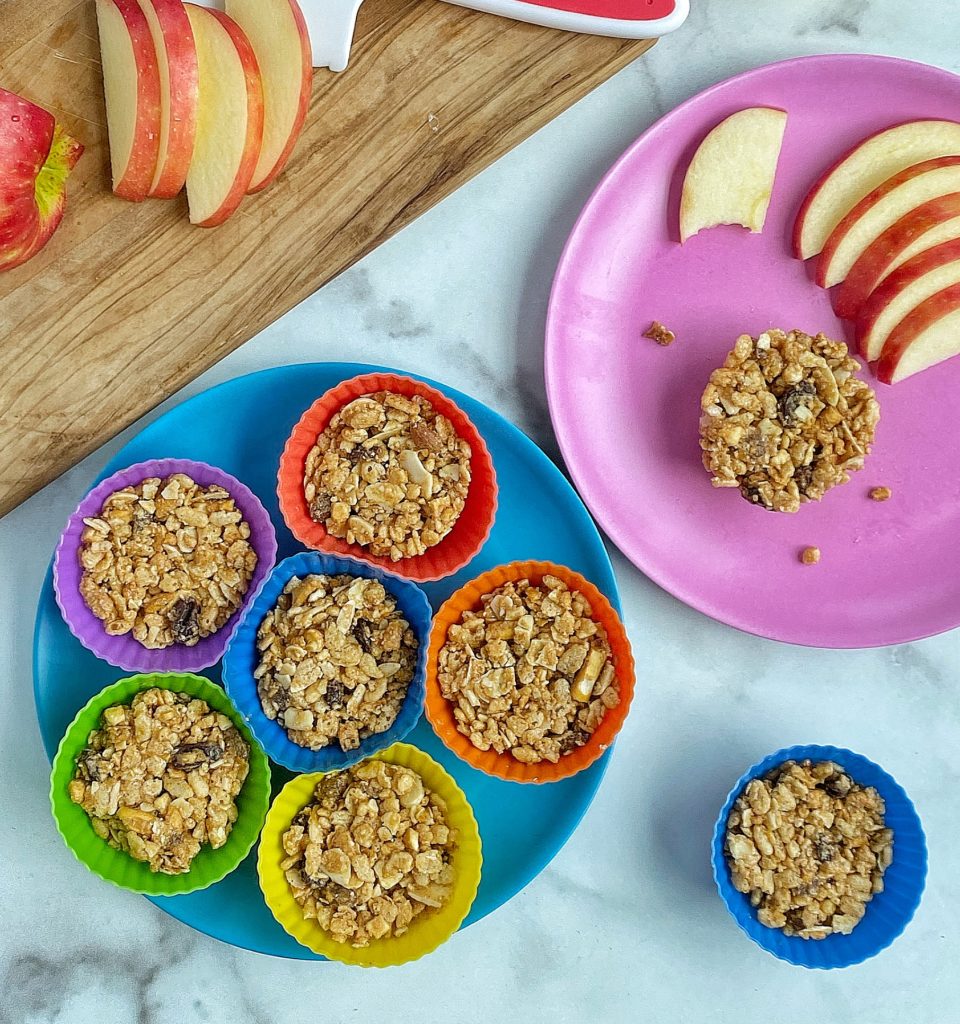 Kids in the Kitchen: No-Bake Trail Mix Cups
Crush pretzels! Kids have so much doing this activity: Place approximately a heaping cup of pretzels (twists or sticks) in a zip-top bag. Get all the air out of the bag and make sure it is sealed tightly. Use a small rolling pin, back of a measuring cup, or other utensil to smash the pretzels into small bits. Make sure to keep little fingers out of the way too!
Choice of mix-ins: Give kids a choice between two ingredients you already have on hand to make it easy: "Would you like raisins or dried cranberries in these yummy snacks were are making today?"
Add, mix, scoop: Kids can help help with pretty much every step of this easy recipe without much help. Measure ingredients into the bowl, stir everything together, scoop into the cups, and help press it down…
Chocolate? Want to make these even more of a yummy treat? Add in some mini chocolate chips or melt some chocolate and drizzle it over the top of each snack cup.
Ingredient Subs and Suggestions:
What kind of nut/seed butter to use? I use a runny-style natural (only one ingredient) peanut butter, almond butter, or sunflower seed butter for this recipe. I haven't tried using any other kind of nut butter. If your nut butter is salted, omit any extra salt in the recipe.
Nut-free? These snacks can easily be made without nuts. Use seed butter such as natural sunflower seeds butter and mix sunflower seeds, chopped pumpkin seeds, and/or small seeds like chia or hemp seeds in the cups.
Gluten-free? As long as you use gluten-free pretzels (or leave that ingredient out), these snacks are easy to make gluten-free. They are naturally dairy and egg-free too.
No honey? I have not tried this recipe with any other sweetener. I think maple syrup or agave would work but I can't say for sure.
Tips for making No-bake Trail Mix Cups:
Not sticking together? All the dry ingredients in the mix have to be pretty small in order for everything to stay together in a compact cup. Make sure to chop nuts/seeds and dried fruit into small bits. Also, use the back of a spoon or the bottom of a measuring cup to firmly press the mixture into the muffin cups. The cups also need to stay cold. As they warm up, the more likely they are to crumble apart.
Mix-in ideas: any finely chopped nuts, sunflower seeds, chopped pumpkin seeds, mini chocolate chips, raisins, dried cranberries, dried cherries, dried apricots, dried apples…just made sure all pieces are no larger than a raisin.
Shape: I make these in silicone muffin cups like these (or you can use a regular muffin tin with paper liners) because the mixture tends to break apart if you press it into a pan and cut it into bars. (This is probably because it has way less added sweetener than other no-bake granola bars.)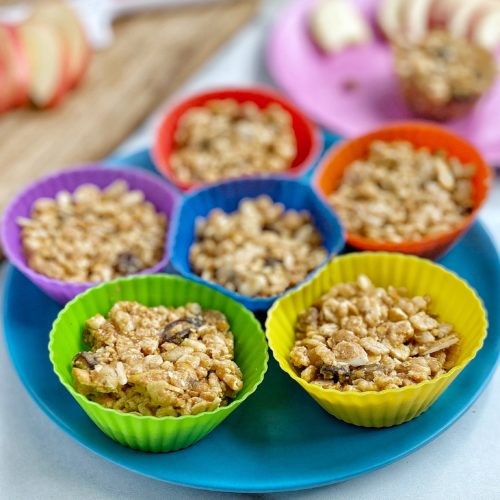 No-Bake Trail Mix Cups
Ahealthier, no-bake granola bar and rice crispy treat in one!
Equipment
Muffin tin with paper liners or silicone muffin cups
Ingredients
1/2

cup

finely crushed pretzels

see how-to in post

1

cup

crispy rice cereal

"rice krispies"

1/2

cup

chopped nuts, seeds, or a combo of both

see examples in post

1/4

cup

raisins or other dried fruit

chopped

1/2

cup

natural peanut butter, almond butter, or sunflower seed butter

3

Tbsp

honey

pinch

fine salt

omit if nut butter is salted
Instructions
Line a muffin tin with 9 paper cupcake liners or place 9 silicone muffin cups on a plate or baking pan.

Add crushed pretzels, cereal, chopped nuts/seeds, and dried fruit to a large bowl. Toss together to combine.

Add nut/seed butter, honey, and salt. Stir well. It will take a little while to coat everything evenly.

Scoop about a 1/4 cup of the cereal mixture into each muffin cup. Press the mixture down firmly into the cups. Chill cups until firm, about 60 minutes in the fridge or 15 minutes in the freezer. Store cups in an airtight container in the refrigerator.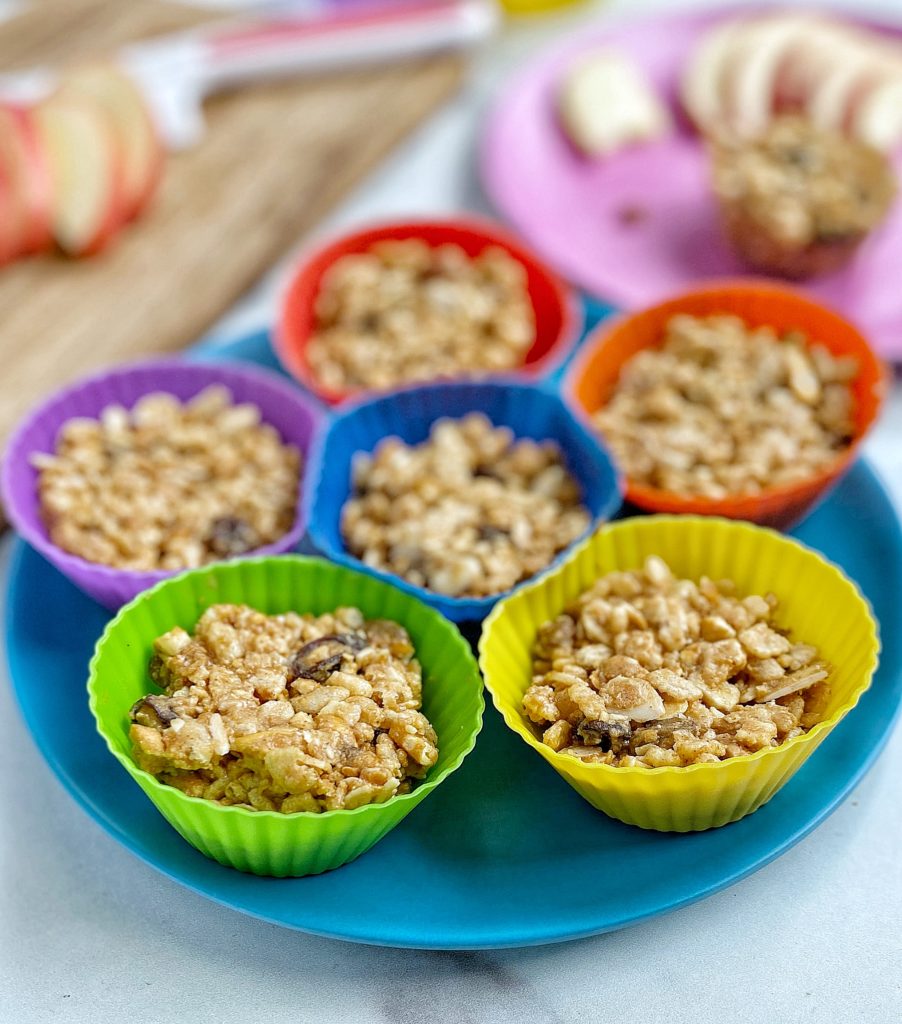 Save to Pinterest!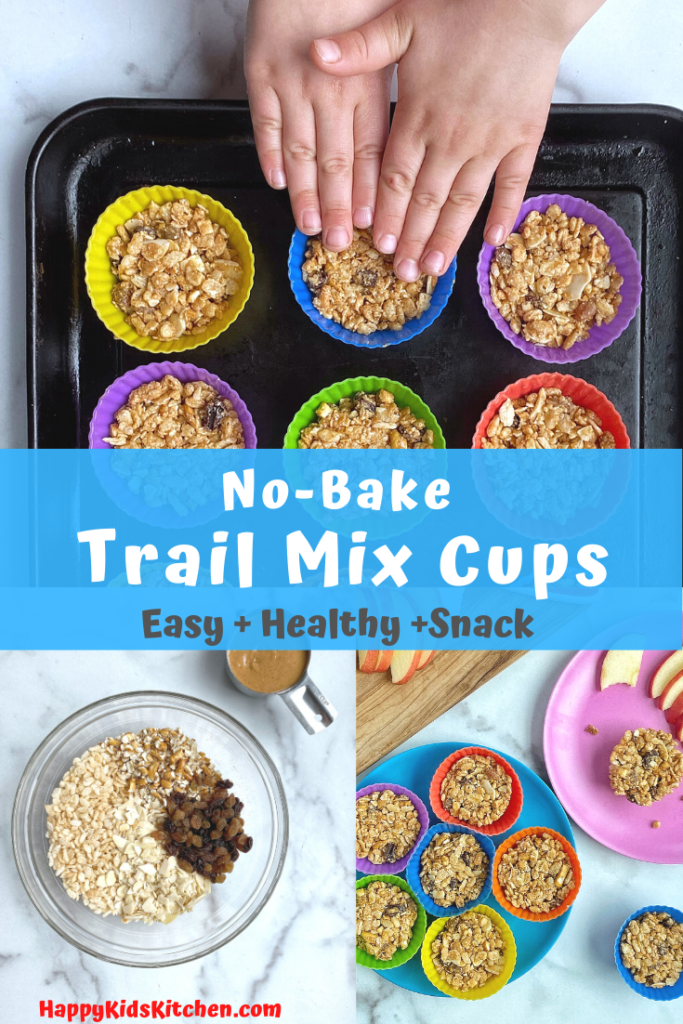 Other Recipes You'll Love:
Chocolate Chip Banana Bread Cookies
75 Best Recipes to Cook with Kids