A healthy breakfast full of veggie goodness! Toddlers, kids, and even "picky" eaters will love these deliciously green Spinach Banana Waffles because they taste like a sweet banana muffins. Plus, grown-ups love them because they are so stinking easy to make! You throw everything into a blender…that's it! Since the waffles are only sweetened with banana and are full of whole grain oats, this is a fun and healthy breakfast you can feel good about feeding the whole family.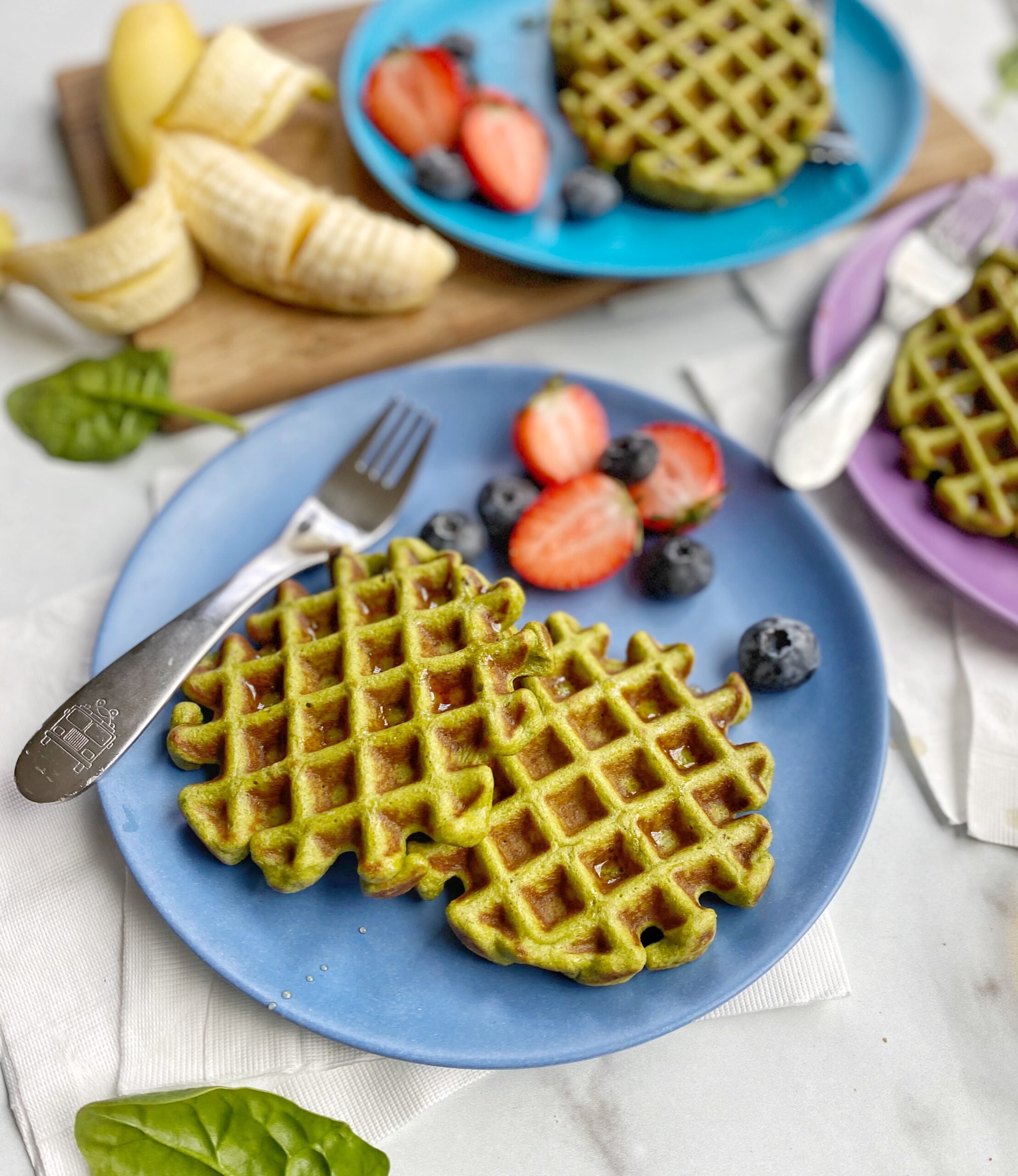 Kids in the Kitchen:
Add the banana and GREENS: if you little one does only one thing to help with this recipe, make it grabbing a handful of spinach and adding it to the blender. Peeling the banana and plopping that in as well is a great second step. It's so important that kids know there are veggies in their food. Eating spinach in waffles is one step along the path to eating more whole veggies at mealtime.
Get cracking! If you feel comfortable having your child crack eggs (I have a video tutorial on my Instagram if you want some guidance.), make sure to crack them into a small bowl before adding the eggs to the blender. That way it's easier to remove any shells that might go astray.
Scoop the batter: Hold a measuring cup together and place the batter onto your waffle iron. Placing your hand over your child's will allow you to guide the child's hand in the right place and avoid touching any hot surfaces.
Decorate and garnish! While your child waits for the waffles to cook, set him up with some fruit to wash and cut with a child-safe knife. He can slice a banana or some strawberries, then place them nicely on a plate for the whole family.

Subs and Tips for making Spinach Banana Waffles:
Gluten-free? Make sure to use certified gluten-free oats and these are gluten-free!
Egg-free? I haven't tried it but a flax "egg" substitute might work to make these egg-free. Let me know if you try it!
No green, please! Kiddo, not sure about eating a green waffle? Add a couple tablespoons of cocoa powder to make them chocolate waffles! The cocoa will cover up the green color and add yummy chocolate flavor too. Since cocoa or cacao powder can be a little bitter, you may want to add a tablespoon or two of maple syrup or honey to the batter as well.
Waffle maker? I am obsessed with my mini waffle maker, it's available on Amazon HERE. It comes in lots of colors and actually different shapes like a heart too. Would be a great gift for kids 8 and up to learn to use on their own.
Double and freeze! This is not a large batch recipe, so double if you are cooking for a crowd or want to have leftovers for another day. You'll be so glad you did. The waffles reheat really well in the toaster or oven straight from the freezer.
Can I make this batter into pancakes? I haven't tried it, but I do have an awesome banana pancake recipe, Banana Protein Blender Pancakes. Throw a couple of handfuls of spinach into them and you've got some great green pancakes!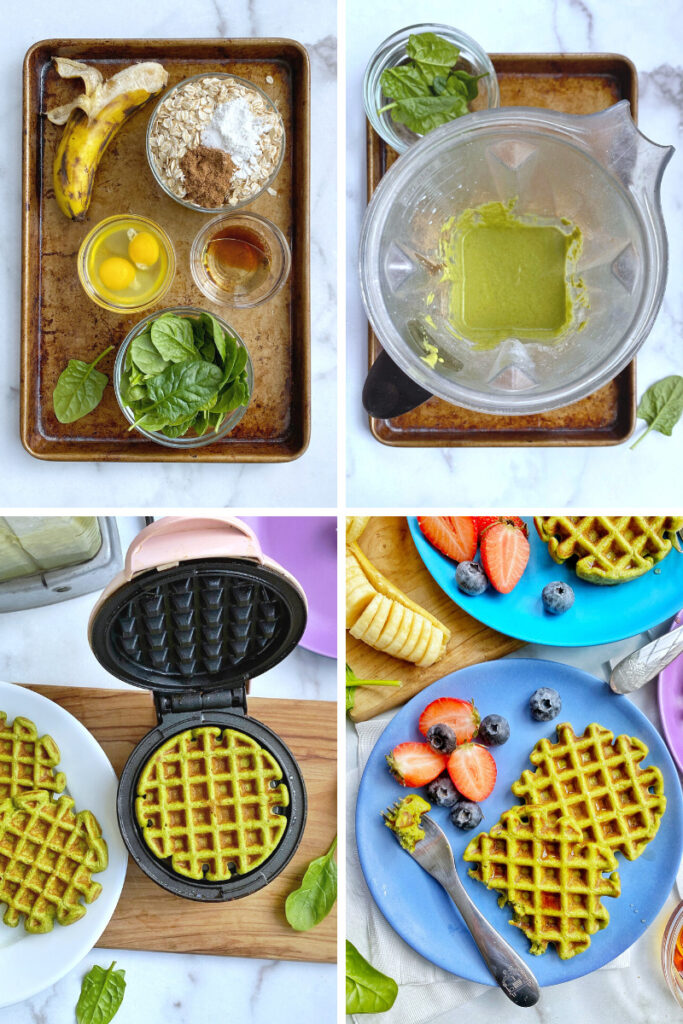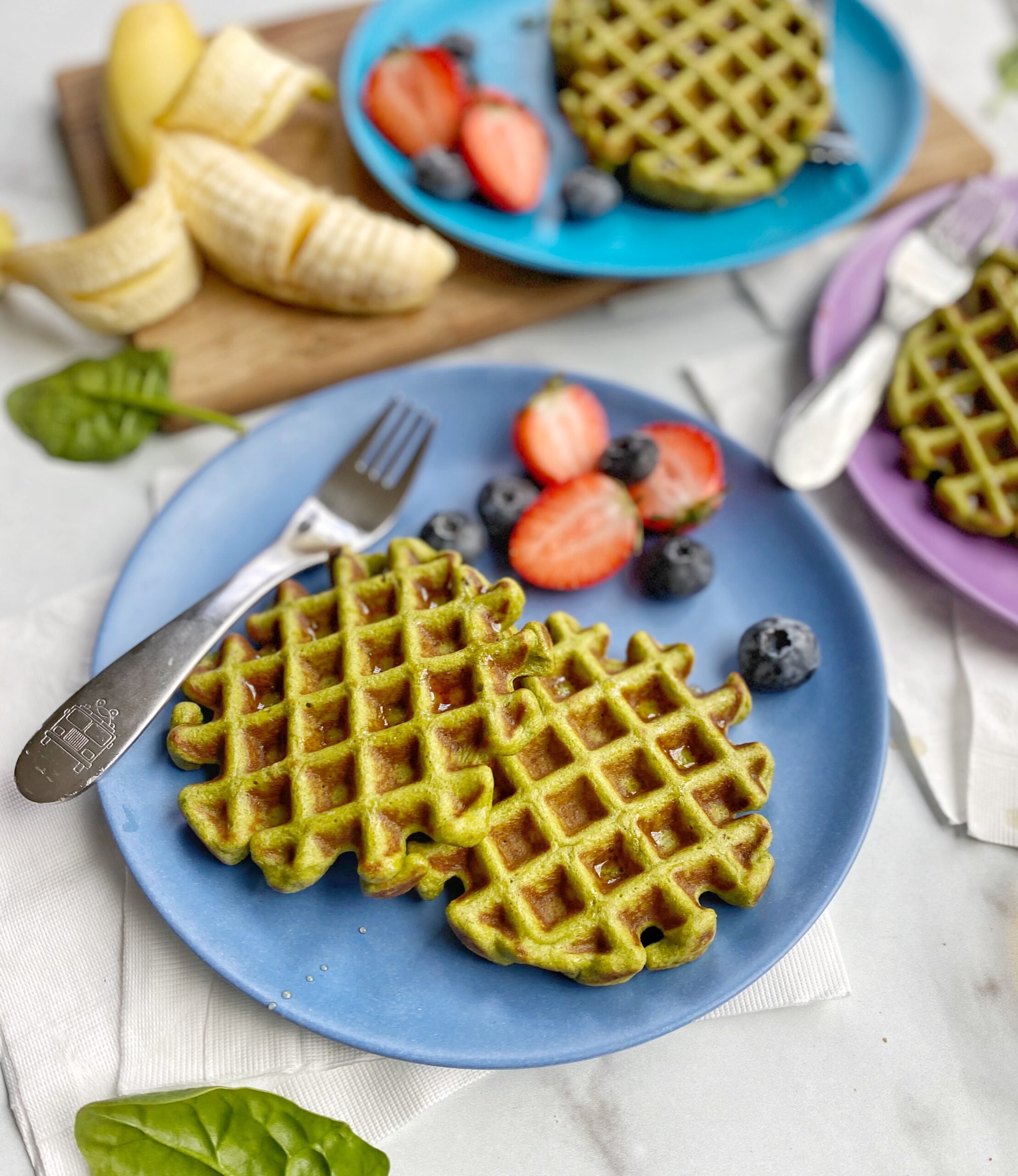 Spinach Banana Waffles
Easy blender recipe! Great way to get veggies into breakfast.
Ingredients
1

spotty, brown overripe banana

2

cups

baby spinach

about 2 big handfuls

2

large eggs

2

Tbsp

avocado or vegetable oil

plus more for greasing the waffle iron

1

tsp

vanilla extract

1/2

tsp

cinnamon

1 1/2

tsp

baking powder

1

cup

rolled oats, gluten-free if desired

maple syrup, for serving

if not serving with syrup, you may want to add 1 or 2 Tbsps of maple syrup or honey to the batter
Instructions
Preheat your waffle iron. Add all the ingredients to a blender. Blend until smooth, scraping down the sides of the blender to make sure nothing is stuck. Blend again if necessary.

Grease your waffle iron by either brushing or spraying with oil. Spoon waffle batter onto your iron and make according to your waffle iron instructions. Place cooked waffles onto a plate and continue making waffles until all the batter is used up.

Serve with maple syrup, if desired. Store waffles in an airtight container in the fridge for 4 days or freeze, wrapped tightly, for a month. Best way to reheat waffles is to bake them in the oven or toaster oven until warmed through.
Save to Pinterest!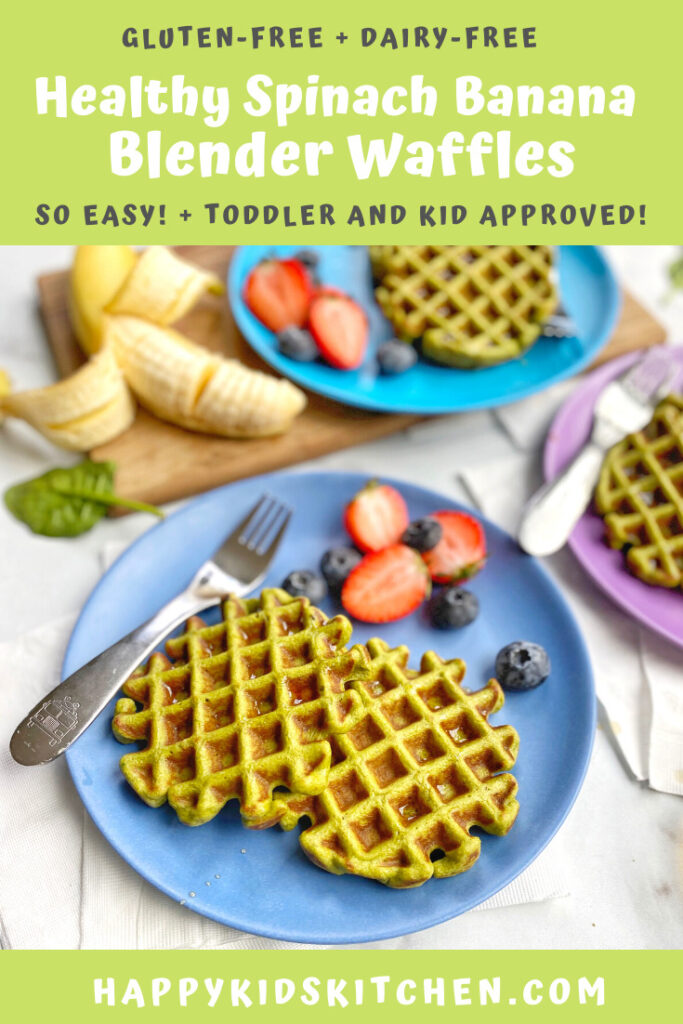 Other BANANA recipes to try:
Banana Protein Blender Pancakes
Banana-Pumpkin Blender Muffins
Chocolate Chip Banana Bread Cookies