Healthy Breakfast Sandwiches (Freezer Friendly)
Want a quick and nourishing breakfast for busy school mornings? Great for meal prep, these freezer-friendly Healthy Breakfast Sandwiches are full of protein, fiber and veggies! Best of all, they are delicious and totally kid-approved. Make a bunch of sandwiches, stick them in the freezer, then pull them out and quickly heat as needed.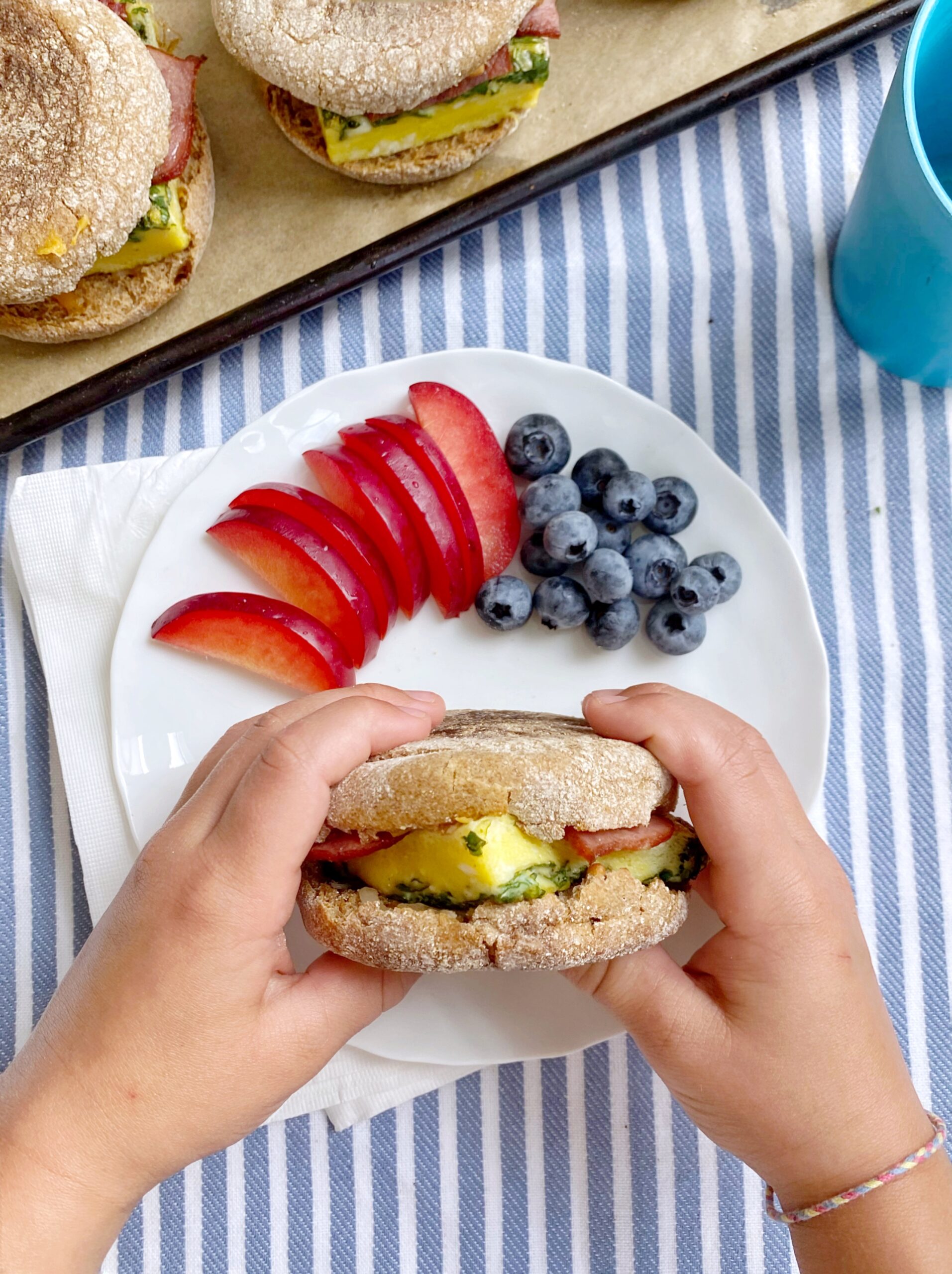 Kids in the Kitchen:
Kids can help we most of the steps in this simple recipe.
Crack those eggs! Kids can get some great practice cracking eggs since there are so many in this recipe. Watch this video to get some tips on teaching kids to crack eggs.
Add the spinach (or other veggies). Toddlers and young kids can also help rip the spinach and then transfer it to the bowl with the eggs.
Whisk it up! Make sure to use a large bowl to cut down on potential spills.
Sprinkle the cheese: Make sure to remove the English muffins from the hot pan before kids help add the cheese.
Subs and Tips for Healthy Breakfast Sandwiches:
Vegetarian: You can easily just leave off the bacon and these sandwiches will be totally meat free.
Gluten free: Use a gluten-free English muffin or whatever gluten-free bread you enjoy.
Dairy free: Use a shredded cheese alternative to make the sandwiches dairy free.
Use other veggies: Mix anything you like into the eggs! Chopped broccoli, bell peppers, tomatoes, cooked mushrooms… You can mix in cooked or raw vegetables. Raw vegetables will be a little more crunchy in the finished sandwich, so you may want to precook some vegetables before adding them depending on your own taste preference.
Meat options: Don't want to use bacon? Use sliced ham or precooked sausage patties instead.
Picky eaters and toddlers: These sandwiches can be chopped into small pieces to serve to toddlers and younger kiddos. Have a child that wouldn't want spinach in the eggs? Start by adding just a little spinach or you can leave the spinach out entirely.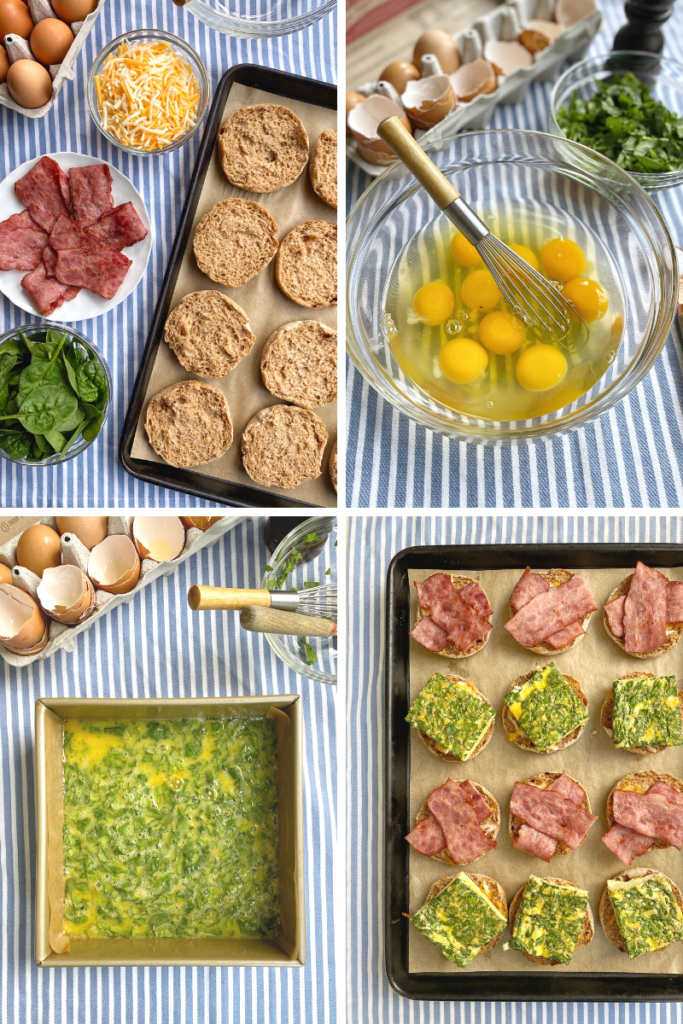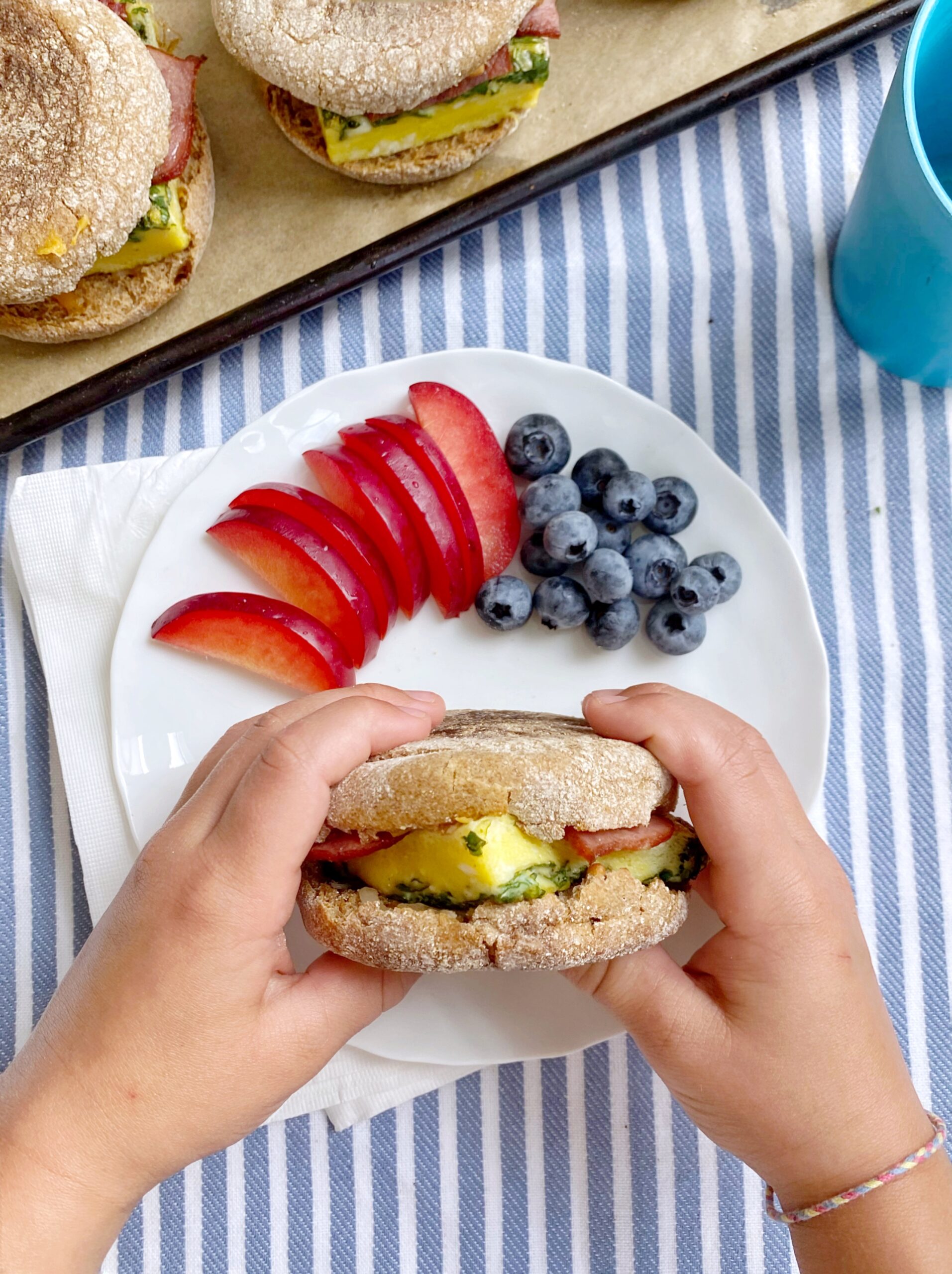 Healthy Breakfast Sandwiches (Freezer friendly)
A make ahead, nourishing breakfast perfect for a quick meal before school.
Ingredients
oil or oil spray, for greasing pan

8

large eggs

2 to 3

cups

baby spinach, chopped

or any veggies you like in eggs

1/4

tsp

kosher salt

6

whole wheat English muffins, split

1 1/2

cup

shredded cheese, cheddar or any kind you like

6

strips

cooked turkey bacon or regular bacon, optional

see notes for other suggestions
Instructions
Preheat oven to 375 degrees. Use oil or oil spray to grease a square baking dish (8 or 9-inches).

Whisk eggs in a large bowl. Stir in chopped spinach and salt. Pour the egg mixture into the greased pan. Bake until puffed, lightly browned, and cooked through, 15 to 20 minutes. Set aside to cool.

Place split English muffins cut side up on a sheet pan. Bake for 5 minutes to lightly toast. Remove pan from over then place about 2 tablespoons of shredded cheese on each pieces. Bake until cheese is melted.

Cut baked egg into 6 equal pieces. Place an egg square onto the bottom half of each English muffin. Top with bacon, if using, then add the top of the English muffin to create the sandwich. Allow the sandwiches to cool completely before freezing or storing in the fridge.

To freeze, wrap each sandwich tightly with aluminum foil. Refrigerate for up to a week. Freeze for up to a month. From frozen, unwrap sandwich and place on a plate then reheat in the microwave for 2 to 3 minutes. Allow to cool for 2 minutes before eating.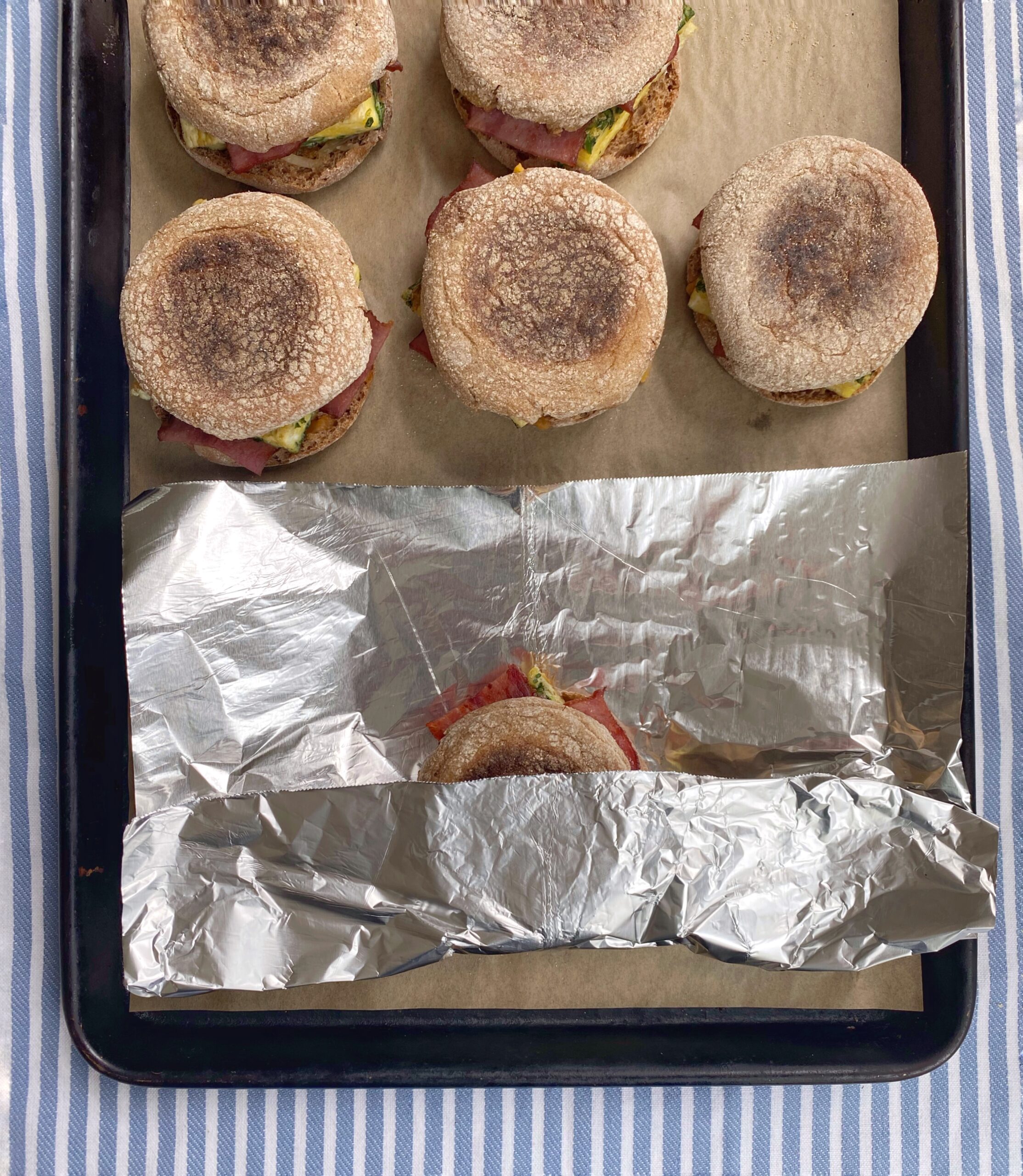 Save to Pinterest!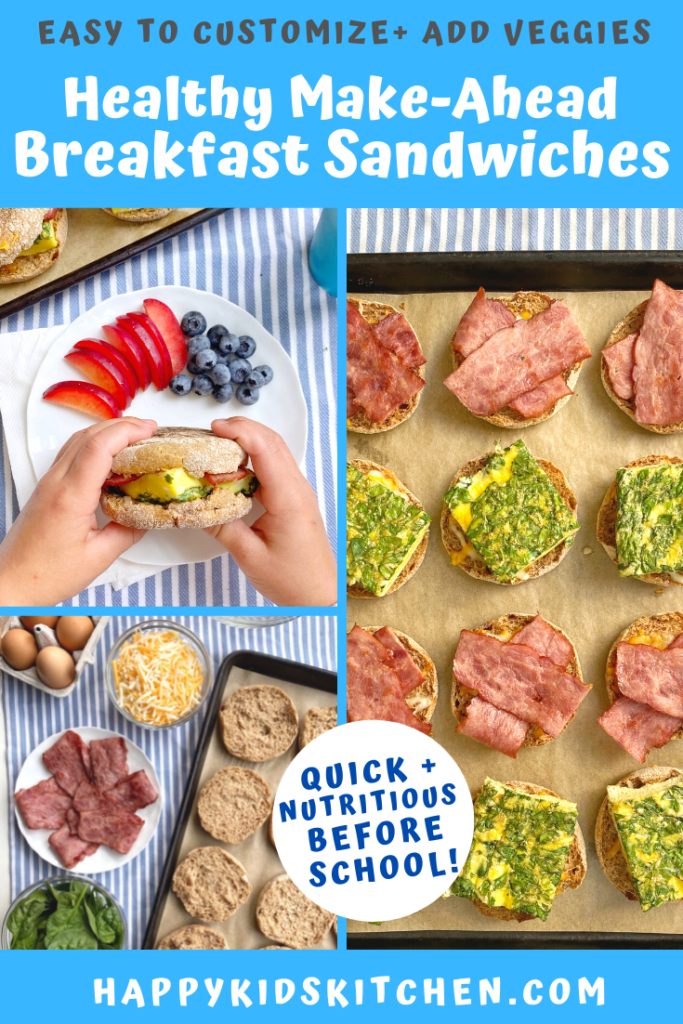 Need more EASY Breakfast Ideas??
Kid-Friendly Make Ahead Breakfast Recipes
Blueberry Pancake Breakfast Cobbler