Blueberry Pancake Breakfast Cobbler
Blueberry pancakes BUT also a dessert cobbler that's healthy enough to eat for breakfast! All you need is fruit, a little maple syrup, and your favorite pancake batter (from a box or the homemade whole wheat recipe below). This Blueberry Pancake Breakfast Cobbler is so easy and it takes breakfast to a new delicious level.
Kids in the Kitchen:
This is such a fun and easy recipe for kid to make!
Fruit: Kids can wash the berries or prep any of the other fruit you choose to use.
Pancake Batter: If using a boxed mix, have your child help measure it then mix in the other ingredients and stir. Be sure to instruct kids to add things to the center of the bowl to avoid spills. Also use a big bowl so kids have plenty of room to stir.
Pour: Kids can help pour the pancake batter on top of the fruit. The bowl might be pretty heavy, so you can hold it while your child helps use a spoon or spatula to scrape the batter out of the bowl.
Serve: Kids will love to decide how to top their own breakfast cobbler. They can drizzle on a little more maple syrup for a small bowl or dollop some yogurt on top. Even sprinkle on a little more cinnamon for a beautiful garnish!

Tips and Subs for Blueberry Pancake Breakfast Cobbler:
Use any fruit! Blueberry and an easy and delicious choice for this breakfast bake. However, you can pretty much use any fresh or frozen fruit you have on hand: diced peaches, strawberries, a mix of berries, apples (these will take much longer to cook though). Just make sure everything is cut pretty small (like the size of a blueberry) and that you check the cooking time to see if the fruit needs to cook any longer than 10 minutes to soften before adding the pancake batter. Cooking the fruit before lets you get a yummy, juicy fruit topping and not just pancake with fruit pieces in it.
Pancake batter: I love using the Simple Mills pancake mix (I buy it on Amazon because it's less expensive)or this recipe and have tried it with the Kodiak Cakes mix as well. You can use any boxed pancake mix that your family enjoys. Need a gluten-free or vegan pancake? Make sure to buy a mix that works for those!
Cook time: Every pancake batter will vary slightly, so please use a toothpick to make sure that the pancake batter in the center of the pan is fully cooked at the bottom.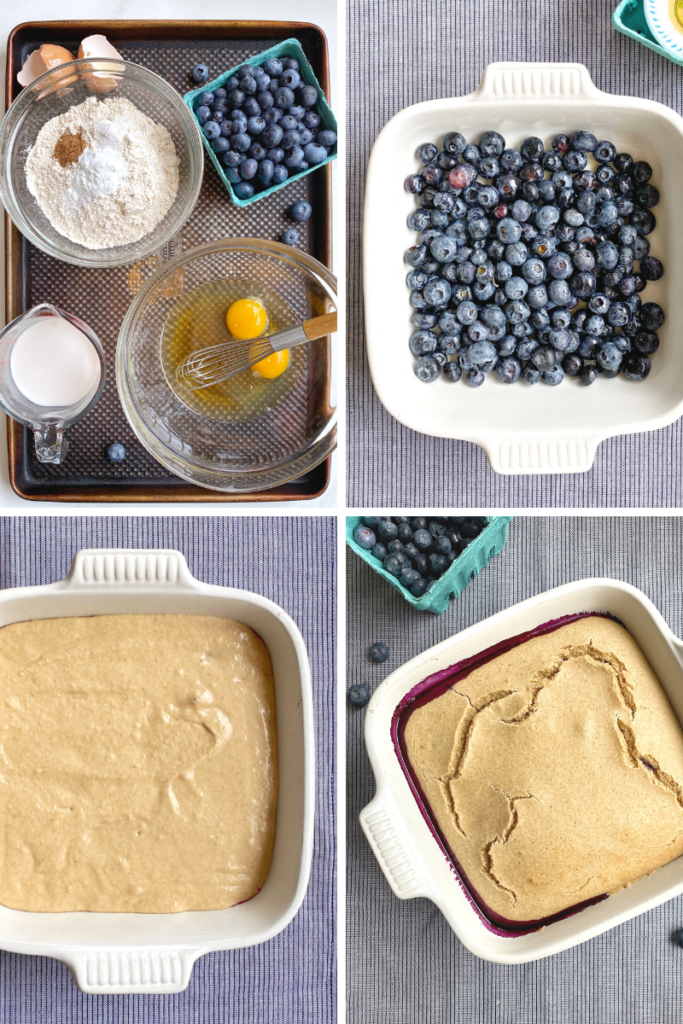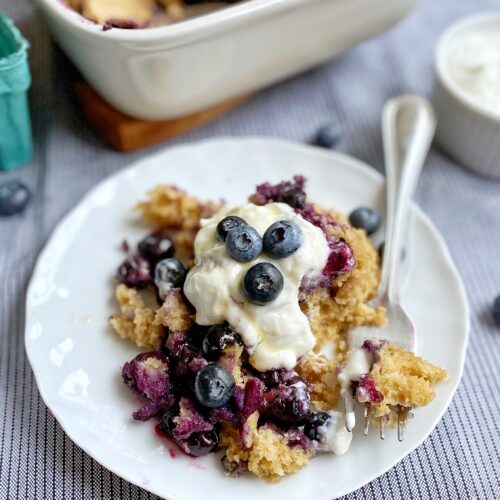 Blueberry Pancake Breakfast Cobbler
Like fresh blueberry pancakes but no standing at the stove! Make with your favorite pancake mix or my easy homemade pancake batter.
Ingredients
4

cups

blueberries (2 pints fresh or frozen)

or any fruit cut small

1 to 2

tbsp

maple syrup, plus more for serving

1 1/2

cups

pancake batter of choice, made according to package instructions (add in 1/2 tsp cinnamon and 1 tsp vanilla extract to mix if you'd like)

or use homemade pancake recipe below
Whole Wheat Pancake Batter
2

eggs

2 to 4

tbsp

maple syrup or honey

or use applesauce

1/4

cup

neutral oil (avocado or vegetable)

1

tsp

vanilla

3/4

cup

milk (any kind)

1/2

tsp

cinnamon

1 1/2

tsp

baking powder

1/8

tsp

fine salt

1 1/2

cups

white whole wheat flour, regular whole wheat flour, or all-purpose flour
Instructions
Preheat oven to 400 degrees. Grease a 9-inch square baking dish (or similar pan) with oil or non-stick spray.

Add blueberries to the bottom of the baking dish and drizzle with maple syrup. Shake a bit to combine. Place in oven and cook until blueberries have softened and started to release their juices, about 10 minutes. (If you are using a different type of fruit, it might take longer for the fruit to get soft.)

While the fruit is baking, mix up your pancake batter using your favorite boxed mix or the homemade recipe I've included. I like to add extra flavor to the store bought pancake batter by stirring in a little cinnamon and vanilla extract, but that's optional.

Once fruit is beinging to soften, remove from oven and evenly pour the pancake batter over the top. Smooth out the top with a spatula or the back of a spoon. Return to the oven and bake until puffed, golden brown, and cooked through, about 20 to 25 minutes. Stick a toothpick into center of the pancake batter portion to make sure it comes out clean.

Scoop portions of the cobbler onto plates. Serve with maple syrup to drizzle on top. We also like it with plain Greek yogurt and more fresh berries.
Whole Wheat Pancake Batter
In a large bowl, whisk eggs, maple syrup, oil, vanilla, and milk until combined. Whisk in the cinnamon, baking powder, and salt.

Using a large spoon or spatula, stir in the flour until just combined.
Save to Pinterest!!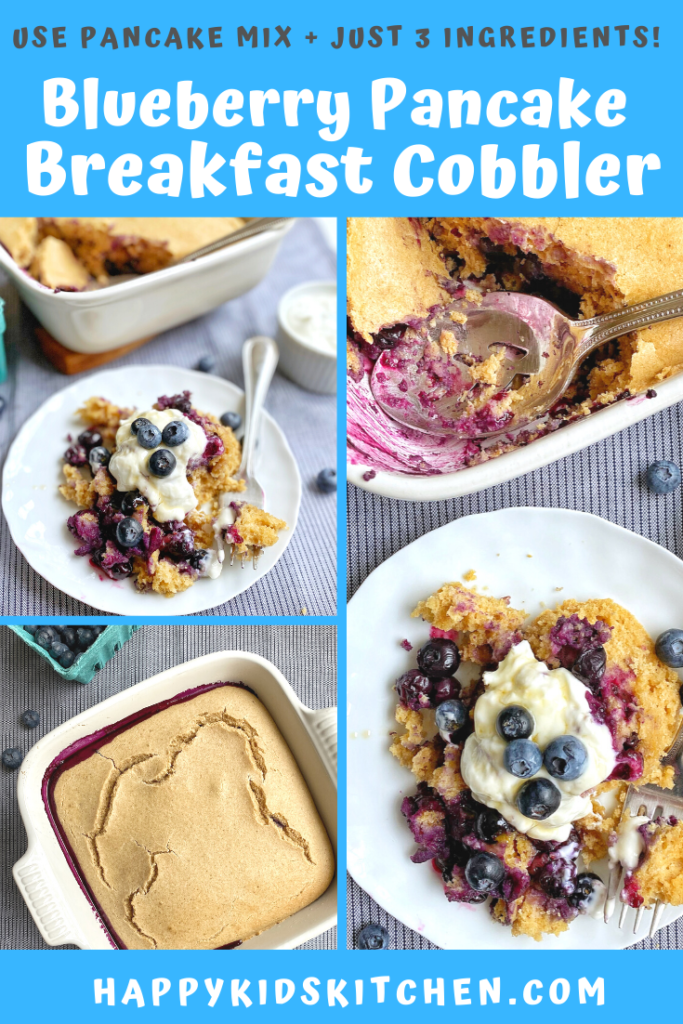 Other breakfast ideas:
Banana Protein Blender Pancakes
Kid-Friendly Make Ahead Breakfasts