Breakfast Biscuit Bombs (Stuffed Biscuits)
Like homemade hot pockets! Take canned biscuit dough and stuff it with all of your favorite breakfast foods ( like scrambled egg, bacon or ham, veggies, and melty cheese)! These Breakfast Biscuit Bombs are a make-ahead breakfast pockets perfect to heat up before school or take on the go. You can easily customize the filling with whatever your family enjoys and kids will have a great time helping make their own!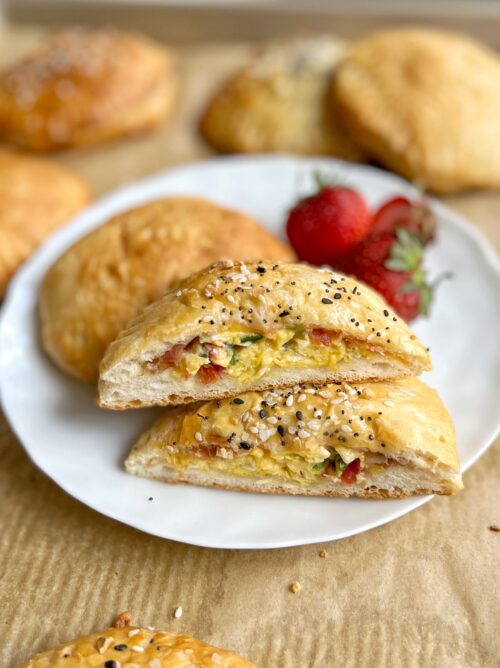 Kids in the Kitchen:
Cracking eggs! Kids can help crack the eggs into a bowl and then whisk them up. Watch this video to get some tips on teaching kids to crack eggs. Make sure to use a large bowl to cut down on potential spills.
Prep veggies: If you are using spinach, peppers, or any other vegetables in your eggs or biscuits, kids can rip the leaves or use a kid-safe knife to chop things up.
Scramble the eggs: This is a great skill for all ages to learn. First, have an age appropriate conversation about safety. For toddlers and younger kids, you can hold your child and stir the eggs in the hot pan together. Older kids can pull a stool up to the stove and move the eggs around in the pan with a spatula.
Assemble: Even if kids don't help with the prep before filling the biscuits, this is a great recipe to put out the fillings and let kids choose what's inside their own. Splitting the biscuit dough in half is pretty tricky so you'll want to do that before inviting your child to place the fillings inside. Kids can then put the eggs and whatever else they'd like on the bottom half of the biscuit dough, place the other dough on top, then use a fork to seal the two sides together.
Subs and Tips for making Breakfast Biscuit Bombs:
Biscuit dough: Use the canned biscuits you find in the refrigerated section of the grocery store. I like to buy the Trader Joe's brand or the Immaculate Baking brand.
Vegetarian: You can definitely make these biscuits meat-free. Just use eggs, cheese, and any veggies if you'd like.
Vegetable ideas: What do you enjoy in your omelet or scrambled eggs? You can use any of those things in your biscuit bombs. Spinach, tomatoes, mushrooms, peppers, are all some examples. Or use up whatever cooked vegetables you may have leftover in the fridge!
Toppings: The biscuits are great left plain without anything on top. However, if you want to jazz things up, brush on a little egg (usually there's a little left in the bottom of the bowl you whisked the eggs in) then sprinkle over sesame seeds, poppy seeds, or, our favorite, everything bagel seasoning.
Make ahead and freezing: Make sure the cooked biscuit bombs are completely cool before storing in the fridge or freezer. Once cool, store in an airtight container in the fridge for 4 days or freeze, individually wrapped, for up to 2 months.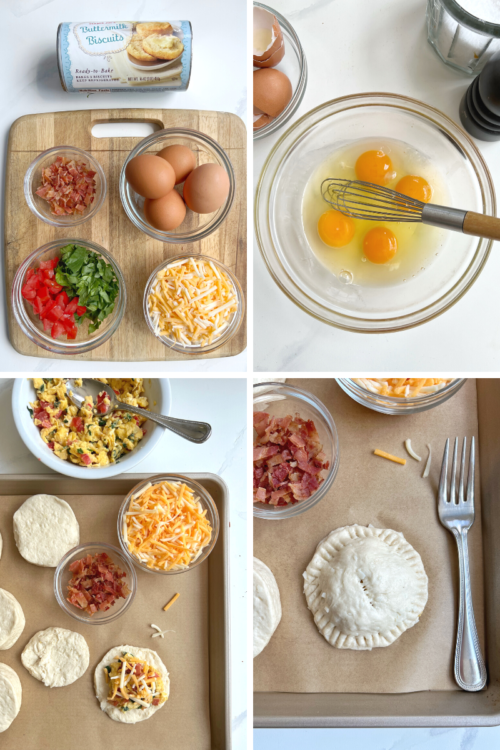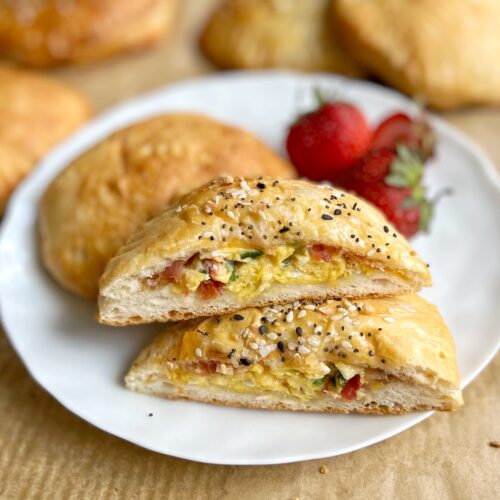 Breakfast Biscuit Bombs
Store bought biscuit dough plus scrambled eggs, cheese, and more make the perfect easy, portable make-ahead breakfast.
Ingredients
4

large eggs

kosher salt and ground pepper, to taste

Oil spray or butter, for cooking eggs

1/2

cup

chopped vegetables, such as baby spinach, tomatoes, peppers (optional)

4

strips

cooked bacon, chopped (optional)

4 links breakfast sausage or sliced ham, chopped

1

cup

shredded cheese, such as cheddar

1

can

biscuit dough (8 uncooked biscuits)

from the refrigerated section of the grocery store

1

tbsp

optional toppings such as everything bagel seasoning, sesame seeds, or poppy seeds
Instructions
Preheat the oven to 350 degrees. Line a sheet pan with parchment paper or grease lightly with oil spray.

Crack the eggs into a bowl. Season with a pinch of salt and pepper, then beat the eggs with a whisk or fork until well combined.

Heat a non-stick skillet over medium-high heat and spray with oil (or add a little bit of butter). Add in your eggs (and veggies if using) and cook, stirring often, until no wet-looking egg remains. If using vegetables, you can either mix them in with your eggs or add them into the biscuits when stuffing (that way you can add veg to some and not others). Place the scrambled eggs in a bowl.

Open your can of biscuits and place them on the baking sheet. Carefully split a biscuit in half. Place the bottom half of the biscuit on the baking sheet and use your finger tips to gently press the dough into an even, slightly bigger circle.

Place a heaping spoonful of the scrambled eggs in the center of the bottom biscuit dough then top with any other desired fillings, such as the bacon and veggies. Top with a big pinch of the shredded cheese.

Use your fingers to pinch the top part of the biscuit into an even, slightly bigger circle that will fit over the bottom biscuit and fillings. Place on the top dough and use your finger tips to press the edges of the dough together. Use the tines of a fork to seal the edges of the dough and then poke the fork through the top of the biscuit to create an air vent.

Repeat with the remaining dough and fillings, customizing each biscuit as you'd like. If using any seasoning on the top, brush the top of the stuffed biscuits with a little egg, milk, or water, then sprinkle on the topping, such as everything bagel seasoning.

Bake the biscuits until golden brown, about 15 to 20 minutes. Serve warm or store in the fridge or freezer to reheat later (see notes).
Notes
Make ahead instructions: Store cooled biscuits in a single layer (can layer with parchment to make sure they don't stick together) in an airtight container in the refrigerator for up to 4 days. Reheat in the toaster for 3 to 4 minutes or in the air fryer at 350 for 3 to 4 minutes.
To freeze: Freeze cooled biscuits in a single layer, individually wrapped, or placed into a freezer bag once frozen solid. Reheat in the toaster oven or in the air fryer at 350 for 8 to 10 minutes.
Save to Pinterest!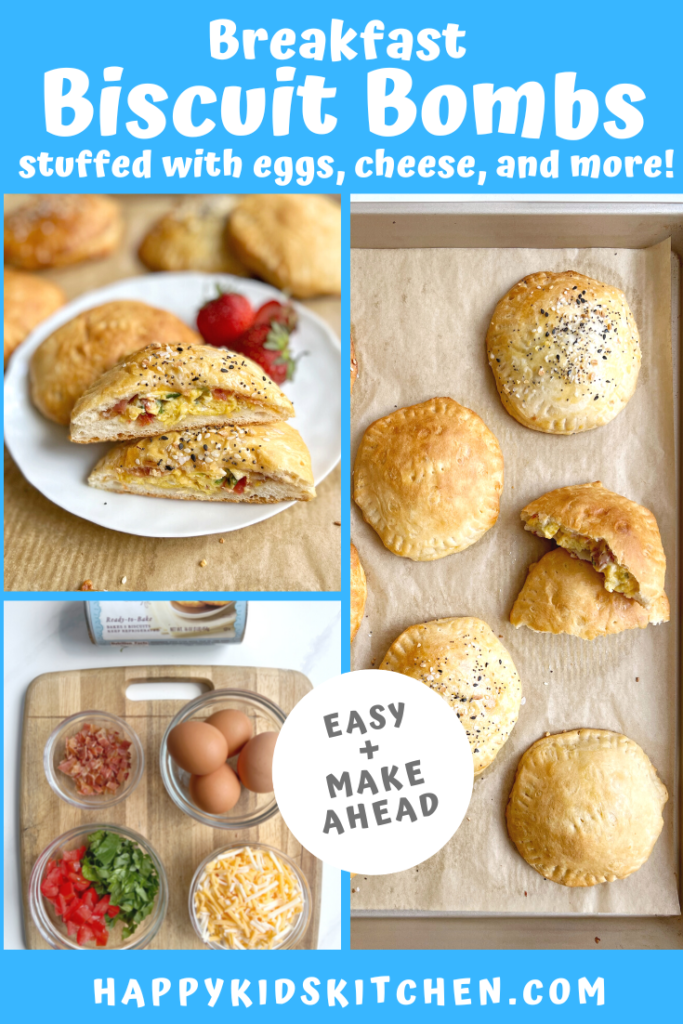 Other posts to check out:
Kid-Friendly Make Ahead Breakfasts
Healthy Breakfast Sandwiches (Freezer Friendly)