Pumpkin French Toast Cups
The best way to use up any leftover bread you have on hand? These sweet and easy Pumpkin French Toast Cups! They are like healthier French toast casserole or bread pudding in a handheld form. You simply cut or rip your bread (or even hot dog buns!) up into pieces, stir together some simple ingredients you probably already have on hand, then spoon the mixture into a muffin tin. Adding some canned pumpkin and warm spices not only makes your kitchen smell like heaven, but it gets some extra nutrients and fiber into breakfast. Kids will love to help make and eat this fun twist on French toast.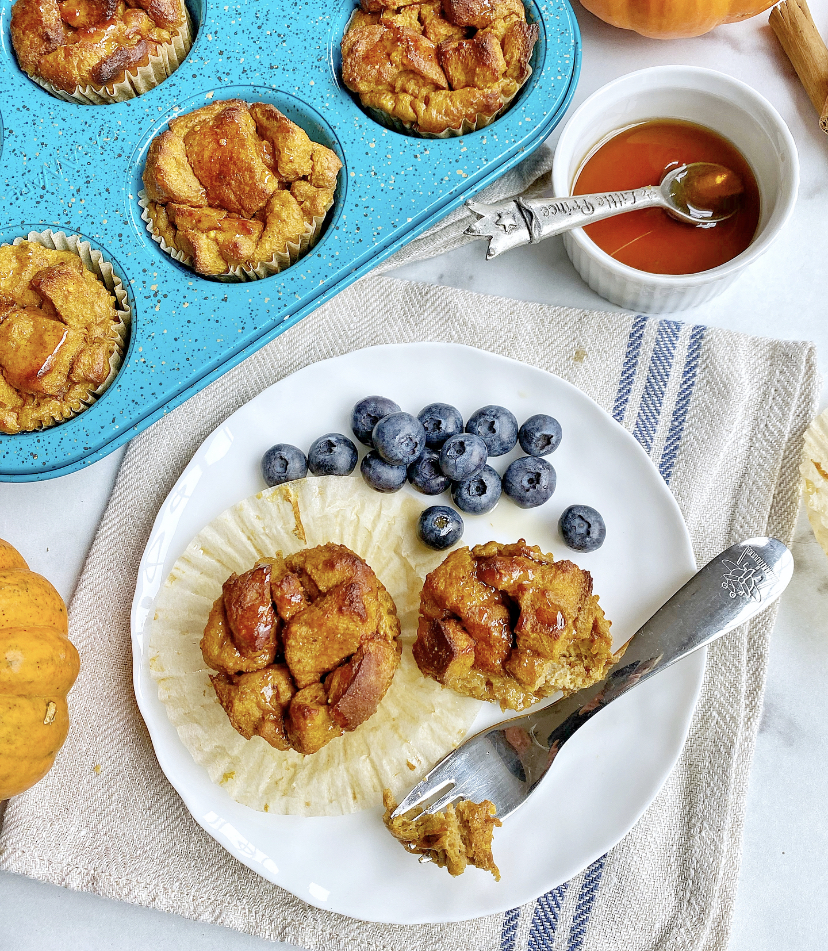 Kids in the Kitchen:
This is such an awesome recipe for toddlers and kids to help make! Invite your child to participate in one or all of these steps:
Bread: Older toddlers and kids can help cut the bread using a kid-safe knife. Either cut the bread into strips first or let your child cut the bread on their own. Younger toddlers or any aged child can also simply use their hands to tear bread into bite-sized pieces. It's so fun!
Eggs: this is a great recipe to practice those egg cracking skills. Always have kids crack the eggs into an empty bowl in case you have to retrieve any shells. If you or your child want to skip the egg cracking part, do that ahead of time, then invite your child to mix the eggs with the other ingredients in a large bowl.
Scoop: Use a large spoon to fill the muffin cups with the French toast mixture. This step is best for older kids since it can get a little messy.
Subs and Tips for Making Pumpkin French Toast Cups:
Bread type?: I have used both whole wheat and multigrain bread for this recipe but white bread or challah would be great too. Any bread will work for this recipe including leftover hot dog buns, sliced bread, buns, or whatever you have. Bread will absorb the egg custard differently so if your mixture looks dry after allowing it to soak for 5 minutes, add another 1/4 cup of milk and mix again.
Gluten-free? Use your favorite gluten-free bread in this recipe.
No pumpkin-pie spice or just want to make your own? Linked an easy recipe for you HERE. You can also just use cinnamon in this recipe or a combo of cinnamon, a little nutmeg, and a pinch of ground ginger.
Dairy-free? I like to use unsweetened almond milk in this recipe, but any kind of milk will work well.
Baking essential: I always have these  Unbleached paper muffin liners on hand for baking. They are non-stick and make baking in muffin tins so much easier to clean up.
Casserole instead of cups? No problem! Grease a 9-inch square or round baking dish with oil or butter, spread the French toast mixture into the pan, then bake until the center is cooked through and the top is golden brown, 30 to 40 minutes.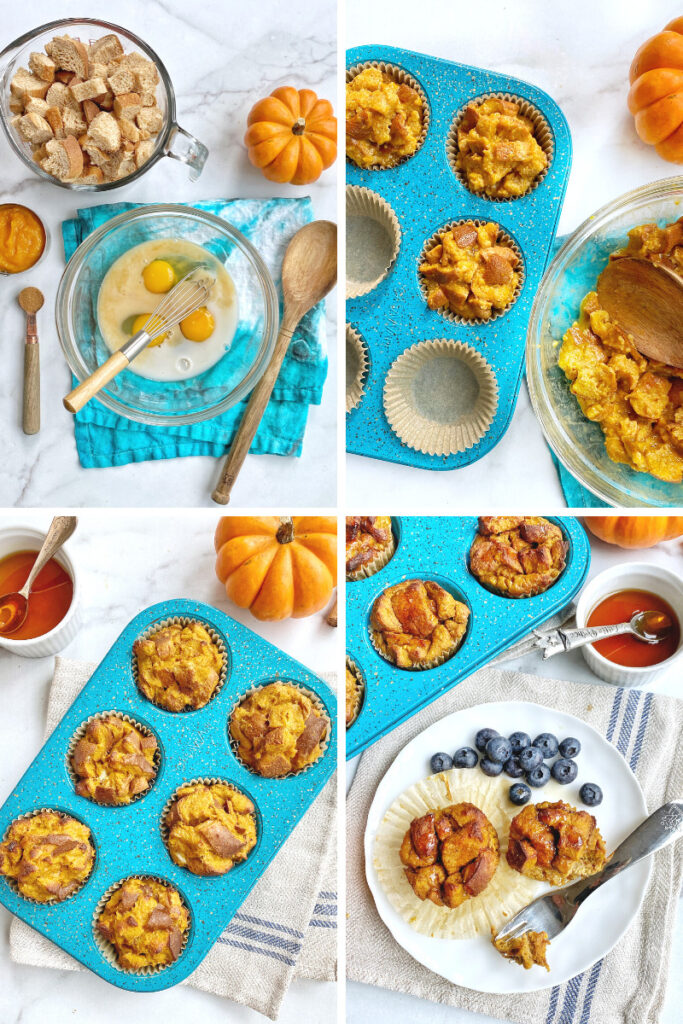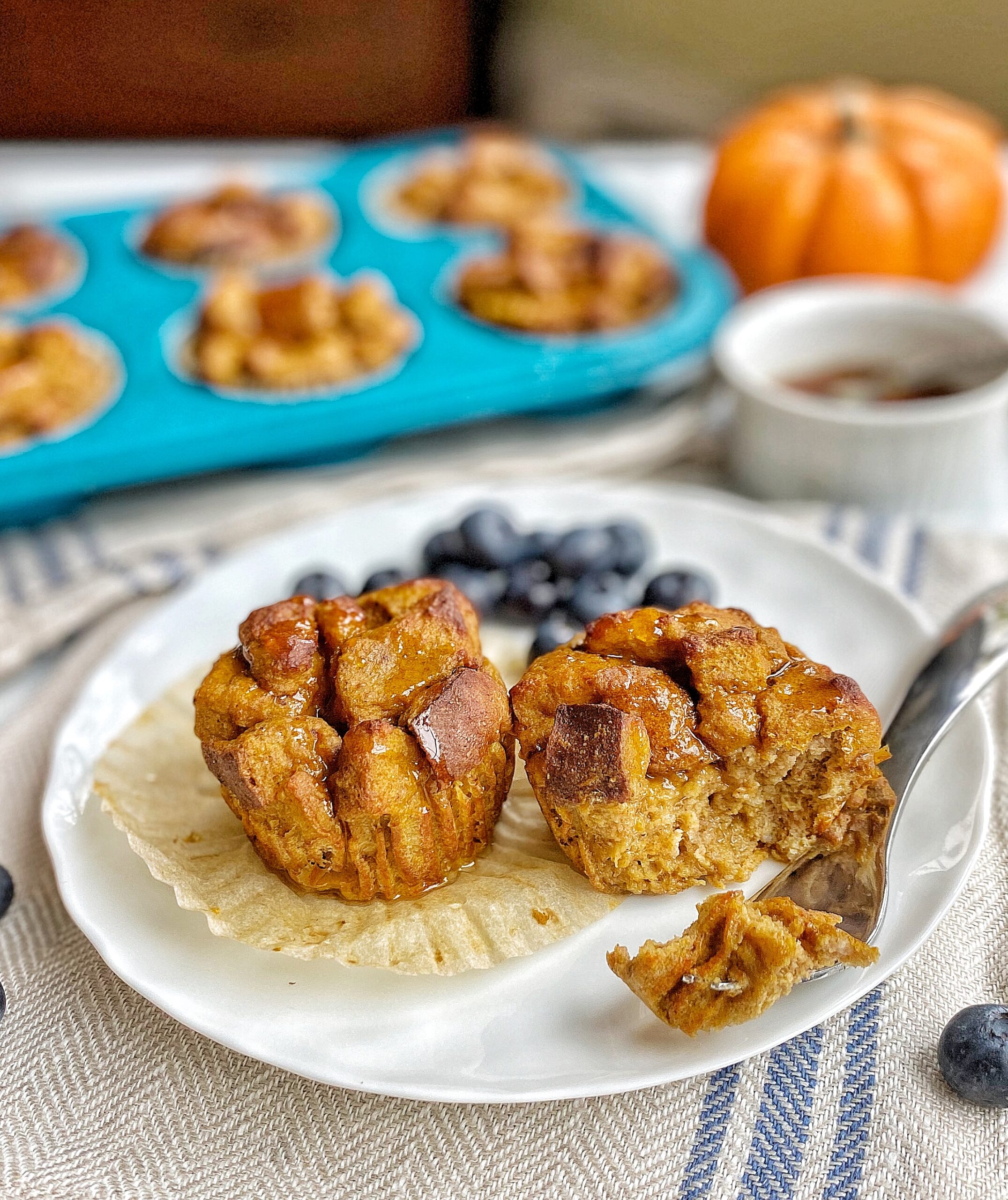 Pumpkin French Toast Cups
A fun twist on french toast that's easy, natually sweetened, filled with yummy pumpkin flavor.
Ingredients
8

ounces

bread, any kind

about 8 slices whole grain bread or 4 to 5 whole wheat hot dog buns

4

large eggs

3/4

cup

milk, any kind

3/4

cup

pumpkin puree

2

Tbsp

maple syrup, plus more for serving

1 1/2

tsp

pumpkin pie spice or cinnamon

2

tsp

vanilla extract

pinch

salt
Instructions
Preheat oven to 350. Line 10 cups of a muffin tin with paper liners or grease well with oil.

Cut or rip bread into small cubes or pieces. You should have about 4 heaping cups of bread pieces. Set aside.

In a large bowl, whisk eggs and remaining ingredients until combined. Add bread and stir to coat. Allow bread to soak up egg mixture for 5 to 10 minutes, stirring occassionally. Spoon bread and custard into 10 muffin cups, filling them to the top. If there is any additonal custard mixture left in the bowl, spoon it over the cups evenly.

Bake until set and golden brown around the edges, 25 to 30 minutes. Serve warm with additonal maple syrup to drizzle on top.

Baked cups can be stored in the fridge for 4 to 5 days or frozen for up to a month.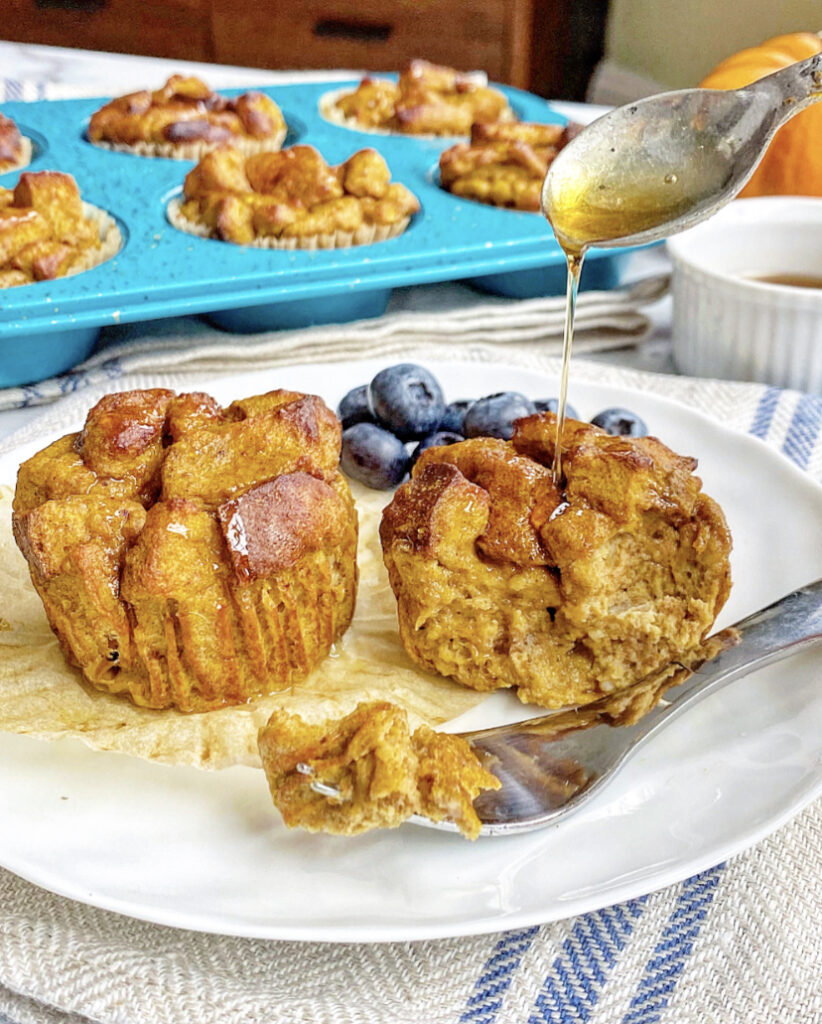 Save to Pinterest!!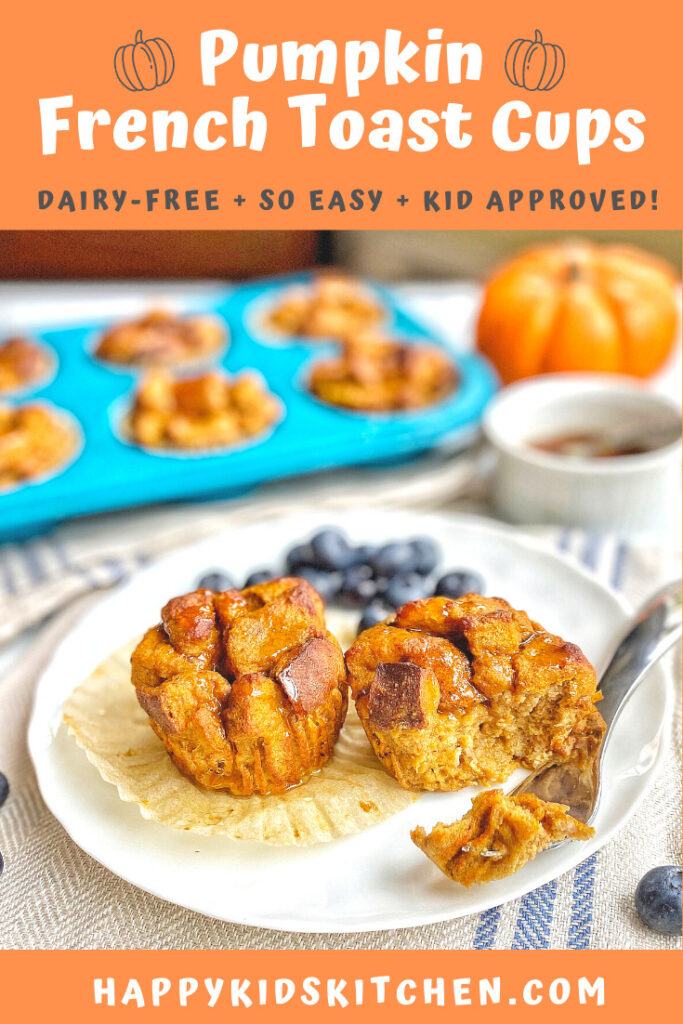 Other Pumpkin Recipes to Try:
Healthy Pumpkin Cookies with Maple Glaze
Banana-Pumpkin Blender Muffins