Healthy Pumpkin Cookies with Maple Glaze
Whole grain, lower in added sugar, and made in one bowl, these Healthy Pumpkin Cookies with Maple Glaze are the fall treat you need to cook with kids! The cookies are tender, light, and fluffy like portable pieces of pumpkin cake. A sweet glaze makes this treat extra special, but you could always leave it off or stir in some chocolate chips instead. It's easy to make gluten-free, dairy-free, and egg-free too. Kids will love to help whip up this healthier dessert all season long.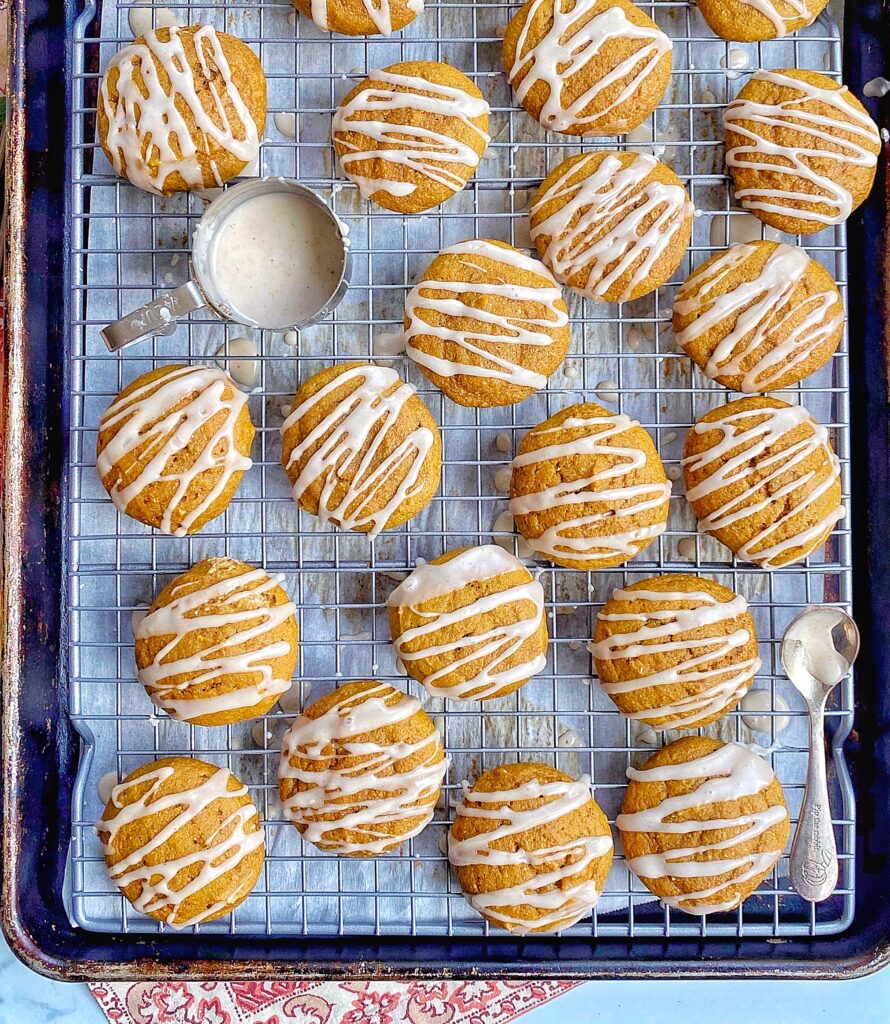 Kids in the Kitchen
Veggies in my cookies? Talk about the canned pumpkin and that it's a vegetable and not very sweet before you add it in with the rest of the ingredients. What does the pumpkin look like before it's cooked and how does it change?
Measure! If you want to cut down on the amount of mess you make while cooking with kids (And it can be super messy, right?), pre-measure some ingredients before inviting your little one in the kitchen. Even measuring one or two ingredients together can be a great learning experience.
Dump and stir! Adding the ingredients to a bowl is fun. Make sure to instruct your child to dump into the center, not on the edge, of the bowl and use a large bowl to prevent any spills.
Scoop! You can use a spoon but I find it easier for kids to make uniform sized portions of dough by using a cookie scoop. See recommendations below.
Drizzle! Make sure to place your cooling rack over a baking sheet or use a plate to catch all the drips when drizzling on the glaze. Show your kiddo how to gently and slowly drizzle the glaze over each cookie (you don't want any to get on the walls haha).
Subs and Tips for Healthy Pumpkin Cookies with Maple Glaze
Gluten-free? You can make this recipe gluten-free by using a cup-for-cup style flour blend such as one by Bob's Red Mill.
Grain-free? I have successfully made these cookies grain-free using almond flour and cassava flour. See note at the bottom of the recipe for exact measurements.
Egg-free? Use a "flax" egg instead!
Dairy-free? This recipe is naturally dairy free.
No pumpkin-pie spice or just want to make your own? Linked an easy recipe for you HERE. You can also just use cinnamon in this recipe or a combo of cinnamon, a little nutmeg, and a pinch of ground ginger.
Refined sugar-free: the cookie recipe is sweetened is sweetened with maple syrup and coconut sugar but the glaze is made with powdered sugar. If you could prefer to not sure powdered sugar, you can make a glaze from cream cheese or very thick yogurt and lightly sweetened with maple syrup. More details below.
Alternative glaze: mix a 1/4 cup whipped cream cheese, about 1 teaspoon maple syrup, and a pinch of pumpkin pie spice or cinnamon. Mix in a little milk at a time until the cream cheese is thin enough to drizzle. If using this glaze, cookies should be eaten pretty soon after glazing.
Batch too small? This recipe make 14 small cookies, so if you have a larger family, want to share, or need more cookies, you can easily double the recipe without any issues.
Helpful Equipment
Parchment Paper Sheets: these precut, unbleached parchment paper sheets make clean-up a breeze and ensure your cookies never stick to the pan. Plus, cutting the right sized piece of parchment paper from the roll is such pain! That's why I can't live without these sheets that fit perfectly in a baking pan.
Cookie Scoop: make your cookies look more uniform and professional by using a portion scoop to measure the dough. It makes scooping the cooking dough so much easier and kids love to help use these tools too! I really recommend investing in a high quality scoop because the less expensive ones tend to break really quickly. You can also buy a set of three scoops to use for all kinds of baking projects.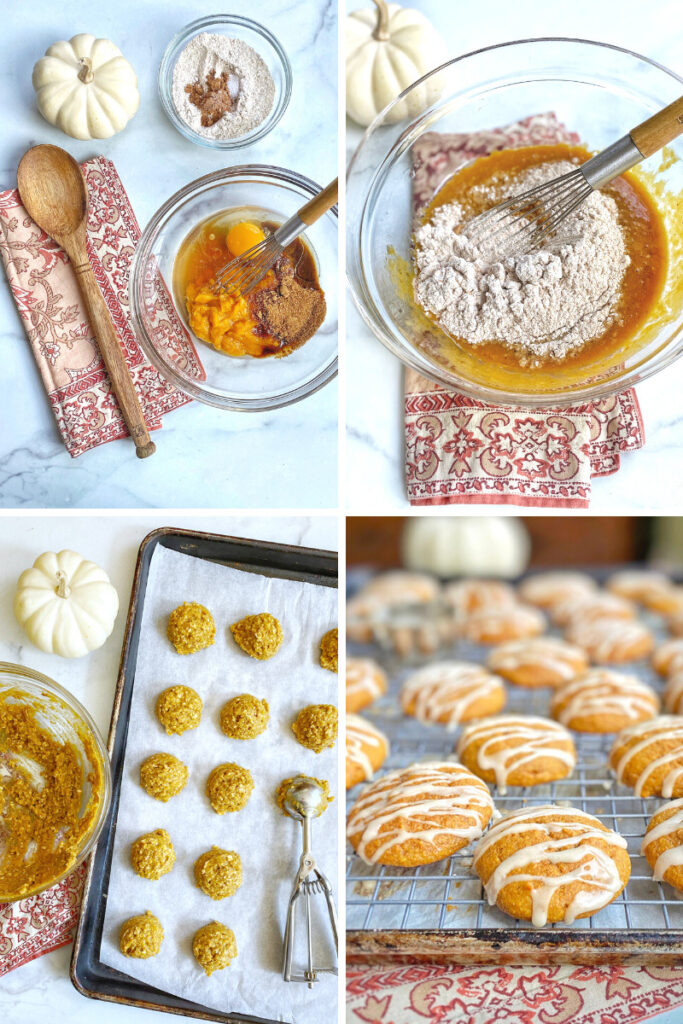 Healthy Pumpkin Cookies with Maple Glaze
Fluffly little whole grain pumpkin cookies with a sweet glaze
Ingredients
1

cup

pumpkin puree

2

large eggs

4

Tbsp

avocado or vegetable oil

3

Tbsp

maple syrup

1/2

cup

coconut sugar

or brown sugar

2

tsp

vanilla extract

2

tsp

pumpkin pie spice or cinnamon

2

tsp

baking powder

1/4

tsp

fine salt

1

cup

whole wheat, all-purpose, or gluten-free flour
Maple Glaze
1/4

cup

powdered sugar

see post for alternatives

1

tsp

maple syrup

1 to 2

tsp

milk (any kind)

1/8

tsp

pumpkin pie spice or cinnamon
Instructions
Preheat oven to 350 degrees and line a baking sheet pan with parchment paper or lightly grease with oil.

In a large bowl, add pumpkin puree, egg, oil, maple syrup, coconut sugar, and vanilla. Whisk to combine.

Whisk in pumpkin pie spice, baking powder, and salt. Add flour then stir with a spoon or rubber spatula until just combined. The batter will not be thick. It's more like a muffin batter than a thick cookie dough. Scoop 2 to 3 tablespoons of batter onto your prepared baking sheet, spaced at least 1 inch apart. I like to use a small ice cream/cookie scoop.

Bake until puffed and cooked through, 10 to 12 minutes. Cool for 5 minutes on the baking pan then transfer cookies to a cooling rack. Once cool, drizzle with glaze if using.

Glazed cookies are best eaten that day or stored uncovered for a day or so. Unglazed cookies can be covered and stored at room temp for 2 days, in the fridge for 5 days, or frozen for a month.
Maple Glaze
Stir powdered sugar, maple syrup, and 1 tsp milk in a bowl. If the glaze is too thick to drizzle, add a little bit more milk at a time. If you accidentally add too much milk, stir in a little powdered sugar until you get the right consistency. You want the glaze to drizzle off of a spoon but not be so thin that it won't stick to the cookie.
Notes
For grain-free version: substitute wheat flour with 1 cup almond flour and 1/2 cup cassava flour.
Save to Pinterest!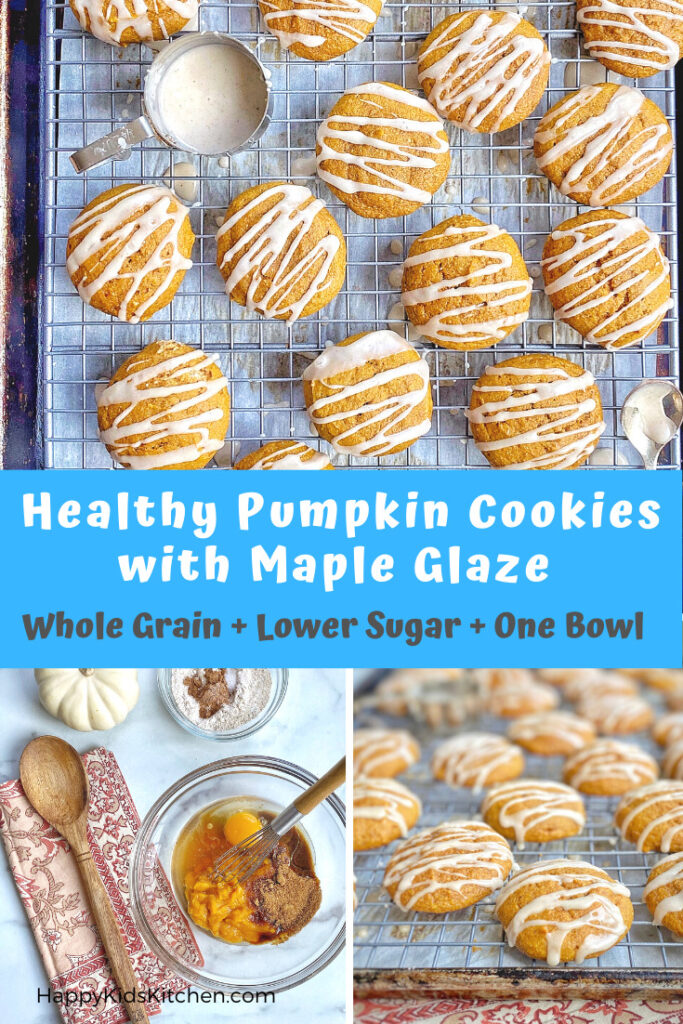 Other healthier desserts:
Chocolate Chip Banana Bread Cookies
Banana-Pumpkin Blender Muffins