These no-bake pumpkin treats are so easy to make kids can pretty much do the whole thing by themselves! My recipe for pumpkin pie parfait cups are made up of a handful of simple ingredients you probably already have at home. Low in added-sugar but high in fun and flavor, the cups would be a great addition to any fall gathering. However, they are so healthy and easy to make ahead, we often enjoy them for breakfast or a snack.
There are several ways you can customize the Pumpkin Pie Parfait Cups to make them suit your own tastes or serving needs. You can use homemade or store-bough granola. I love to use my recipe for Banana-Sweetened Granola for a no-added sugar version. In my kids' cooking classes, I like to use graham crackers for the crumbly base because it is so fun for kids to bash up the crackers into crumbs. I place whole pieces of graham cracker into a small re-sealable bag, close it tightly, then the kids can use their hands or the back of a measuring cup to crush the crackers. So fun! Feel free to use whatever yogurt your family enjoys or see my suggestions for making a dairy-free version. Taste the pumpkin-yogurt mixture to add more spice or sweetener to your liking. The best chefs always taste and adjust!
Want to make these Parfait Cups into a more decadent treat? Top them with a little lightly-sweetened whipped cream or coconut cream instead of yogurt.  So Yummy!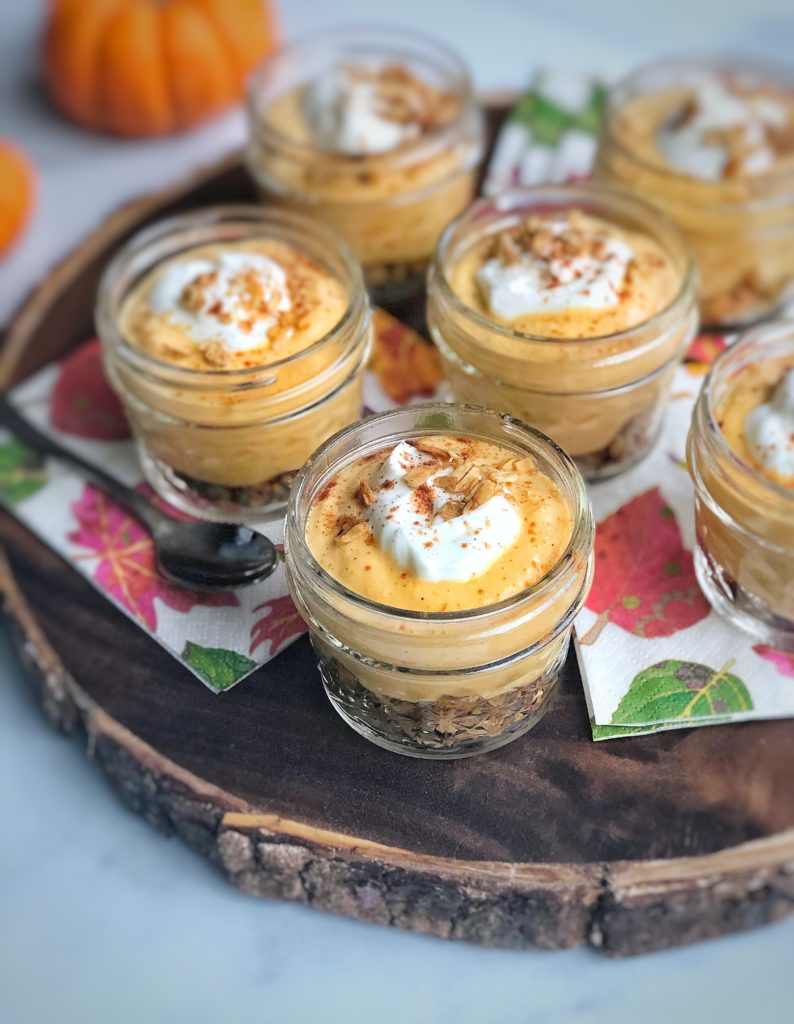 How can kids help make Pumpkin Pie Parfait Cups?
Measure/make the granola or crush up the graham crackers. (See method described above.)
Measure and stir the ingredients for the pumpkin yogurt.
Cut a banana! If you want to add some knife practice into this activity, have your child chop a banana into bite-sized pieces. It's a delicious addition to the parfait too!
Layer everything in cups! This can get messy but kids have so much fun making a pattern with the components. We want every bite to have a little bit of each delicious layer.
Can I make this recipe dairy-free?
Yes! If you have a favorite dairy-free coconut, soy, almond, or other alternative yogurt, use that instead. You could also whip up a can of coconut cream to replace the yogurt.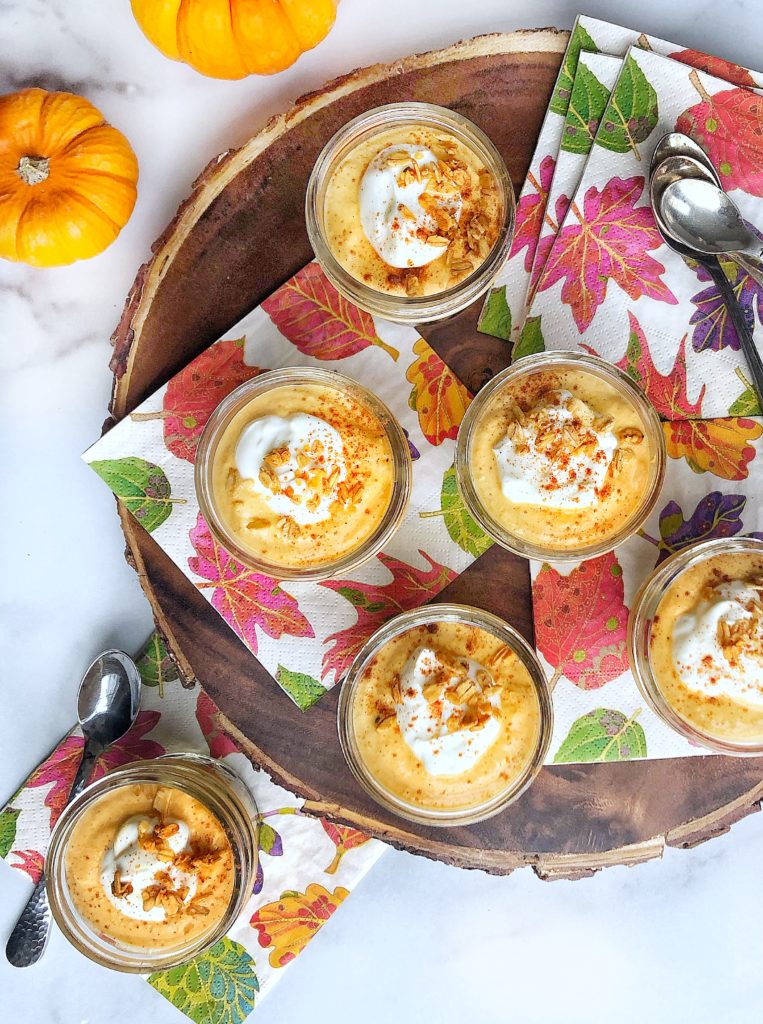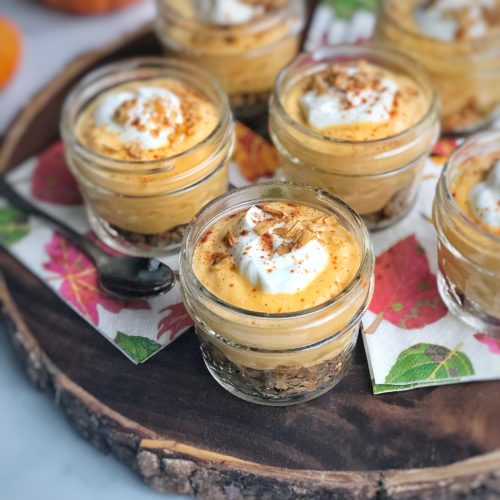 Pumpkin Pie Parfait Cups
All the flavors of pie in a sweet and healthy yogurt cup.
Ingredients
1 1/2

cups

plain yogurt, divided

preferably Greek-style

1

cup

pumpkin puree

canned or homemade

1/4

tsp

pumpkin pie spice

1

tbsp

maple syrup or honey

or to taste

2

bananas

optional

2

cups

granola or crushed graham crackers
Instructions
In a medium bowl, mix 1 cup yogurt, pumpkin puree, pumpkin pie spice, and maple syrup until well combined. If using bananas, peel then chop into bite-sized pieces.

Place 6 small mason jars or short cups on your work surface. Place a layer of granola/graham cracker crumbs in the bottom of each of the cups. Add a layer of the pumpkin yogurt then the banana, if using. Continue with a second layer, if desired or use up all the pumpkin yogurt in one layer.

Top each cup with a small dollop of the remaining plain yogurt. Then add a little additional granola/graham crackers and a small sprinkle of pumpkin pie spice. Refrigerate until ready to serve. Serve chilled. Can be made up to one day in advance.
Looking for more healthier, Fall treats? Check out these posts:
6 Apple Recipes to Cook with Kids