I've starting making this Cranberry Applesauce as a simple, naturally-sweetened addition to our Thanksgiving table every year. It has become a favorite side dish of both kids and adults alike. However, the applesauce isn't just for the dinner table. We love it as a sweet topping for plain yogurt or oatmeal or simply in a bowl as a little treat or snack. This Cranberry Applesauce is lower in sugar than most homemade or store-bought cranberry dishes but it's still filled with all the festive flavors of the winter holiday season. You can cook it on the stove-top, in an electric pressure cooker (Instant Pot), or in a slow cooker. Plus, there are several ways kids can easily help make the applesauce and feel proud that they contributed something to your special family meal.
Apples, fresh cranberries, tangerine/orange, maple syrup, and cinnamon…that's all you need!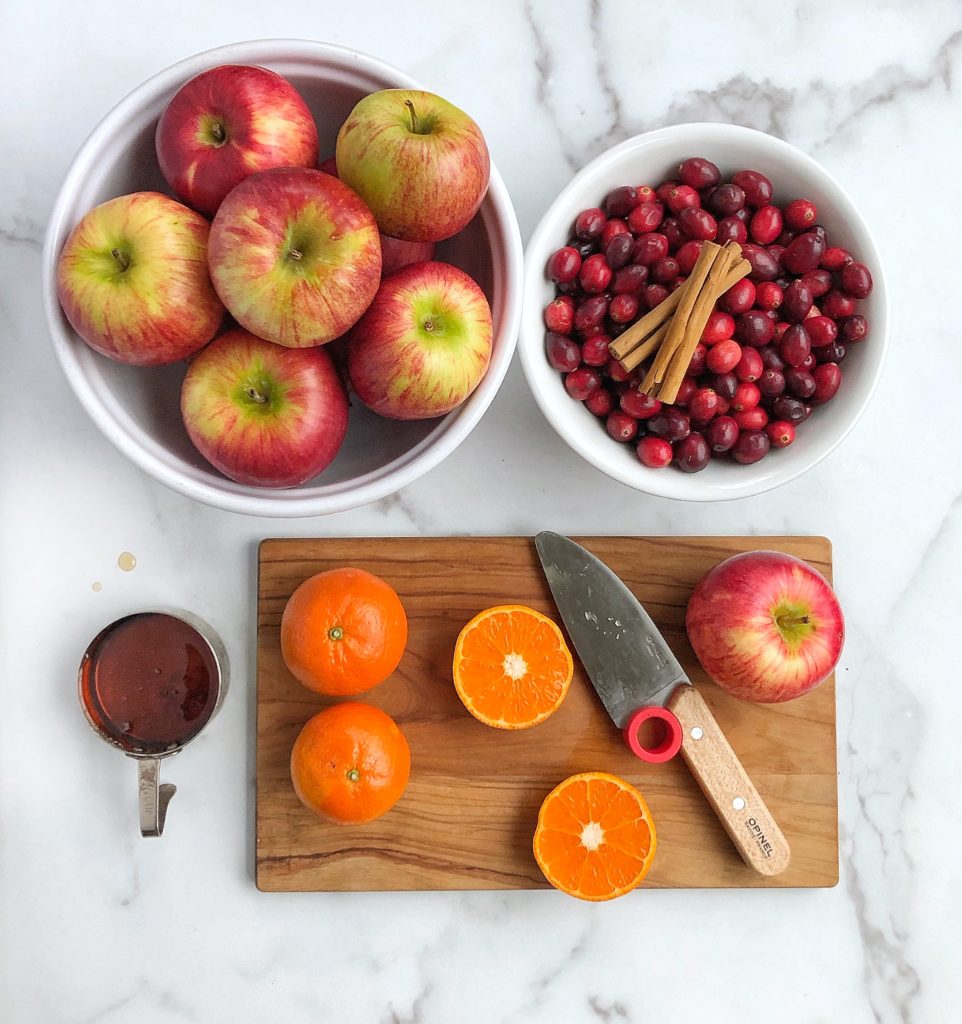 How can kids help make Cranberry Applesauce?
–Chop those apples! Get out those kid-safe knives (or use a paring knife for older children) and have them practice their skills. Before you invite your kids to help, cut each apple into slices. That way kids can easily cut each slice into a rough dice and not be overwhelmed with having to break down a whole apple. I usually cut down around the apple core into four large pieces and then cut those pieces into 10 to 12 slices. Make sure kids place the larger flat side of the apple slice down on the cutting board so that it is more stable while they are chopping it.
My favorite kid-safe knives can be found on my Amazon store HERE (affiliate link).
–Everything into the pot! Throw in the apples, dump in the cranberry, pour in the water, and squeeze in the juice from the tangerines or orange. Even the littlest kiddos can help by adding everything into the pot. Oh and don't forget those cinnamon sticks too!
–Stir and blend! Make sure all kids get to see the applesauce at the different stages of the cooking process by helping them stir everything in the pot several times. Ask them what's happening and how the apples and cranberries are changing. My boys LOVE using the immersion blender (hand held stick blender) but the sauce can be very hot and many splatter a little so I would reserve this job for older kids or do this step when the applesauce has cooled.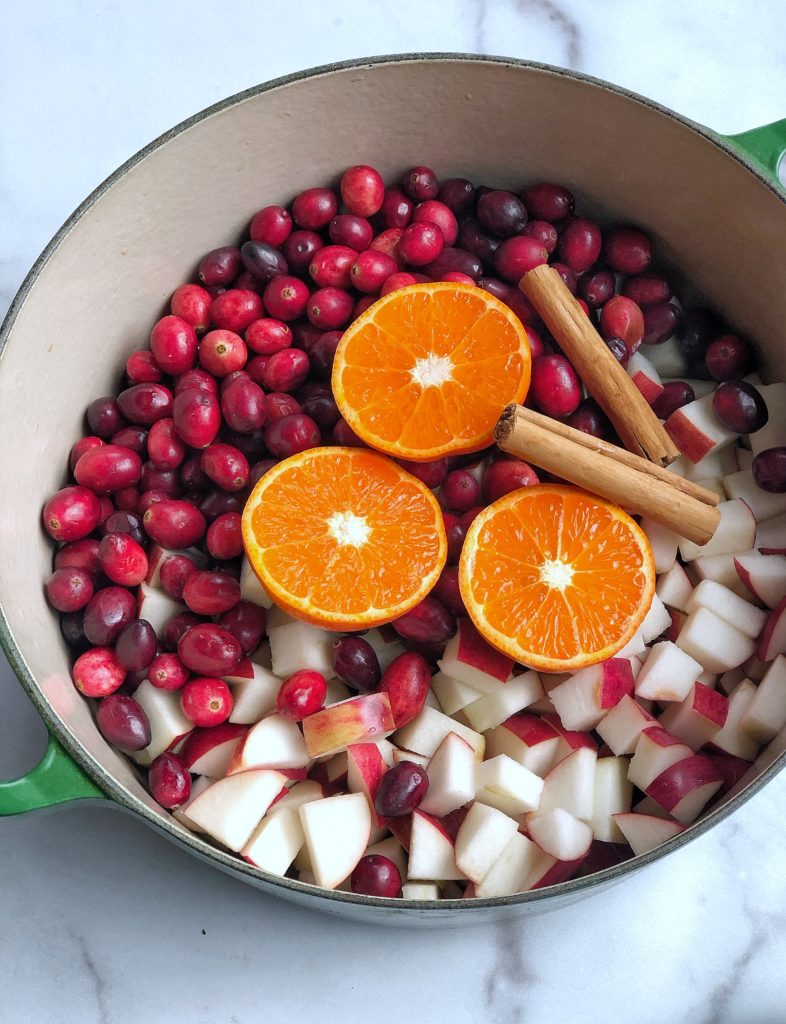 What kind of apples to use?
I like softer apples like Cortland or Macintosh because they break down into a "mush" quickly, but any apples will work. Apples will vary in flavor/sweetness, so taste the cooked applesauce and adjust the amount of maple syrup as needed. I don't peel the apples because we blend the applesauce after cooking and they add extra fiber. However, if you want to skip the blending and leave the cranberry applesauce more chunky, feel free to peel the apples before chopping.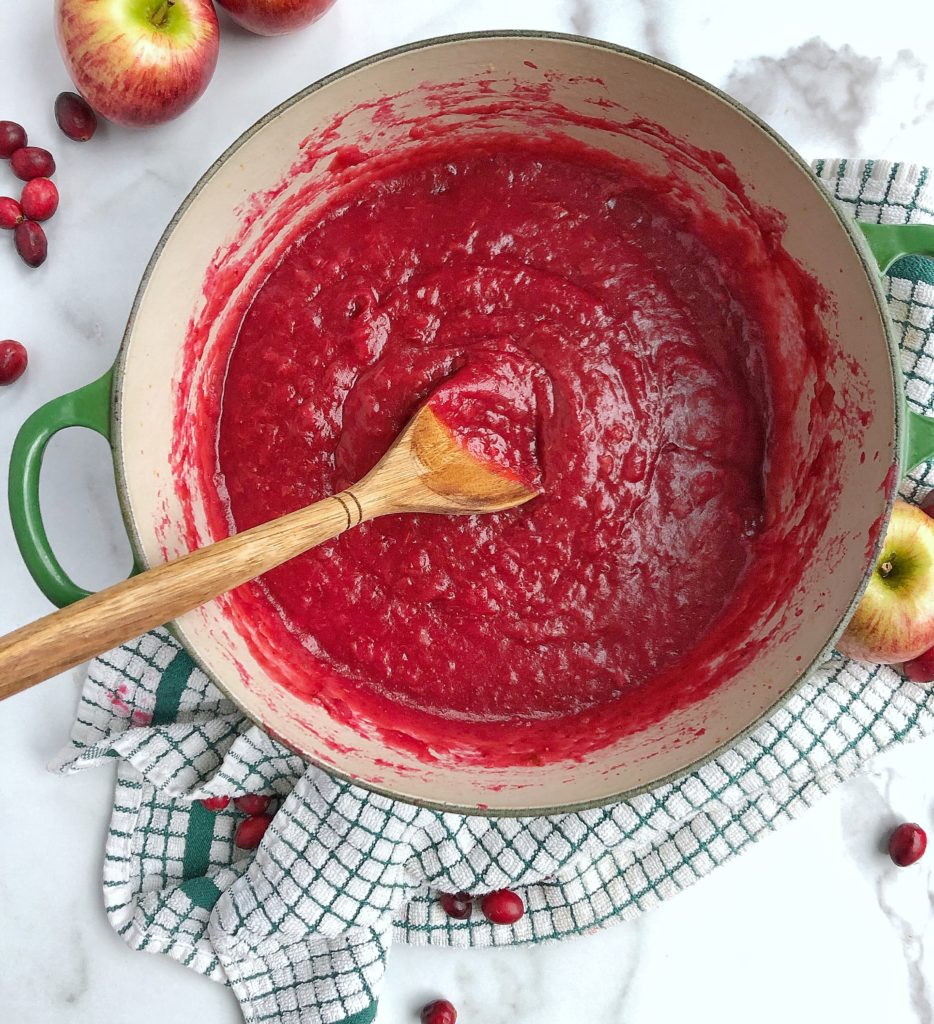 Looking for more apple recipes? Check out my post 6 Apple Recipes to Cook with Kids !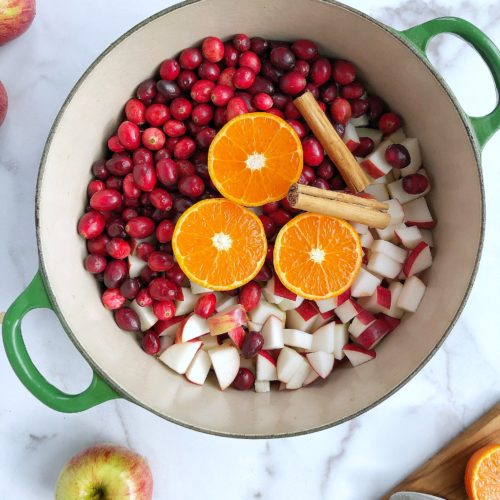 Cranberry Applesauce
Naturally sweetened, kid-friendly addition to the holiday table
Ingredients
2

pounds

apples

6 to 8 large

12

ounces

fresh cranberries

1 bag

3

clementine manderins

or 1 large orange

2

cinnamon sticks

preferably Ceylon variety

1/2

cup

maple syrup
Instructions
Chop apples into 1/2 to 1/4-inch dice. Pick through fresh cranberries and discard any bruised or bad cranberries. Cut clementines or orage in half.

Stove-top: Add chopped apples, cranberries, and cinnamon sticks to a large pot. Squeeze juice from the tangerines or orange over the top and add a 1/4 cup of water. Stir to combine and place over medium heat. Place a lid on the pot and let the mixture cook for about 10 minutes, stirring occasionally. Once the apples have started releasing their juices, remove the lid and reduce the heat to low. Stir in maple syrup and cook for an additonal 10 minutes or until all the cranberries have popped and everything is very soft. Stir frequently to prevent burning on the bottom. At this point, most of the liquid should be evaporated. If the sauce still has a lot of liquid, continue to simmer for a few more minutes, stirring frequently.

Pressure Cooker (Instant Pot): Add chopped apples, cranberries, cinnamon sticks, and maple syrup to the pot insert. Squeeze juice from the tangerines or orange over the top and pour in a 1/2 cup of water. Place the lid on the pressure cooker and set to Manual high pressure for 8 minutes. Use quick release or natural release if desired.

Slow Cooker/Crock Pot: Add chooped apples, cranberries, cinnamon stick, and maple syrup to the slow cooker. Squeeze juice from tangerines or orange over the top. Stir to combine ingredients and place the lid on. Cook on Low for four hours.

Once applesauce has cooked, remove the cinnamon sticks. Allow sauce to cool slightly then blend to desired consistency with an immersion blender or in the reguar blender in batches. Store in a jar or other container in the refrigerator for 8 to 10 days. Freeze for up to 3 months.