A healthy snack for toddlers and kids that's easy to make ahead! Carrot Apple Snack Cake is lightly sweetened with maple syrup, full of whole grains, and packed with grated carrot. If your kiddos like muffins, they will love this wholesome cake. Enjoy a square with breakfast or as a snack any time of day. Add in hemp seeds or chopped nuts for a little boost in nutrients. I like some raisins in there, but you can easily leave them out.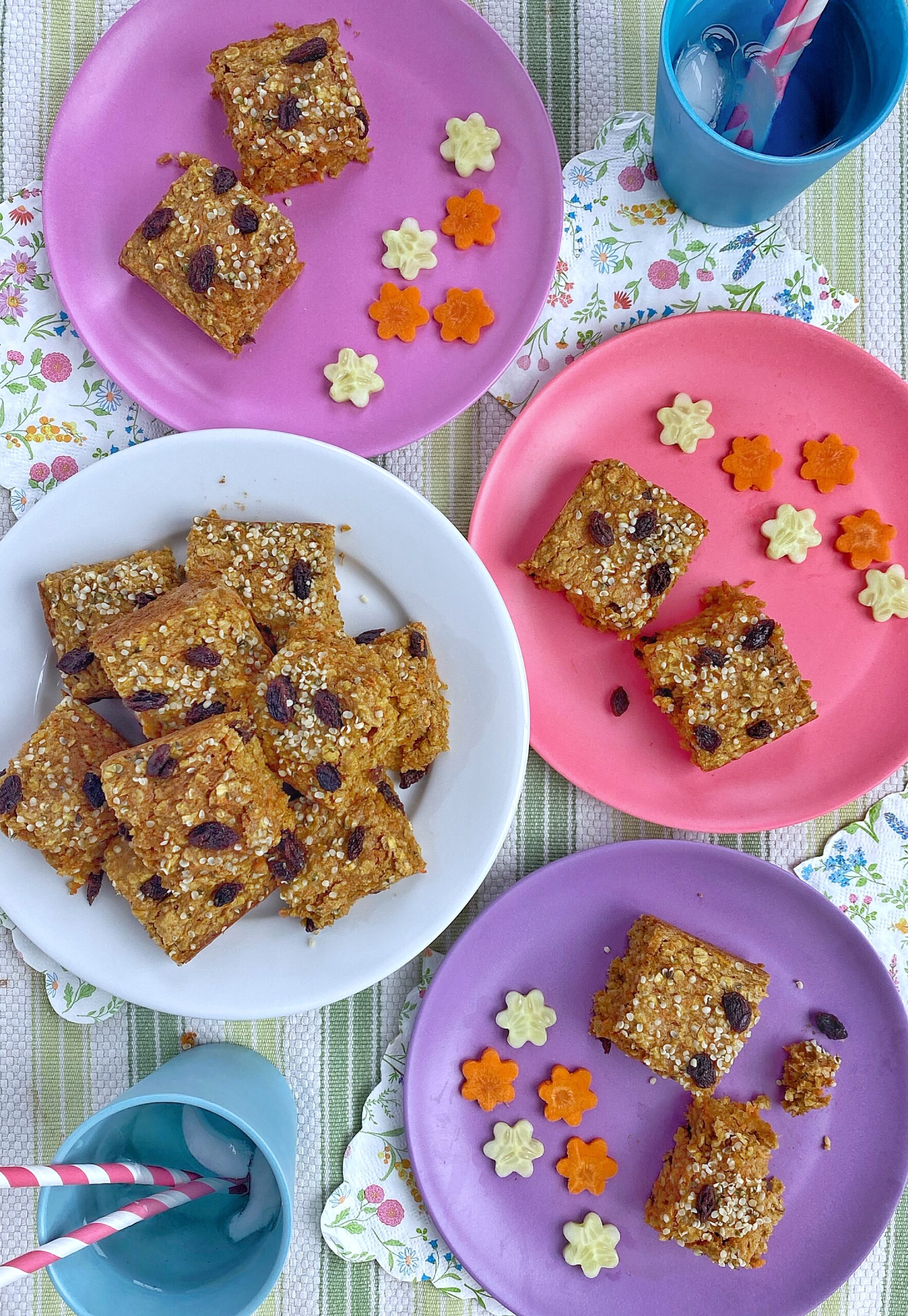 Kids in the Kitchen:
This is such an easy and fun recipe to make together!
Carrot exposure: Peel the carrot then hold the grater and carrot together and shred it up. Placing your hand over your child's will ensure that fingers won't get scraped by the grater.
Measure: If you want to cut down on the amount of mess you make while cooking with kids (And it can be super messy, right?), pre-measure some ingredients before inviting your little one in the kitchen. Even measuring one or two ingredients together can be a great learning experience.
Crack the eggs: Make sure to have your little helper crack the eggs into small a separate bowl, so you can easily remove any shell pieces. If you want some guidance on how to teach kids to crack eggs, check out my video on Instagram HERE.
Use a large bowl. Mixing in a large bowl means less mess when cooking with kids. I try and always and demonstrate what speed I'd like kids to stir before letting them have a turn. Most likely, their mixing will result in at least a little spillage, but that's ok. With practice, kids will eventually learn to better control the spoon or spatula.
Top: To make the top look nice and pretty, sprinkle whatever "add-ins" you mixed into the cake batter. If you didn't add any raisins or nuts, sprinkle a little bit of oats to give the top some texture.
Subs and Tips for making Carrot Apple Snack Cake:
No applesauce? Use the same amount of mashed banana instead!
Gluten-free? Use a cup-for-cup style gluten-free flour mix and be sure that your oats are certified gluten-free
Egg free? I have not tried it, but I think using a flax "egg" or similar egg substitute would work well.
No quick (instant) oats? Take regular rolled oats and pulse them in a food processor until it's broken down into a rough meal (not ground all the way into flour and with a few larger pieces of oat remaining). Then measure the amount you need for the recipe
Pan size. I like to use a 9-inch square cake pan for this recipe. However, you can also use an 8-inch pan or other square baking dish. Bake time will be longer for smaller pans and the cake will be thicker. I think a metal baking pan like this one works best.
Muffins!: You can bake this batter in muffin cups for a fun, portable oat muffin. It should make 10 muffins.
Add-ins: I used raisins and hemp seeds in here. However, you can leave those out entirely, use other kinds of dried fruit, or mix in finely chopped nuts. Pecans and walnuts would be great in here.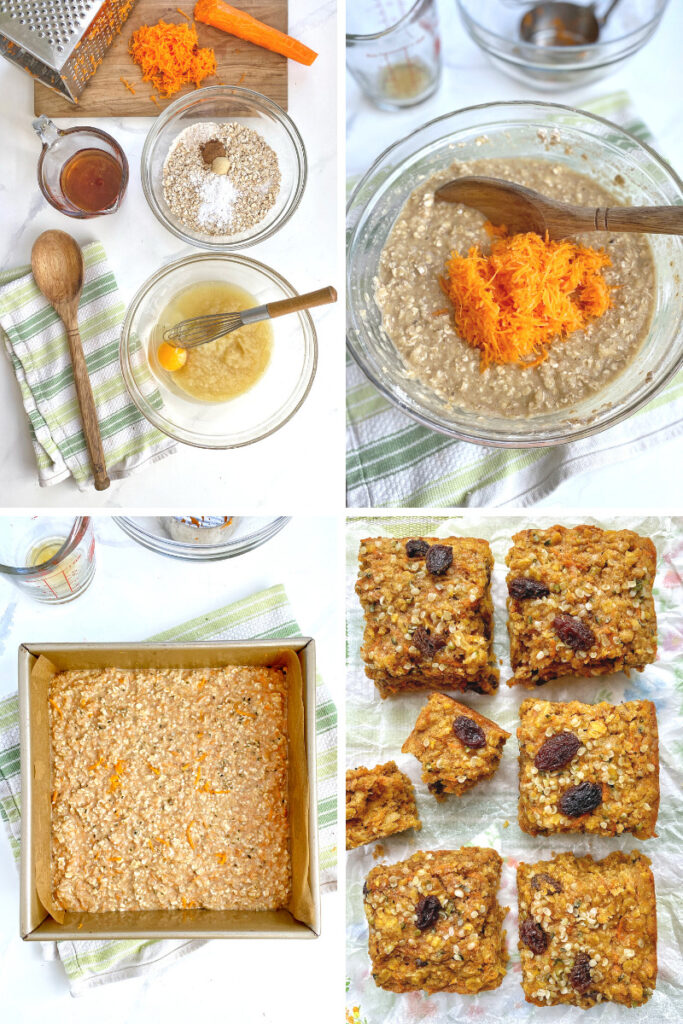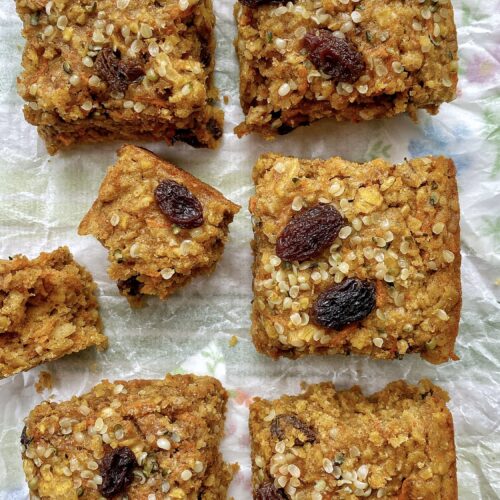 Carrot Apple Snack Cake
A wholesome make-ahead snack or breakfast. Lightly sweetened, whole grain, dairy-free, and made in one bowl.
Ingredients
1

large carrot

3/4

cup

unsweetened applesauce

2

large eggs

1/4

cup

maple syrup or honey*

1/4

cup

avocado or vegetable oil

2

tsp

vanilla extract

1

tsp

cinnamon

1/2

tsp

ground ginger

1

tsp

baking powder

1/2

tsp

baking soda

1/4

tsp

fine salt

3/4

cup

whole wheat, all-purpose, or gluten-free flour

1 1/4

cups

quick-cooking "instant" rolled oats

1/3

cup

raisins (optional)

other optional add-ins: 3 Tbps hemp seeds and/or 1/4 cup chopped nuts (walnuts or pecans)
Instructions
Preheat oven to 350 degrees. Grease a 9-inch square cake pan then line partially with parchment paper (This just makes it easier to remove from the pan but you can skip that step if you'd prefer.)

Peel the carrot then shred it on the smaller holes of a box grater until you get a packed 3/4 cup of grated carrot.

In a large bowl, whisk together the applesauce, eggs, maple syrup, oil, and vanilla. Add cinnamon, ginger, baking powder, baking soda, and salt. Whisk to combine. Stir in grated carrot.

Add flour and oats to the bowl. Using a large spoon or rubber spatula, stir until just combined. Add in raisins and any other add-ins, if using.

Pour batter into your prepared pan. Spread into a even layer. Bake until cooked through and lightly browned on the top, 25 to 30 minutes.

Cool completely then cut into squares. Store at room temperature for a day and then refrigerate for 4 to 5 days.
Notes
*This cake is not very sweet. If you don't plan on adding any raisins/dried fruit, you may want to 1/3 cup of sweetener instead of 1/4 cup.
Save to Pinterest!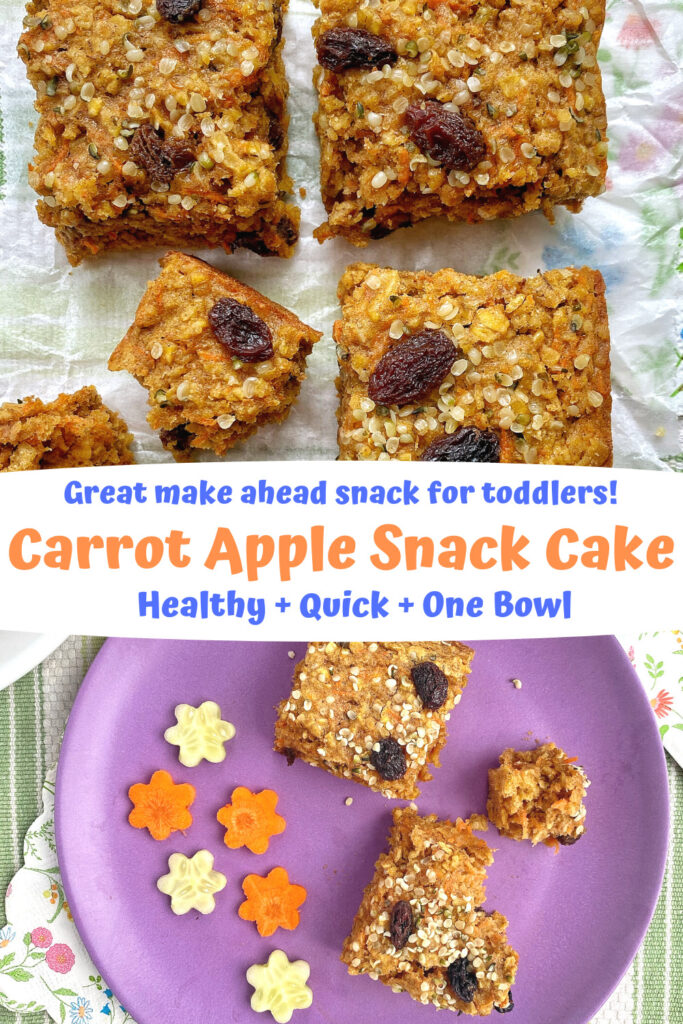 Other Make Ahead Snacks to Try:
Banana Pumpkin Blender Muffins