Healthy Cranberry Orange Muffins
Wholesome, sweet, and full of festive cranberry and citrus flavors. These naturally-sweetened Healthy Cranberry Orange Muffins are perfect to bake up for a snack or breakfast treat. Can be made from whole wheat or gluten-free flours, and can easily be vegan too. Perfect quick recipe to cook with kids and get some antioxidant-rich cranberries into the day.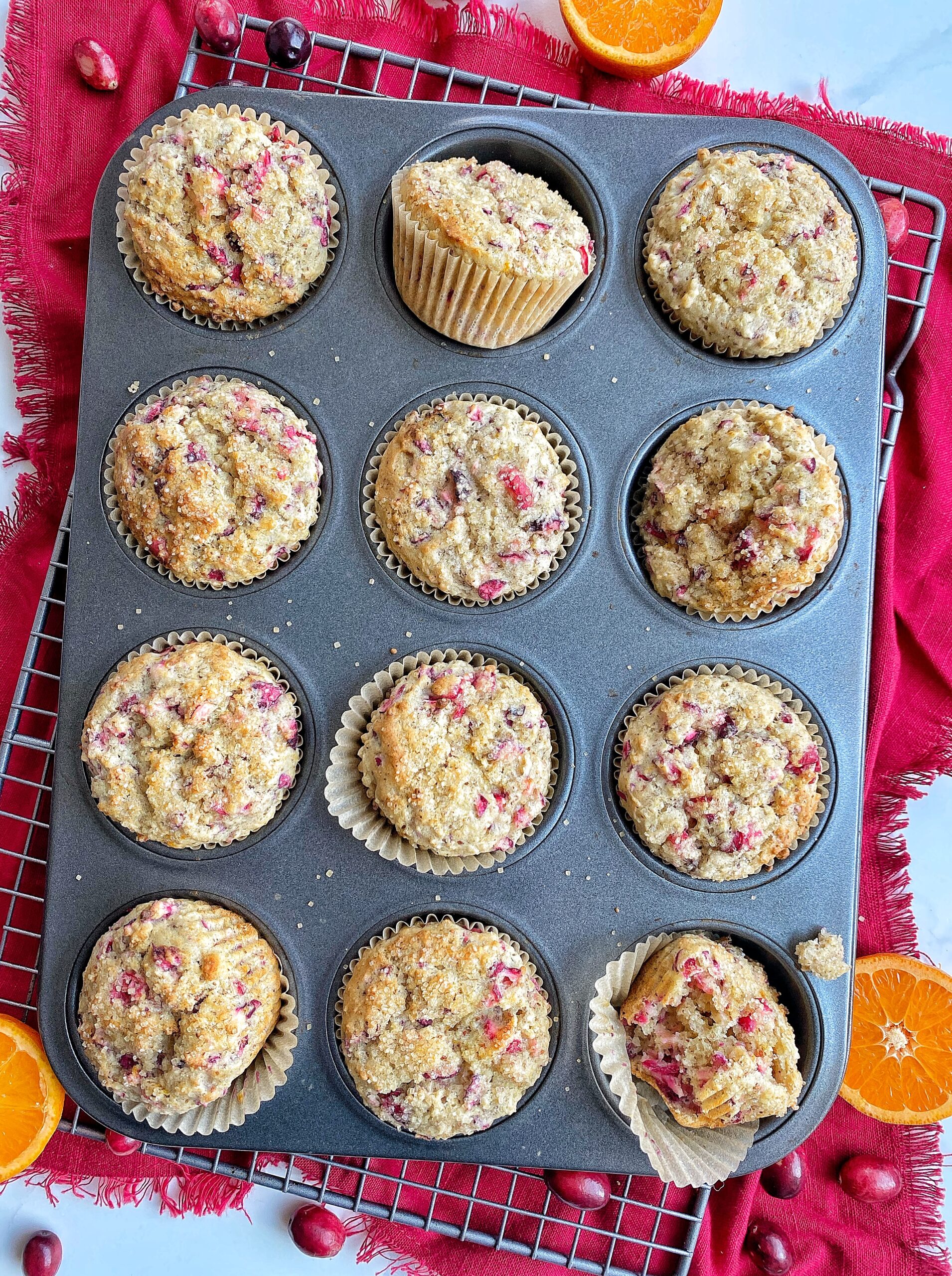 Kids in the Kitchen:
Cranberries: they are an ingredient that kids don't come in contact with very often, so take making this recipe as an opportunity to learn more about them. Add a few fresh cranberries to a glass of water. Do they sink or float? Google how fresh cranberries are grown or read a story about them. Doing these things will help kids feel less apprehensive about a new or unfamiliar ingredient.
Zest and juice the orange/tangerines: Use a microplane zester together then let your child squeeze the juice into a cup (and maybe try a little taste).
Measure and mix the dry ingredients: depending on the age or your child and/or how much time you have to bake, you may want to measure many of the ingredients before inviting your child to bake with you. You can leave a couple things for your child to measure, such as the baking powder and salt.
Sprinkle the sugar: if you have a child that isn't very interested in cooking with you or if you don't have the time or patience to cook together that day (which is totally fine!), this is one step that's quick and easy but kids will love to help with. Just add a tablespoon of sugar to a small bowl and show your child how to take a little pinch and sprinkle it over the top of a muffin. You may have to promise a little taste of the sugar at the end of the job so that your child doesn't try to eat it all before sprinkling it on the muffin (speaking from experience lol).
Subs and Tips for Cranberry Orange Muffins
Gluten-free?: Yes, no problem! I tested these muffins with a gluten-free "cup for cup" flour blend and it worked out really well.
Dairy-free? I use Greek yogurt in this recipe, but you can substitute a dairy-free yogurt (the thicker the better) like an unsweetened coconut yogurt.
Egg free? I tested the recipe with a flax "egg" and it worked great. Exact measurements in the recipe.
Sweetener and sugar topping: I use maple syrup for these muffins but you can also use honey. The crunchy sugar top of these muffins is pretty much the best part of eating these. I like to use a turbinado sugar ("sugar in the raw"), but you can also use a regular granulated sugar. coconut sugar, or really any kind of sugar you'd like.
Orange or tangerine: Either of the citrus fruits work really well in this recipe. But don't skip the zest! It gives this muffin so much flavor!
Helpful tools: Unbleached parchment paper liners, large cookie scoop (in picture below), and my favorite muffin tin are listed in my Baking Essentials list on Amazon HERE.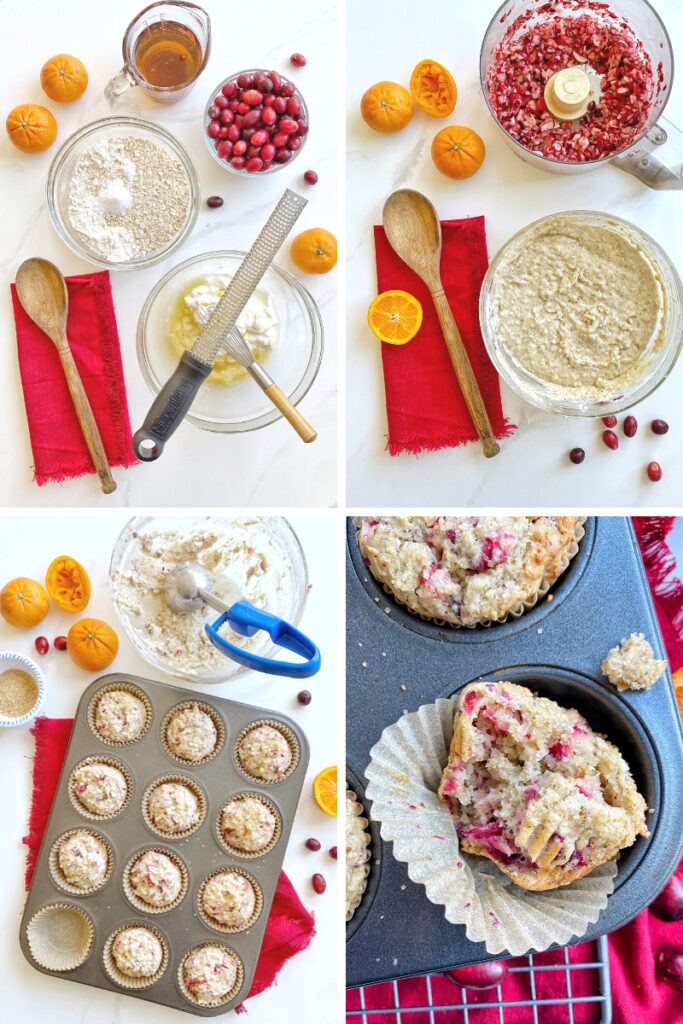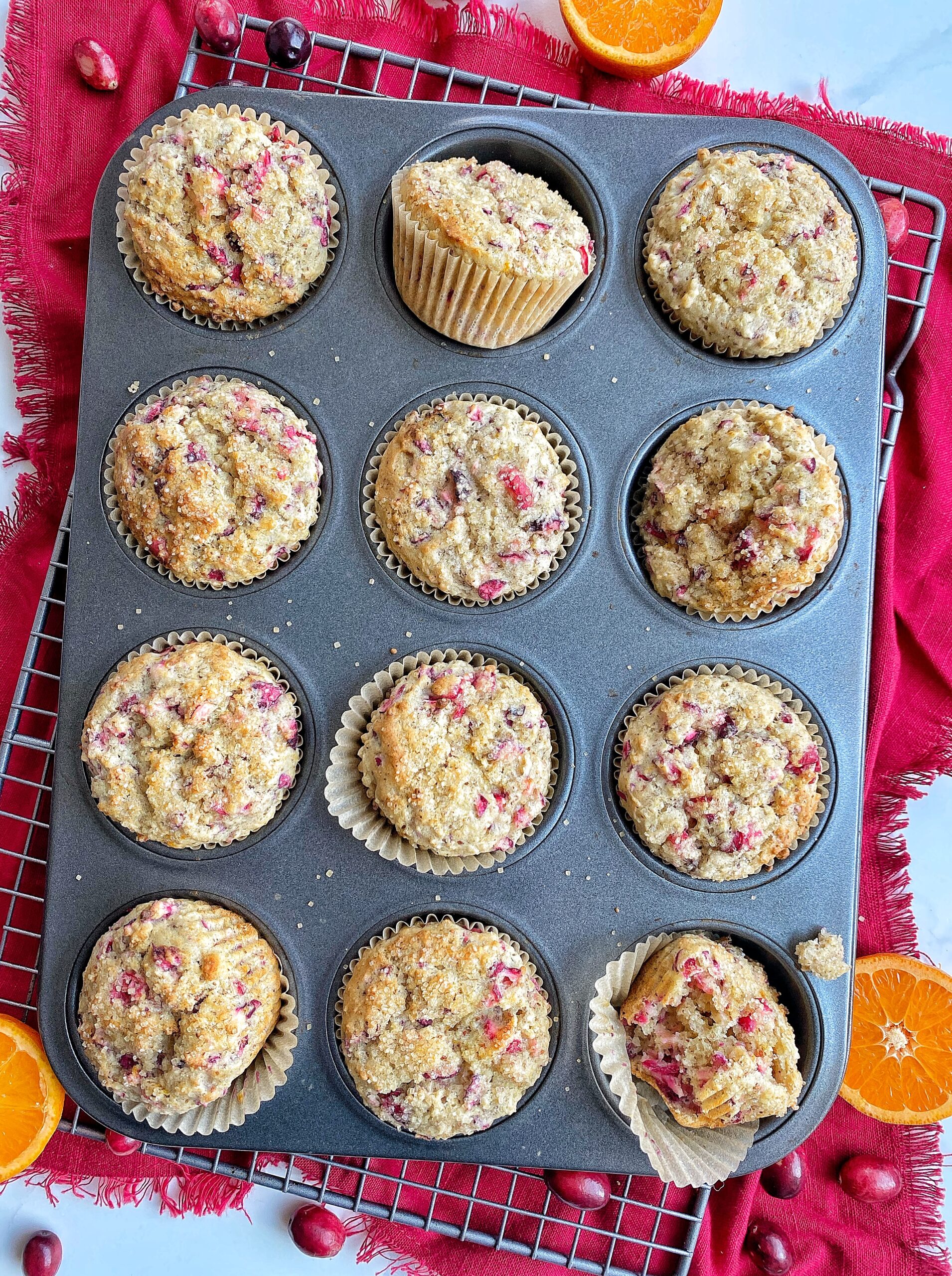 Healthy Cranberry Orange Muffins
Bright, fresh, sweet and wholesome muffins for a healthy snack or breakfast
Ingredients
2

cups

fresh cranberries

1 1/2

cups

whole wheat, all-purpose, or gluten-free flour

3/4

cup

quick-cooking rolled oats

or 1/2 cup more flour

1

tsp

baking powder

1/2

tsp

baking soda

1/2

tsp

fine salt

1/2

tsp

ground cinnamon

1/2

cup

unsweetened applesauce

1/2

cup

Greek yogurt, preferably full-fat or 2%

see notes for vegan sub

2

large eggs

or 2 Tbsp ground flax mixed with 5 Tbsp water

1/3

cup

avocado or vegetable oil

2/3

cup

maple syrup

2

tsp

vanilla extract

1

tsp

orange zest

1

Tbsp

orange juice

1 to 2

Tbsp

coarse sugar
Instructions
Preheat oven to 400 degrees. Place paper cupcake liners into the muffin tin or grease muffin cups with oil.

Coarsely chop fresh cranberries using a food process (pulse several times until chopped but not blended) or using a knife. Set aside.

In a medium bowl, whisk flour, oats, baking powder, baking soda, salt, and cinnamon until blended.

In a large bowl, whisk remaining ingredients, except for the coarse sugar, until combined. Add dry ingredients and mix with a large spoon or spatula. Mix in fresh cranberries.

Use a large cookie scoop or 1/4-cup measuring cup to fill muffin tin. Sprinkle coarse sugar or each muffin. Bake until lightly golden brown, 15 minutes

Cool completely before enjoying. Store muffin at room temperature for 1 to 2 days then refrigerate for up to 5 days. Freeze muffins, well wrapped, for up to a month.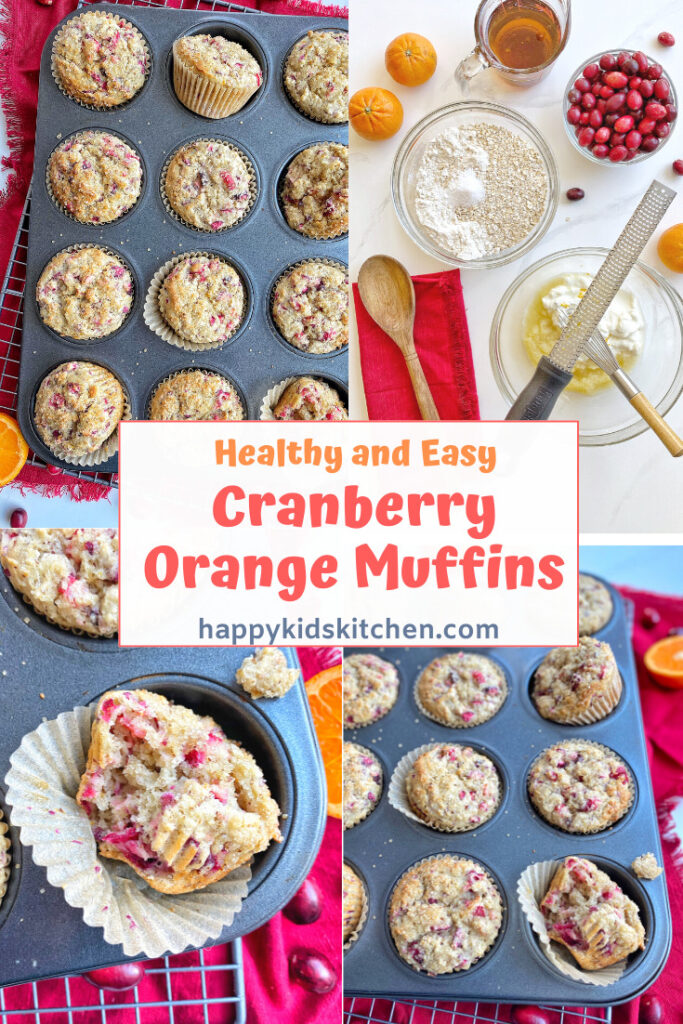 Other Muffins to Try:
Banana-Pumpkin Blender Muffins
Sweet Potato Gingerbread Muffins
Super Green Mini Blender Muffins