Apple-Cinnamon Snack Cake
Apples, cinnamon, honey, and oats…the perfect combination for a sweet and nutritious Fall treat. This Apple-Cinnamon Snack Cake is great to bake-up post apple picking or whenever you have a couple apples to use up. Kids will love helping stir together this easy, one-bowl recipe with you.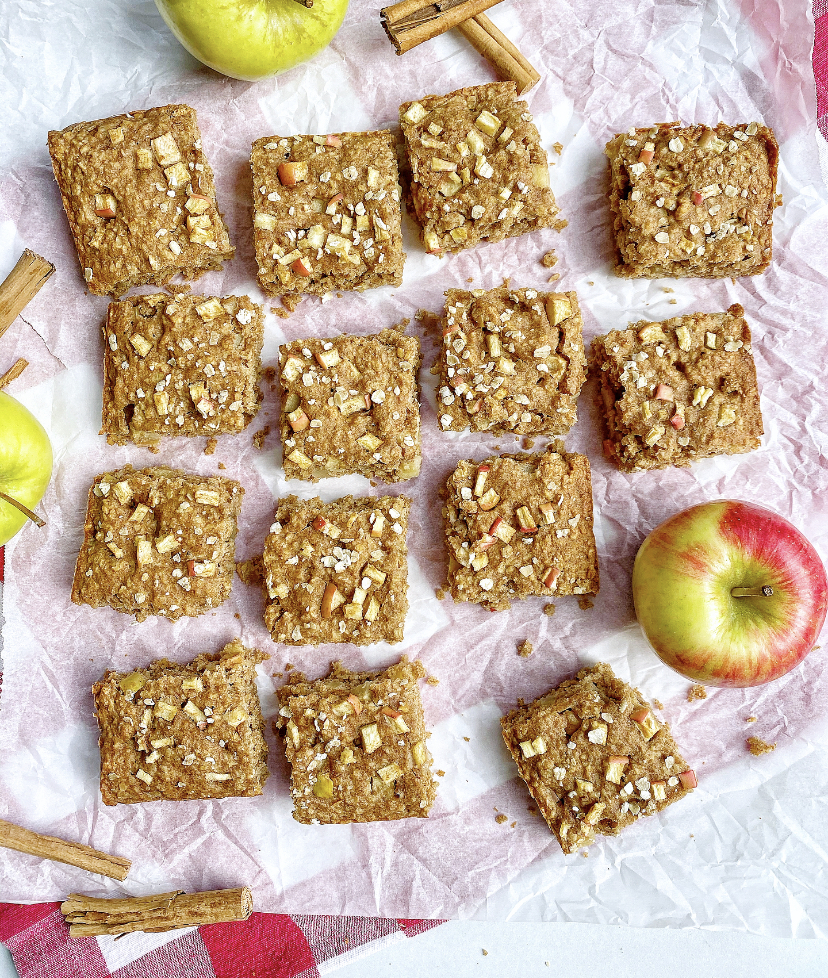 Cooking with Kids: Apple-Cinnamon Snack Cake
Measure first! There are quite a few ingredients to measure in this recipe. When baking with toddler and younger kids I suggest measuring a least half of the ingredients ahead of time. You could even add all the wet ingredients to one bowl and the dry to another and just let your child mix everything together.
Use a large bowl. Mixing in a large bowl means less mess when cooking with kids. I try and always and demonstrate what speed I'd like kids to stir before letting them have a turn. Most likely, their mixing will result in at least a little spillage, but that's ok. With practice, kids will eventually learn to better control the spoon or spatula.
Dice the apples. Start by cutting the apple into slices or thin stick shapes, then your child can help cut the apples into smaller cubes. If you need a child-safe knife recommendation or tips for teaching kids to use a knife, check out my blog post Teaching Knife Skills Toddlers and Kids.
Subs and Tips:
Gluten-free? Use a cup-for-cup style gluten-free flour mix and be sure that your oats are certified gluten-free
Egg free? I have not tried it, but since there's only one egg in this cake, I think using a flax "egg" substitute would work well.
No quick (instant) oats? Take 1 3/4 cups of regular rolled oats and pulse them in a food processor until it's broken down into a rough meal (not ground all the way into flour and with a few larger pieces of oat remaining).
 Pan size. I like to use a 9-inch square cake pan for this recipe. However, you can also use an 8-inch pan or other square baking dish. Bake time will be longer for smaller pans and the cake will be thicker. I think a metal baking pan like this one works best.
Apples: you can use any kind of apple that you like, but this recipe works best if you dice the apples super small. You can also grate the apple and add it in that way if you prefer. If you use grated apple, pat it dry with a paper towel to remove some of the excess liquid that comes out when grating.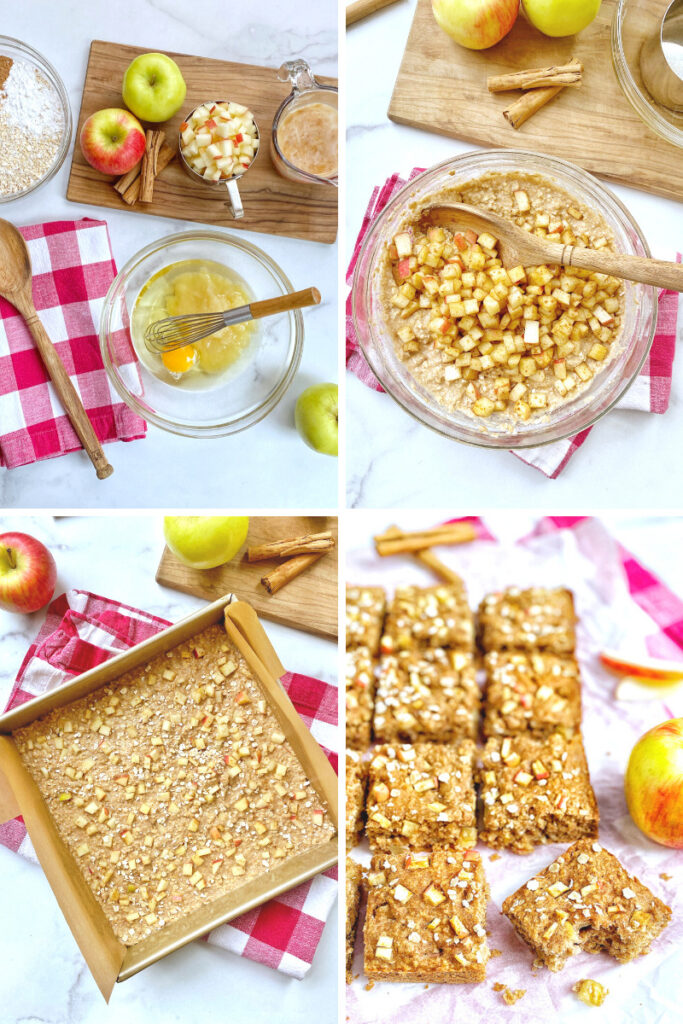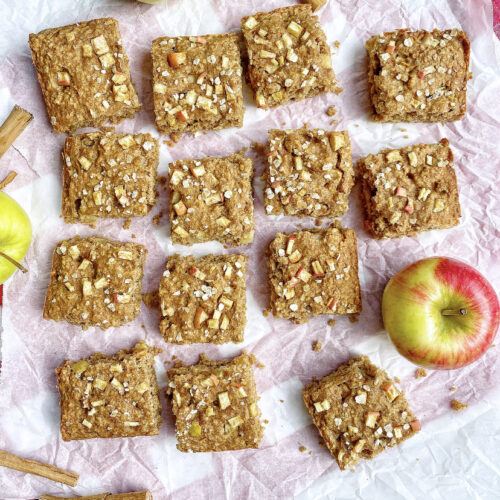 Apple-Cinnamon Snack Cake
A healthy cake with the flavors of Fall to enjoy any time of day!
Ingredients
1

large apple, diced very small

1

Tbsp

coconut sugar or brown sugar

1 1/2

tsp

cinnamon, divided

1

cup

unsweetened applesauce

1

large egg

6

Tbsp

avocado or vegetable oil

1/4

cup

honey or maple syrup

1/2

cup

milk (any kind)

2

tsp

vanilla extract

1 1/2

cups

"quick" (instant) oats

not regular rolled oats, see note above for sub

1

cup

whole wheat flour

all-purpose or gluten-free blend

1 1/2

tsp

baking powder

1/4

tsp

salt
Instructions
Preheat oven to 350 degree. Grease a 9-inch square cake pan then line partially with parchment paper (This just makes it easier to remove from the pan but you can skip that step if you'd prefer.)

Add diced apple, coconut sugar, and a 1/4 tsp of cinnamon to a bowl then mix to combine. Set aside.

In a large bowl, whisk together applesauce, egg, oil, honey or maple syrup, milk, and vanilla. Using a spoon or rubber spatual, stir in the remaining 1 1/4 tsp cinnamon and the rest of the dry ingredients. Mix until just combined then stir in the diced apple mixture.

Spread cake batter evenly in your prepared pan and sprinkle on a pinch of extra oats, if you'd like. Bake until golden brown around the edges and a toothpick inserted into the center of the pan comes out clean, 25 to 30 minutes.

Cool completely then cut into 12 squares. Store in an airtight container on the counter for 2 days or in the fridge for 5 days. You can also freeze the cake, tightly wrapped, for a month or two.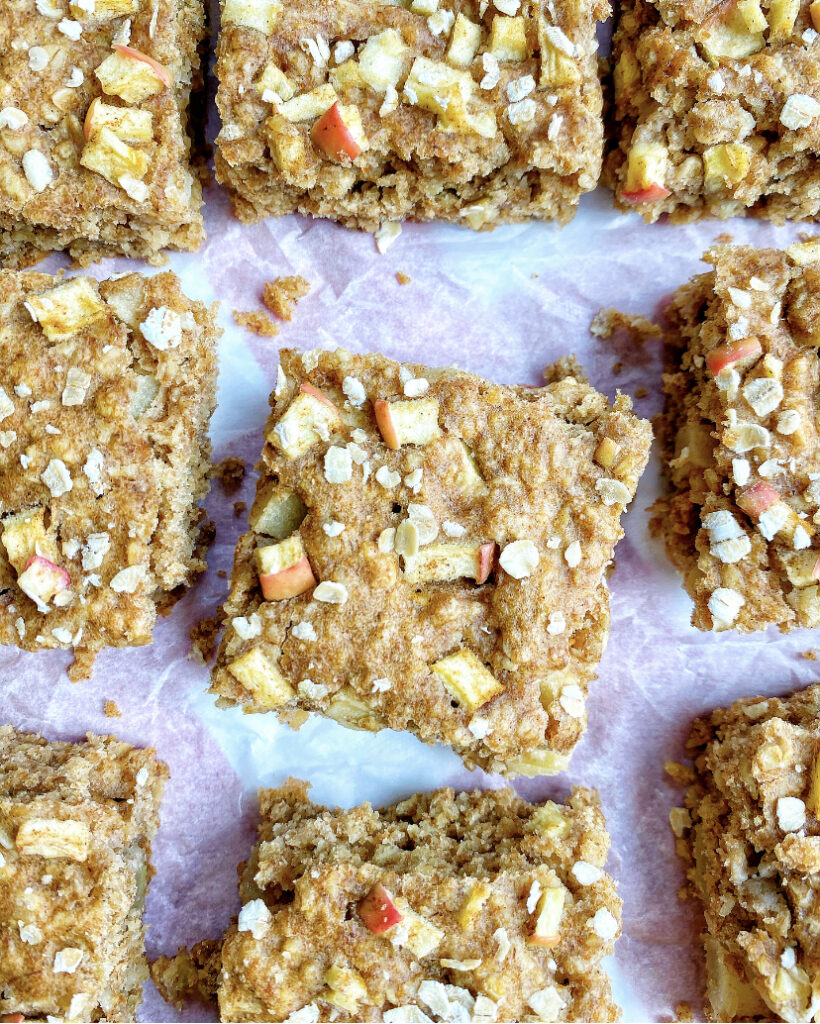 Want more apple recipe that are great to get kids into the kitchen? Check out my blog post Healthy Apple Recipes to Cook with Kids.
Save to Pinterest!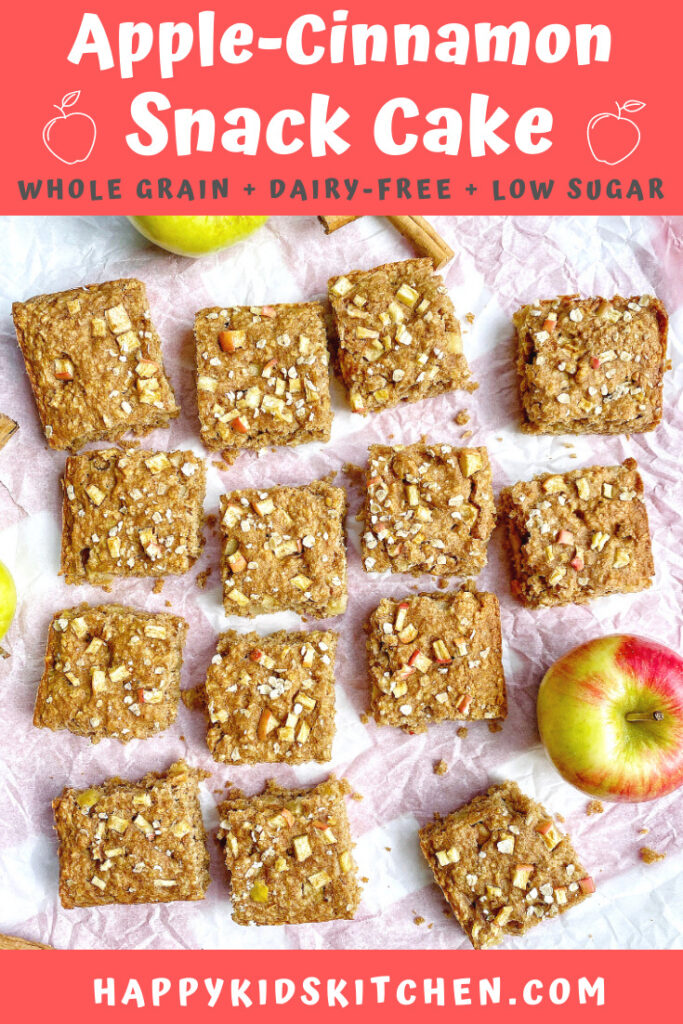 Check out these other yummy recipes:
Banana Protein Blender Pancakes
Banana-Pumpkin Blender Muffins