Crockpot Carrot Cake Oatmeal
A nutritious and sweet make-ahead breakfast for the whole family! Crockpot Carrot Cake Oatmeal has no added sugar, is gluten-free, and packed with veggies. The best part? You have a warm, healthy breakfast waiting for you when you wake up in the morning! Below, I've also included 4 ways to add a protein boost to your morning bowl of oats.
Crockpot Carrot Cake Oatmeal is a "sneak peek" recipe from my digital cookbook, No Sugar Still Sweet. There are 22 fruit sweetened breakfast, snack, and dessert recipes created in partnership with pediatric dietitian, Kacie Barnes of Mama Knows Nutrition. For more information on the book and all the recipes in it click HERE. Use my code: sw33t5now for $5 off!!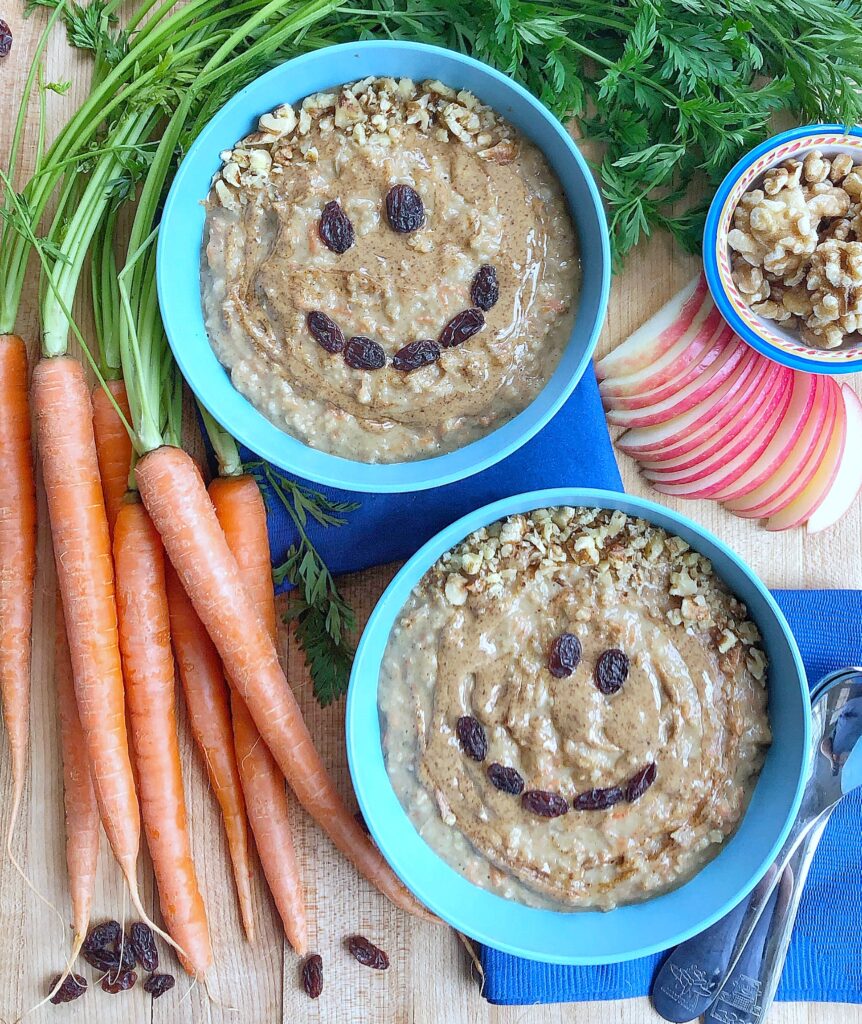 4 ways to add PROTEIN to oatmeal:
Do you want to add some extra "staying power" to your morning bowl of oats? Do you kiddos not like eggs or other protein rich breakfasts? Here are some ideas for easily adding some protein to any kind of oatmeal (even if you just make some quick oats in the microwave).
Egg! Yes, you can either stir in an egg white or whole beaten egg into cooked oatmeal to boost the protein content. You can't taste the egg at all, so it's great for kids that don't enjoy eating eggs on their own. Adding the egg makes the oatmeal a little thicker. However, you can add more milk to it to adjust the consistency if you like. For the Crockpot Carrot Cake Oatmeal, add 4 egg whites (you can buy a carton of egg white at the store) to the oatmeal in the morning. Stir it in, allow to cook through for 10 to 15 minutes then serve.
Nuts, Nut Butter, and Seeds: Nuts and nut butters like almond butter and peanut butter have tons of healthy fats and protein to keep you full all morning. You can stir a spoonful of nut-butter into each bowl of oatmeal or a 1/4 to 1/2 cup to a full recipe. Almond flour or meal (ground almonds) is a great thing to add for young kids that don't like the crunchy texture of nuts (Stir a few tablespoons into a bowl or 1/2 cup to a pot of oatmeal). Need nut-free options? Hemp seeds are a great addition and they are small so you can hardly tell they are in oatmeal. 3 tablespoons of hemp seeds has 10 grams of protein!
Protein powder: If you have protein powder at home to use in smoothies, you can also easily add it to your oatmeal. After the oats are done cooking, stir a scoop into an individual serving or add a scoop per serving to the whole pot. Make sure to look at the ingredient list if you don't want to add any sugar or sweeteners to your oatmeal. A vanilla (omit the vanilla extract in the recipe) or unflavored protein powder would work best in this Carrot Cake Oatmeal.
Dairy (or high protein non-dairy milk): You can easily stir in cottage cheese or Greek yogurt into your cooked oatmeal. Also, using a high protein non-dairy milk, such as soy milk or pea protein milk, when cooking oatmeal will boost the protein content without any dairy or animal products.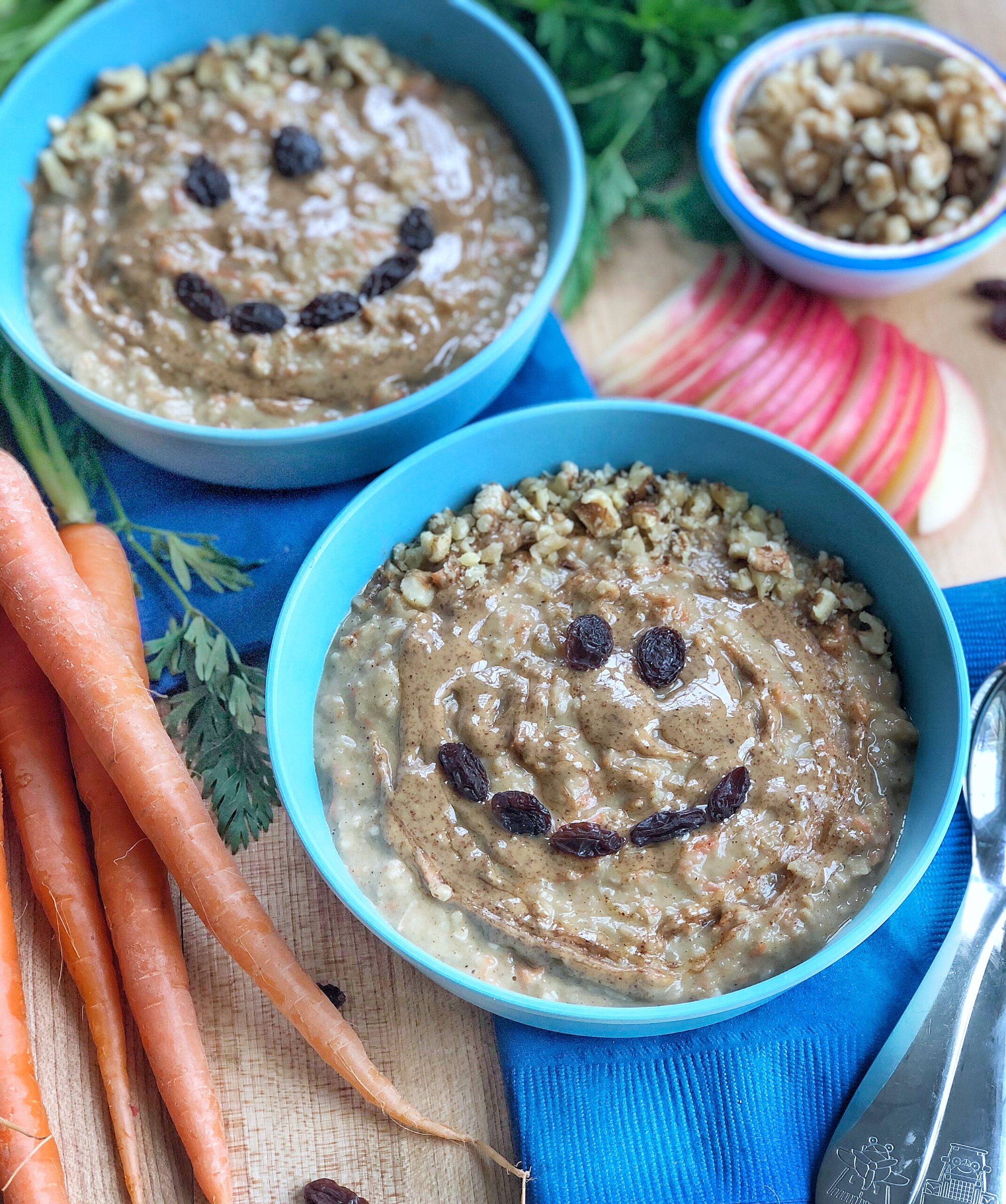 Freezing Instructions for Crockpot Carrot Cake Oatmeal
You can freeze leftovers or make a double batch and freeze oatmeal in individual servings. I like to freeze them in "pucks" that you can easily pop out and microwave in a bowl. I use silicone muffin cups or a silicone muffin tin to make freezing the individual portions really easy. Scoop cooled oatmeal into the muffin cups then freeze until solid. Once frozen, pop them out of the muffin cups and store in a freezer bag for up to 3 months.
To reheat, place one or two "pucks" of oatmeal in a bowl and microwave for 3 to 4 minutes, stirring after each minute to make sure the oatmeal defrosts evenly. To reheat on the stove top, place "pucks" in a pot with a cup of water or milk. Heat on medium heat, stirring occasionally until oatmeal is heated through.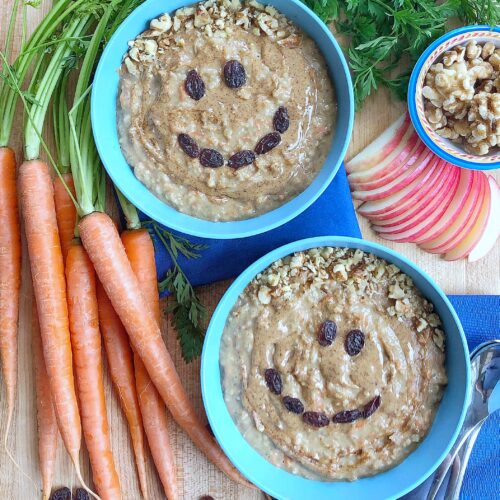 Crockpot Carrot Cake Oatmeal
Super nutritious, make-ahead breakfast! Plus, ways to boost protein in oatmeal.
Ingredients
1

apple

I like Honeycrisp but any kind will work well

1

medium to large carrot

1

cup

unsweetened applesauce

or an additional apple

1

cup

steel cut oats (not rolled oats)

gluten-free if desired

2

cups

milk (any kind)

see post for suggestions

1

cup

water

1/2

tsp

vanilla extract

1/2

tsp

cinnamon

1/2

tsp

pumpkin pie spice

or additional cinnamon

1/4

tsp

fine salt

6 to 8

soft dates, pitted and chopped

optional

Optional toppings: raisins, toasted shredded coconut, almond butter, chopped nuts, hemp seeds...
Instructions
Using a box grater, grate apple on the largest holes. Peel carrot and then grate it on the smaller holes to get a finer grate.

Add grated apple, carrot, and all of the remaining ingredients to your slow cooker and stir to combine.

Cover and set your slow cooker on low for 8 hours. (It's ok if the oatmeal sits in the crockpot on the "warm" funtion for a few more hours after that.)

After cook time is up, open lid and stir to check consistency. Add more milk to thin, if desired. Spoon oatmeal into bowls and then add desired toppings. 

Refrigerate leftovers for up to 5 days or freeze for up to 3 months.
Notes
***See post for ways to add egg whites or other ingredients to add extra protein to oatmeal.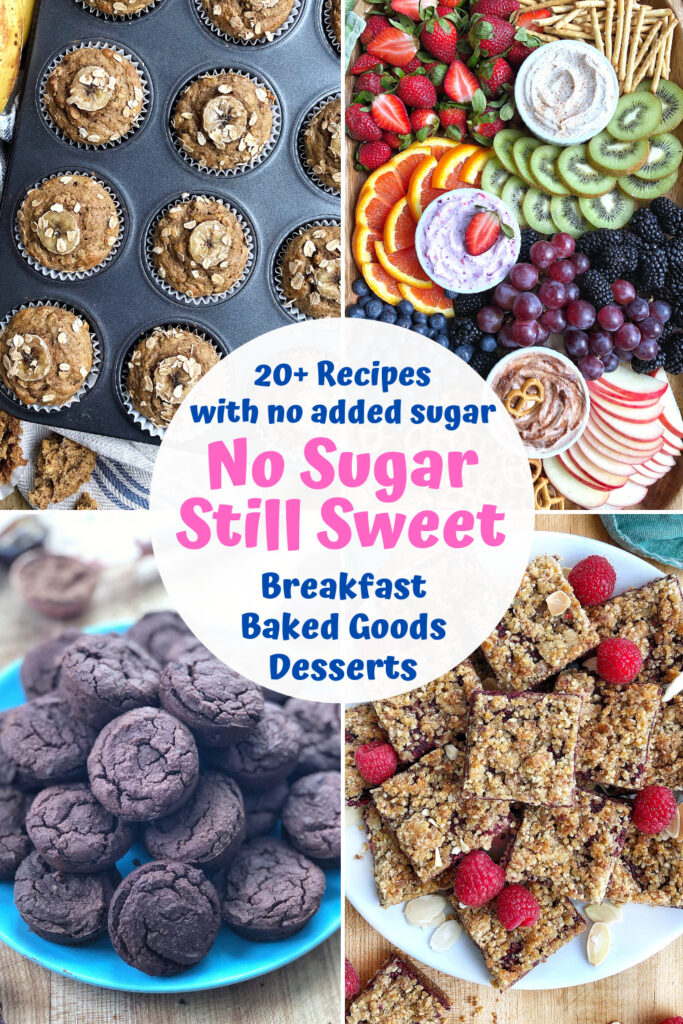 If you like this recipe be sure to check out the digital cookbook, No Sugar Still Sweet with 20 other recipes sweetened with only fruit! Making these recipes is a great way to enjoy sweet treats and comforting baked goods at home without all the added sugar! For more information on the book and all the recipes in it click HERE. Use my code: sw33t5now for $5 off!!
Save to Pinterest!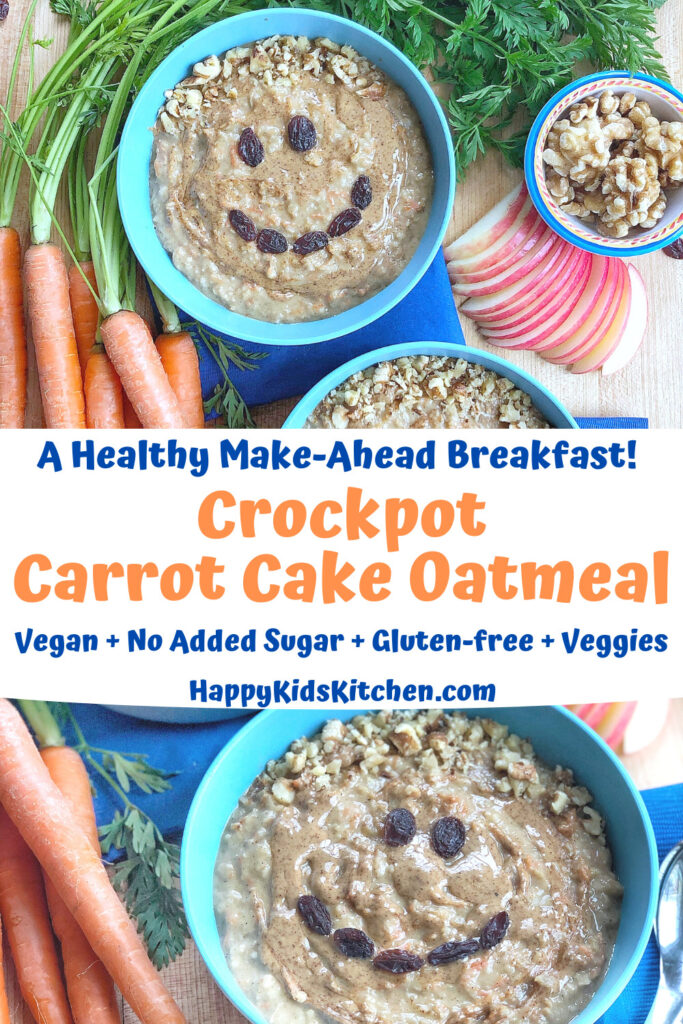 Other Breakfast Recipes:
Banana Protein Blender Pancakes
Spinach Banana Blender Waffles