Zucchini Oatmeal Chocolate Chip Cookies (Vegan and Whole Grain)
Soft, flavorful cookies wholesome enough for breakfast and snacks, but delicious enough to crave any time of day. These Zucchini Oatmeal Chocolate Chip Cookies come together in one bowl! They are naturally egg-free, dairy-free, whole grain, and low in added sugar. Kids will love to help bake these up too!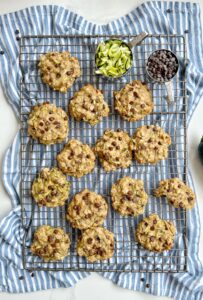 Kids in the Kitchen:
Grate the zucchini: Hold the zucchini and the top of the box grater with your child and grate the zucchini together. Kids will also have a great time squeezing the liquid out of the shredded zucchini. Take turns doing that and seeing how much water you can squeeze from the zucchini into the sink. Make sure to have your child add the zucchini into the batter!
Mash the bananas: There are so many fun ways to mash bananas. Kids can use a bowl and a potato masher or sturdy whisk. You can also place the peeled bananas onto a plate or cutting board and use a fork to press down and mash them up. Or place the bananas in a zip-top or reusable bag, seal it well, then kids can use their hands to mash the bananas in the bag.
Measure and Mix: If baking with younger kids or if you want to reduce the mess, you can measure some or all of the ingredients before baking. If you want your child to learn and practice measuring, leave a few ingredients like the baking powder and oats for them to measure and add to the bowl.
Scoop: Kids can help scoop the batter onto the pan by holding the scoop or measuring cup with you. If your child wants to do it on their own, you can point to the place on the baking sheet where the batter should go.
Subs and Tips for Making Zucchini Oatmeal Chocolate Chip Cookies:
Gluten-free: To make these gluten free, you can use a gluten-free flour blend. You can also try using a combination of oat flour and almond flour (which I find is a good sub for regular flour). Make sure to use gluten-free oats as well.
No Banana?: You can use applesauce instead. Just be aware that applesauce tends to be a little less sweet than mashed bananas, so you may have to add additional maple syrup or sugar to sweeten the cookies.
No sugar added version: For younger toddlers or for those that want a recipe only sweetened with fruit, you can omit the maple syrup and add a little more mashed banana or applesauce. You can leave out the chocolate chips, find a sugar-free chocolate, or use raisins instead.
Helpful Equipment: Parchment paper sheets and cookie scoops are some essential baking tools that I couldn't live without. See those and others on my Baking Essentials Amazon list HERE.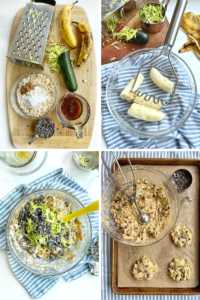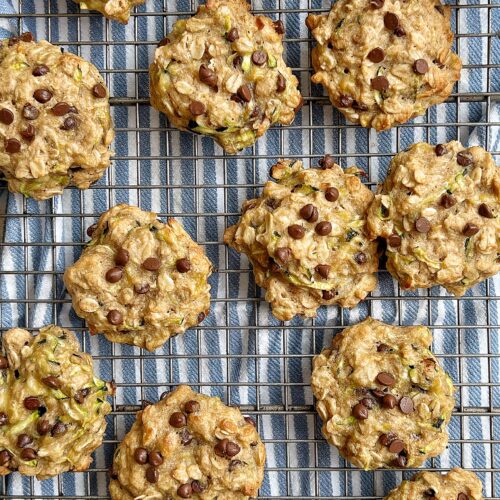 Zucchini Oatmeal Chocolate Chip Cookies
Wholesome cookies to enjoy any time of day! Vegan, whole grain, and so easy to make with kids.
Ingredients
1

small/medium zucchini

1

cup

mashed banana (about 2 medium overripe bananas)

or 1 cup applesauce

3

tbsp

maple syrup

or brown sugar

1/4

cup

neutral oil (avocado or vegetable)

1

tsp

vanilla extract

1

tsp

baking powder

1/4

tsp

salt

1/2

tsp

cinnamon

3/4

cup

white whole wheat flour or whole wheat flour

or 1 cup all-purpose or gluten-free flour blend

1

cup

rolled oats

1/4

cup

mini chocolate chips

or 1/3 cup regular chocolate chips
Instructions
Preheat the oven to 350 degrees. Line a baking sheet with parchment or use a silicone mat.

Grate the zucchini on the large wholes of a box grater until you get 1 full cup of grated zucchini. Squeeze most of the liquid out of the grated zucchini in a couple sheets of paper towel or in a clean kitchen towel.

In a large bowl, mash the bananas very well with a potato masher or heavy whisk. Whisk in the maple syrup, oil, and vanilla until combined.

Whisk in the baking powder, salt, and cinnamon. Add the flour and oats then use a rubber spatula or large spoon to mix. When most of the flour is stirred into the batter add the shredded zucchini and the chocolate chips. Mix until everything is just combined.

Scoop the batter onto the baking sheet using a medium-size cookie scoop or a 1/4-cup measuring cup. The cookies don't spread much, so you can place them about a 1/2-inch to an inch apart. Flatten the tops of the cookies gently with the back of the scoop or cup to make them even on top. Place a few more chocolate chips on top if you'd like.

Bake until the cookies are lightly golden brown around the edges and look dry on the top, 12 to 14 minutes. Allow to cool on the baking sheet then enjoy.

Cookies can be stored in a container on the counter for a day and then in the fridge for 3 to 4 days. They can also be wrapped and frozen for up to 2 months.
Notes
Add-ins: you can mix in 2 tbsp of hemp seeds or ground flax for a nutrition boost. Chopped nuts like walnuts are also a delicious addition. You can swap the chocolate chips or raisins or leave them out.
Save to Pinterest!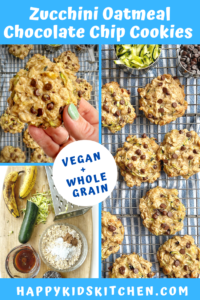 More Healthy Baking Recipes:
Healthier Pumpkin Chocolate Chip Cookies
Mini Chocolate Chip Snack Cookies (Vegan and High Fiber)