Healthier Pumpkin Chocolate Chip Cookies
Light, sweet, full of pumpkin flavor and chocolate, these Healthier Pumpkin Chocolate Chip Cookies are dairy-free, egg-free, and whole grain. Stirred up in one bowl, they couldn't be easier to make with kids too. I tested these cookies tons of times to get the texture just right –not too cakey, but still packed with pumpkin. Make them as a fun afternoon snack, dessert, or additional to any celebration, such as Thanksgiving!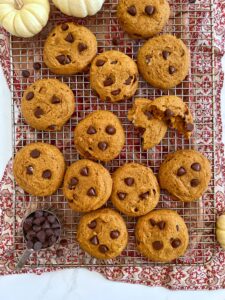 Kids in the Kitchen
Veggies in my cookies?  Talk about the canned pumpkin –that it's a vegetable and not very sweet before you add it in with the rest of the ingredients. What does the pumpkin look like before it's cooked and how does it change?
Measure! If you want to cut down on the amount of mess you make while cooking with kids (And it can be super messy, right?), pre-measure some ingredients before inviting your little one in the kitchen. Even measuring one or two ingredients together can be a great learning experience.
Dump and stir! Adding the ingredients to a bowl is fun. Make sure to instruct your child to dump into the center, not on the edge, of the bowl and use a large bowl to prevent any spills.
Scoop! You can use a spoon but I find it easier for kids to make uniform sized portions of dough by using a cookie scoop. See recommendations below.
Top! You can just have kids push a few chocolate chips into the top of each scoop of cookie dough if you want a really simple way to have kids make this recipe with you.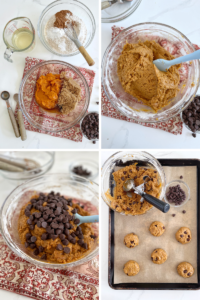 Subs and Tips for making Healthier Pumpkin Chocolate Chip Cookies:
Gluten-free? You can make this recipe gluten-free by using a cup-for-cup style flour blend such as one by Bob's Red Mill.
Vegan? These cookies are dairy and egg-free. However, make sure to check all the ingredient labels to ensure they are vegan. Make sure the chocolate chips you use are also vegan.
Refined sugar-free? I use brown sugar for these cookies for its moisture, flavor, and accessibility. However, you can substitute a combination of coconut sugar and maple syrup if you'd like the cookies to be only made with unrefined sugars. Instructions are in the recipe below.
Oil: I have used canola oil, avocado oil, and melted refined coconut oil in this recipe with success. You can pretty much use a flavorless oil that you have on hand. I think melted butter would work too, if you like the flavor of that and don't need these cookies to be dairy-free.
No pumpkin-pie spice or just want to make your own? Linked an easy recipe for you HERE. You can also just use cinnamon in this recipe or a combo of cinnamon, a little nutmeg, and a pinch of ground ginger.
Make ahead: These cookies are great the next day or two, so they are great to make ahead for a party or event. You can also free the dough uncooked or cooked cookies for 1 to 2 months.
Helpful Equipment:
Parchment Paper Sheets: these precut, unbleached parchment paper sheets make clean-up a breeze and ensure your cookies never stick to the pan. Plus, cutting the right sized piece of parchment paper from the roll is such pain! That's why I can't live without these sheets that fit perfectly in a baking pan.
Cookie Scoop: make your cookies look more uniform and professional by using a portion scoop to measure the dough. It makes scooping the cooking dough so much easier and kids love to help use these tools too! I really recommend investing in a high quality scoop because the less expensive ones tend to break really quickly. You can also buy a set of three scoops to use for all kinds of baking projects.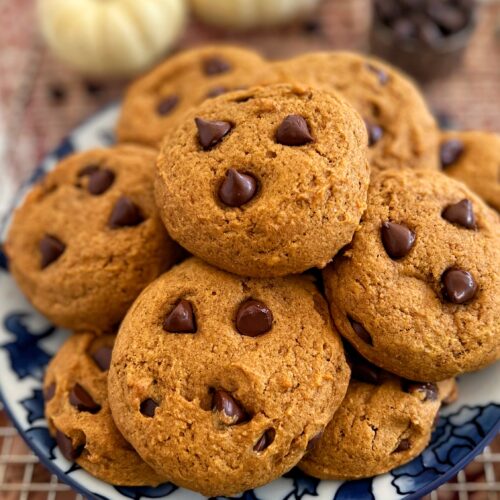 Healthier Pumpkin Chocolate Chip Cookies
Sweet, light but not too cakey, and full of pumpkin and chocolate flavors! These will be a hit to make for an after school snack or to serve for any special occasion. And they happen to be dairy-free and egg-free too!
Equipment
2 baking sheets or cookie sheet pans
Ingredients
1

cup

canned pumpkin

3/4

cup

light brown sugar

or 1/2 cup coconut sugar plus 1/4 cup maple syrup

1/2

cup

avocado or vegetable oil

2

tsp

vanilla extract

1

tsp

pumpkin pie spice

see note in blog post for alternative

1

tsp

cinnamon

1/2

tsp

fine salt

1

tsp

baking powder

1/2

tsp

baking soda

1

cup

all-purpose flour

or use 1 1/2 cups total gluten-free flour

1/2

cup

whole wheat flour

or additional all-purpose flour

3/4

cup

semisweet chocolate chips

dairy-free if desired
Instructions
Preheat the oven to 350 degrees. Line 2 sheet pans or cookie sheets with parchment paper.

Add the pumpkin puree and sugar to a large bowl and whisk really well to combine and help dissolve the sugar.

Whisk in the oil and vanilla. Add the spices, salt, baking powder, and baking soda and whisk to combine.

Remove the whisk from the bowl then sprinkle the flour over the top. Use a rubber spatula or large spoon to stir in the flour. Once a few streaks of flour remain, add 1/2 cup of the chocolate chips (saving the remaining chips to place on top of the cookies), and stir until the chocolate chips are mixed into the cookie dough.

Scoop about 2 tablespoon-sized balls of dough onto your prepared pans, pressing the tops of the scoops down a little to flatten them out (I use the bottom of the scooper). I put about 8 scoops of dough per pan, but you can put 12 on each if you need to because they won't spread too much.

Press 3 to 4 chocolate chips into the tops of each cookie. Bake until lightly golden brown around the edges, 12 to 14 minutes.

Allow cookies to cool on the baking sheet for a few minutes then transfer to a cooling rack. The cookies can be stored on the counter in a covered container for 3 to 4 days or frozen, well wrapped, for 2 months.
Save to Pinterest!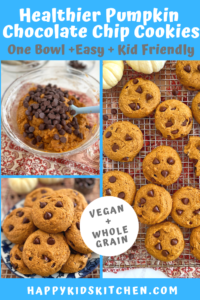 Want more pumpkin recipes? Check out, Healthy Pumpkin Recipe to Cook with Kids.
Want a more light and fluffy, cake-like cookies. These Healthy Pumpkin Cookies with Maple Glaze are one of my favorite pumpkin desserts.
Mini Chocolate Chip Snack Cookies (Vegan and High Fiber)