Healthy Pumpkin Recipes to Cook with Kids
Have a can of pumpkin in the pantry? Or a half of one waiting in the fridge to be used up? Use it as an opportunity to get the kids into the kitchen and cook together! Below you'll find sweet and savory Healthy Pumpkin Recipes to Cook with Kids. Pumpkin is great for baking, but it doesn't always have to be sweet or full of "pumpkin spice." The veggie puree is also delicious is pastas and other dinner recipes. Plus, pumpkin brings tons on nutrients and fiber to the party.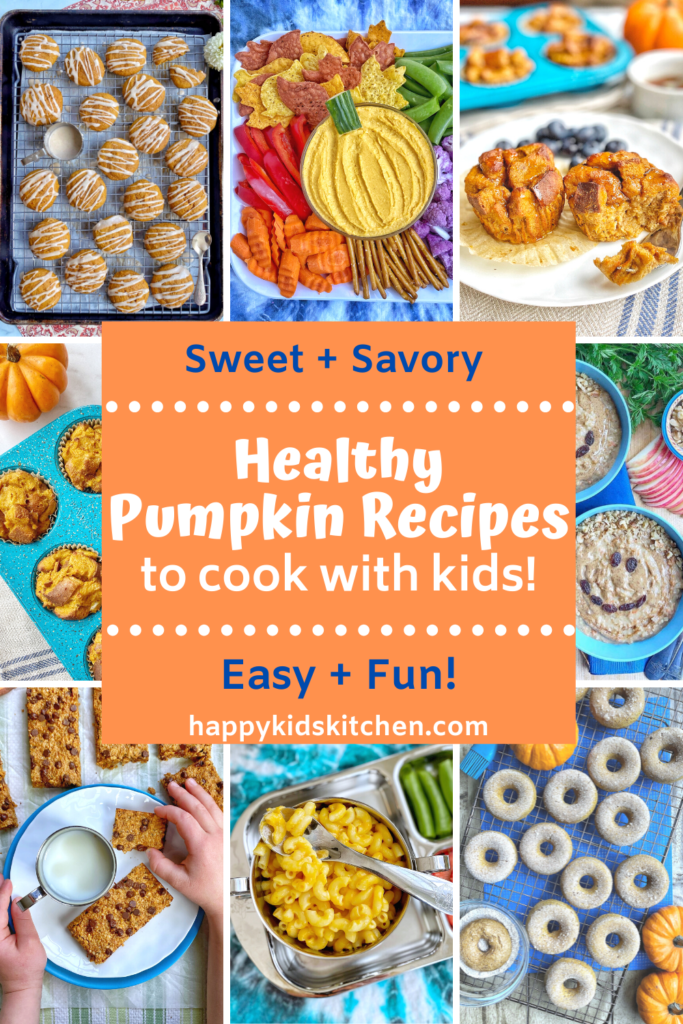 Pumpkin Recipes: Breakfast and Snacks
Not only are pumpkin breakfast recipes warm and cozy on a Fall or Winter day, but they are also a great way to get extra fiber and nutrients into your morning. Lots of recipes here can either be breakfasts or snacks, such as muffins, bars, and smoothies. These healthy pumpkin items are pretty much great anytime of day!
Pumpkin French Toast Cups: This recipe is the best way to use up any bread or crusts of bread you have around. Mix canned pumpkin with eggs, milk, and a few other simple ingredients, tossed with the bread, then baked into cute little cups. So yummy!
Slow Cooker Oatmeal: My Carrot Cake Oatmeal is super easy to make "Pumpkin Pie" Oatmeal instead. Just stir in 1 cup of canned pumpkin instead of the grated apple. You can either leave in the grated carrot or take it out. So simple and delicious. It's the best to have a warm, sweet, and healthy breakfast waiting for you when you wake up in the morning.
Healthy Pumpkin Bread Bars: Probably my favorite sweet but wholesome pumpkin recipe! Chocolate chips make these bars feel like dessert but leave them out and you have a great healthy breakfast option.
Banana-Pumpkin Blender Muffins: These are the most popular recipe on my blog and for good reason. All you do is throw all the ingredients into the blender! They are gluten free, dairy free, and naturally sweetened.
Easy Vegan Pumpkin Waffles: Looking for an egg-free breakfast? These waffles are just the recipe you need! The whole wheat batter is super easy to stir together too.
Sweet Potato Snack Bars: Except use pumpkin puree, homemade or from the can. These healthy oat bars are great for a snack on the go or a as yummy breakfast treat.
Pumpkin Pie Smoothie: This simple smoothie is a great way to use up canned pumpkin. All you need is some frozen banana, pumpkin spice, and your favorite milk.
Pumpkin Chia Seed Pudding: Another awesome Natural Nurturer recipe, this nutritious pudding can be breakfast, snack, or dessert. I've personally made this one and it's so delicious and refreshing.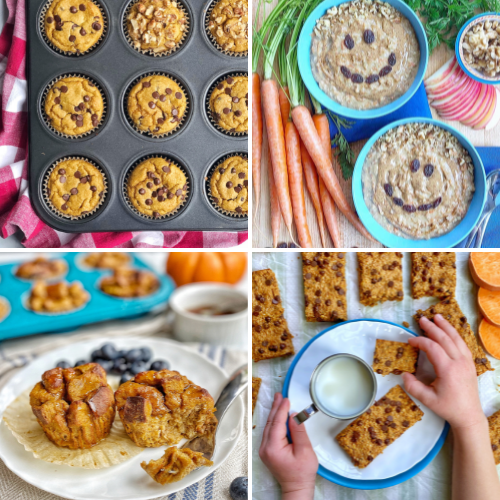 Pumpkin Recipes for Kids: Savory Meals
Pumpkin is not just for baked goods! Remember pumpkin is actually a vegetable and not very sweet on it's own. Pumpkin puree is great to add to pastas, casseroles, and all kinds of dinner recipes. Here are some ideas for you to take pumpkin to the savory side.
Instant Pot Mac and Cheese (with Pumpkin!): (Can also be made on the stove top.) This is one of my son's favorite meals and he loves to take it to school for lunch too. It is in my ebook, Simply Satisfying Meals, but my co-author, Kacie, put up a sneak peak on her website for you to grab. This pasta dish is so simple and a great way to use up canned pumpkin.
Roasted Squash (or Pumpkin) Hummus: This is a savory snack idea that's great way to use any fresh pumpkin you have (or any winter squash). The dip makes a great centerpiece for an Autumn party or just have it as part of an after school snack.
One Pot Pumpkin Pasta: Such an easy and delicious dinner and it's made all in one pot!! Pumpkin goes so well with the flavors of sage and nutmeg in this cozy pasta dish. Recipe is on the Veggie Buds Club blog where I used to develop recipes.
Instant Pot Pumpkin Chili: The ultimate savory way to use pumpkin: Chili! This recipe by The Natural Nurture is packed with veggies that kids can help chop and add to the pot. It's a perfect easy dinner for a Fall or Winter night.
Black Bean and Veggie Enchilada Casserole: This easy dinner recipe used canned sweet potato or pumpkin in the bean and veggie filling. The filling is layered with a simple enchilada sauce, corn tortillas, and cheese then it's baked up for a seriously comforting but healthy meal. This one is also from the Simply Satisfying Meals ebook, but the recipe is up on my blog too.
Pumpkin Pizza Rolls: Pizza lovers rejoice! Pumpkin purée, cheese, and pizza dough combine to make a delicious and super kid-friendly way to enjoy pumpkin. You can make your own pizza dough with more pumpkin purée mixed right in or use store-bought pizza dough for a quicker option.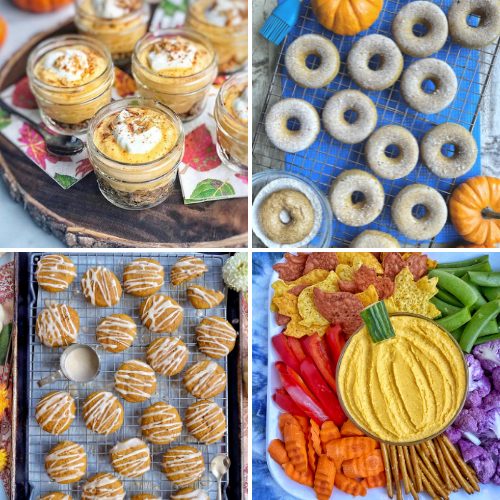 Healthy Pumpkin Recipes: Desserts
Healthy Pumpkin Cookies with Maple Glaze: Whole grain, lower in added sugar, and made in one bowl! These are the best pumpkin treat to make with kids.
Lower Sugar One-Bowl Pumpkin Cupcakes: with easy, refined-sugar-free cream cheese frosting! These are the perfect, easy cupcakes to make with kids. Theres a chocolate version too that has the pumpkin but no pumpkin spiced so you can't taste it!
Pumpkin Pie Parfait Cups: These no-bake pumpkin treats are so easy to make kids can pretty much do the whole thing by themselves! They are made up of a handful of simple ingredients, like yogurt, maple syrup, and spices, you probably already have at home.
Vegan Pumpkin Baked Donuts: Don't worry if you don't have a donut pan. You can bake up the same batter in a mini muffin pan and call them donut holes! These donuts are a must-try!! We love them.
Healthy Pumpkin Oatmeal Cookies: Made from good-for-you ingredients, lower in added sugar than most cookie recipes, these healthy cookies are soft, chewy, full of pumpkin and warm fall flavors.
Peanut Butter Pumpkin Bread: This treat is full of amazing fall flavors and is made with oodles of healthy ingredients. Make it with or without chocolate chips to fit your personal taste! Gluten free + dairy-free
More to Come!!
Save this post to Pinterest so you have it when you need a pumpkin recipe!
Other Recipe Round-ups:
Healthy Apple Recipes to Cook with Kids
Healthy Halloween Food for Kids