Lower Sugar One-Bowl Cupcakes (Pumpkin and Chocolate)
A healthier treat for Halloween, birthday parties, or any occasion. These lower sugar one-bowl cupcakes can be made in the classic Fall pumpkin flavor or in yummy chocolate. However, both are filled with the goodness of pumpkin puree (yay for veggies in dessert!). Stir together simple ingredients you probably already have at home then make a refined sugar free, no-mixer-required cream cheese frosting. Kids can easily get into the kitchen with you because these cupcakes come together so quickly.
Kids in the Kitchen:
Remember that kids do not have to do all the steps included below! Helping can mean doing one thing in the recipe or being there from start to finish. Even adding one ingredient to the bowl has benefits!
Set yourself up for success! BEFORE you invite a child to bake with you, get out all the ingredients and tools, preheat the oven, be completely ready to go. I like to place everything on a baking sheet to keep in organized and contained. If you want, you can even remeasure everything to make baking with younger kids less stressful.
Measure and mix the dry ingredients. Demonstrate how to fill a measuring cup by spooning the flour into the cup and  then leveling it off with the back of a butter knife or wooden spoon so that the cup is "full and flat" but not packed.
Scoop the batter into the muffin cups holding the scooper or spoon together.
Kids can mix the frosting ingredients together. You may want to spread the finished frosting onto the cupcakes (this task is a little tricky for kids to do but they can try if you are up for it!).
Decorate! Get out those sprinkle or whatever toppings you'd like and have fun!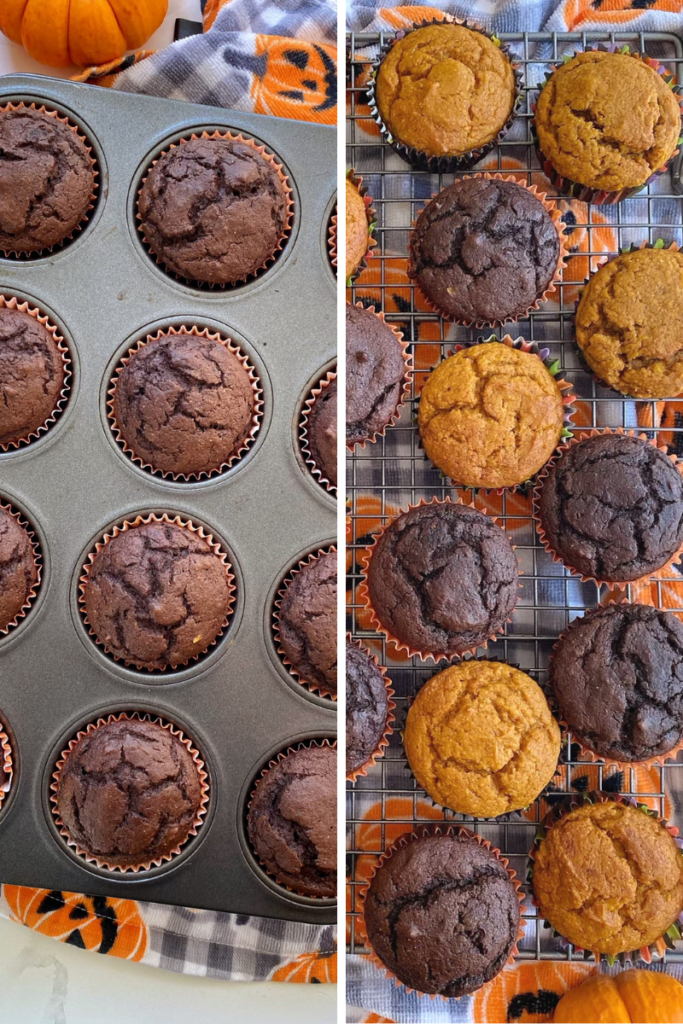 Tips and Subs for Lower Sugar One-Bowl Cupcakes:
Flour: I like to use a blend of all-purpose white flour and whole wheat flours for these cupcakes. It adds a bit more fiber and nutrition to the recipe without making it feel like a healthy muffin. However, feel free to use all whole wheat flour, especially if it's a mild flour like a whole wheat pastry flour or white spelt flour. To make these gluten-free, sub a gluten-free flour blend that you like.
Egg free? I have not tested it but  I am pretty sure a substitute  like a flax "egg" would work well. Let me know if you try it!
Dairy free? The cupcakes themselves are dairy-free. As for the frosting, feel free to use a dairy-free cream cheese and whip the frosting together with a hand or standing mixer to make it light and fluffy. You can also use any frosting recipe you like instead.
Frosting: The cream cheese frosting recipe I included below couldn't be easier and I love how it tastes with the pumpkin cupcakes. However, if you want more of a traditional frosting, here is an easy Vanilla Buttercream Recipe.
Helpful Supplies: Unbleached paper muffin liners (Love these because they are non-stick!), Large and small portion/cookie scoops (Get a set of three! Can be used for so many things beyond muffins too), and a great muffin tin (You probably already have one, but here is one just in case) are listed in my Amazon store under the "Baking Essentials" sections HERE.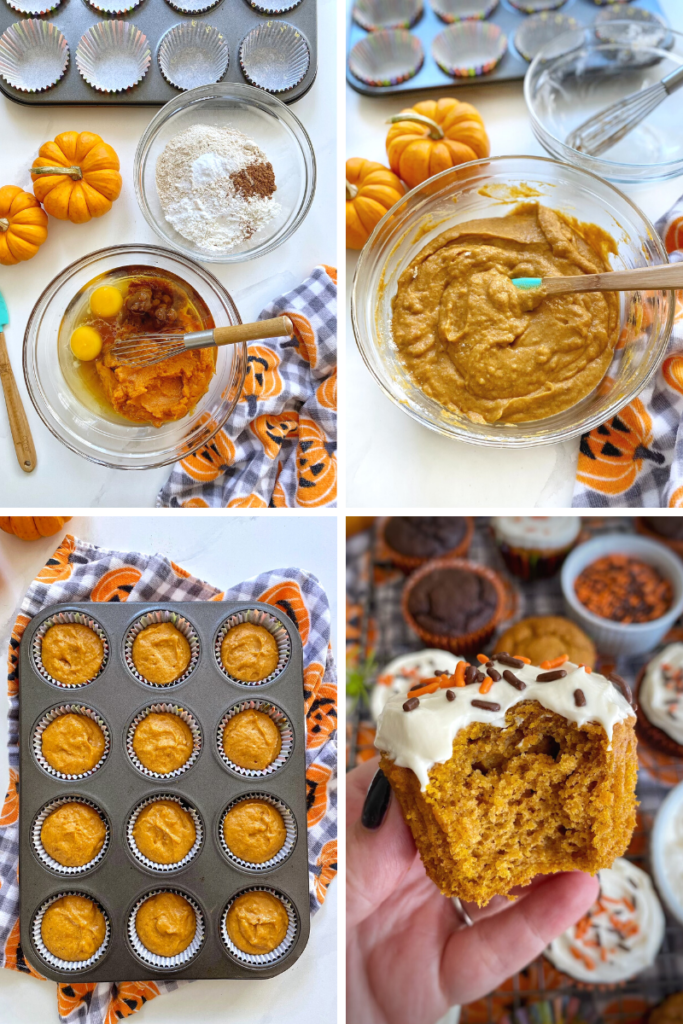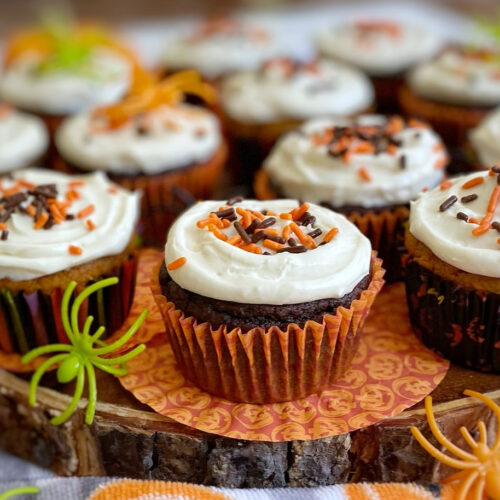 Lower Sugar One-Bowl Cupcakes
Either Pumpkin or Chocolate, healthier cupcakes for Halloween, birthdays, or any occasion.
Ingredients
Pumpkin Cupcakes (makes 12)
2

large eggs or egg substitute

1

cup

pumpkin puree

1/3

cup

avocado, vegetable, or canola oil

1/4

cup

maple syrup or honey

1/4

cup

coconut sugar or brown sugar

1

tsp

vanilla extract

1

cup

flour

I use 1/2 all purpose and 1/2 whole wheat

1

tsp

baking powder

1/2

tsp

baking soda

1/4

tsp

fine salt

1 1/2

tsp

pumpkin pie spice

or 1 tsp cinnamon, 1/8 tsp nutmeg, 1/8 tsp ground ginger, 1/8 tsp cloves
Chocolate Cupcakes (makes 12)
2

large eggs or egg substitute

1

cup

pumpkin puree

1/3

cup

avocado, vegetable, or canola oil

1/4

cup

maple syrup or honey

1/4

cup

coconut sugar or brown sugar

1

tsp

vanilla

3/4

cup

flour

1/4

cup

dutch-processed cocoa powder

1

tsp

baking powder

1/2

tsp

baking soda

1/4

tsp

fine salt
Cream Cheese Frosting (refined sugar free)
8

oz

whipped cream cheese

2 to 4

tbsp

maple syrup

1/4

tsp

vanilla extract
Instructions
Pumpkin or Chocolate Cupcakes
Preheat oven to 350 degrees. Line a standard muffin tin with paper cupcake liners.

In a large bowl whisk together the eggs, pumpkin, oil, maple syrup, sugar, and vanilla. Add the remaining ingredients and stir with a large spoon or rubber spatula until just combined.

Divide the batter into the pan, filing the cupcake liners about 3/4 of the way full. Bake until cooked through and a toothpick inserted into the center comes out clean, 12 to 14 minutes.

Cool completely then frost as desired. Store unfrosted cupcakes at room temperature for 1 day. Cupcakes can be stored in the fridge for 2 days but are best the day they are made.
Cream Cheese Frosting
Add cream cheese to a medium sized bowl. Stir in 2 tablespoons of maple syrup and the vanilla. Taste and add more maple syrup as desired. Use immediately or store in the fridge until you are ready to frost the cupcakes.
Notes
See post for a link to an easy buttercream recipe.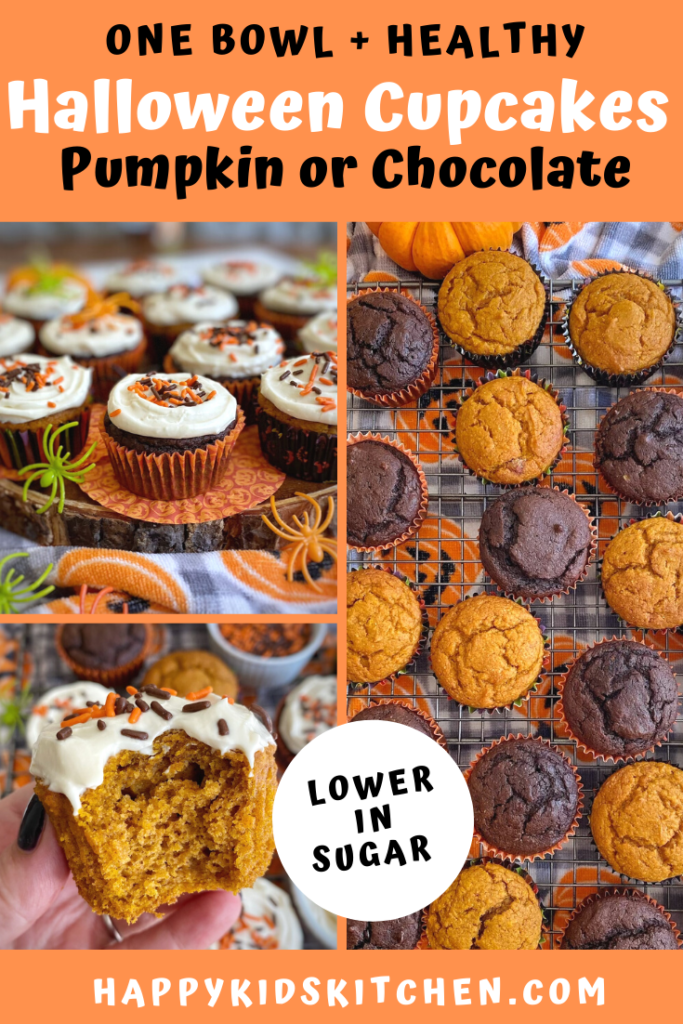 Looking for other Halloween ideas? Click here: Healthy Halloween Food for Kids
More Pumpkin recipes? Healthy Pumpkin Recipes to Cook with Kids
Banana Beet Cupcakes with Berry Cream Cheese Frosting