Healthy Halloween Food for Kids
Want to have some delicious Halloween fun without all the sugar? I have lots of ideas for healthy Halloween food for kids to enjoy throughout the month of October and on Halloween day. I make it a major goal to show my students (and my own children) that festive, fun, holiday inspired food can also be nourishing for our bodies. Although we like to enjoy candy and all the extra treats that come with the Halloween activities sometimes, why not add some extra fun into more than just dessert? If you are looking to make some healthy Halloween food for kids, I've got some easy tricks and treats for you!
Heathy Halloween food for kids can fit into any meal of the day. Festive food doesn't need to be saved for dessert or an occasional treat. Here are some ideas for breakfast, snack time, lunch boxes, and dinners too.

Healthy Halloween Breakfast Ideas
Why not start the day with a nutritious and fun meal? Breakfast is a great time to add a hit of spooky goodness!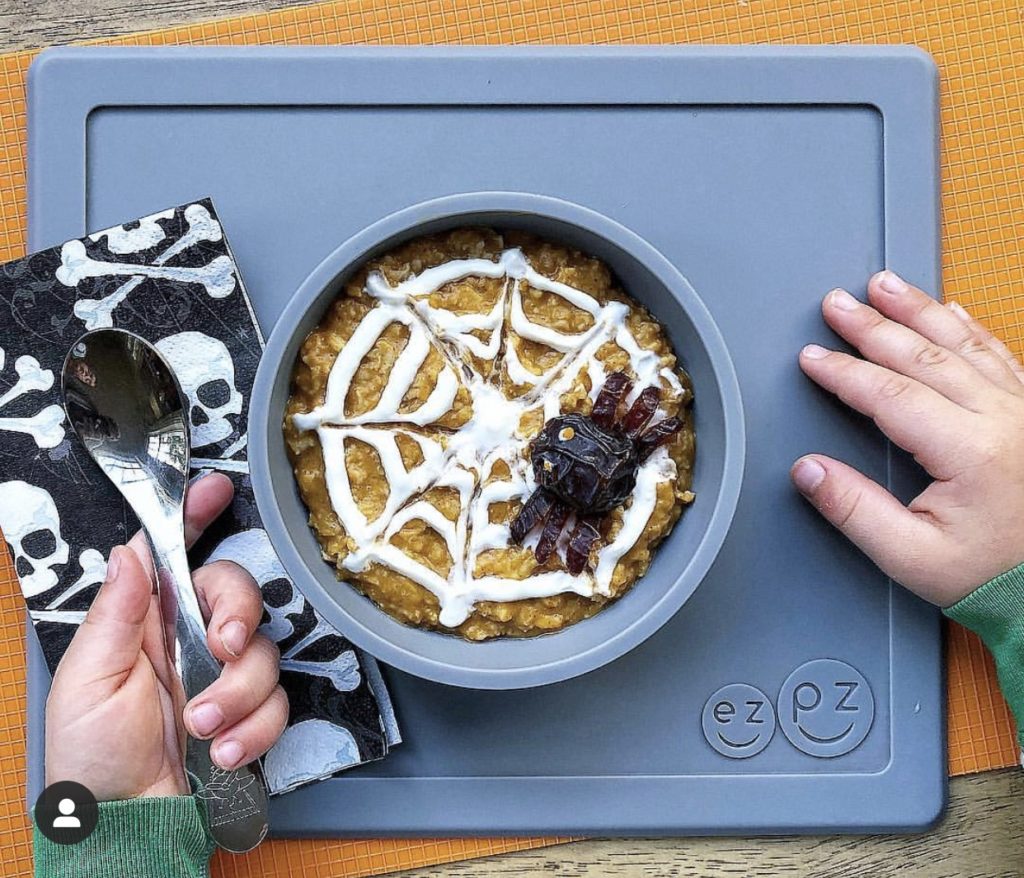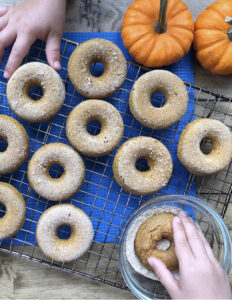 Spider Web Pumpkin Oatmeal: Stir a couple of big spoonfuls of pumpkin puree (from a can) and a shake of pumpkin pie spice into your favorite oatmeal recipe for a festive and nutritious take on morning oats. For the web, place about 1/4 cup of yogurt (thick Greek yogurt works best) in a small plastic bag. Snip one corner off the end of the bag and pipe circles on top of the oatmeal. Use a butter knife or chopstick to drag lines through the circles. The spider is made from a large date. Yummy, spooky, fun!
Baked Pumpkin Donuts: I have the easiest recipe for delicious baked donuts with all that yummy pumpkin goodness. They are whole wheat (with gluten-free option) and naturally egg and dairy free too! Get the full recipe HERE.
Jack-o-Lantern Smoothie: Start your Halloween day off with a tummy full of protein, healthy fat, and 2 veggies! This easy recipe is sweet and totally kid-approved. Plus, you can make decorate plastic cups or glass jars to look just like a Jack-O-Lantern when you pour the smoothie inside. Check out the full recipe and quick craft HERE.
Banana-Pumpkin Blender Muffins: these are the best muffins and the most popular recipe on my blog. Stick some fun, candy eyes on the top and you have a nutritious and fun snack or breakfast. Get the full recipe HERE.
Green Smoothie Muffins: My friend The Natural Nurturer has a super fun, green muffin recipe that she puts eyes on to turn into spooky Frankenstein muffins. Check out the recipe Here.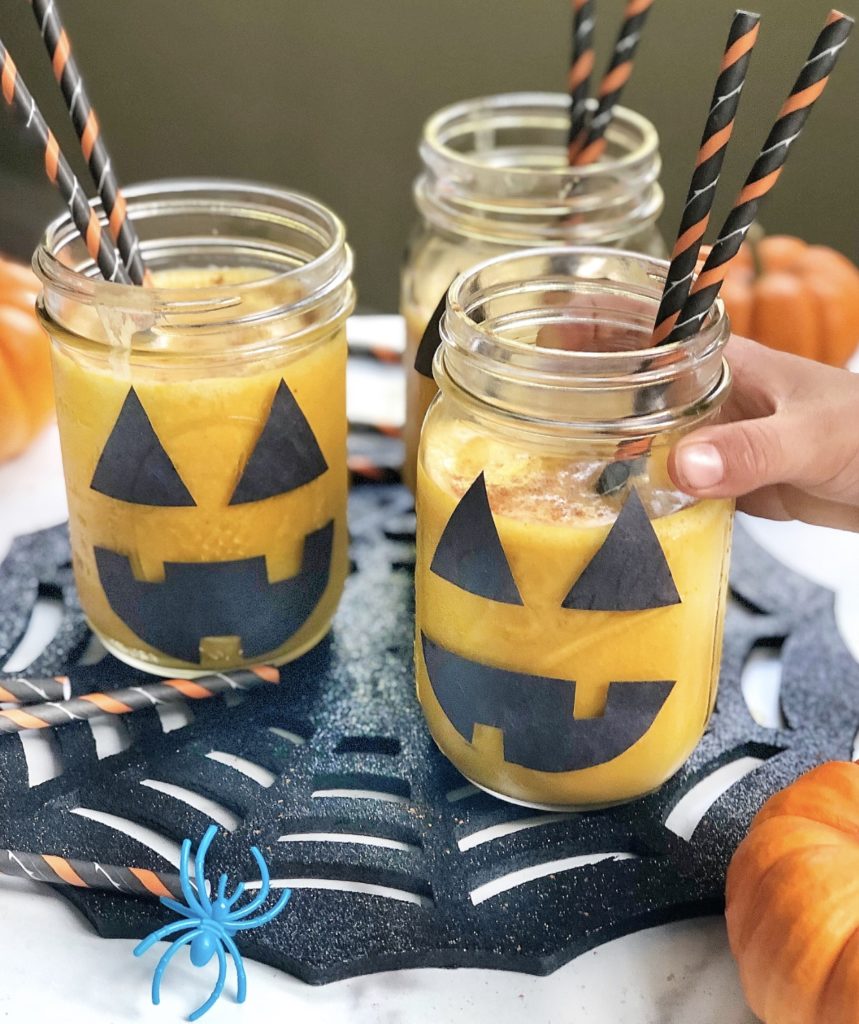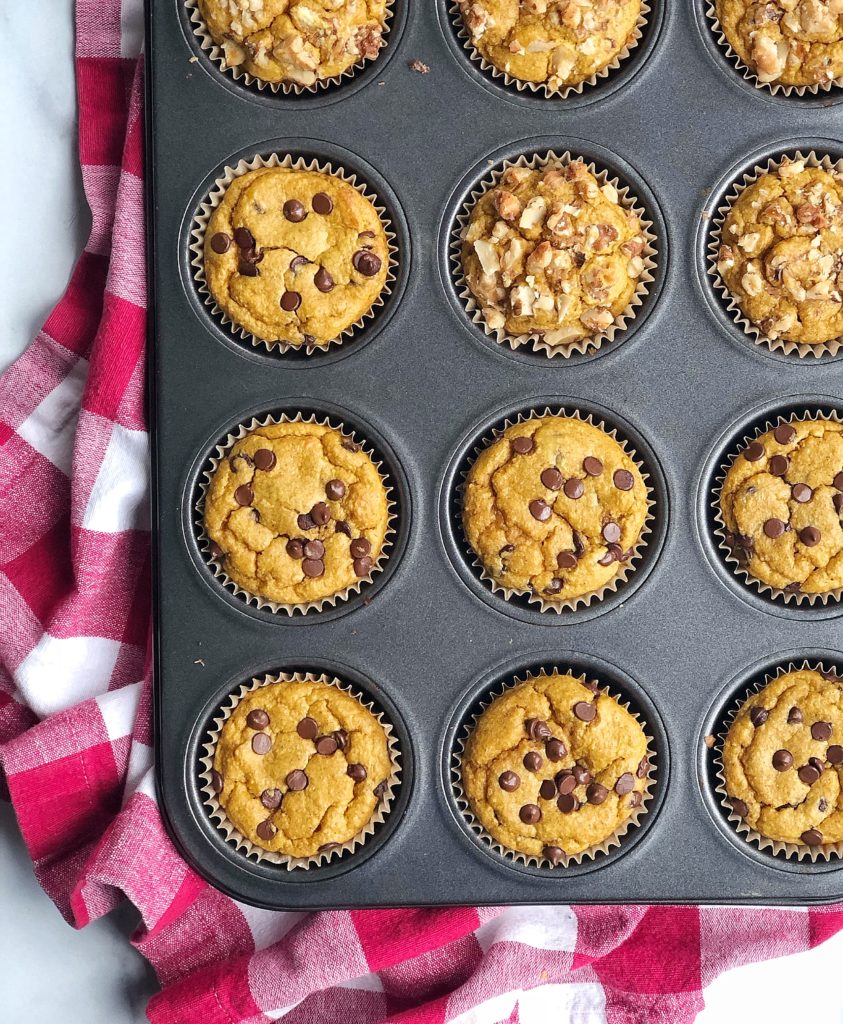 Heathy Halloween Snack Time!
It's easy to run to the pantry to grab a bag or crackers or a granola bar for a snack, but use Halloween as an inspiration to make a balanced snack that looks more like a mini meal. Add fruits, veggies, and fun to snack time with a Halloween color theme or simple hacks to put the spooky in snack time!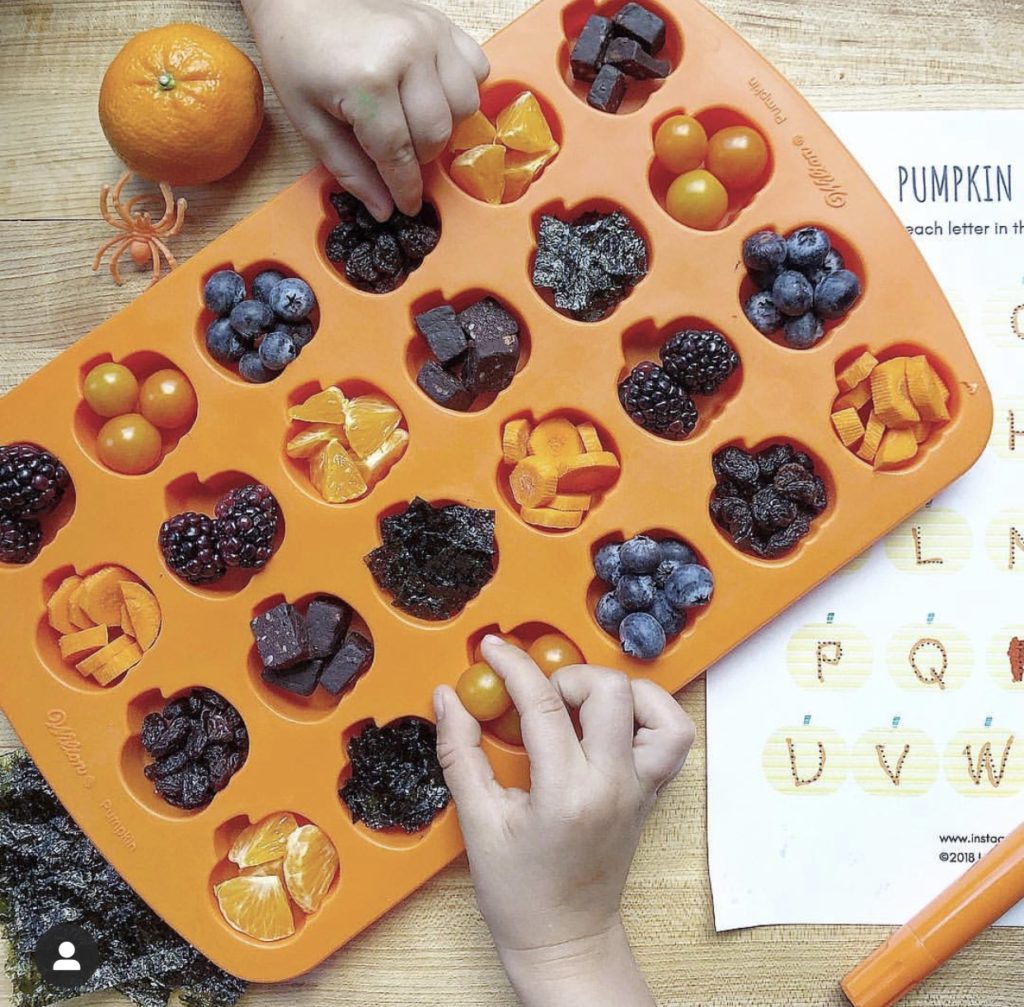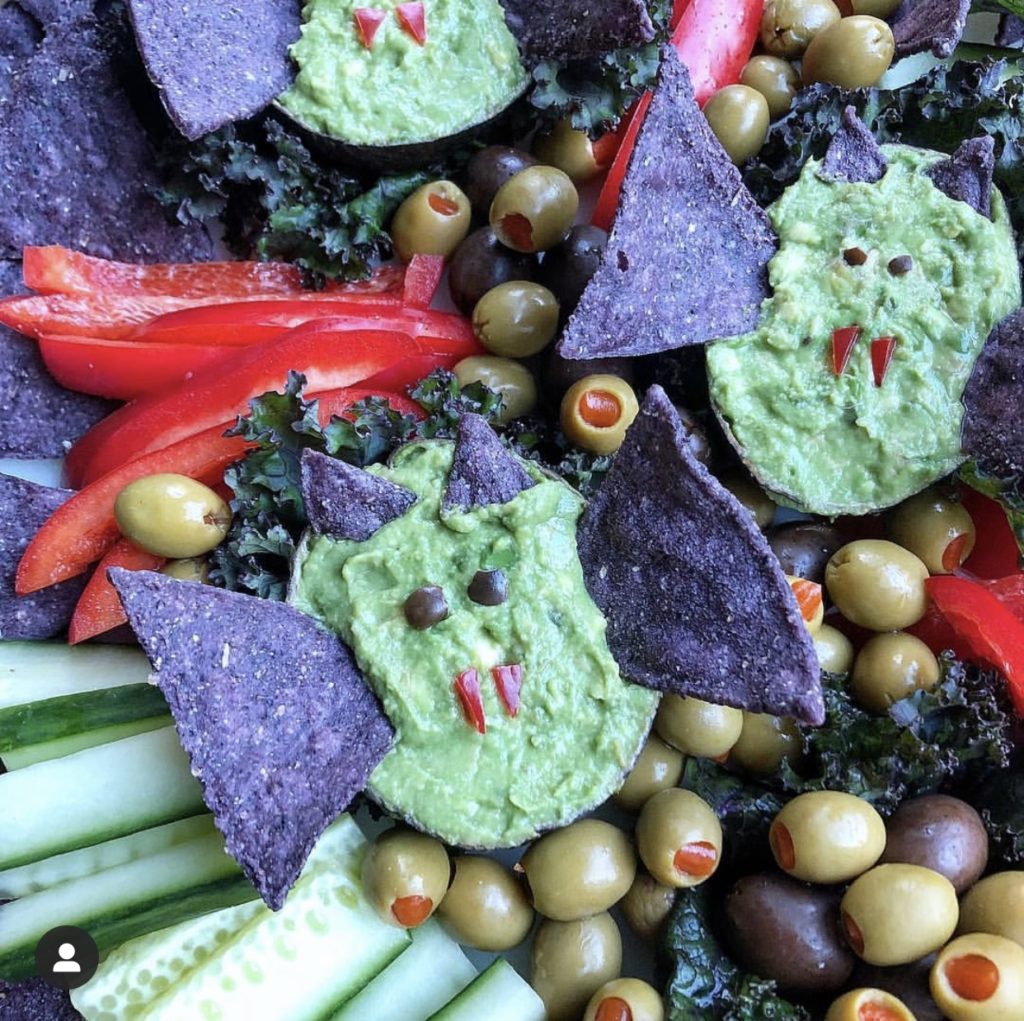 Festive Snack Tray: You can easily transform any food into a festive treat with a mini muffin tin like this silicone pumpkin pan by Wilton. Here I searched through the fridge and pantry to find all the orange and dark colored foods available then cut them or arranged them to fit inside this tray. Kids will love seeing the variety of foods laid out in such an appealing way and it might even lead them to eat things they might not otherwise try.
Spooky Guacamole: There's just something about mashed avocado that just screams spooky! Make your favorite guacamole recipe (we like to keep it simple and just add lime juice and salt to the mashed avocado) then serve it with fun chips and veggies for dipping. You can also get a little more fancy and make some BAT-OMOLES where you add the mashed avocado back to the avocado skin and decorate it like a spooky bat (see picture below).
Easy Halloween Toasts: these cute snacks are by Yummy Toddler Food, see them HERE.
Celery Witch Fingers: 3 of my fun and SPOOKY veggie snack ideas, including the bat-amole avocado, cucumber spiders, and celery fingers, can be found in this Instagram video HERE.
Two recipes from my free ebook, Easy Snacktivities, are also great for a healthy Halloween snack. See the Avocado Toast Monsters and Cucumber Spiders in the picture below. They are full of veggies and so fun for kids to make. Get your copy of the book, HERE.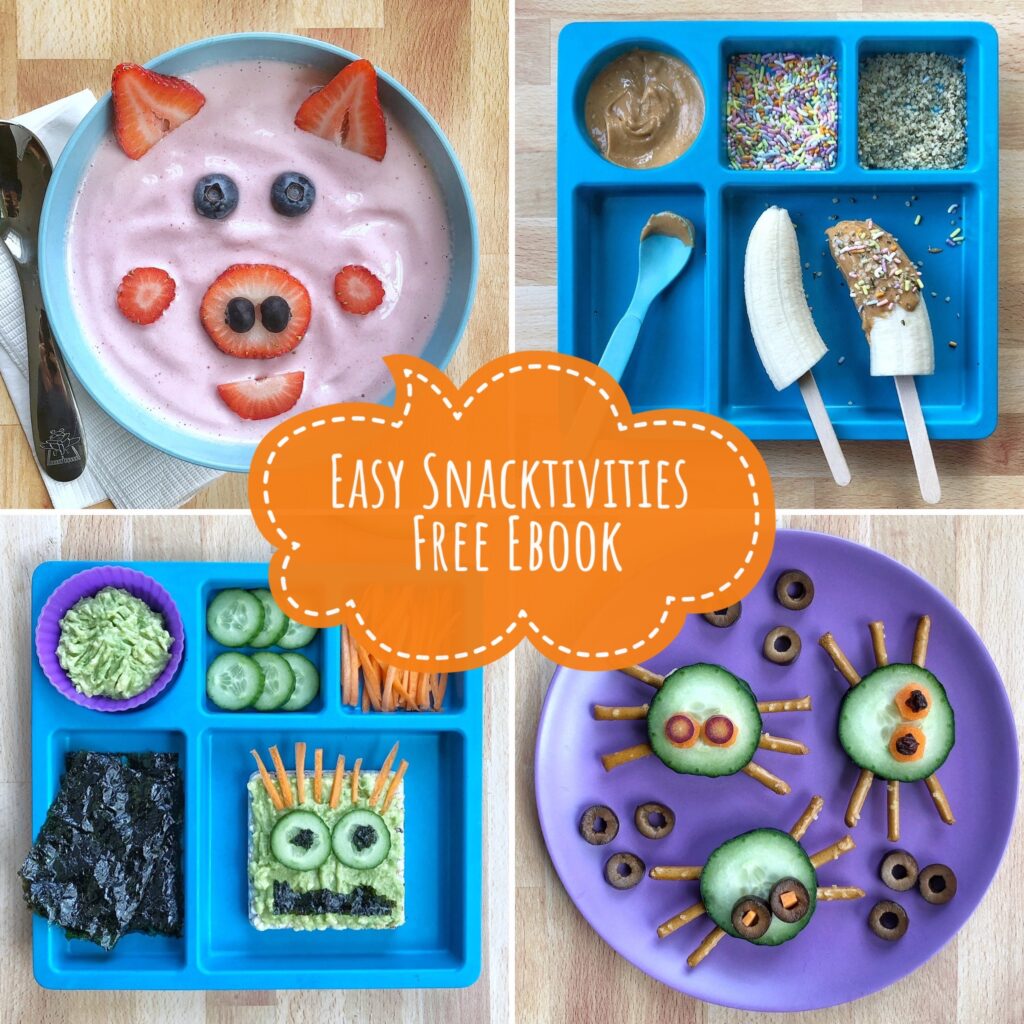 Sweet Snacks/Treats: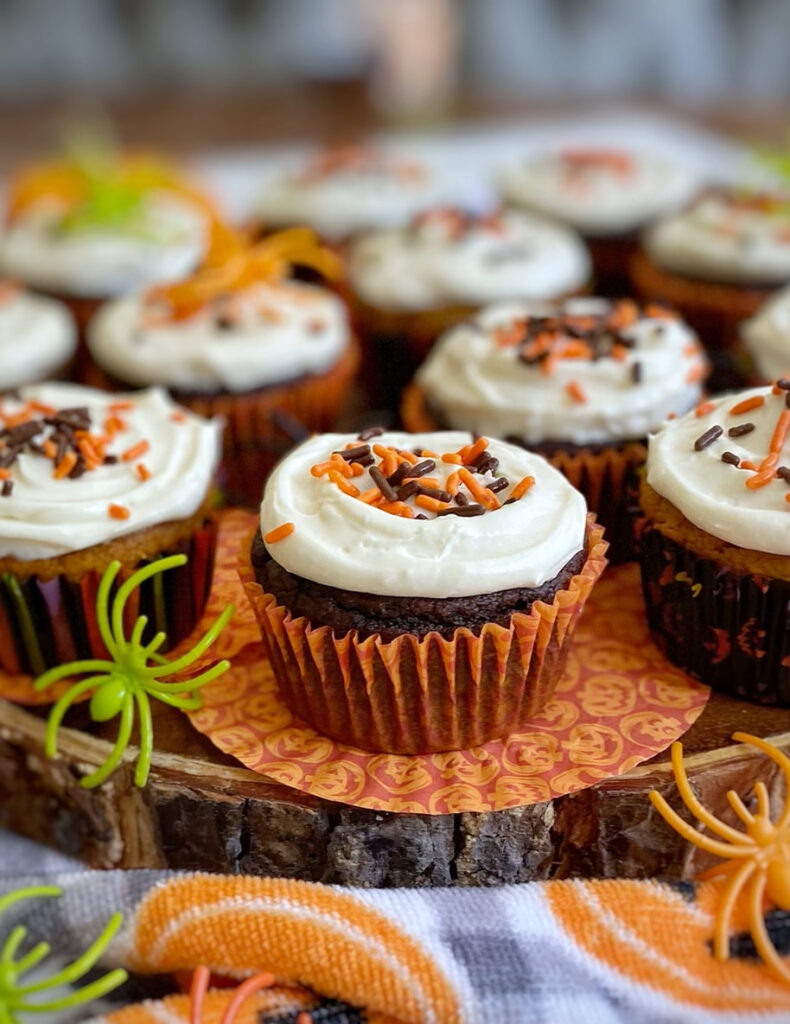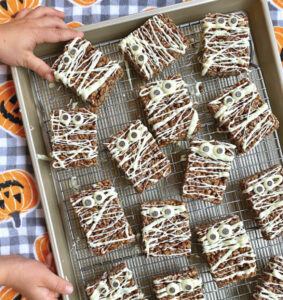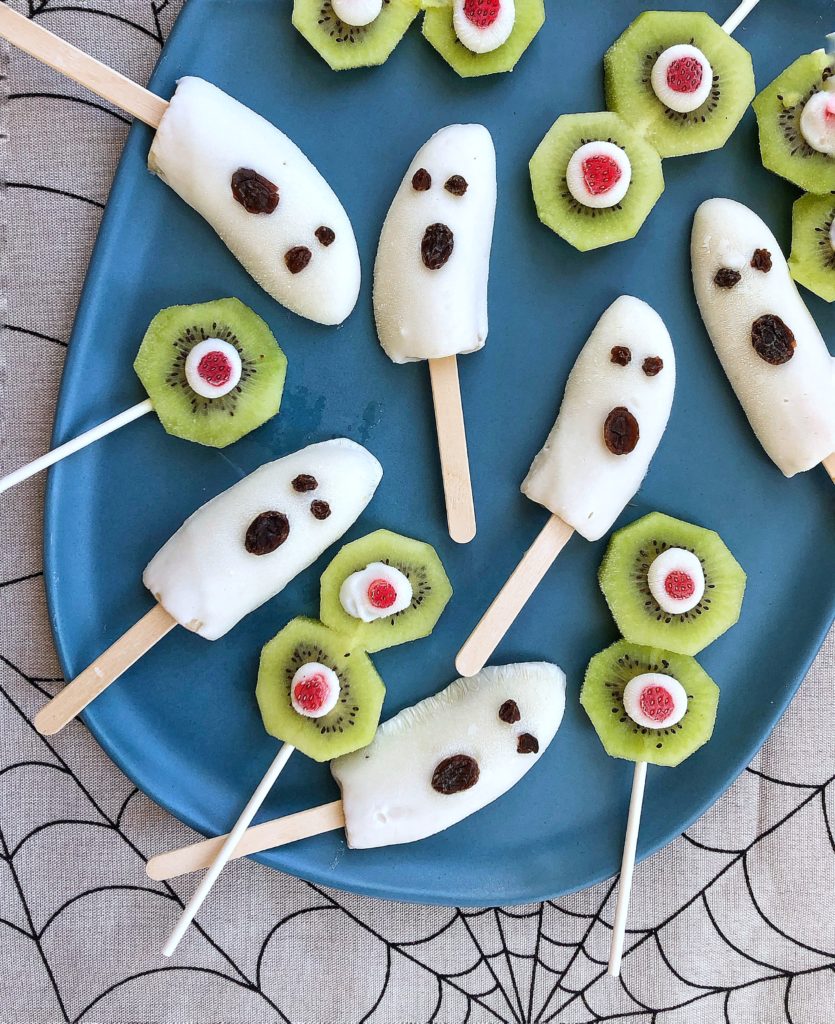 Healthy Halloween Main Meals
Adding a extra dash of fun into lunch or dinner will really show that Halloween food can be exciting and healthy! Add these yummy ideas to a lunch box or dinner plate. You'll be sure to get lots of smiles in return!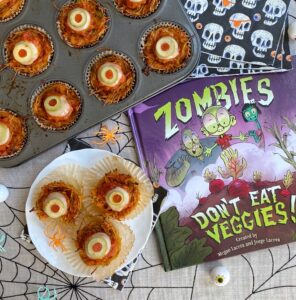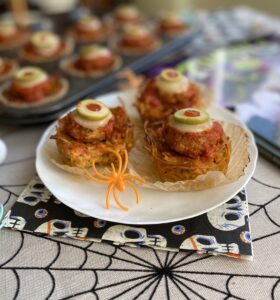 Baked Spaghetti Cups: Make these yummy, veggie-packed pasta cups then top them with a ball of fresh mozzarella and an olive "eye-ball" for an easy, creepy dinner. We have also made them with a meatball (frozen or pre-made is great for a shortcut) in the center and then topped with a cut out circle of cheese and a slice of pimento olive.
Slow Cooker Turkey Taco Chili: Chili in the crockpot is always a good idea for Halloween night. Not sure why but it's always been my go-to. Here is a recipe by my friend The Natural Nurturer that looks amazing!
Pizza Mummies: There are so many ways to create fun pizzas for Halloween. Here are two versions we have done a lot in my classes and at home. Pizza mummies: thank goodness for those spooky olive eyes! I like to pump the pizza sauce up with some extra veggies like finely chopped broccoli, spinach, and even a couple spoonfuls of pumpkin puree. Recipe below!
Black Olive Spiders: Easily create a spooky effect on a pizza by topping with some spiders made from back olives. Slice the olives in half the long way, leave one piece whole, and cut the other half into legs. So creepy!
Bagel Ghosts: this idea couldn't be easier. Spread a mini bagel with cream cheese and cut some small circles out of a nori seaweed sheet with scissors for the eyes and mouth. See them this lunchbox on my Instagram page HERE.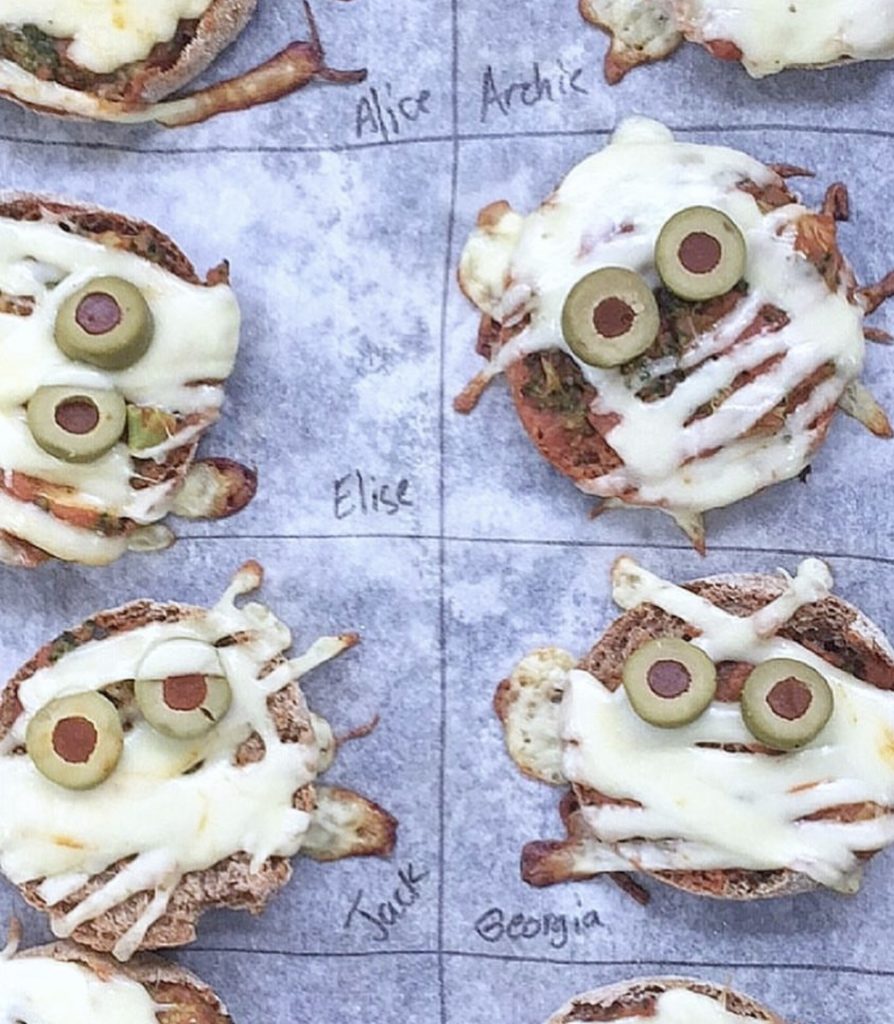 Recipe: Pizza Mummies with Veggie Sauce

Makes 4 pizzas
2 whole wheat or gluten free English muffins, split
1/2 cup pizza or marinara sauce
1/2 cup steamed broccoli, finely chopped
2 T pumpkin purée or mashed squash
2 mozzarella cheese sticks
4 olives, halved (pimento stuffed or black)
 Preheat the oven to 400 degrees.

Place English muffin halves on a baking sheet and bake for 5 minutes.

Meanwhile, combine the pizza sauce with the broccoli and pumpkin (or whatever veggies you choose).

Remove the English muffins from the oven and spread a heaping spoonful of sauce onto each half.

Peel cheese sticks into strings and arrange them on top of each English muffin. Place 2 olive halves on top of the cheese to create eyes.

Bake for 3 minutes or until cheese is melted.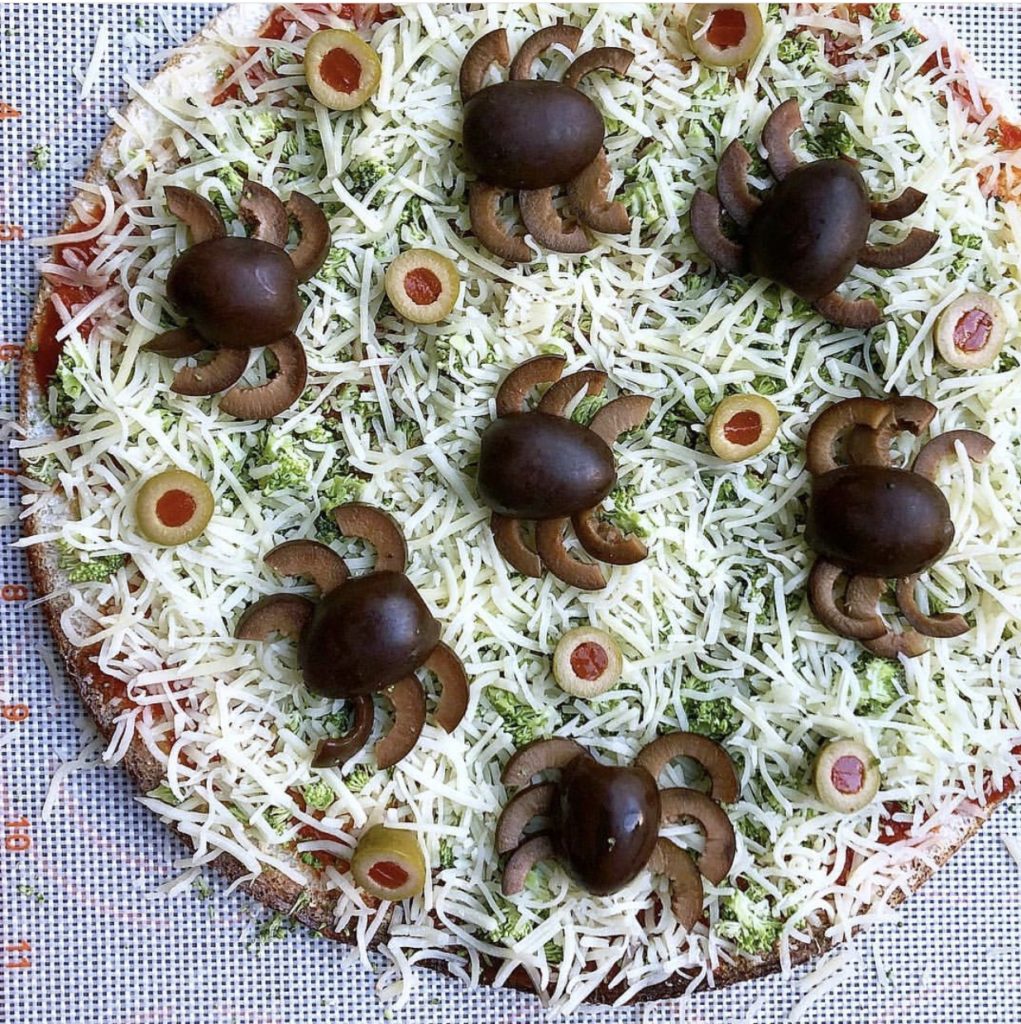 Happy Halloween!!!
Other posts you might like:
Healthy Apple Recipes to Make with Kids
The BEST recipes to Cook with Kids
5 Kid-Approved (and veggie Packed!) Smoothies