5 Kid-Approved (and veggie packed!) Smoothies
Smoothies…do your kids like them? Mine are hit or miss for breakfast but often enjoy them as a healthy afternoon or post dinner snack. No mater what time of day your family enjoys them, making smoothies is an easy way to get kids involved in the kitchen and get nutritious veggies in their little bodies (and ours too!). Here are some of my favorite smoothie recipes to make at home.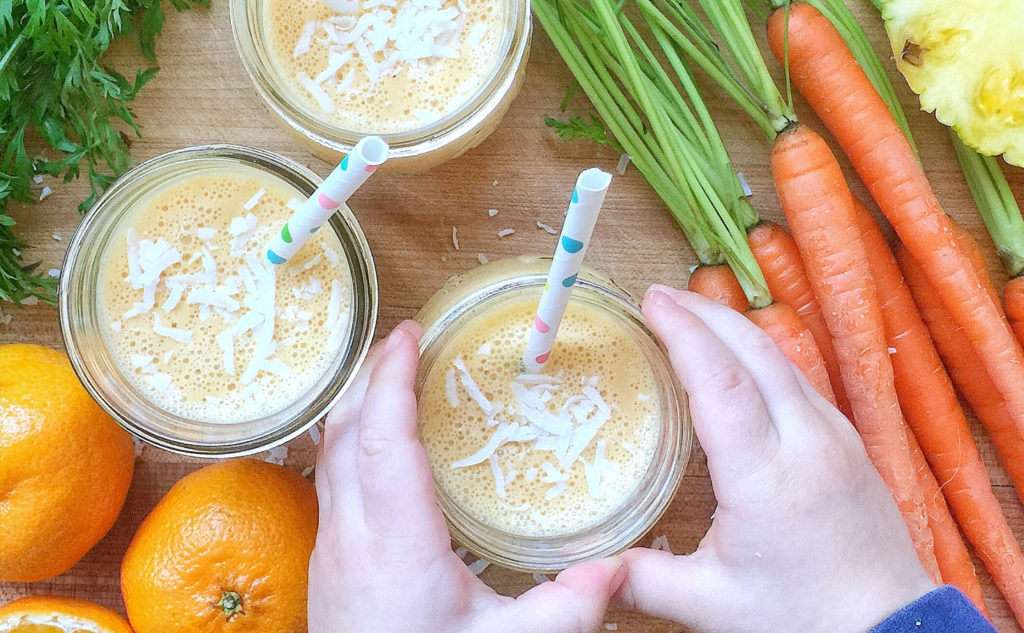 Tropical Carrot Smoothie
Did you know you can add raw carrots into a smoothie? You bet! This refreshing drink is filled with delicious tropical flavors from pineapple, coconut, and sweet mandarin oranges. It is naturally sweetened and a balanced snack thanks to some protein rich Greek yogurt. Full recipe on the Veggie Buds Club blog here. Tropical Carrot Smoothie Recipe.

Green Apple Pie Smoothie
The perfect way to expose those little green skeptics to some spinach! The sweet flavors of apples and cinnamon make this smoothie irresistible. Have your little one add the ingredients into the blender with you, especially when adding the greens. That way she can know that even if she may not like spinach plain, she might like it combined with other flavors.
Recipe:
1/2 frozen banana
1 small apple, cored and chopped
2 big handfuls baby spinach or kale
1/4 cup organic rolled oats or 2 tablespoons almond butter
1/4 teaspoon ground cinnamon
1/2 cup milk (dairy or non-dairy)
Handful of ice
Add everything to a blender and blend until very smooth.
Add extra ice or milk as needed.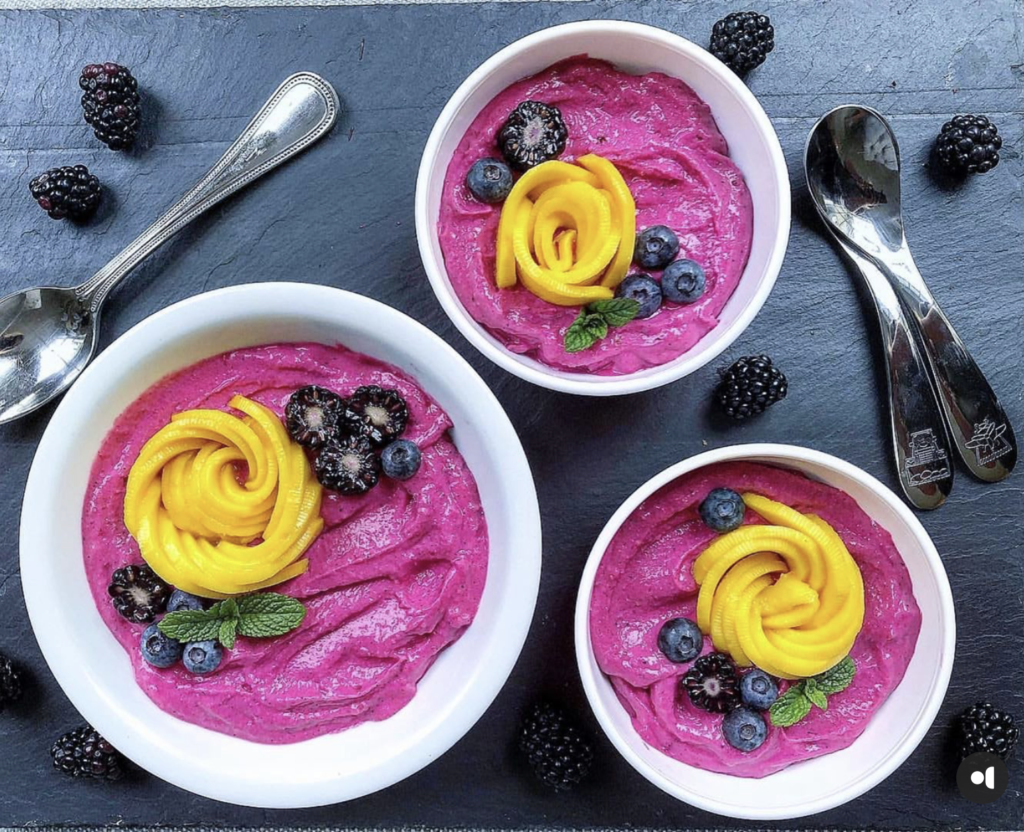 Sweet Potato and Dragon Fruit Smoothie Bowls
Often times my kids prefer to eat their smoothies with a spoon. You can make any smoothie recipe into a smoothie bowl by adding less milk or other liquid in the recipe. Just add a little liquid add a time until you get your desired thickness. You can also add a handful of ice to make a smoothie more frosty and thick. This recipe is a really unique combo of flavors and ingredients. If you have any leftover cooked sweet potato, this is a great smoothie to whip up. Dragon fruit gives this smoothie that beautiful bright pink color. You can find frozen dragon fruit in many grocery stores these days, but you can substitute frozen berries if you'd prefer.
1 cup cooked sweet potato
2 packets dragon fruit or 1 cup frozen mixed berries
2 cups frozen mango (or a frozen banana)
1/4 cup almond butter
1 pitted date, optional
Pinch of vanilla powder, optional
Splash of water
Add all ingredients to a high-speed blender and blend until smooth.
Add more water as needed to get desired consistency. Spoon into bowls and add any additional toppings.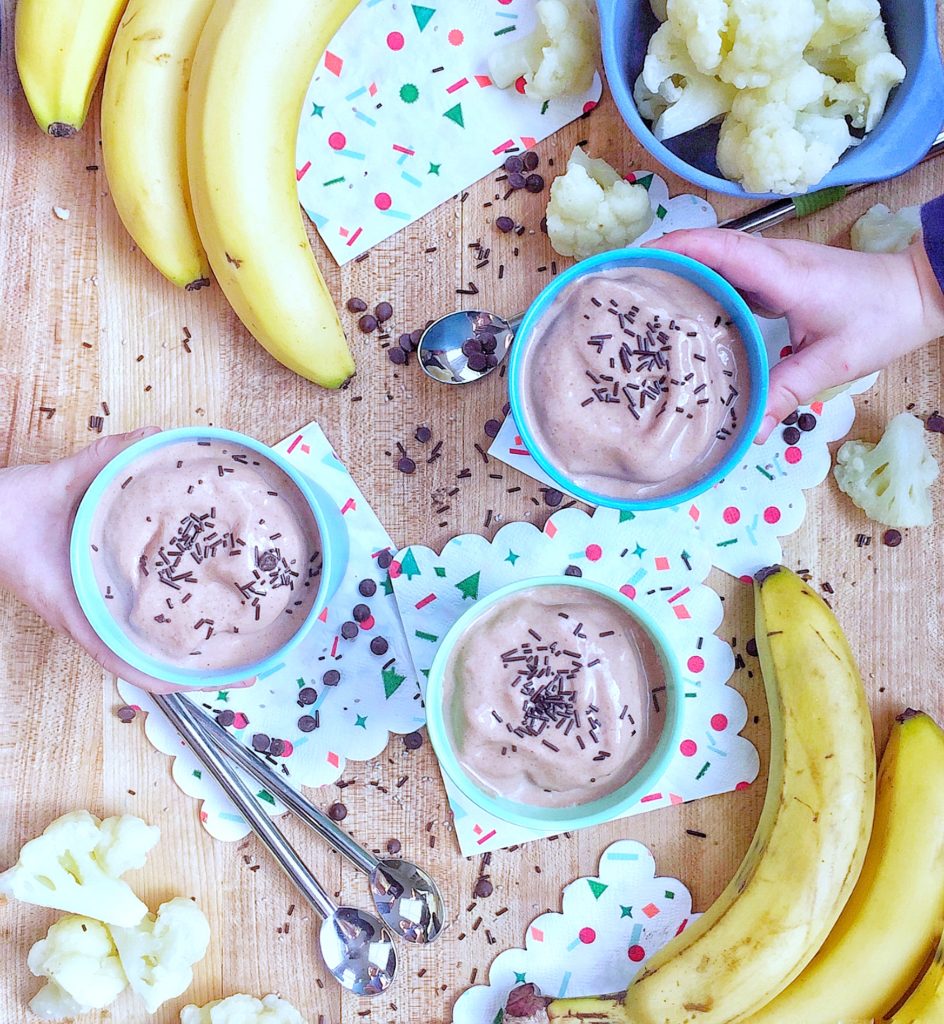 Heathy Chocolate "Milkshake" (with Cauliflower!)
We call it a milkshake because it's so creamy and delicious but the recipe is really a veggie-filled chocolate smoothie. Frozen cauliflower gives the smoothie lots of creaminess and body but you can't taste it at all! Add a few mini chocolate chips or sprinkles on top for a little extra fun. Get the recipe on the Veggie Buds Club blog here Heathy Chocolate Milkshake Recipe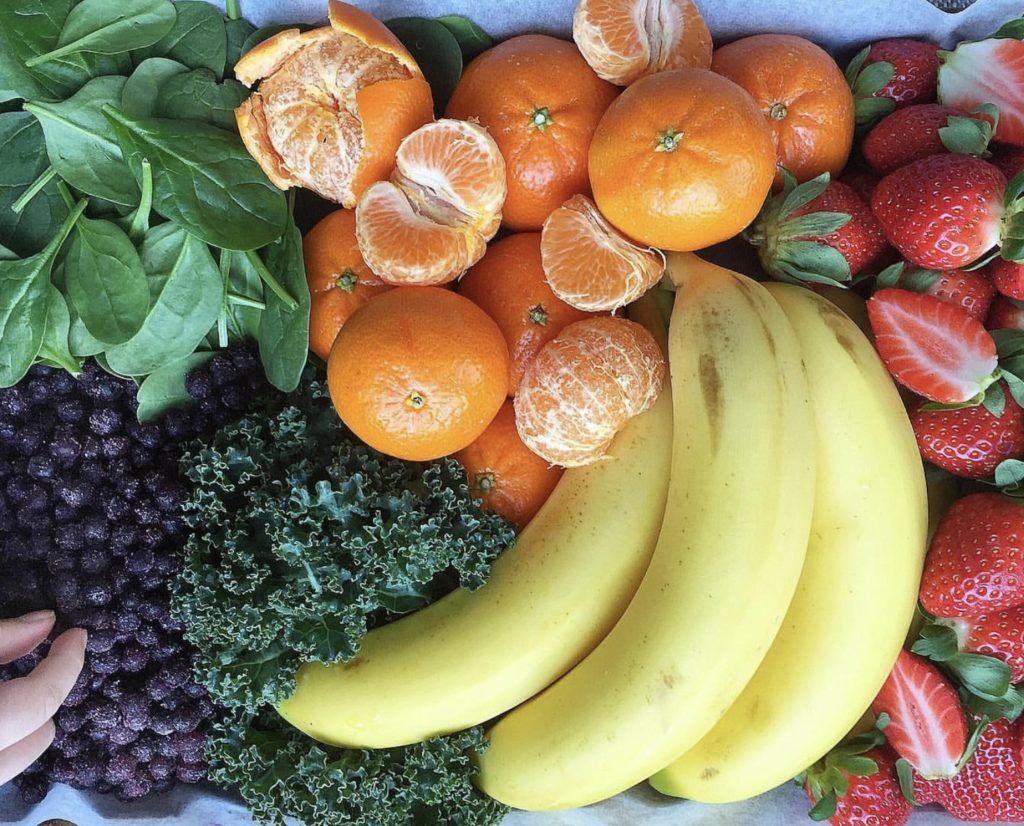 Eat-the-Rainbow Smoothie
All the colors of the rainbow in one cup! We even add in some riced frozen cauliflower as the "Clouds!" This is my son Jack's favorite smoothie and one the the most requested recipes in my preschool cooking classes. It is filled with veggies, fruit, and protein from Greek yogurt (you could use a coconut or other dairy-free yogurt as well), and a great way to expose kids to lots of different vegetables. Get kids involved by having them help cut the fruit with a child-safe knife and placing all the ingredients into the blender. This one is super sweet and refreshing!
Recipe:
3 to 4 strawberries
½ banana
1 clementine mandarin or 1/2 small orange
Large handful baby spinach and/or kale leaves
½ cup frozen blueberries
¼ cup yogurt or dairy-free alternative
½ cup frozen riced cauliflower
¼ to ½ cup milk or water
1.    Cut stems off of strawberries, peel and slice banana, and peel clementine. Place fruit in a blender.
2.    Add remaining ingredients to blender including a ¼ cup of milk. Purée on high until smooth.
3.    Add more milk if necessary to make thinner or add some ice and blend again to thicken smoothie. Serve.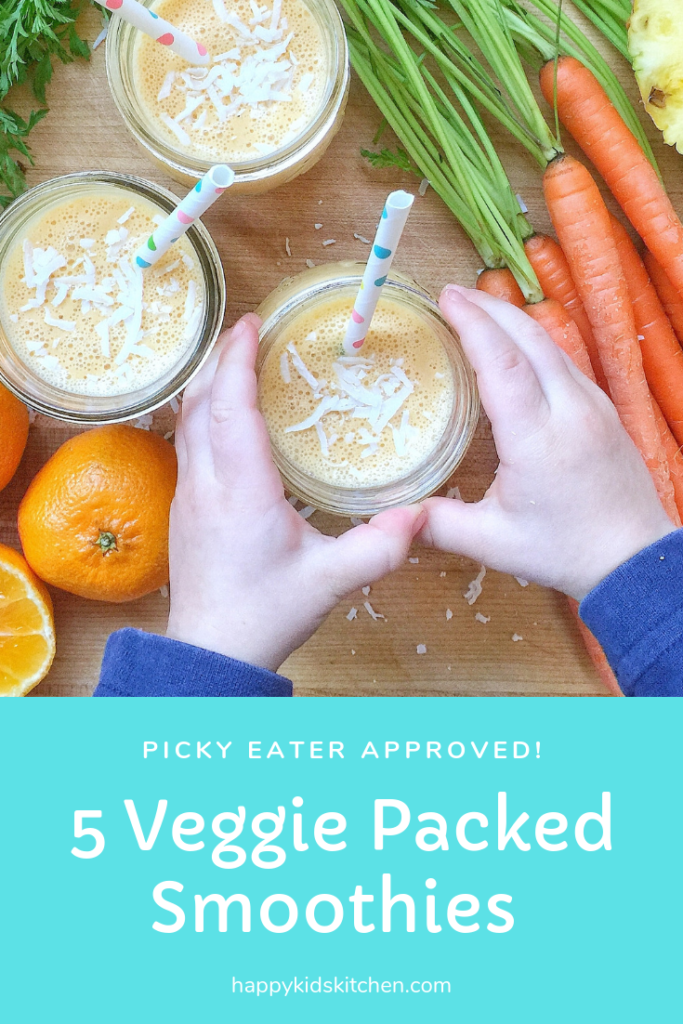 Follow me on Pinerest for more great smoothie recipes and meal ideas!

Click Here.