Healthy Homemade Popsicles for Toddlers and Kids
Does the summer sun have your kiddos screaming "Ice cream!!"? We definitely love a trip to go get the real deal once in a while but having healthier frozen treat options at home is a great way to have a hydrating, sweet dessert without all the added sugar. Because these Healthy Homemade Popsicles are made up of wholesome ingredients (and even veggies!), we often have them for a snack or even breakfast sometimes! Plus, popsicles can be so easy to make ahead and have on hand. Just blend up some ingredients, pour into molds, and freeze.
All the recipes below are dairy-free, low in sugar, sweet, and refreshing on a hot day. Healthy treats can still be fun and delicious! Which of these healthy homemade popsicles are you going to try first?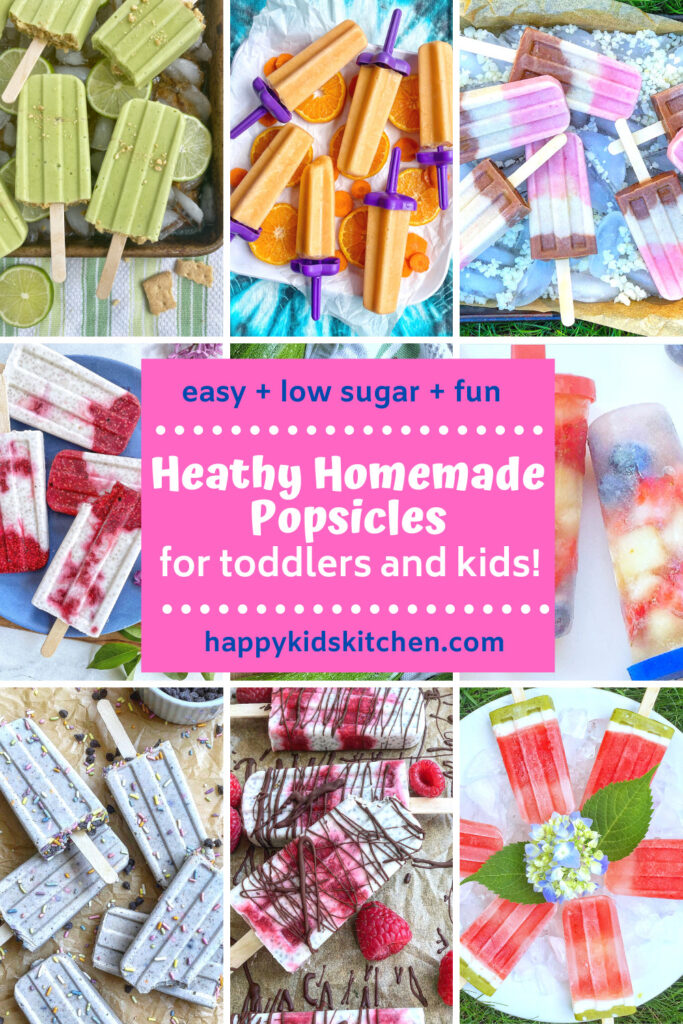 Why make popsicles at home?
Hydration! Tired of being the water police, trying to keep your kids hydrated in the heat? Homemade popsicles can be packed with super hydrating fruits and veggies. Be sure to check out the watermelon pops and the coconut water based popsicles below.
Quick and Easy! It's so much easier that it seems! You can freeze pretty much anything…leftover smoothies, watered-down juice, yogurt mixed with frozen fruit. Get creative and start experimenting without a recipe!
Less Sugar, Still Sweet! You can control the quality of ingredients. Less sugar and nutritious additions means enjoying pops more often and even for breakfast.
Add veggies! Zucchini and cauliflower are included in some of the recipes in this post. It's a great way for kids to make "friends" with vegetables they might not ordinarily eat on their own.
Great exposure! Popsicles are a simple for kids to help make! Picky toddlers or kids that don't love being in the kitchen all that much will love being able to quickly put together some of their own frozen treats.
Tools and Tips for making Healthy Homemade Popsicles:

    The easiest way to remove a popsicle from its mold is to run it under very hot water for a few seconds.
Making Healthy Homemade Popsicles for Toddlers:
Use small molds: Most likely toddlers will let a big popsicle melt before he or she can finish the whole thing. Plus, their tummies are small. You can always give your child a second small pop instead of one large one if he or she still wants more. These or these small round pops in my Amazon store would be a great choice.
Sugar content: If your toddler isn't used to super sweet desserts yet or you'd still like to minimize you child added sugar intake, remove or lessen the added maple syrup/honey in these treats. You can always add more after you taste it before freezing.
Make sure your toddler helps! He or she doesn't have to be a part of each step of the recipe, but putting in one ingredient or turning on the blender is valuable. It will also be more likely that your child tries or enjoys a new recipe if he or she helps make it.
The Recipes: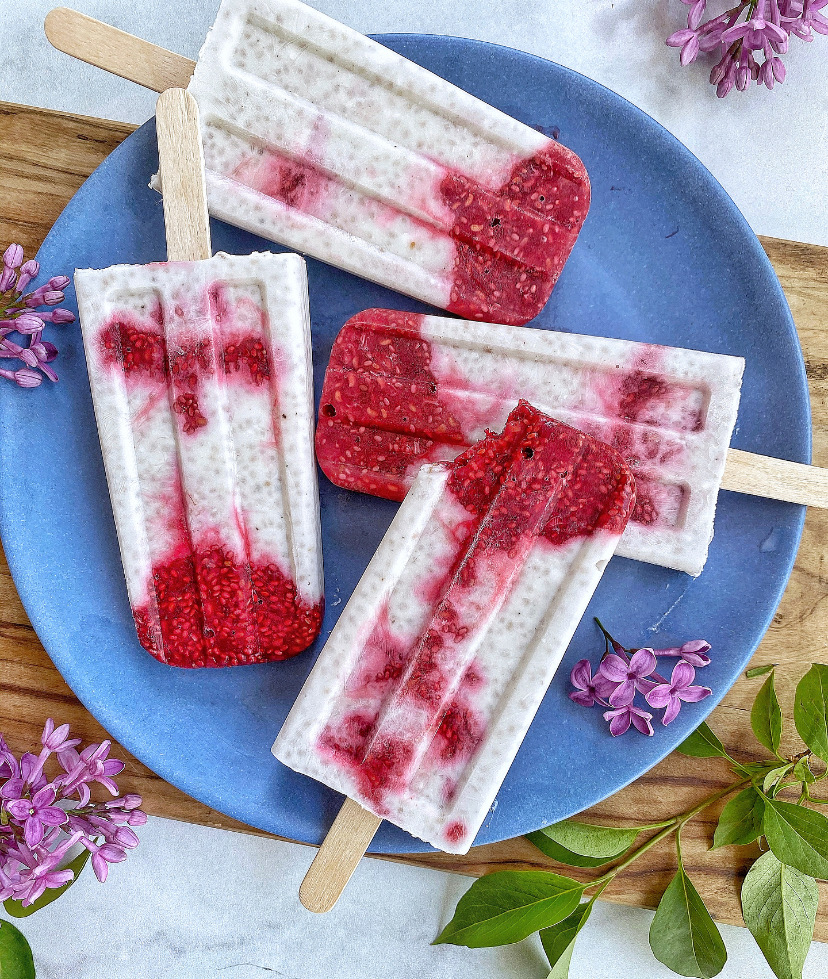 Pretty much my favorite healthy homemade popsicles. Just made from Raspberries, coconut milk, chia seeds, maple syrup, and vanilla, these healthy pops are super flavorful and simple to make. You can add an extra special touch by drizzling some melted chocolate over the top too. If you don't love the texture of traditional chia seed pudding, try freezing it! The chia seeds are much easier to eat that way. Get the full recipe on the blog post HERE.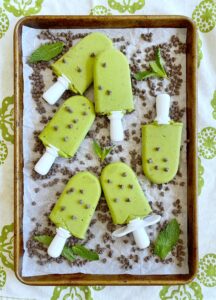 A frozen treat that's packed with fruits and veggies, but tastes like your favorite ice cream flavor. These Healthy Mint Chocolate Chip Popsicles are vegan, low in sugar, and oh so creamy! Just blend up banana, spinach, avocado, and a few other ingredients then freeze. Plus, these pops couldn't be faster to make, thanks to the ZOKU Quick Pop Maker that freezes these popsicles in just 7 minutes. Recipe Here and the code for 10% off a Quick Pop Maker is above and in the recipe post.
Watermelon Popsicles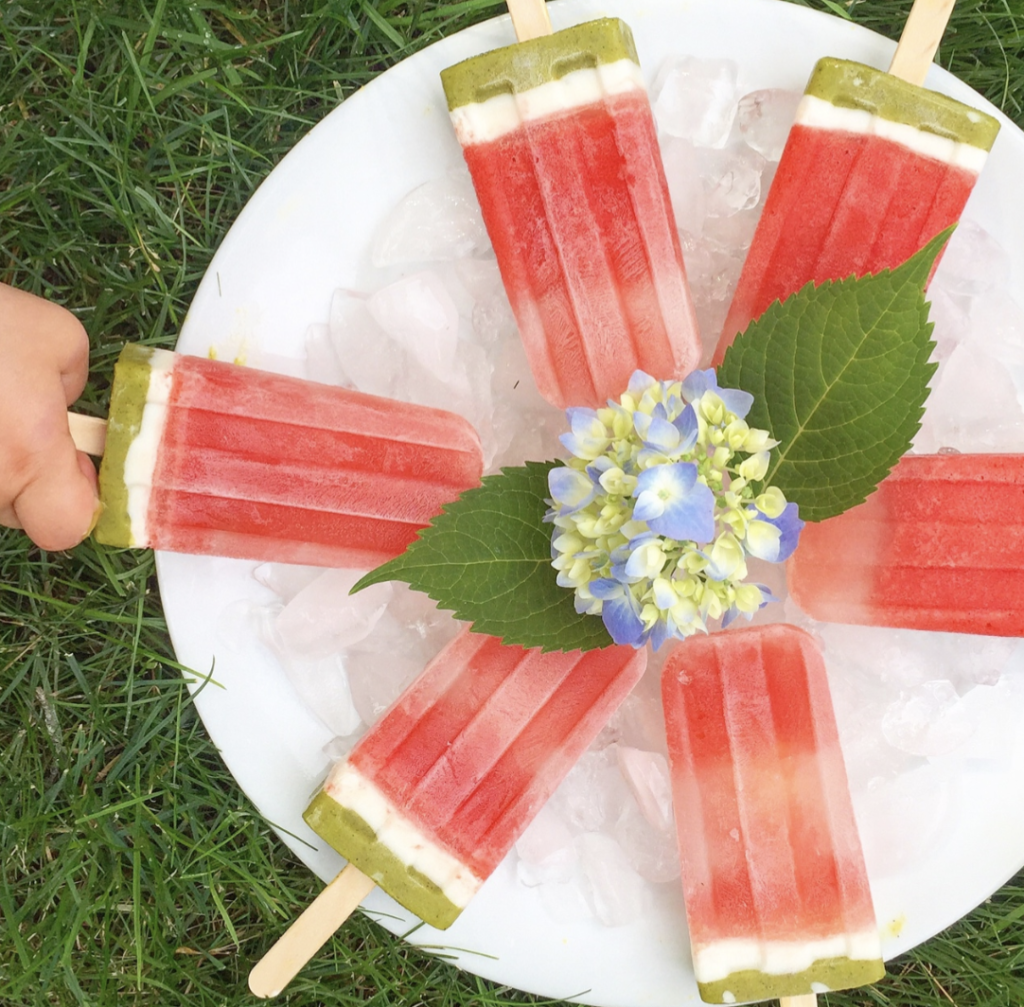 What says summer more than watermelon? Watermelon popsicles! These layered
pops are made from just a handful of ingredients and would be the star of any
summer party. Want an even easier watermelon recipe? These Watermelon Cucumber Popsicles are a recipe I helped develop on The Natural Nurturer. They are so simple to make and only 3 ingredients.
Recipe:
Makes 10 to 12 popsicles
4 cups watermelon chunks
1/2 cup full fat coconut milk
1 kiwi, peeled and diced
1/2 a large mango, peeled and diced (or 1 cup frozen mango chunks)
1 cup baby spinach or kale leaves
Blend watermelon and fill popsicle molds about 3/4 of the way full. Wipe any
watermelon juice away from the top of the mold with a paper towel. Freeze for 1 hour
then insert sticks. Freeze overnight or until frozen solid.
Add a small layer of coconut milk to each popsicle mold. Freeze until completely solid.
Blend kiwi, mango, and greens until smooth. Top off pop molds and freeze until solid.
Unmold and enjoy!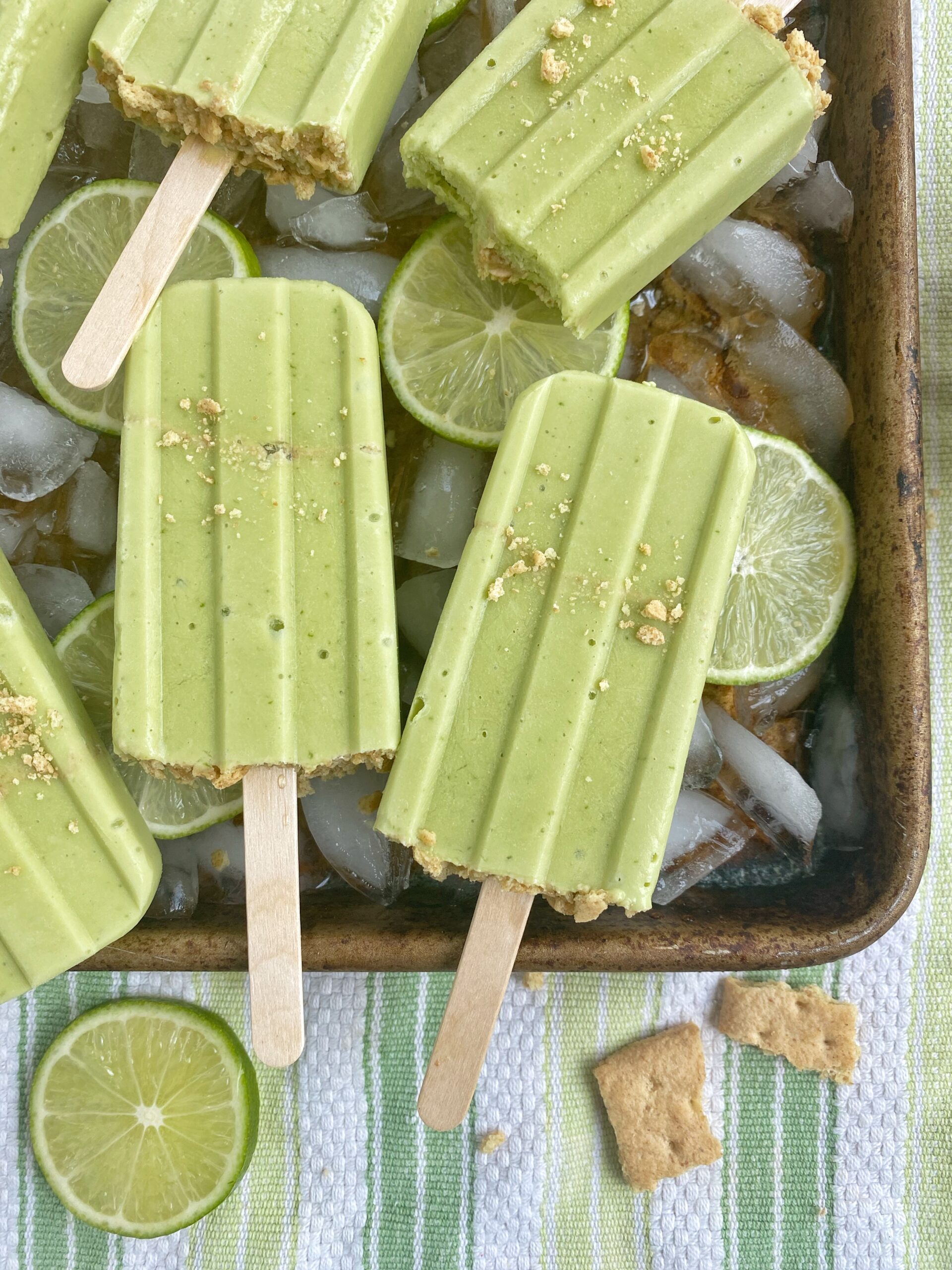 Vegan, sweetened with a little maple syrup, and packed with the goodness of avocado, these easy popsicles are the homemade frozen treat you need this summer. Healthy Key Lime Pie Popsicles are only 4 ingredients and so fun for kids to help make. Add everything to a blender then freeze! Crushed graham crackers make these pops taste just like classic key lime pie. However, the treats are just as delicious without them.
Cookie Dough Ice Cream Popsicles (dairy free)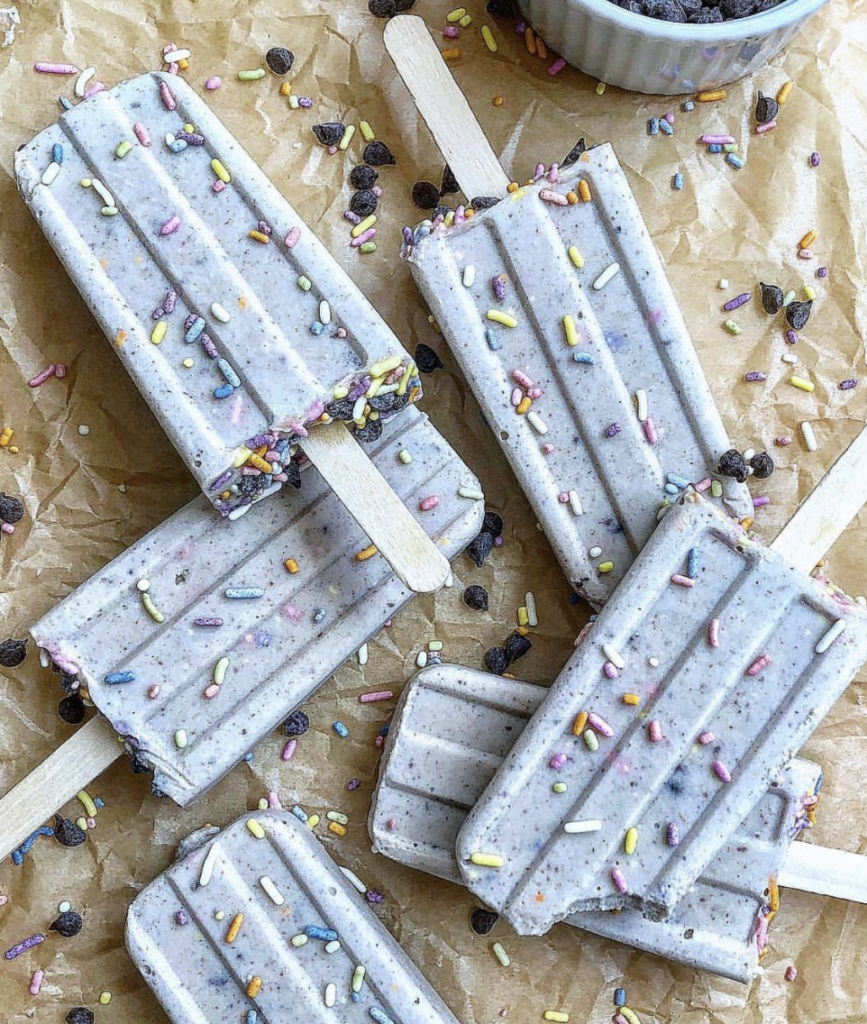 Somehow blending cashews and dates then mixing in a few chocolate chips turns into something that tastes like cookie-dough ice cream. It's magical! Freeze it and you've got a seriously delicious summer treat.
Recipe
Makes 6 to 8 popsicles
2 cups raw whole cashews
4 large dates, pitted
1/2 tsp. vanilla powder (or 1 tsp extract)
Pinch fine sea salt
1 Tbsp maple syrup
1/4 cup mini chocolate chips
2 Tbsp. Dye-free rainbow sprinkles (optional)
Place cashews and dates in a large container and cover with water. Place in the refrigerator overnight. To speed up the process, cover the nuts with boiling water and let soak for an hour at room temp.
Drain cashews and place in a high-speed blender with 1 1/4 cups cold water, vanilla powder, salt, and maple syrup. Blend until smooth and super creamy. Should be thick but pourable consistency. Add chocolate chips and sprinkles (if using) and blend for a second to combine.
Pour mixture into popsicle molds (I like to use a piping bag to make it less messy) then freeze overnight or until solid. Popsicles will soften quickly when out of the freezer so store in freezer until ready to eat.
Frozen Banana Pops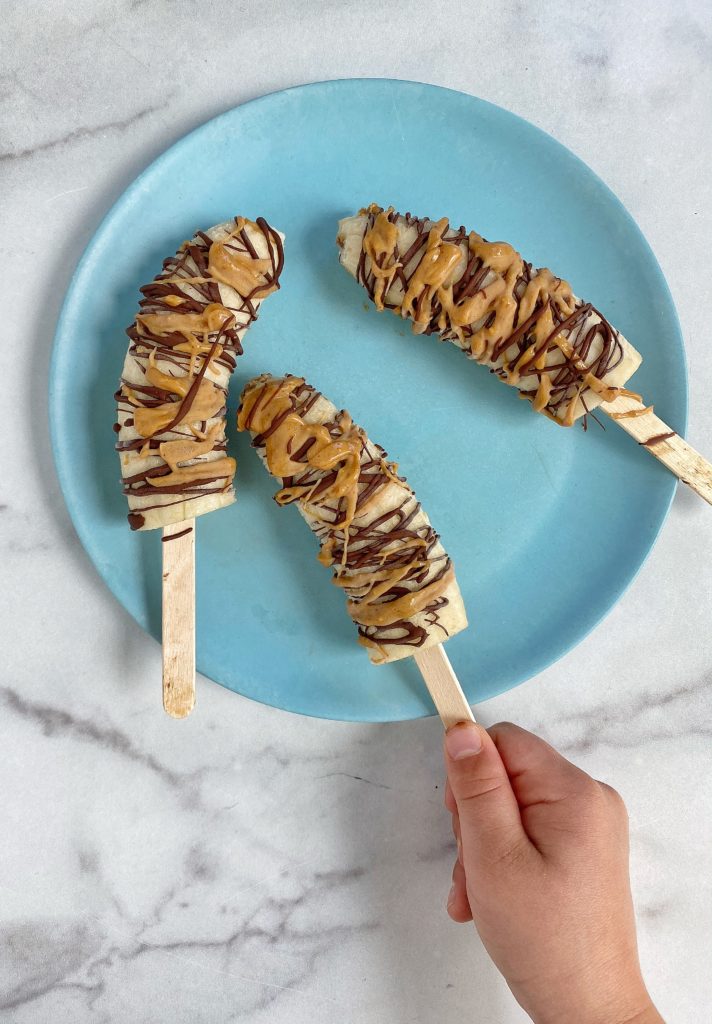 Doesn't get any easier than a frozen banana on a stick. There are so many ways to make this healthy treat delicious: drizzle with chocolate and sprinkle on whatever toppings you like. You can also dip the pops in yogurt for an even lower sugar treat. Set out some chopped nuts, crushed freeze-dried fruit, or whatever use you have on hand and let the kids decorate their own frozen bananas as they please. It's so fun and yummy!
The banana you see above are drizzled with melted chocolate and peanut butter. I have a quick video tutorial of how to make them on my IGTV HERE.
Coconut Water Fruit Pops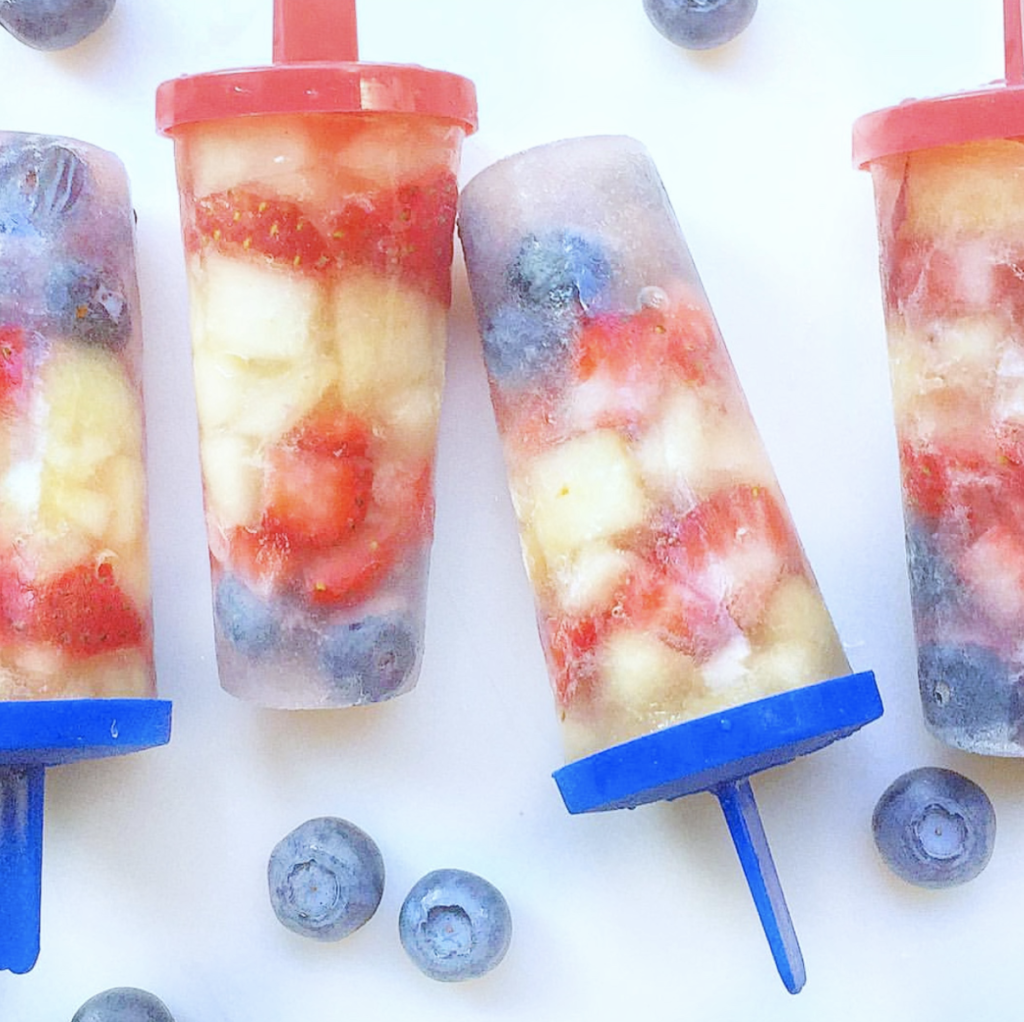 The easiest healthy homemade popsicles! You don't even need a recipe for these popsicles they are so easy to make. 2 ingredients: fruit and coconut water. Choose whatever fruit you like, add it to some popsicle molds, fill with coconut water, and then freeze. The ones seen here are a red, white, and blue fruit combination we did for the Fourth of July one year: strawberries, white peaches, and blueberries. Would you believe these coconut water pops are the kind my kids request most? It's true! So sweet and refreshing on a hot day!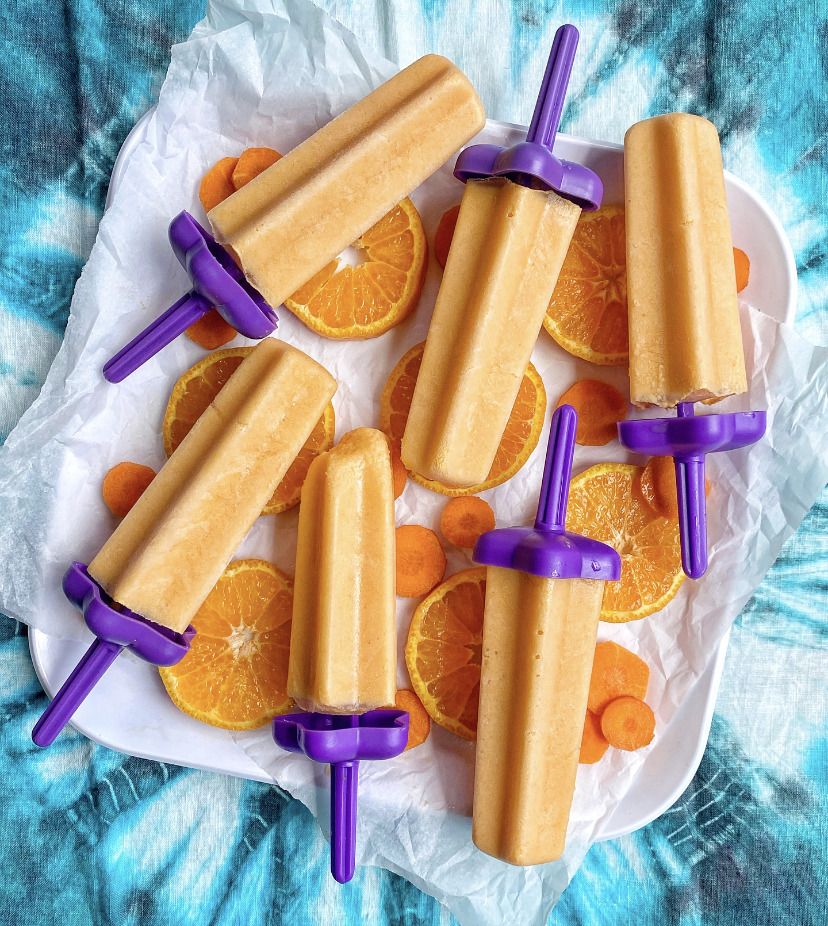 These Healthy Tropical Creamsicles have that classic orange and vanilla flavor combo of a creamsicle but with a tropical twist from some pineapple and creamy coconut. (If you're not a coconut fan, yogurt is great in there too.) Plus, I blended in some carrot and cauliflower to give these pops a veggie boost. I promise you can't taste the veggies at all, but it's important that kids help add them or at least know they are there.
Lemon-Berry "Cheesecake" Pops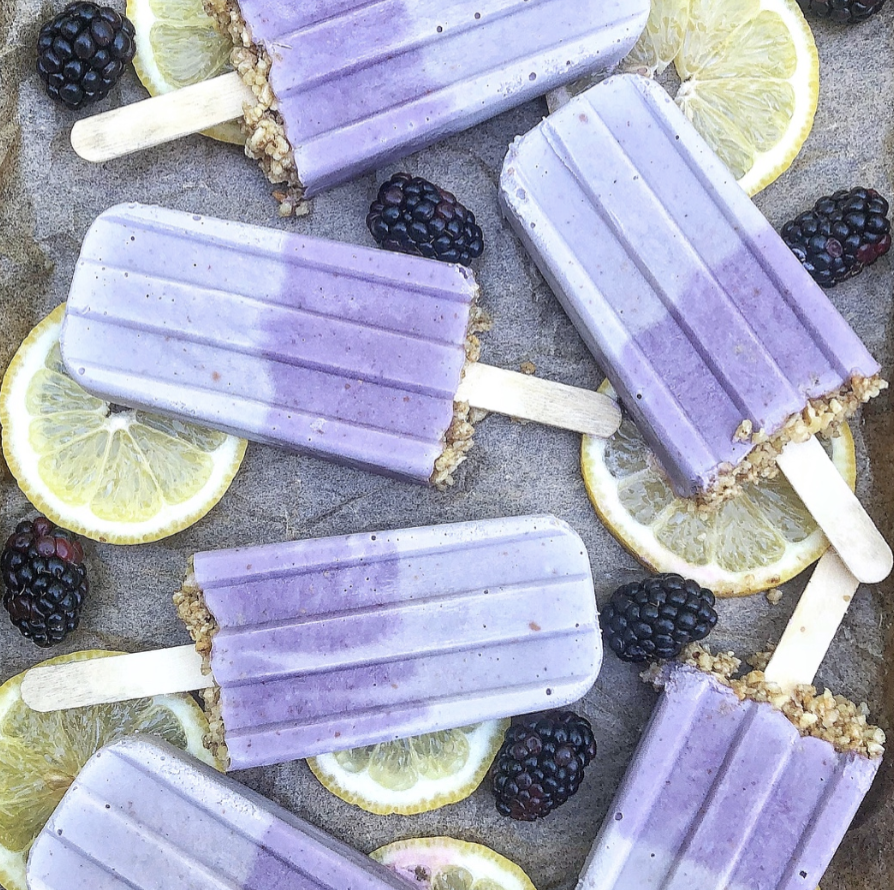 These dairy-free treats were inspired by my friend, Joy of @lunchesandlittles on Instagram. Her recipe for No-Bake Lemon Berry Vegan Cheesecake Bars is shared on the Nosh and Nourish Blog here. Instead of layering the cashew cream mixture in bar form, I layered it in popsicle molds and put the crust mixture right on before freezing. The nutty crust is so yummy I think it would be really good layered in the middle of the popsicle too.
These pops are best eaten after they have softened for a few minutes at room temperature. Definitely worth a try in popsicle or bar form.
Frozen Watermelon "Pizza" Pops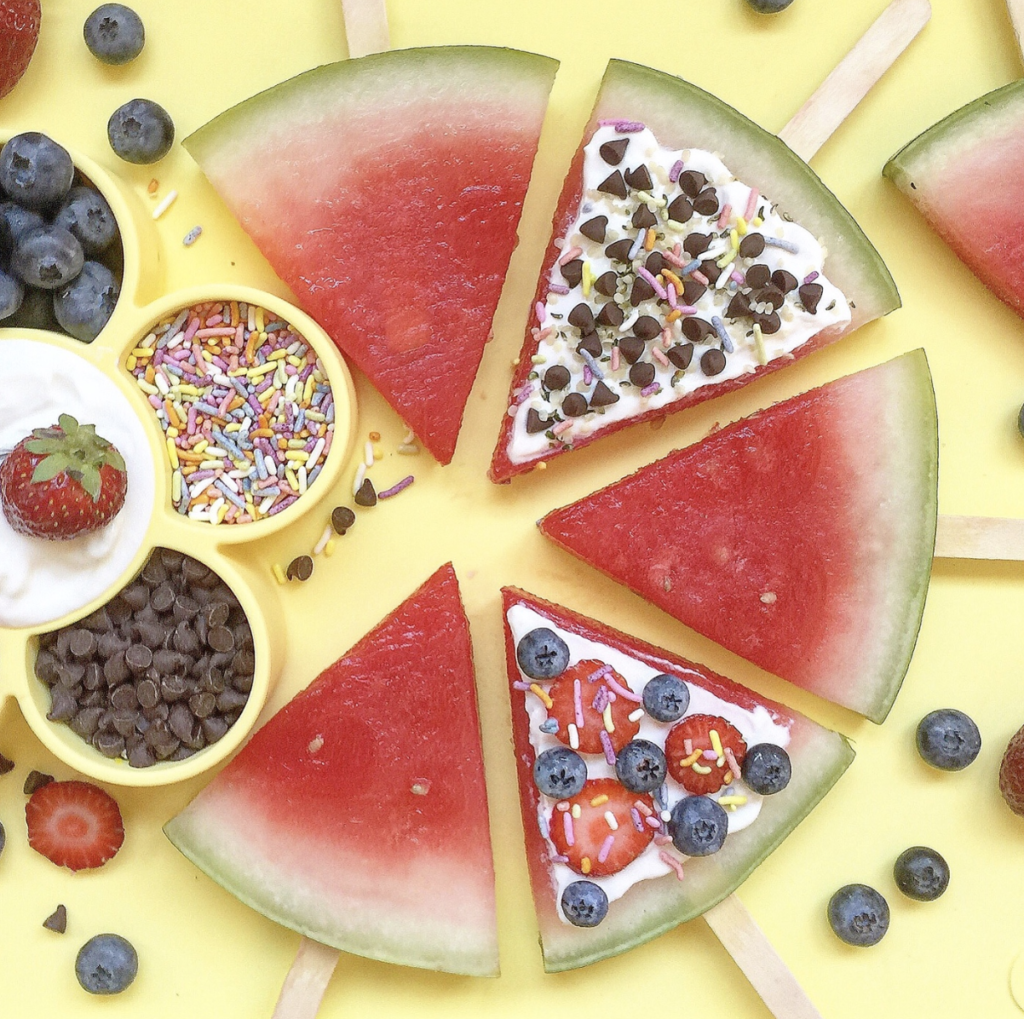 This is such a fun activity for kids to do! Freeze the watermelon wedges on a stick, then spread with a lightly sweetened yogurt
mixture, and let each child (or adult!) place whatever they'd like on top. The full recipe is included in my cookbook, Little
Helpers Toddler Kitchen. More info about the book here.
Neopolitan Smoothie Pops (with cauliflower!)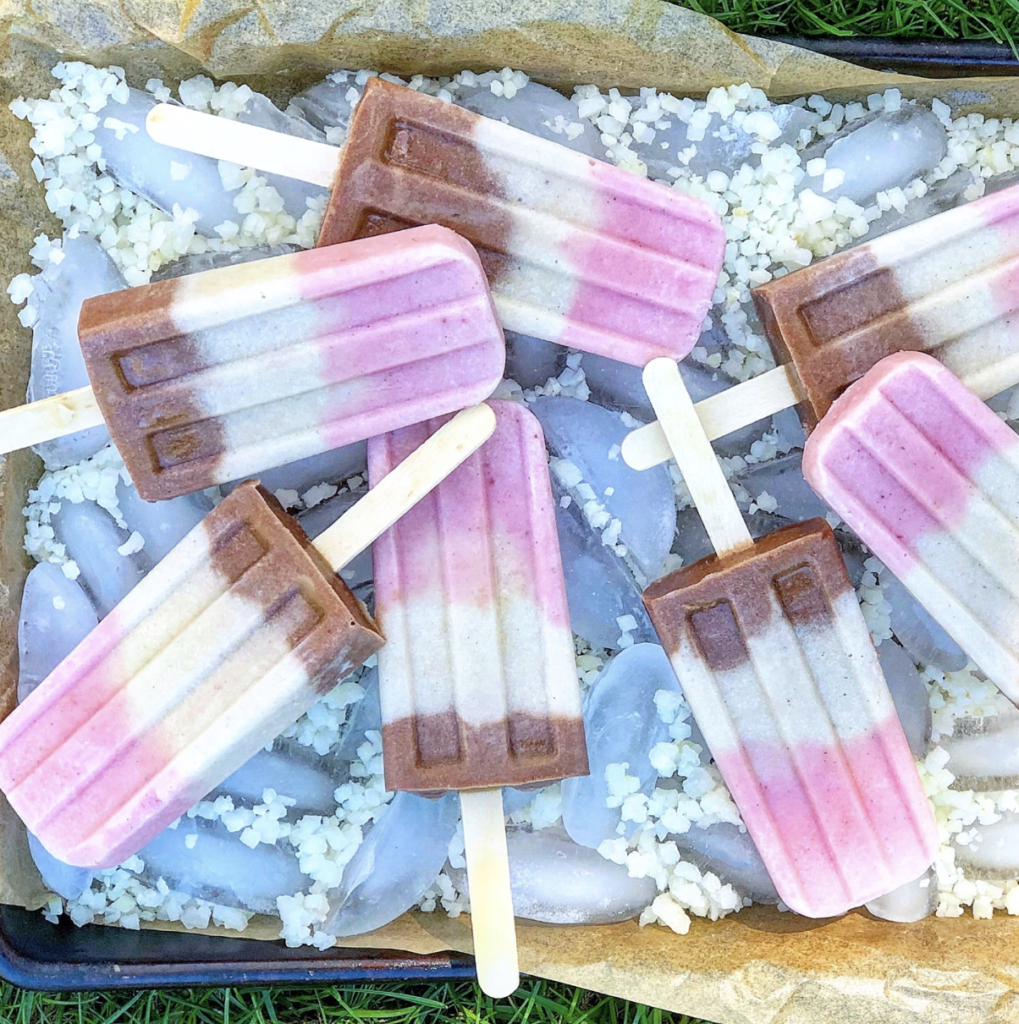 Cauliflower in dessert?? Yes! You can't taste it at all. I promise! And why choose between chocolate, vanilla, and strawberry when you can have all three, right? These layered pops are super easy to make because you don't have to wait for each layer to freeze before adding the next. Just blend up the smoothie mixtures and pour them as you'd like or you can even make popsicles in a single
flavor. My son, Henry, loved the strawberry flavor best and asked if next time I could make him some pops in just that flavor. Sure thing!
Recipe:
2 bananas
1 can coconut milk
1/4 cup maple syrup
1/4 teaspoon vanilla powder (or 1/2 teaspoon extract)
Pinch of salt
2 cups frozen riced cauliflower
6 frozen strawberries
1 tablespoon cocoa powder
Add bananas, coconut milk, maple syrup, vanilla, salt, and the cauliflower to a high-speed blender. Blend until very smooth. Divide smoothie into 3 equal amounts. I like to use liquid measuring cups for this. You should have about 1 1/2 cups in each container.
Blend one of the portions with the strawberries then pour back into the bowl/container. Rinse out the blender. Blend a different portion of the smoothie with the cocoa powder.
Layer the 3 smoothie flavors in your popsicle molds, pouring each one slowly so that it doesn't mix with the other flavors too much. Insert sticks and freeze overnight or until solid.
Zucchini Fudgesicles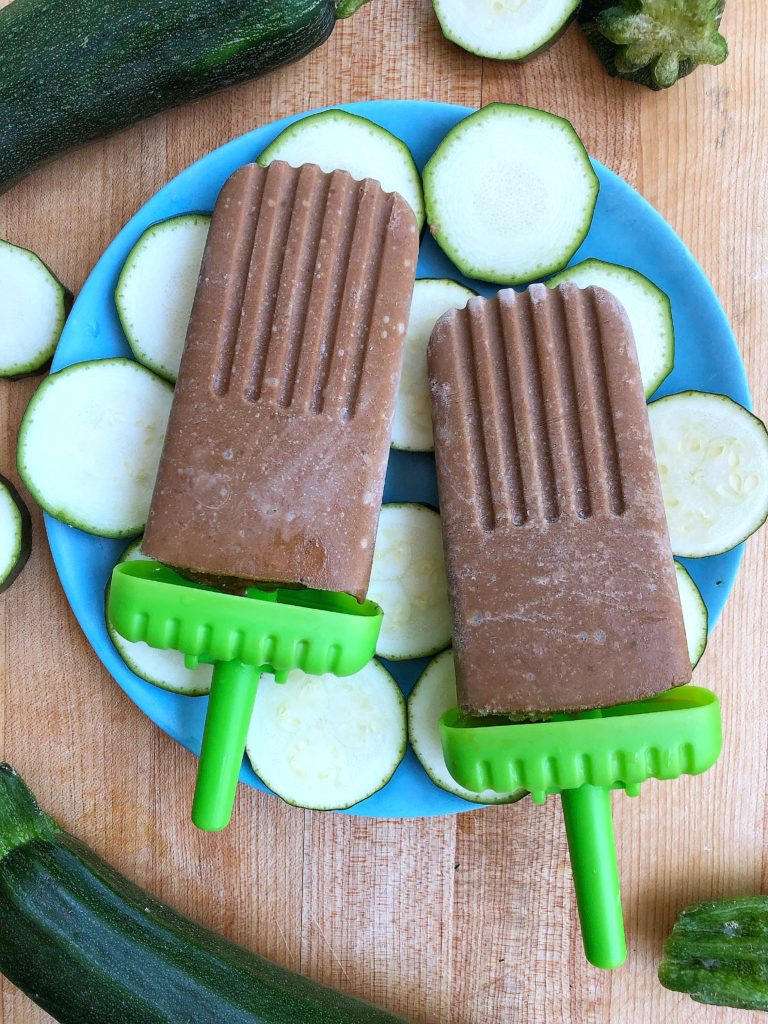 This sweet pop recipe I created for Veggie Buds Club zucchini month is packed with healthy fats, protein, and is naturally sweetened. Zucchini is such a great veggie to blend into frozen treats. It adds tons of nutrients but you can't taste it at all. Have a chocolate lover at home? This is definitely a recipe you need to try! Link to recipe HERE.
Save to Pinterest!! Have Healthy Homemade Popsicle recipes when you want them.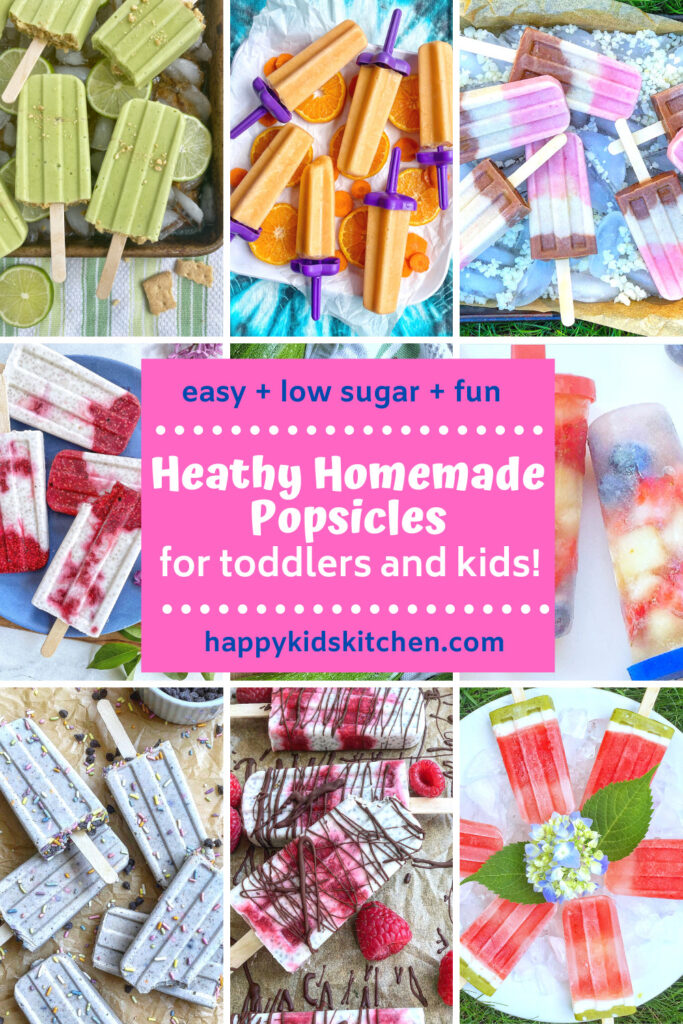 Want more healthy treat ideas? 
Chocolate Chip Banana Bread Bars