Super Healthy Mint Chocolate Chip Popsicles
A frozen treat that's packed with fruits and veggies, but tastes like your favorite ice cream flavor. These Healthy Mint Chocolate Chip Popsicles are vegan, low in sugar, and oh so creamy! Just blend up banana, spinach, avocado, and a few other ingredients then freeze. Plus, these pops couldn't be faster to make, thanks to the ZOKU Quick Pop Maker that freezes these popsicles in just 7 minutes.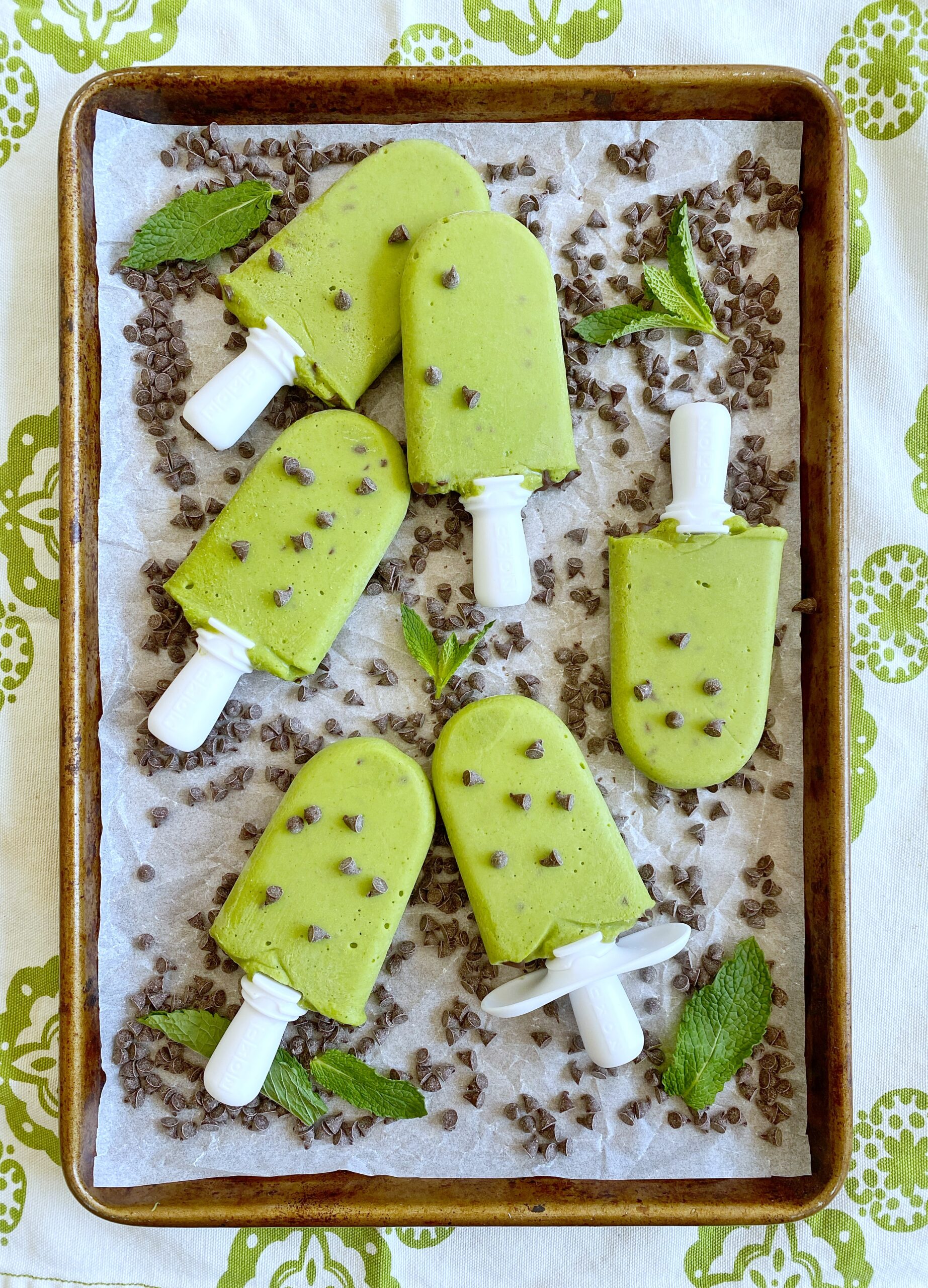 This post was sponsored by:
ZOKU Quick Pop Maker: I've had a ZOKU Quick Pop Maker at home for over 8 years now and I'm so excited that Zoku reached out to create a recipe just for them. The Quick Pop Maker turns most liquids –smoothies, yogurt, juice –into popsicles in just 7 minutes! Simply freeze the Quick Pop base for 24 hours, then when you're ready to throw a popsicle party, make frozen treats for the whole family.
Click HERE to head to the ZOKU website and get more information.  I have a discount code for you!! Use HAPPYKIDS10 at checkout to get 10% your first ZOKU order.
Kids in the Kitchen:
Banana: Let your little one peel the banana and throw it into the blender. Or, if you want your child to practice their knife skills, peel it then have your child slice it with a butter knife or child-safe knife then add it to the blender.
Avocado: Cut the avocado in half and then remove the pit. Your child can then use a spoon to scoop the avocado flesh into a bowl.
Spinach: Make sure your little one has the opportunity to take a handful of the spinach and add it to the blender.
Mint: If using fresh mint, make sure kids have a chance to smell it and look carefully at its texture before adding it to the blender.
Blend: Show your child how to safely use the blender by making sure the lid is on tight before turning it on. Then do a little countdown and let your child push the button.
Add chocolate: Place the mini chips in a cup or small bowl and then have your child dump them into the blender and give it all the stir.
Pour: The ZOKU quick pop maker comes with these little pour cups which make pouring the liquid into the molds so easy for kids to do. If you don't have the pour cups, you can use a small measuring cup or bowl with a spout.

Subs and Tips for Making Healthy Mint Chocolate Chips Popsicles:
No Banana? Don't have a banana or can't use them? You can use an additional avocado instead. So the total avocado amount for the recipe would be 1 1/2 avocados.
No Avocado? You can use an additional 1/2 a banana instead of avocado. The popsicle will be a little less creamy without the avocado, so you may want to add 1/4 cup Greek yogurt or dairy-free yogurt.
Mint: This recipe is a great way to expose kids to fresh mint. However, you can use peppermint extract to get the mint flavor in the pops as well. Peppermint extract can be really strong, so make sure to use only a tiny bit.
Chocolate: There are so many different options for chocolate chips in the store these days. Some that are dairy-free, refined sugar free chocolate chip such as HU or Lily's. Enjoy Life is a popular dairy-free chocolate chip as well. If you only have regular chocolate chips, not mini, you can add them to the blender and pulse a few times to chop them smaller.
Non-dairy milk: Canned coconut milk has the coconut cream on top that makes the popsicles super creamy. However, you use any other unsweetened dairy-free milk you like. I sometimes use a vanilla almond milk that I always have on hand. In that case, I leave out the vanilla extract in the recipe.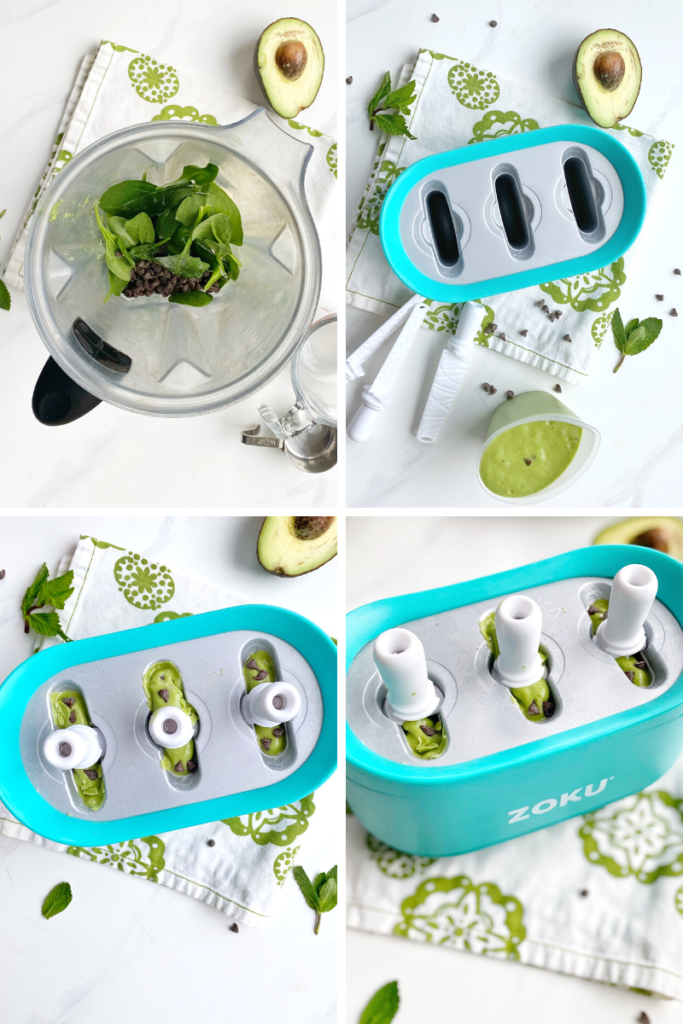 Super Healthy Mint Chocolate Chip Popsicles
Full of fruits and veggies, but tastes like ice cream! Vegan and low in sugar.
Equipment
Zoku quick pop maker or other popsicle molds
Ingredients
1

ripe banana

1/2

ripe avocado

1

packed cup

baby spinach

4 to 5

fresh mint leaves

or 1/4 tsp peppermint extract

1/2

tsp

vanilla extract

1

cup

canned coconut milk or any non-dairy milk

1/4

cup

mini chocolate chips
Instructions
Add banana, avocado, spinach, mint, vanilla, and milk to a blender. Blend until completely smooth and no flecks of spinach remain. Stir in chocolate chips

Freeze the popsicle mixture using the ZOKU quick pop maker or other popsicle molds until solid. (See popsicle mold instructions for more details on freezing time.)

Store leftover popsicles in the freezer in a reusable freezer bag or airtight container.
Notes
If you taste the smoothie and want it a little sweeter, add a tablespoon or two of maple syrup or honey. You can also blend a few softened dates into the smoothie if you'd prefer.
Save to Pinterest!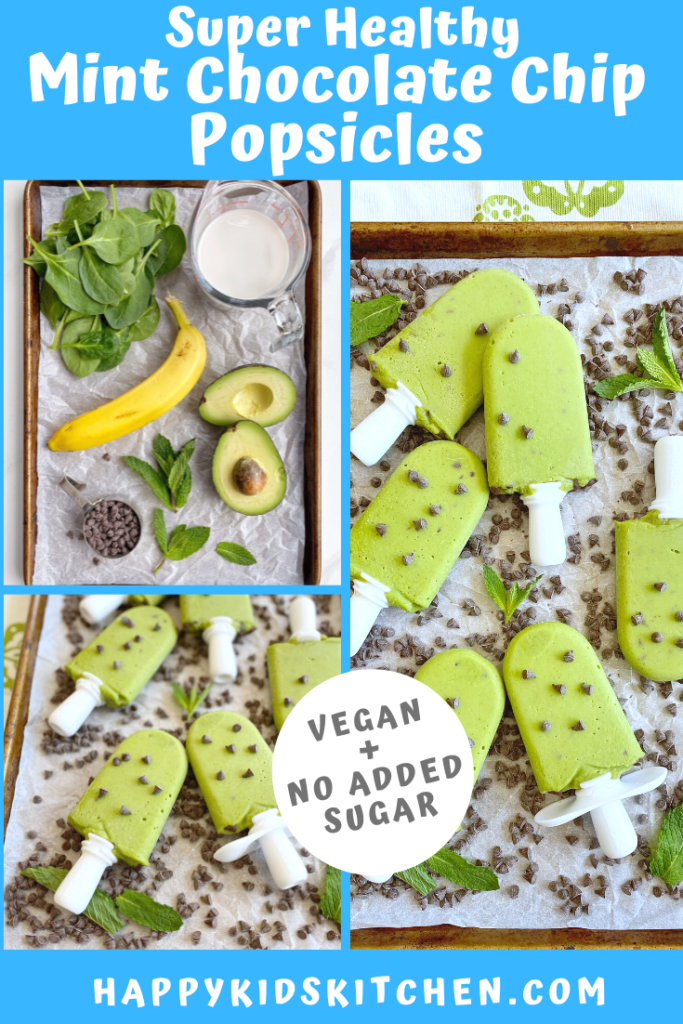 Want more healthy popsicles recipes? Here is a list of over 10 Healthy Homemade Popsicles for Toddlers and Kids