Healthy Berries n' Cream Cups
Need any easy, nutritious snack to bring to a preschool party or festive get together? These healthy Berries n' Cream Cups are the perfect treat to throw together for Valentine's Day or any special occasion.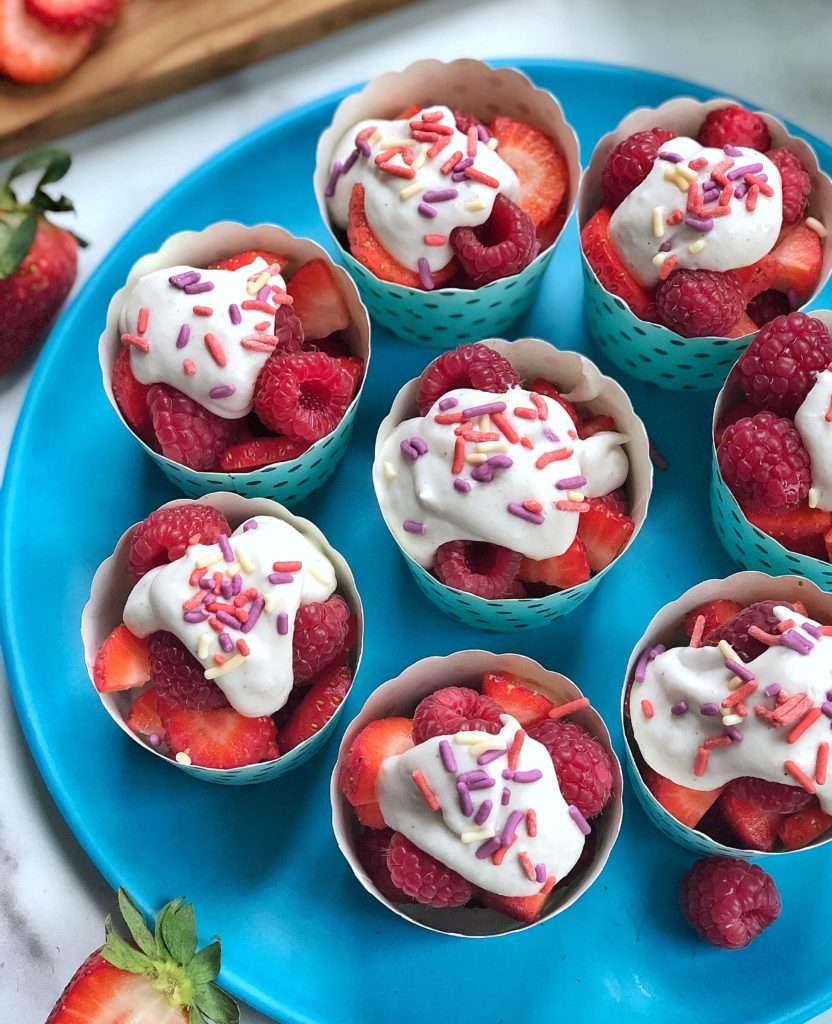 I love these Berries n' Cream Cups because they are very low in sugar and still 100% sweet and delicious! You lightly sweeten regular cream or coconut cream (for a dairy-free version) with a touch of maple syrup and dollop it on top of beautiful, fresh fruit. To make this dish even easier, use Greek yogurt instead of cream and no whipping needed at all! Top with colorful dye-free sprinkles or crushed up freeze-dried berries. Easy, healthy, and fun!
Kids can help make Healthy Berries n' Cream Cups!
Chop the fruit! Whether you are using strawberries or any other kind of fruit, kids can help wash and cut the fruit into bite-sized pieces, as needed. My recommendation for a kid-safe knife is in this blog post HERE. We also love this cute little doggie knife (seen in the picture below) for kids 4 and older or kids with more knife experience.
Make the cream. Measure the three ingredients into a bowl together. Explain the way to safely use the hand mixer or stand mixer. "Listen closely and keep hands out of the bowl to be safe." Then have your child help operate and mix the cream to whip it up.
Assemble cups. Kids can help fill the cups with fruit and then top with the whipped cream. Even if your child doesn't help with any other part of the recipe, make sure he/she has the chance to sprinkle on the festive topping!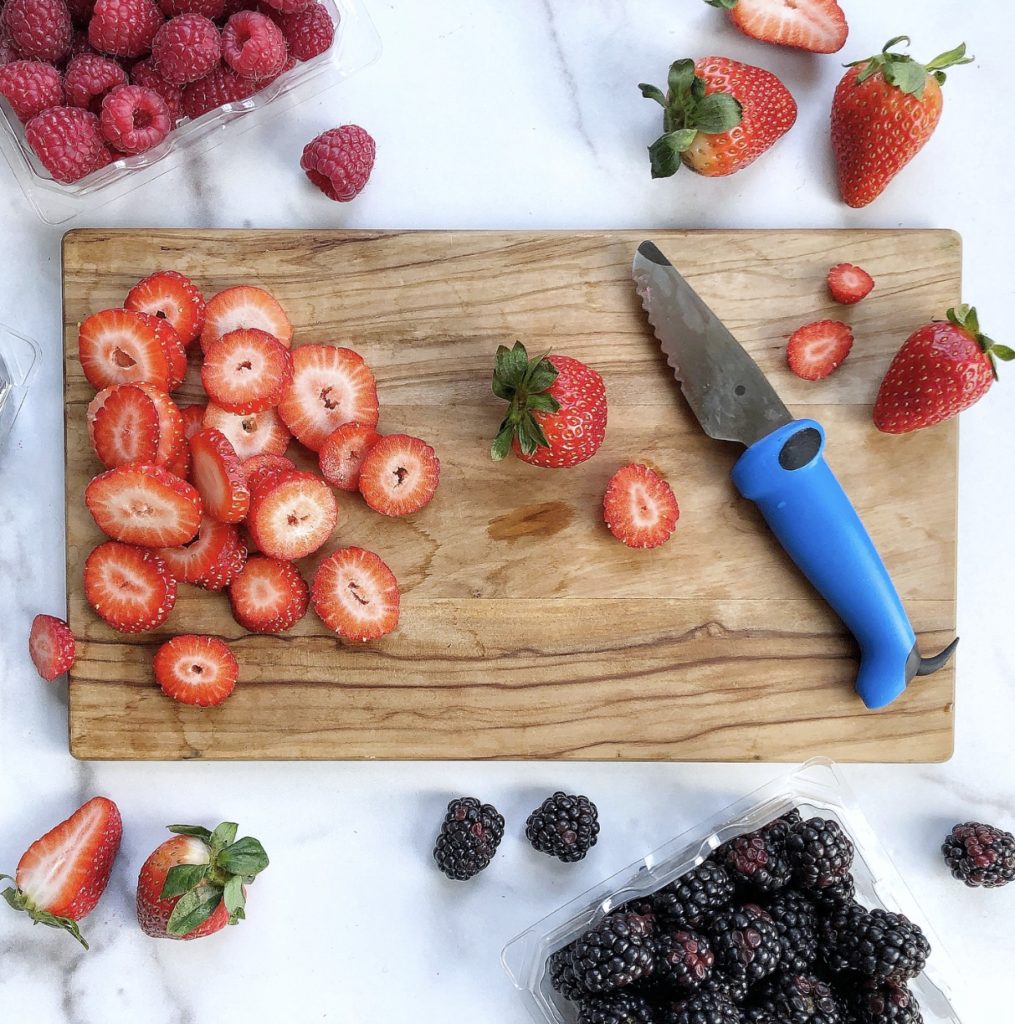 Topping Options for Healthy Berries n' Cream Cups:
Depending on your preference or dietary needs of those being served, there are lots of easy options for a delicious, creamy topping for the fruit. Detailed instructions included in the full recipe below.
Cream. We love making homemade whipped cream with organic, high quality cream, a tiny bit of natural sweetener, and vanilla. It's delicious and a great way to control the amount of sugar in the dessert. Whipping cold coconut cream is also super yummy and I great dairy-free option. See more instructions below.
Dairy-free? Whipped coconut cream is a delicious topping and we often make it even though my kids love regular whipped cream too. Coconut cream MUST be refrigerated in the can overnight before whipping and doesn't get quite as thick as traditional whipped cream. You can also purchase pre-made whipped coconut cream in the freezer section of many grocery stores for a great shortcut.
Yogurt. Don't feel like getting out the mixer? A thick, unsweetened Greek yogurt is a great option for a yummy topping. We like to use a full-fat, plain yogurt and mix in a little maple syrup and vanilla to control the amount of added sugar and sweetness.
Sprinkles. We like to use sprinkles that are naturally dyed with plant based colors but use whatever kind you'd like. I find the dye-free sprinkles at Whole Foods. There are some in the baking isle but you can also go to the bakery and request a special mix of colors from the ones they have on hand. That's what I did for the pink, purple, and white mix you see in the pictures here. There are also some good options on Amazon if you search 'dye-free sprinkles.'
No sprinkles? Sprinkles do contain some sugar, so if you want to keep this treat completely sugar free, feel free to leave off the sprinkles or add something else. You could crush up some freeze-dried raspberries or strawberries for a naturally pink and fruity topping. Chopped nuts, seeds, or a dusting of cocoa powder would be great options too.
Helpful Tips and Tools:
Where can I get those little cups?: You can use little, clear plastic cups, regular white paper cups, or festive colored paper cups. The ones seen in the pictures here I found at Home Goods but you can also purchase them on Amazon in many different designs. Find them HERE.
Make ahead? Fresh berries should be washed and dried well the day they are going to be eaten or they might get too mushy. If using other fruit, you may be able to prep and chop the fruit a day ahead. Other than that, cups should be assembled no more than a couple hours before eating. Keep refrigerated until serving.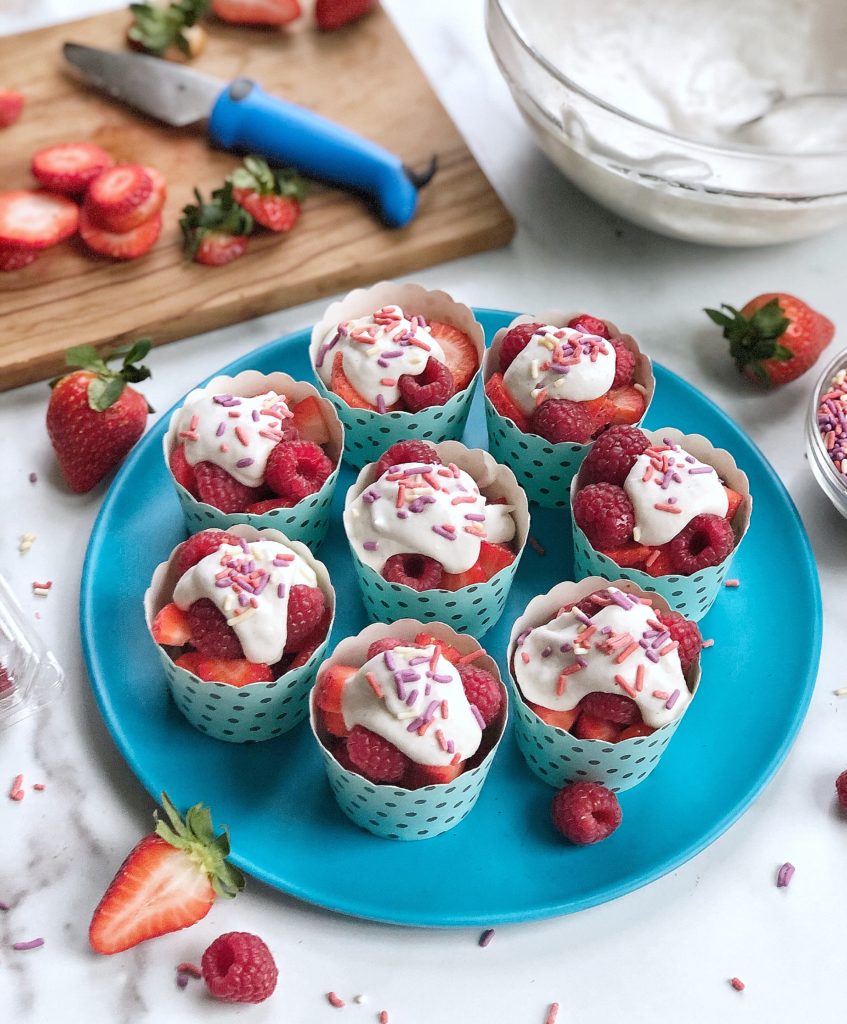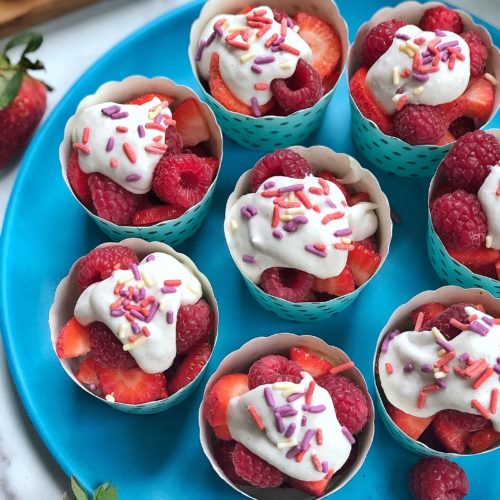 Healthy Berries n' Cream Cups
Easy, festive treat that kids will love!
Equipment
12 to 14 small paper or plastic cups
Ingredients
1

pound

strawberries

2

1/2 pint containers

raspberries

or other fresh berries

1

cup

whipped cream topping

see recipes below or use a store-bought option

2

tbsp

dye-free sprinkle

or other toppings
Whipped Cream
1

cup

heavy whipping cream

2

tsp

maple syrup

1/2

tsp

pure vanilla extract
Whipped Coconut Cream
1

can

full fat coconut cream

Not coconut milk. Refrigerated overnight or at least 8 hours.

2

tsp

maple syrup

1/2

tsp

pure vanilla extract
Yogurt Topping
1

cup

full fat, plain, Greek yogurt

2

tsp

maple syrup

1/4

tsp

pure vanilla extract
Instructions
Wash berries and lay out on kitchen towels to dry. Chop strawberries into bite-sized pieces.

Make cream topping. Taste and add more sweetener if desired.

Fill cups with berries, leaving a little room at the top. Add a dollop of the cream topping then a pinch of sprinkles over the top. Keep chilled for up to an hour before serving. Serve with a spoon or fork.
Whipped Cream
For regular whipped cream, place cold cream in a large bowl or in the bowl of your stand mixer. Whip cream with a hand mixer or in stand mixer until soft peaks form. Add maple syrup and vanilla then whip for a few more seconds. You don't want to overwhip cream or it will be too thick to spoon over the berries. Keep chilled.
Whipped Coconut Cream
For coconut cream, open can and scoop the solid cream off the top of the can with a spoon and add it to a large bowl. Reserve liquid in can for another use. Use a hand mixer or standing mixer to whip until thickened. Add maple syrup and vanilla and whip to combine. Keep chilled.
Yogurt Topping
Add plain yogurt, maple syrup, and vanilla to a bowl. Whisk together to combine. Keep chilled.
Pin to Save for Later!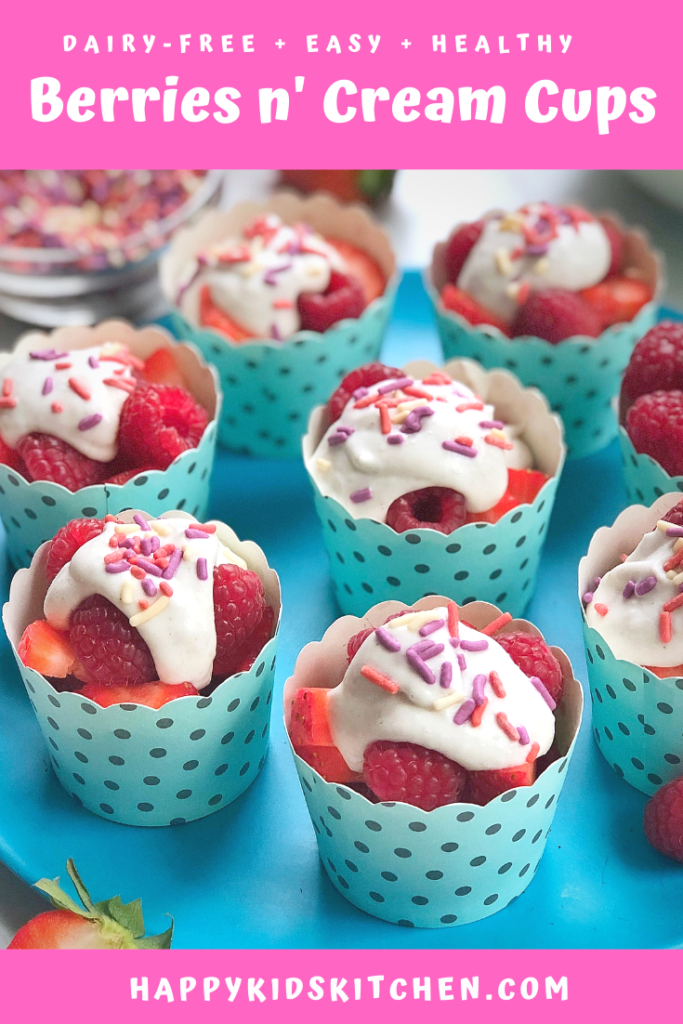 Other healthy dessert recipes to check out:
Chewy Ginger Cookies (Vegan and Gluten-free)